Of all the meal kit niche markets, Gobble resides in the "quick and easy" category, boasting dinner in 15 minutes. The service claims not only a super-fast cook time, but also zero prep and minimal cleanup with Gobble's chefs doing the bulk of the work for you. At $11.99 per person, the starting price is on the higher end, and thus, so are our expectations.
We gave Gobble a test drive to find out if the convenience is truly worth the cost.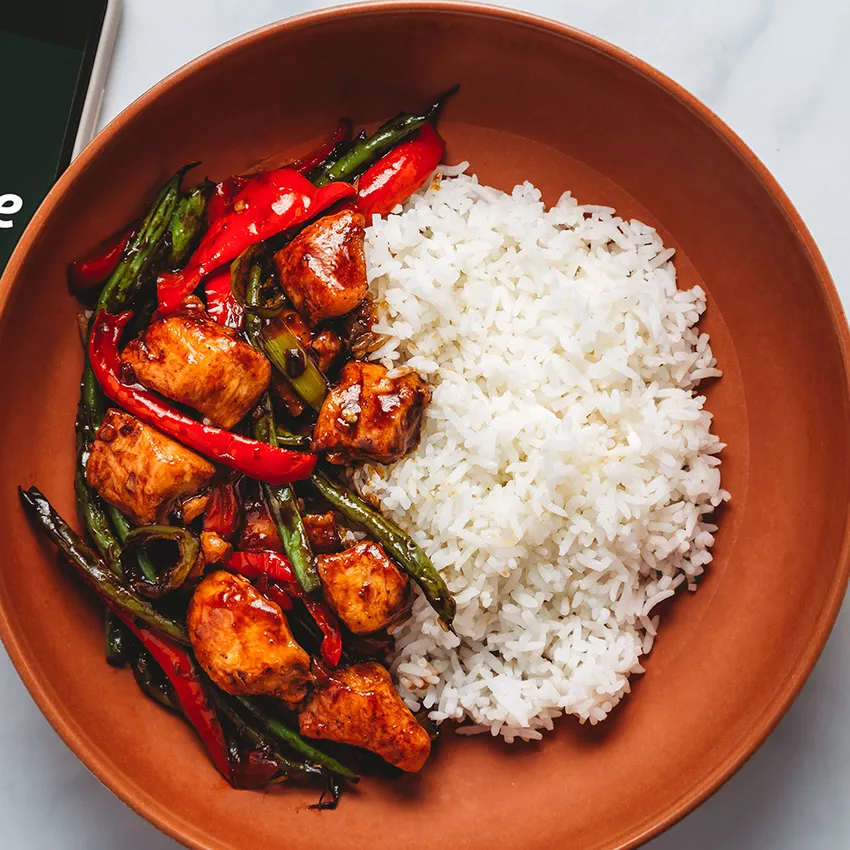 How It Works: 3 Plans to Choose From
Gobble's signup process is simple and straightforward. Once you create an account, you have three plan options based on food preferences: Classic, Lean and Clean, and Vegetarian. If you select the Classic option, you'll be able to indicate which animal proteins you prefer, but there are no additional questions for the other plans.
The service doesn't offer accommodation for dietary restrictions, but some meals each week are inherently free of a select few allergens and Gobble offers specific suggestions on how to omit some of the optional ingredients as you cook in order to build your own allergen-friendly meal.
No matter which plan you choose, pricing is the same at $11.99, which is on the higher end of meal kits this tester tried. We were also surprised to see the vegetarian option at the same price point as the other plans. We could imagine it being difficult for vegetarian and flexitarian customers to find the value here.
You'll then select how many meals you want per week, choosing from dinner for two or four, either three or four nights per week. Once you've secured your plan you'll have the ability to select your preferred delivery days and pick your menu options for the coming week's kit.
Choosing Meals: Simple Selection Process
Like most meal kits, Gobble's menus change weekly and offer an assortment of chef-inspired meals. Each week there are about 12 main entrees to choose from, across all meal plans. There are also two premium dinners available for a hefty markup—the highest price we saw was upwards of $20 per person—and two specialty kits that serve four portions only. There is also an assortment of add-ons to choose from, including salads, sides, standard add-on proteins, breakfasts, soup, and desserts.
Some meals can be customized to switch out animal proteins for either an upgraded version (e.g., changing out conventional for organic) or for a different protein altogether. Be sure to watch out for upcharges, not just for swaps but also for adding them to vegetarian dishes. It felt a bit incongruous to us to charge for adding proteins to a vegetarian meal, as the base prices are the same and any other option would have a protein included already.
Add-ons and proteins are about all the customization you have, and you can view nutrition and allergen information as you select items. Plus, you can always select meals that are "off-plan" if you prefer something else in the particular week.
About half of the menu options followed a more European palate and style of eating. While the other half varied among internationally inspired flavors. Which gave us overall a good selection to choose from. Sustainability indicators for certain proteins are available, but not for the produce.
Gobble services nearly all of the continental United States with the exception of Montana, and there are some delivery restrictions in Nebraska and New Mexico. If you have an order coming, just make any edits to your selections by Wednesday at 11:59 p.m. the week prior to your delivery.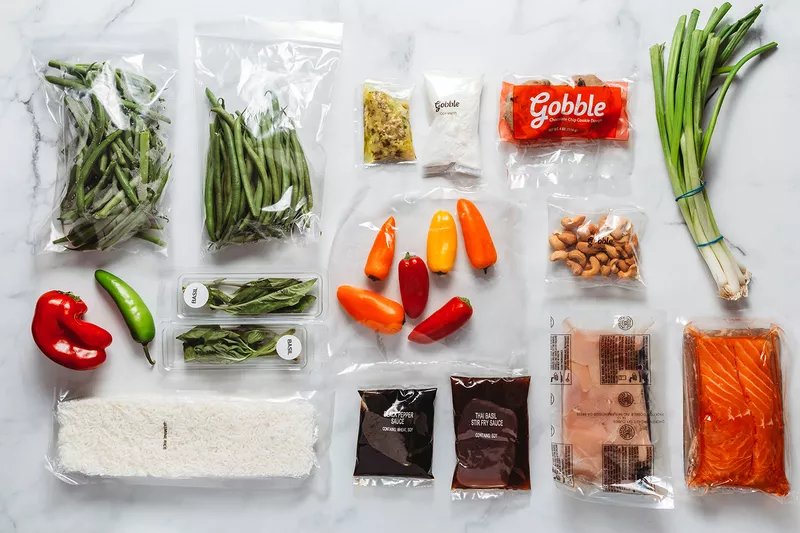 What We Made
We selected dinner for two, for four nights from the Classic plan and added on a fifth meal. We just couldn't resist the premium wagyu burgers with truffle aioli.
Mediterranean falafel wrap with feta cheese and tzatziki sauce
Butter chicken with basmati rice and naan bread
Chicken fideo skillet pasta with avocado and cotija cheese
Wagyu beef swiss cheeseburgers with mushrooms and truffle aioli
Korean BBQ pork rice bowl with broccoli, rainbow carrots, and kimchi
Support Materials: Info-Packed Recipe Cards
Gobble's only real support materials are recipe cards, and we liked how robust they are. It's a large-format card measuring 8 inches by 10 inches, with small print because of the amount on information on them. You'll get a quick description of the dish, an ingredient list with allergens listed for each item, plus a separate list of all allergens in the dish, the necessary tools and extras like butter or salt and pepper, and cooking instructions (with photos). Also included are cooking tips, notes, fun facts, and plating instructions, which we thought was a great idea.
Recipes are also available online, which helpful because the way that the kits are packed, the recipe cards get a bit banged up. One of ours couldn't really used because an item exploded in the kit, making the card unreadable.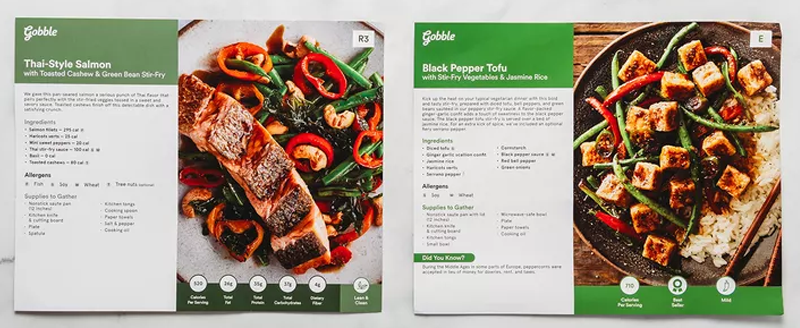 Packaging: Plastic Inside of Plastic, With More Plastic
Gobble's meal kits come in a cardboard box with an insulated inner bag, as is almost always the case with meal kits. Inside, there a gel ice pack in the bottom for cooling that can drained and the outer plastic recycled.
The meal kits themselves are assembled such that all the ingredients for each meal are grouped together in a plastic bag with the recipe card, except the meats. Those are housed separately, on the bottom, closest to the cooling element and separated from the rest of the goods by a cardboard divider. This packaging makes it quick and efficient to gather all your ingredients to make a meal, but unfortunately. It leads to a lot of plastic bags, which were not always recyclable for us.
Inside each plastic bag, there are some loose raw ingredients like whole tomatoes, and also more packaged items such as eggs wrapped in bubble wrap, housed in a rigid plastic container, or a container of prepped kimchi. Some ingredients come wrapped in brown paper, which was recyclable, as were the cardboard elements.
We love the care, the ease, and speed that this approach to packaging brings. If you're concerned about your plastic usage, however, this may not be the kit for you.
The Cooking Process: Close to Advertised
During the cooking process, we were surprised to find that not all the meals were quite as quick to prepare as Gobble claimed. While some meals met with our expectations of being ready in under 15 minutes, others took longer, sometimes much longer. Some chopping and trimming were required, which would actually great for folks looking to learn to cook. Or who just want to feel like they're cooking a bit for themselves.
Recipes were clear and easy to follow, with methods that made sense to us and pictures that certainly helped along the way.
Cookware used was minimal; we used some combination of a skillet, cutting board, and bowl for each recipe. The same could said for the additional ingredients needed like neutral oil, salt, pepper, butter, etc.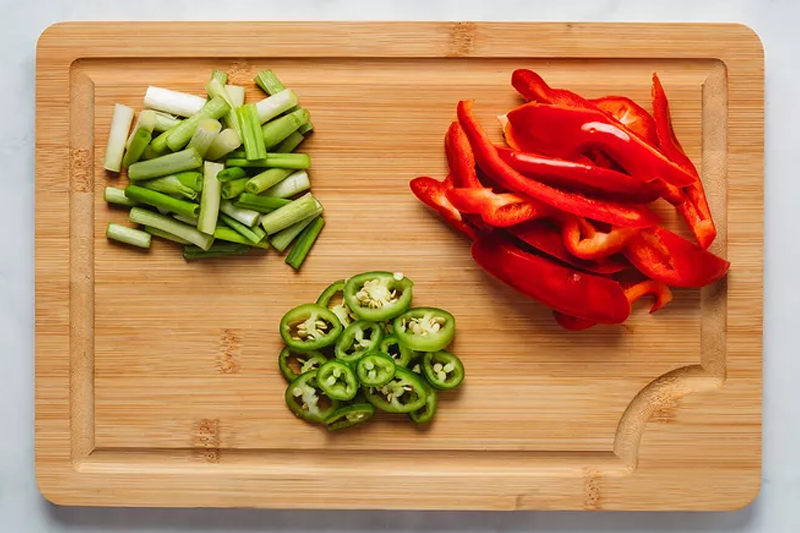 Flavor, Freshness, and Quality: Flavors a Hit, Quality a Miss
We were really hopeful about the items we chose for our Gobble kit, and while most of the flavors were great. There were some challenges with meats and texture that cannot ignored.
We loved the mix of international options that we could get in a single kit. Loved having a burger in the same week as a curry, and flavors came through well in the end result with little to no doctoring. Sauces were well-seasoned without tasting too salty.
The quality of Gobble's produce and dairy were all quite fresh with no real issues, even the leafy greens. Unfortunately, the meat was another story. We found some of the meats, mainly the chicken, to be visually unappealing and texturally problematic to the extent that it wasn't enjoyable to eat. While this is understandable to a certain extent—we know quality can vary—at this price per serving, we expected much better.
Nutritional Value: Minimum Effort
Gobble has only two meal plans besides the Classic option—you can select Vegetarian or Lean & Clean. The latter option offers dishes described as being low in calories and carboyhdrates, with lean proteins and omega-3 rich fats. Meals will be under 600 calories in this category, but there's not much else in the way of description of standards. So we aren't sure how these meals might stack up nutritionally overall.
As far as allergen management goes, each week Gobble does provide meals that are inherently free of nuts, dairy, and gluten. In addition, there a breakdown of which "optional" ingredients can omitted, thus eliminating the corresponding allergens. This puts a bit more of the work here on the customers, and we don't love. Those allergen-containing ingredients still come in the box with everything else.
Gobble Is Good For
Those who want a quick dinner without a ton of prep work and have money to spend may enjoy Gobble.
Gobble Is Not Good For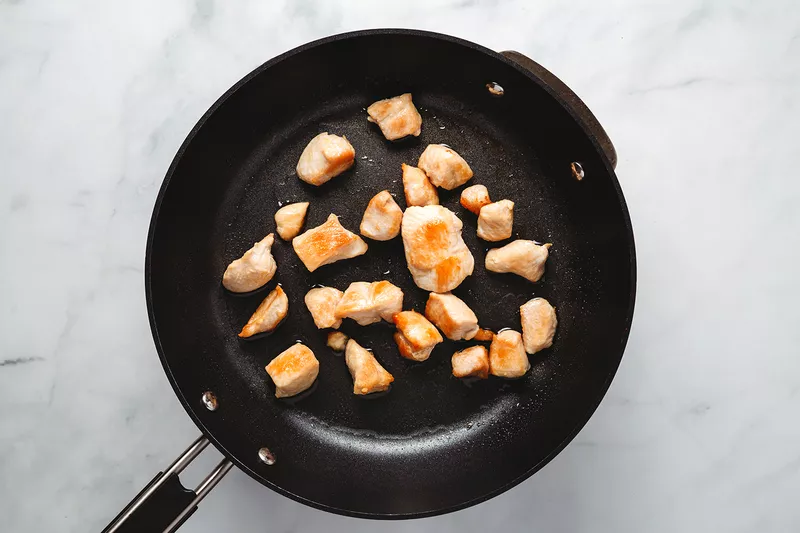 Folks on a budget or those looking to minimize their environmental impact may not find Gobble to a good fit.
Add-ons: Great Variety
Gobble offers a solid assortment of add-ons, including some extra proteins that seem constant, along with additional sides, breakfasts, and desserts that change.
Typically there are about seven breakfasts to choose from, which we felt was robust, and four to five desserts. We were also tempted by Gobble's two salads and a soup option. There are other sides like baked garlic bread and naan, depending on the week.
All items are priced individually by serving and were priced moderately to expensive. Which consistent with our Gobble experience overall.
Customer Service: Speedy and Helpful
We had an overall great experience with Gobble's customer service team across multiple modalities. There are chatbot, email, and phone options, plus a texting service.
Despite not always being able to assist, the customer service representatives were courteous. Very fast to respond (under 5 minutes each time), and kept at it until there was a resolution.
We also liked that if you engaged with a particular representative by phone or email. You could continue to work with that same person until your issue resolved. The same can said for the texting service. Which keeps you from having to explain your situation multiple times. This definitely gave us a sense of hospitality and care that is often missing over digital communications.
Making Changes and Canceling: All Digital
Once your order placed, you can make changes up until the middle of the week ahead of your delivery date. You can change items, delivery dates, and your delivery address—though be sure to follow this process all the way through.
All of this can done via your online dashboard If you need to make a change after the deadline, Gobble recommends you reach out to customer service ASAP. In our experience, the company was not able to make changes even as soon as the day after the cutoff.
The Competition: Gobble vs. Amazon Meal Kit
Amazon and Gobble both offer meal kits that require minimal work and come together fairly quickly. Neither kit prioritizes customization or nutrition and health. But both gave us a lot to consider around variety, flavor, and cooking experience. Amazon's kits truly require zero prep. They're also about half the price of the Gobble experience, but lucky to find them and the variety extremely limited.
For us, Gobble was not as consistent, and some of the items took longer to execute than expected. We also thought Gobble's plans were just downright expensive, but their weekly variety and add-ons gave us a good range of options to choose from and we felt that was a more sustainable weekly option for those looking for a classic subscription kit.