Are you wondering how to find a good web host for you?
If you are looking for a good web host for you and searching how to choose a good web host for you then your search end here.
In this article, I will be sharing the most important factors you need to consider to find a good web host.
I will also be sharing some of the most reliable web hosts so that you can choose a web host for you with ease.
So do read the article till the end.
We all know there are lots of web hosting providers in the market and finding a reliable web host seems like a confusing job especially for beginners.
To make your job easy, we have curated some factors that you need to consider before buying a hosting plan for you.
So without much ado, let's dive in.
Top 13 Factors to Find a Good Web Host
Reliability
First of all, a web host should be reliable.
Though there are lots of web hosting service providers in the market but choosing a web host whom you can trust should be your priority.
A reliable host means better performance and superior services.
For Example Bluehost, GreenGeeks
You can easily find some reliable web hosts by exploring their reviews.
Furthermore, I will be sharing the top web hosting provider later in this article.
Type of hosting
Once you know are known to some of the best reliable web hosts, next thing you should consider what type of hosting do you need.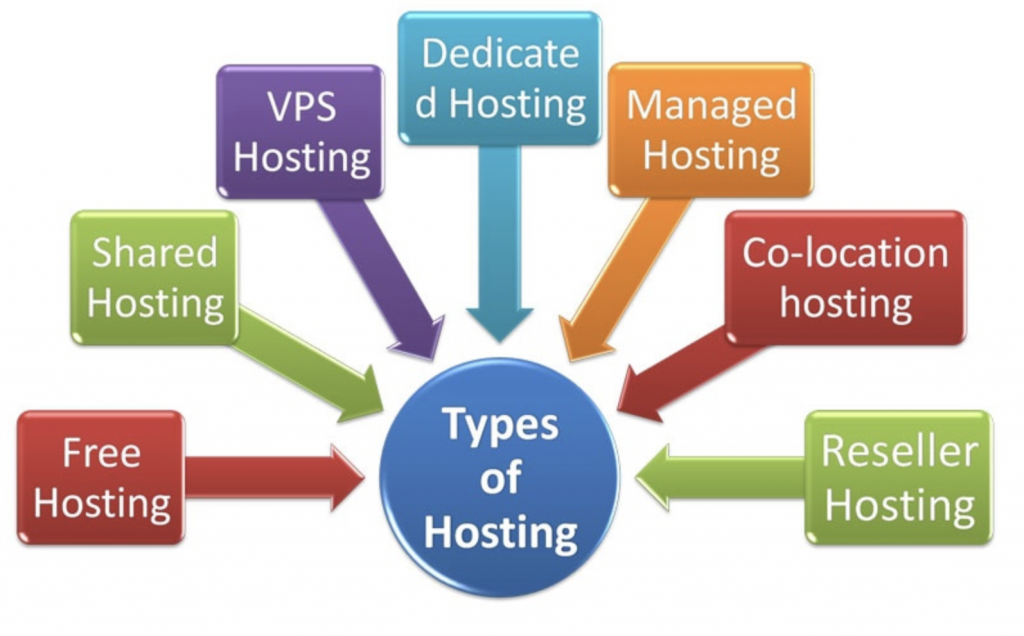 General types of web hosting
Shared hosting
Virtual Private Servers (VPS)
Dedicated hosting
Cloud hosting
And shared hosting is the most widely used hosting type.
If you are a beginner and just starting a blog or small website, then shared hosting is best for you.
Storage Space
Once you come with some reliable web hosts and hosting type, the next important thing which you need to checkout is storage space.
A web host is basically the storage space for your site files and that is the reason storage space is the most important factor while choosing a web host for you.
There should be enough storage space that you don't run out of space in the near future.
Some of the web hosts offer unlimited storage space while some offer limited space.
For example, GreenGeeks offers unlimited web space for all its plans while Bluehost offers 50 GB SSD storage with its Basic plan.
So choose a web host based on your requirements.
Bandwidth
Bandwidth is basically the data transferred between the clients and the server including all the upload and downloads.
So do focus on bandwidth offered by web hosts along with the storage space.
And the best thing is that most of the reliable web hosts offer unlimited bandwidth.
Bluehost and GreenGeeks both offer unlimited data transfer.
Pricing
The next primary thing is web hosting plans pricing which everyone looks after.
A reliable web host with relevant hosting type, storage space, and bandwidth should come at an affordable cost.
Both Bluehost and GreenGeeks entry-level plans start at $2.95/mo only.
Customer Support
Customer support is another important aspect while choosing a good web host for you.
A web host cannot be a good web host if it does not offer good customer support and for a beginner, customer support is something that matters the most.
How to start a blog, build a website, are some of the most common questions and their support team should be able to resolve all your queries.
A good web host should not only solve your pre-sales queries but also after-sales queries and 24/7 customer support (phone support and chat support) is recommended.
Backup
How does it feel when you come to know all your data got crashed and you don't have a backup of your website files?
Horrible, right?
So a good host needs to give you some sort of facilities related to the backup.
Apart from manual backups, some hosts even offer automatic backup (daily, weekly, and monthly) for free and some charges fees.
So do consider the backup feature at topmost priority.
Control Panel
Control panel or cPanel is the dashboard of your web hosting provider where you can manage everything at a single place.
So the control panel should be user-friendly and easy to use.
Speed
No one likes slow websites.
Even slow page loading speed may affect your site SEO that may lead to lower rankings in the search engine result pages.
A good web host should provide enough speed so that your site can load within 2 seconds.
Uptime
A good web host must provide 99.99% uptime.
It's not worth having a site that is down most of the time that will results in a bad experience for your audience.
This will further result in broken relations between you and your clients and that will leads to business loss.
Security Features
A good web host is the one who takes care of all the basic security features at least.
Secure Socket Layer (SSL) is one of the most important security features that ensures safe data transfer over the Internet.
Furthermore, 2-factor authentication (2FA) is beneficial to prevent unauthorized access to your account.
Most of the web host offers free SSL that enable https protocol for your site and helps build trust with your audience.
Custom Email Addresses
A custom email address ([email protected]) also plays a crucial role to stand out from the crowd.
A custom email address indicates professionalism thus build the trust between you and your clients that result in better business opportunities.
It will also help you to build your brand free of cost.
So choose a web host that offers free custom email addresses.
Scalability
Last but not least scalability.
A good web host should be scalable as your needs grow with time.
Let say you start with Bluehost Basic plan and as your site grows you will need more resources.
So there should be sort of facility that you can switch your plan or even server type when required with ease
Some of the Best Web Hosting Provider
GoDaddy
Namecheap
Hostgator
A2 Hosting
SiteGround
Bluehost
Hostinger
GreenGeeks
DreamHost
InMotion
All of these hostings are reliable and affordable web hosting and you can opt any of these without thinking twice.
Conclusion
We have shared some of the important factors that you should consider while choosing a web host for you.
All the web hosting I mentioned above are trustworthy and used by millions of users.
Now it's up to you which web hosting you choose for you based on your needs.
If you still have any query related to choosing a good web host for you, do let us know by commenting in the comment section.
We will try our level best to help you out.
Moreover, if you need any help setting up a website, do contact us.