HubSpot is an ultimate hub for all your software needs.
Whether you need a CRM, Marketing software, Sales software, Service software, or Content Management software, everything is available at one place.
But in this post, we will be reviewing HubSpot CRM Software specifically.
But before getting into the details of CRM (Customer Relationship Management), let's have a quick overview of HubSpot.
HubSpot Overview
HubSpot offers a full software platform that includes inbound marketing, sales, and service software that helps your business grow without compromise.
This platform mainly consists of software in four different categories.
Marketing Hub
Sales Hub
Service Hub
CMS Hub
HubSpot at a Glance
150 HubSpot user groups
HubSpot Blog – 7M monthly visits
HubSpot Academy – 248K+ certified professionals
26K inbound registered attendees
HubSpot App Marketplace – 400+ integrations
6 Languages
6M+ social followers
78,700 customers in over 120 countries
So just by looking at the stats, you can imagine how reliable this platform is.
Now, we will start reviewing HubSpot CRM Software.
HubSpot CRM
It is a one-stop cloud-based solution for sales leaders, salespeople, marketers, customer service teams, operations managers, and business owners.
It was introduced in 2014 for companies that want to spend less time logging data.
And the best part is that it is 100% free forever.
To understand how HubSpot CRM Software makes your job easier we will look its every module separately.
Sales Leaders
You will be able to see the entire sales pipeline in real-time with detailed reports (sales activity, productivity, and individual performance) up to 1,000,000 contacts with no time limit or expiration date
Features
Reporting dashboard
Company insights
Deal tracking
Pipeline management
Email tracking & notifications
Prospect tracking
Meeting scheduling
Live chat
Salespeople
Keep full control over your sales process by organizing and sorting deals in your own pipeline.
Features
Contact management
Deals & tasks
Company insights
Pipeline management
Email tracking & notifications
Email templates & scheduling
Gmail & Outlook integration
Meeting scheduling
Marketers
Free ad management tools to attract more visitors to your site and Live chat to connect and convert visitors in real-time.
Features
Forms
Ad management
Live chat
Chatbot builder
Email marketing
Contact website activity
Reporting dashboard
Contact management
Customer Service Team
Centralized management of customer conversation irrespective of messaging channel.
Features
Ticketing
Conversations inbox
Live chat & chatbots
Team email
Ticketing
Email templates
Tickets closed reports
Time-to-close reports
Operations Managers
Build and customize forms easily and let your salespeople take advantage of time-saving productivity and prospecting tools.
Features
Third-party integrations
Productivity tools
Forms
Prospect tracking
Reporting dashboard
Contact management
Deals & tasks
Company insights
Business Owners
Say not to business cards and start managing all your contacts in one powerful, easy-to-use database.
Features
Contact management
Prospect tracking
Pipeline management
Ticketing
Contact management
Prospect tracking
Pipeline management
Ticketing
HubSpot CRM Pricing
HubSpot CRM Software is 100% free with core features.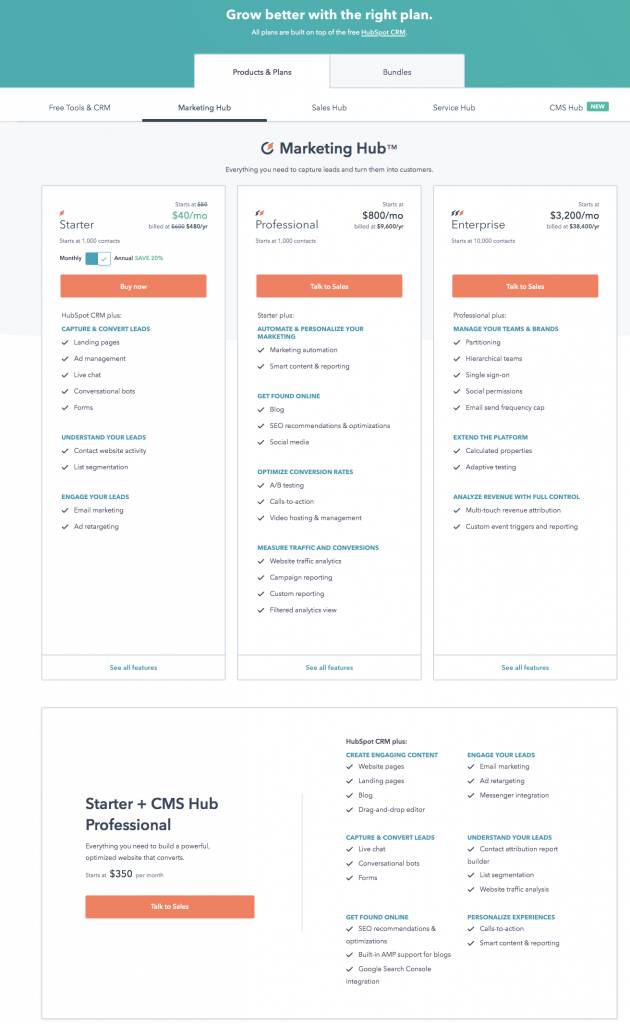 This simply means to use its core features there is no upfront cost and that makes it the best choice for SMBs.
But to extend its functionality one has to buy its paid add-ons.
Starter ($50/mo) for 2 paid users
In this plan, you will get the following features along with free tools features.
ORGANIZE YOUR SALES PROCESS
Deal pipeline
Simple Automation
Custom properties
Quotes
CONNECT WITH PROSPECTS ON THEIR TERMS
Calling
Meeting scheduling
Live chat
TRACK, ITERATE & IMPROVE
Goals
Reporting dashboard
Professional ($500/mo) for 5 paid users
In this plan, you will get the following features added.
MANAGE YOUR GROWING TEAM
Teams
Deal stage automation
Task automation
Lead rotation automation
Record customization
Required fields
Custom reporting
PERSONALIZE YOUR OUTREACH AT SCALE
Email sequences
1:1 video creation
Smart send times
CONFIGURE, PRICE & QUOTE
Products
Calculated properties
eSignature
Enterprise ($1200/mo) for 10 paid users
In this plan, you will get the following features added.
SCALE YOUR BUSINESS
User roles
Record customization
Single sign-on
Webhooks
Field-level permissions
COACH & ENABLE AT SCALE
Playbooks
Call transcription
Predictive lead scoring
SUPERCHARGE YOUR PIPELINE
Quote-based workflows
Recurring revenue tracking
Custom reporting
Reporting dashboard
HubSpot CRM Pros
100% Free Platform
The very first thing that makes it a better option as it is completely free. Any business can use HubSpot CRM at no cost and can integrate paid add-ons only if needed.
Powerful Solution
You can add up to 1,000,000 contacts and users, and unlimited storage, everything for free.
Intuitive Interface
It has a decently designed user interface (UI) and one can learn to operate in minutes not months.
No Integration Needed
HubSpot CRM uses the same database as marketing platform that results in a smooth transition of leads from marketing to sales in your funnel.
Live Chat
Next, it's easy to set up live chat tools (free or paid) included with basic chatbot functionality is enough to take your customers' experience to the next level.
Better Insights
Automated tracking of customer interaction and Gmail & Outlook extensions to track email opens and clicks helps you dig into customer behavior.
Communicate with other CRMs very well
HubSpot CRM can be used simultaneously with other CRMs such as SFDC or Microsoft Dynamics and doesn't affect anything in your organization.
HubSpot CRM Cons
Comparatively New
HubSpot CRM is relatively new as compared to the other CRMs in the market and that is the reason there are some feature limitations.
That being said, updates are being made regularly.
Lightweight
HubSpot CRM is a great option for small businesses, but for the business with lager sales teams, it might not be a great choice just yet.
Lack of flexibility
As compared to the other CRMs, it is relatively inflexible.
Though you can customize some features as per your team processes and needs but organizations with complex sales processes might not be able to get the flexibility they are looking for.
Conclusion
This is all related to the HubSpot CRM.
And for me, it is one of the best CRM for small businesses available in the market.
As compared to other companies that offer 14 days or 30 days free trial, HubSpot is 100% for everyone with core features and one can upgrade only if needed that makes HubSpot CRM the best solution for SMBs.
So what are you waiting for?
Start implementing HubSpot CRM and take your business to the next heights.