In the past few years, travel planning has become so much easier especially for a person like me who loves to travel. There are more services now that ease creating itineraries and budget planning. We have programs that provide discount bookings for flights and hotels. We even have transportation, direction, and map apps that make it easier to navigate during trips. AND MANY MORE!
What's really exciting for travel planners like me is that nowadays, activities are much more convenient to plan and purchase. There will no longer be long queues that waste our time and payment of unnecessary professional fees to agents. We can now rely on travel platforms to buy travel activities at a cheaper rate and in advance!
It's definitely A BIG WIN for people who plan DIY trips. For me, it's a travel god sent!
In this article, I reviewed and talked about KKDAY, a company that brands themselves as the leading e-commerce platform that connects travelers with local tours and activities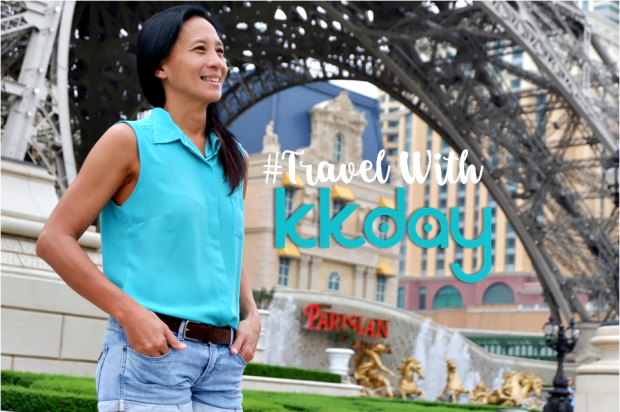 KKDAY provides local experiences and tours around the world. It is a travel platform where you can purchase tickets and pre-arranged tours for all your travel needs. Whether it's a boat ride, an amusement park ticket, or a night food tour, KKDAY will most likely have you covered!
Here are some of the things I like about KKDAY and a few points I feel the travel platform can improve on:
Convenience – Aside from saving money, buying tickets for your travel activities in advance saves time!
You don't have to queue long lines to buy an entrance ticket and you have assurance that you have an available slot for any activity you book.
Easy Booking – It takes less than 5 to 10 minutes to book and order the activities you want for your trips.
You just have to browse the website, search the activity you desire, read reviews, click on specific details like date of travel/quantity/etc, add a promo code (if any), key in traveler information, add notes, choose payment, add contact, add credit card details, and the order will process. These steps may seem a lot but it's just a click, type, and next motion. It's really easy!
24 to 48 hours confirmation – After booking your travel activities, you'll immediately receive a notification message on your KKDAY account and email that they have received your order.
You have to patiently wait for your confirmed ticket.
Please note the difference of an order that was received and an order that was confirmed.
Payment – As of Sept 2017, payment is only via Credit Card, Android Pay or PayPal which is basically paying with debit/credit cards.
I hope KKDAY Philippines provides other payment options soon like payments centers or bank deposits.
Also, the website may be picky when it comes to banks. I used my Union Bank Visa Gold credit card first but it wouldn't push through during the OTP (One-Time Password) assessment. When I used a BDO Visa Gold credit card, the booking pushed through.
Specific Details – The information provided on the KKDAY website for each activity is very specific. It includes a short description about the travel activity, what the booking includes, important & additional information, and how you can redeem the voucher. It even provides a summary of your itinerary and a few photos so you know what to expect.
Reviews – This is always my favorite part before I book anything online. It's good for online sellers of ANYTHING to have reviews from previous customers. It allows future or potential customers to analyze and review their options before using a website and in this case, a travel platform in KKDAY.
Promos & Discounts – Aside from having a cheaper rate, you also get the chance to avail promos and discounts from KKDAY to further reduce the price of your travel activities! You just have to follow their social media accounts so you're updated on what promo codes you should use!
Watch out for KKDAY's partners as well as they also provide discount codes. In my case, I chanced upon a The Travel Club code which gave me a 10% discount on the total price of my booking.
Contests – Since I started following KKDAY on social media, I noticed that they always have contests!
What really caught my eye was the ₱50 tours contest they had a few months ago! That was really a steal for anyone who would be visiting the countries included in that contest! Again, follow KKDAY's social media accounts so you can win amazing steals in contests like these!
Printed Vouchers Needed – You can't go paperless with KKDAY as the ticketing offices require a printed voucher to be presented upon redemption of activity.
At the ferry, I tried to show the e-voucher in a PDF format through my phone but they required the printed voucher. NOTE: This was the case for Cotai Water Jet. I'll try to update this post the next time I book with KKDAY and check if other brands require a printed voucher as well.
Customer Service – Communication with KKDAY reps is really easy as you can conveniently message them through your KKDAY account as they have a messenger type of feature. If you have inquiries, you can just type there and they'll respond as quickly as they can.
Philippines-Friendly – KKDAY launched a few months ago together with Air Asia here in the Philippines to provide Filipinos with more affordable and convenient options to book their desired travel activities.
More than the go-to travel activities like Hong Kong Disneyland or Universal Studios SG/Japan, KKDAY has around 73 Philippine tour experiences you can book through their website. You can book Jet Ferries from Cebu to Bohol, Caticlan/Kalibo transfers, El Nido Tours, Cebu Adventures, and many more at affordable prices.
A normal Caticlan/Kalibo transfer would almost always cost you ₱500/₱800 but with KKDAY, it's only ₱454/₱549! Hindi mo na kailangan hanapin yung cell number ni Kuya na naghatid sayo dati sa Caticlan, KKDAY got your back!
Taiwan-Based – Since KKDAY is a Taiwan-based company, it has a lot of travel activities/tours to offer in Taiwan! And since malapit na maging VISA-FREE ang Philippine passport holders (cross our fingers), we'll have so many affordable travel activities to choose from!
When I went to Taiwan back in 2015, I could have saved around ₱100-₱200 on each of my tours if I booked through KKDAY (pero wala pang KKDAY nun! HAHAHA). KKDAY's Taiwan half and day tours are pretty extensive so you definitely have a lot of options to choose from and mix+match during your trip planning! You can curate from KKDAY's list to create an adventure suited to your liking!
#TRAVELWITHKKDAY EXPERIENCE
STEP 1 – SIGN UP!
If it's your first time visiting www.KKDAY.com, make sure you change the flag to your home country (found at the upper right of your screen). This is for language and currency purposes.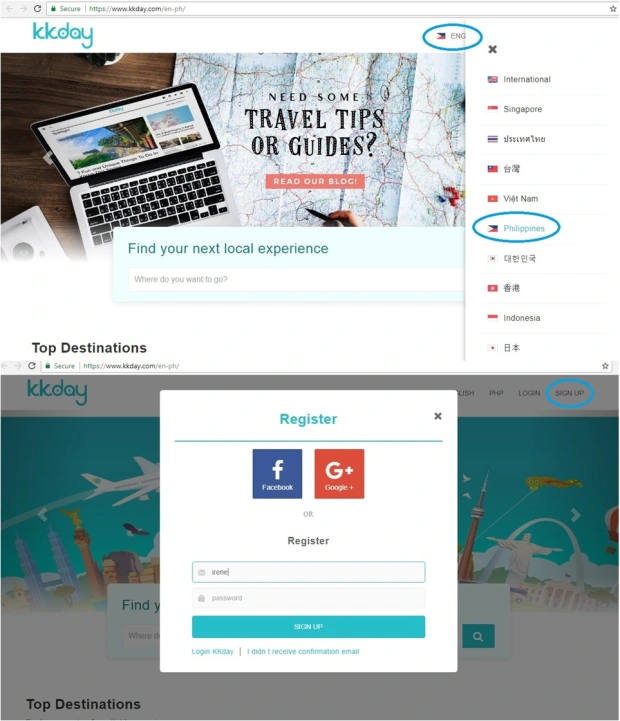 Creating your account is really easy! Just click on sign up and register your email address and password. VOILA! MAY ACCOUNT KA NA!
After a few minutes, you'll receive an email with a link that you have to click to confirm your registration. In my case, the website address had no clickable link so I had to copy and paste it on my web browser.
Creating your account is really easy! Just click on sign up and register your email address and password. VOILA! MAY ACCOUNT KA NA!
After a few minutes, you'll receive an email with a link that you have to click to confirm your registration. In my case, the website address had no clickable link so I had to copy and paste it on my web browser.
If you have time, you can edit your KKDAY account (through account settings) by adding a photo and your personal details. You can even add family members for convenience when you book for your future trips.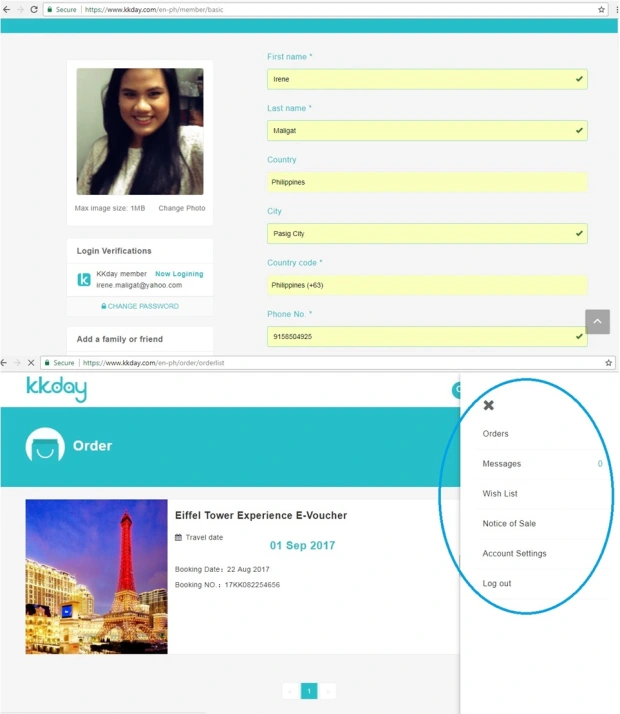 You may also find these features on your accounts: Orders (where you can find your pending and confirmed KKDAY bookings), Messages (communications with KKDAY reps), Wish List (if you're interested in any KKDAY activity but not sure if you'll avail it, you can add it to your wish list, and get back to it at a later time), and Notice of Sale (experience tracking list).
 BROWSE GRATEFULLY!
After creating your account, you're free to browse! You can start off with what continent you'll be visiting.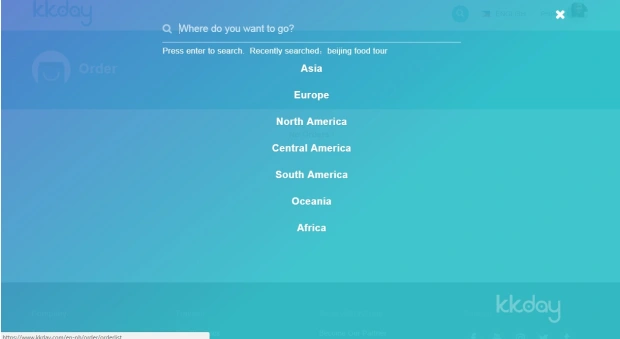 Or you can directly choose a specific country. When I booked with KKDAY, my family was about to take a trip to HK-Macau so that was my landing page.
You can sort activities by low to high price, high to low price, and popularity. You can also be more specific by choosing what category best suits what you're searching for.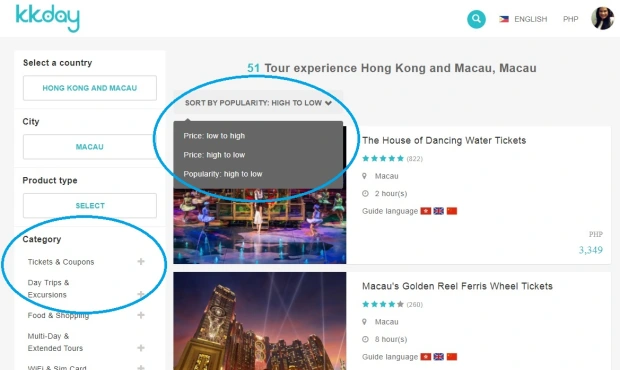 While browsing, you may find some activities that are in Chinese. You can choose to (a) look for its other page that has a English translation or (b) book it directly. There are some cases wherein an activity has no English translation. You can book it if you're aware what the activity may be based on the photo.
When you find the activity you're interested in, read the specific details of the activity or tour. Check the description, what's included, and how you can redeem the voucher on the day of your trip.
Read the comments or reviews as well so you know what happened to past customers who availed that specific travel activity.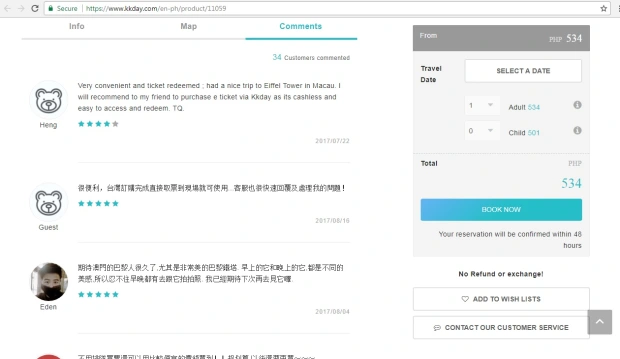 STEP 3 – CHECK OUT!
Once satisfied with the activity, details, and reviews, it's time to CHECK-OUT! Start by choosing your preferred date of travel and quantity of the tickets. With my KKDAY booking, I availed one (1) Eiffel Tower Experience so I can marvel at the Cotai view from the observatory decks of the Eiffel Tower at Parisian Macao.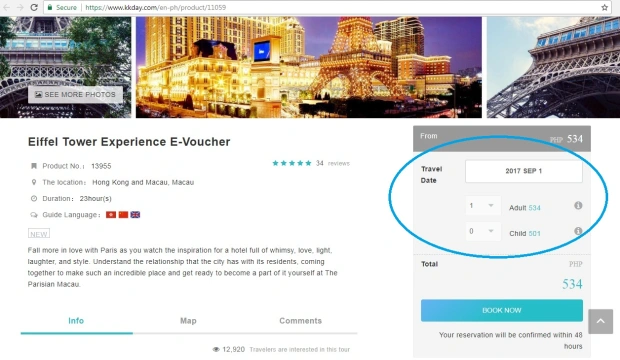 If I bought a ticket directly at Parisian Macao for the Eiffel Tower Experience, I would have paid MOP100 or ₱635+. With KKDAY, you can purchase it for ₱534 only!
To further decrease this amount, I looked for available promo codes that KKDAY has. I usually search through their social media first then PICODI. On PICODI, I saw that they had a 10OFFKKDAY code but it didn't work for the Eiffel Tower Experience so I browsed through the internet again.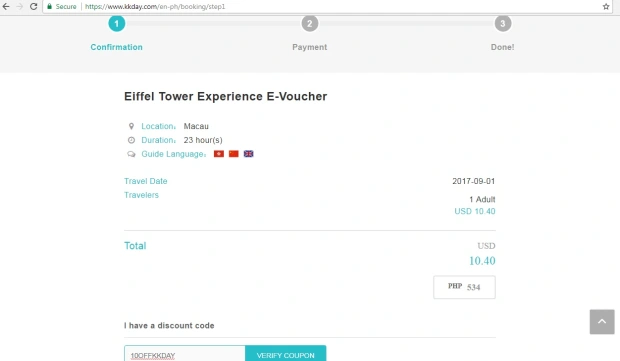 That's when I found a code with KKDAY's partner, The Travel Club. I used their promo code – THETRAVELCLUBPH – which gave me a 10% discount off my total price.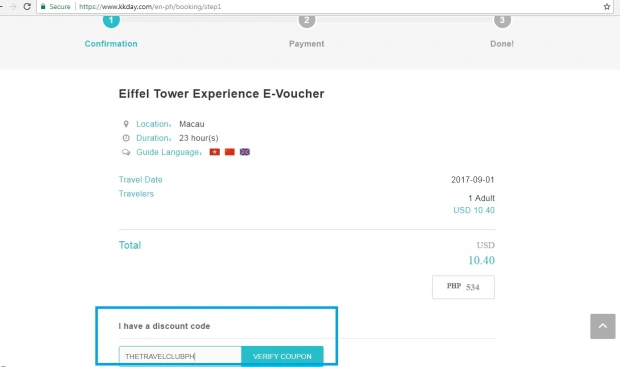 After applying your promo code, you need to choose your preferred guide language, counter of collection (if applicable), and buyer information.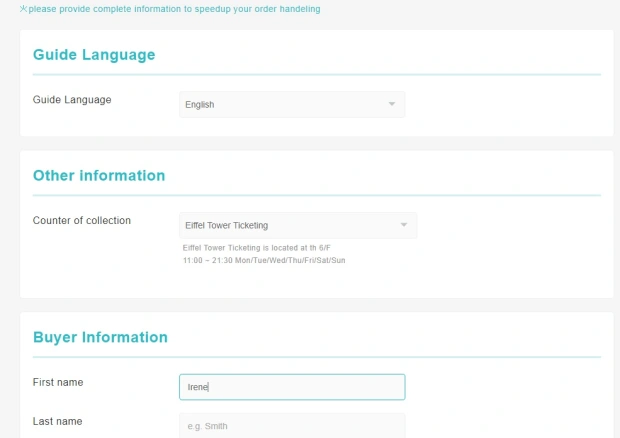 u can also add a note if you have special instructions for KKDAY.
The next step is choosing a mode of payment – Credit Card, PayPal, or Android Pay.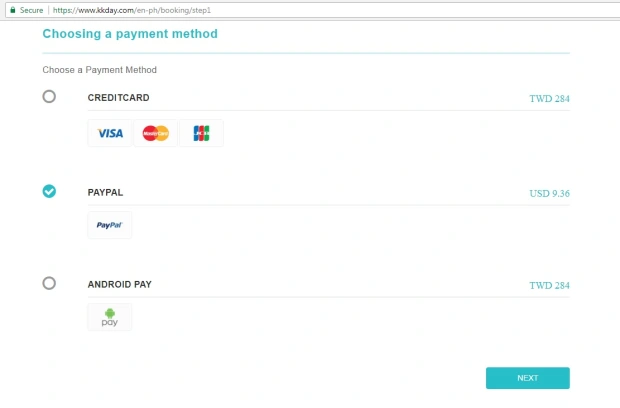 After choosing your payment mode, you have to type in your contact information. I feel that this part should be on the same landing page as the buyer or traveler information.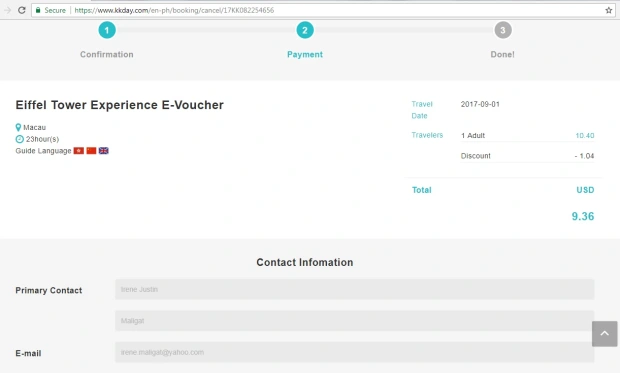 Typing in your credit card details is next. The OTP (One time password) assessment will pop right after.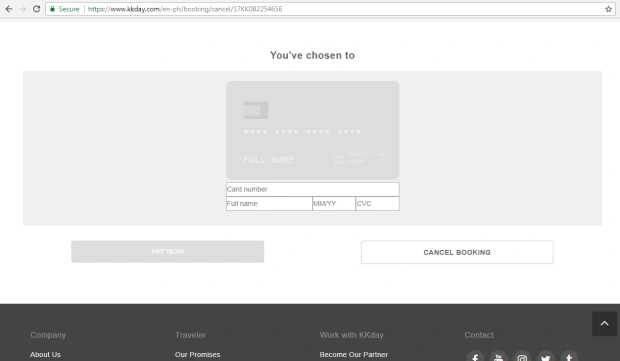 You'll receive a message on your KKDAY account and email notifying you that your order is received.
I got my Eiffel Tower Experience order notification on Aug 22, 2017 5:09 PM around a minute after I successfully booked my travel activity on the website. I received my confirmed e-ticket/voucher on Aug 24, 2017 12:18NN.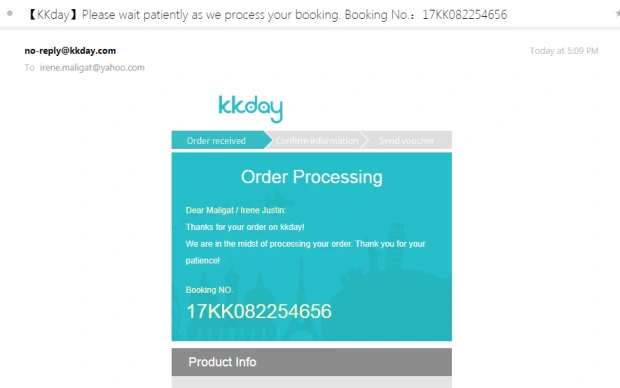 STEP 4 – REDEEM GRATEFULLY!
Aside from printing the voucher, I also kept a copy of the e-ticket in my phone (saved in my iBooks app) just in case. My intended redemption date was Sept 1, 2017 but my family decided to visit Parisian Macao the next day.
When we arrived at Parisian Macao, we immediately took photos at the lobby and experienced some of the shows there. For more details on this, I'll post our HK-Macau experience write-up SOON.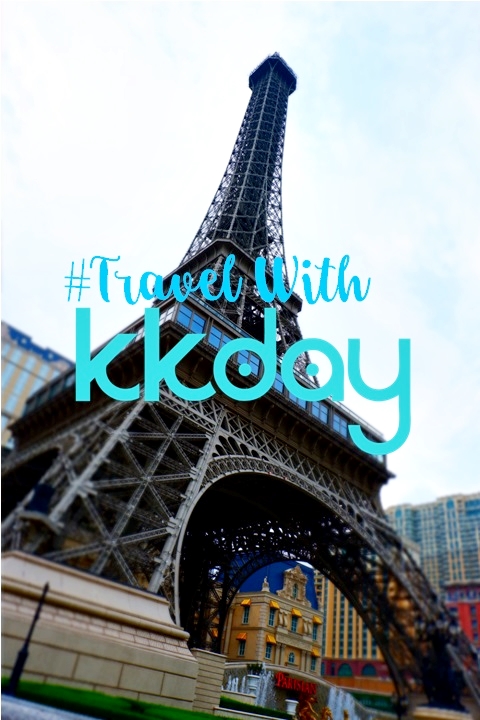 Please note that you don't have to pay anything if you want to take photos of the Eiffel Tower from the outside. You can walk around Parisian Macao and take photos of the tower's exterior. You need not be staying at Parisian Macao as well to do this. This is an establishment that you can freely roam around in.
After taking photos outside and at the lobby of the casino/hotel, my family went to the 3rd level where the Eiffel Tower ticketing office and food court are. Since I was the only one who availed the Eiffel Tower experience, I left my things with my family at the food court and only brought my printed voucher, phone, and camera with me.
I showed my printed voucher to the person at the front and he granted me passage through the observatory deck entrance.
Walking through the 3D glossy, brown, and vintage photo-like effect hallway, I awed at framed photos of the history of how the Eiffel Tower was built. It was a fascinating way to start the Eiffel Tower Experience.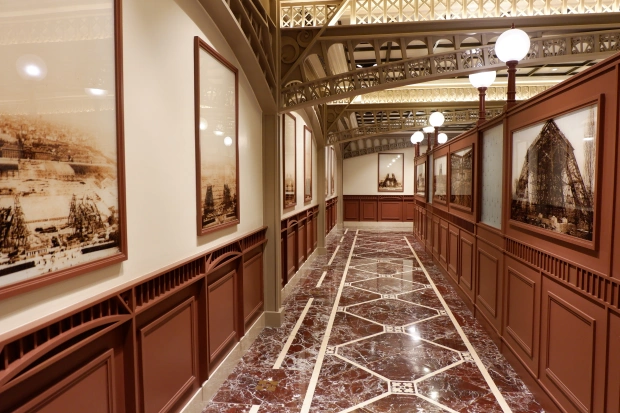 An escalator up, I was led to a photography booth with a green screen where I was asked to pose for 2-3 shots. When I reached the ticketing booth, I handed out my voucher.
The lady stood up and unfortunately told me that the 7th and 37th observatory decks were closed due to the typhoon that hit Macau the week prior. During that time, ANYONE can visit half of the 7th floor of the Eiffel Tower that features a different view of the tower and a part of the love locks bridge.
I was a bit disappointed about this because I wanted to take a photo of the Cotai view. But I understood as it was for everyone's safety.
I've seen TV towers in Nagoya and Tokyo but Parisian Macao's replica is pretty massive. Even though the casino/hotel just opened last Sept 2016, I was surprised to see that the fence for the love locks was almost full.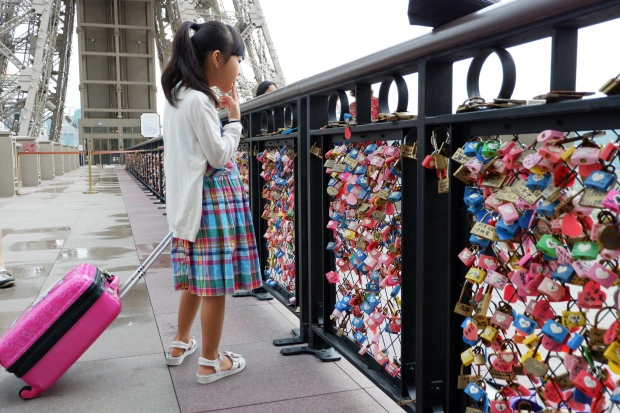 After I finished taking photos and checking out the view, I walked towards the exit. A few escalators down, an employee meets you while holding a photo souvenir of you. I politely declined and explored the gift shop. The shop displayed a lot of miniature Eiffel towers that were aesthetically pleasing. It was really tempting to buy a piece!
It was a good mini Paris experience overall. It really complimented everything we have experienced so far at Parisian Macao.
Although the lady told me that the ticket I purchased would be valid until Jan 2018, I currently had no plans of visiting Macau during that period so I sent a message through my KKDAY account requesting for a refund.
There was no notice on KKDAY's website but I did wish that I checked the official website of Parisian Macao first to see if the observatory decks were open before I booked the voucher.
After a few hours, a KKDAY rep called me on the phone (with a Chinese accent at that) asking me about my inquiry. I told them what happened and they immediately granted to process the refund. After a few minutes, I received an email and message on my KKDAY account that the refund started processing. KKDAY was really proactive which I'm very grateful for!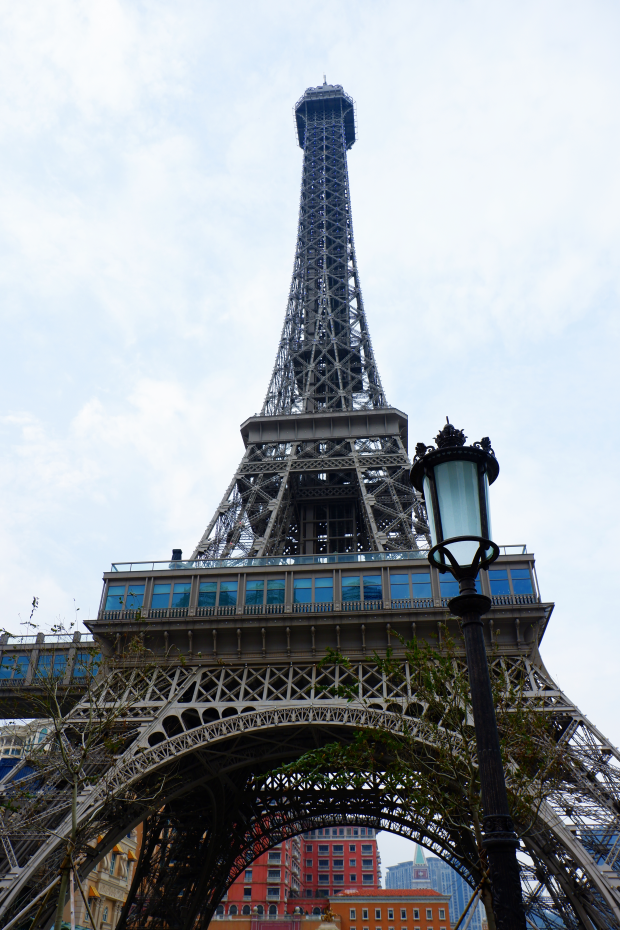 With my review, customers will know that the Eiffel Tower Experience might be closed and give them the chance to check their options. This prevents them from possibly having to request a refund or inconveniences for their future trips.
It takes a few types and clicks to do this! So I'm highly recommending you to review your KKDAY experiences.