The History
I don't think I could write everything there is to know about Macy's Department Store without crashing our server. A company that has been around for more than 150 years, which has dominated the retail scene for so long, is bound to conjure up memories for most of us.
Their history is long and storied. Macy's is ingrained in America's culture in so many ways, most notably by sponsoring the Thanksgiving Day parade in NYC. As a native New Yorker, I still try to find it streaming on-line to celebrate Thanksgiving while living in Europe.
On a personal note, I'm a huge fan of shopping at Macy's for clothing. I am a regular customer of theirs, both on-line and in person.
Macy's Jewelry
What I am not a huge fan of, unfortunately, is Macy's jewelry department. The quality, price and service were all lacking. When purchasing something so valuable, it is imperative that the experience and product live up to the number you see on your credit card bill at the end of the month. We did not find that to be the case at Macy's.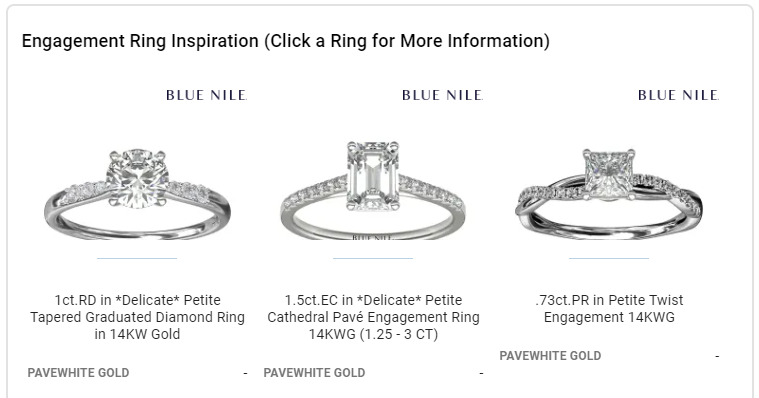 The Experience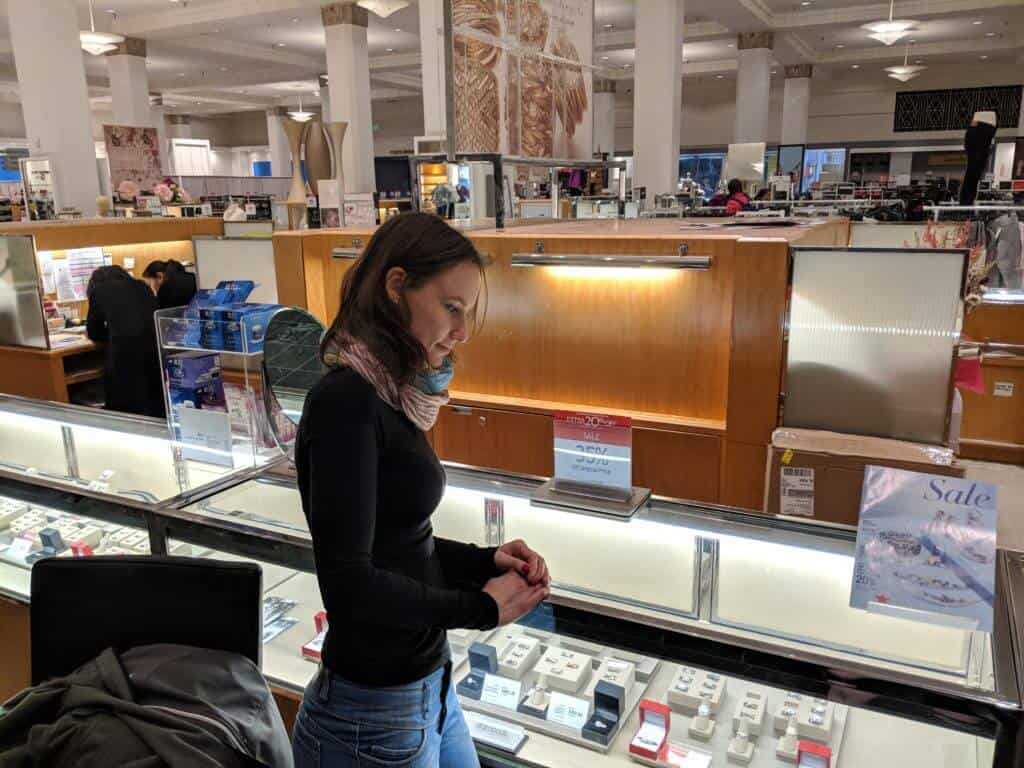 Annie and I started our most recent secret-shopping trip in the rainy Pacific Northwest. Fortunately, a Macy's store in downtown Seattle was right around the corner from our hotel.
We darted through the overwhelming perfume section and made our way to the discount-festooned jewelry counter. A saleswoman joined us fairly quickly and she was quite friendly. Unfortunately, other than to tell us that she needed approval to show us anything over $5,000, she wasn't able to provide us with any help.
We looked at one diamond ring while we were there.  There weren't that many options and it seemed too cumbersome to ask about multiple diamonds. The ring we looked at was a 1 ctw round halo ring in 18kt white gold. The ring was priced at $8,000 but, surprise surprise, it was on sale for $3,499. We'll talk about the whole charade of Macy's sale prices in a bit. Lets first talk about the ring.
The saleswoman was unable to give us any details about the diamond. She didn't know how big the center diamond was, or any of the qualities. She knew it was certified, but didn't know which certificate it had. We asked her to find the certificate, which she said would take about 10 minutes. We wandered around the store a bit and came back.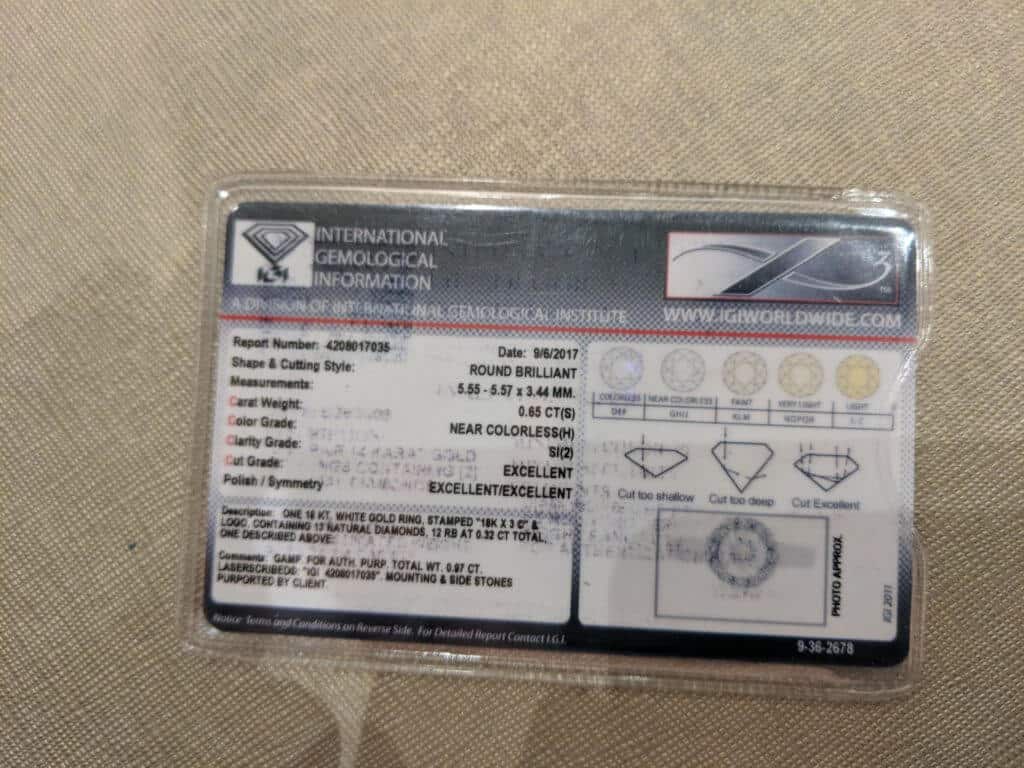 Selection
This is where Macy's really falls flat. Compared to a dedicated jeweler, their selection is severely limited.  There were only 3-4 rings on display that covered a range from $3,500 to $30,000. If you read our review of James Allen jewelry, you'll see they have hundreds of options to choose from.
Yes, you can look on their website for more options, but their site is terribly cluttered and very difficult to navigate. They have very little in terms of preset options and their custom site is woefully inadequate compared to a real online retailer.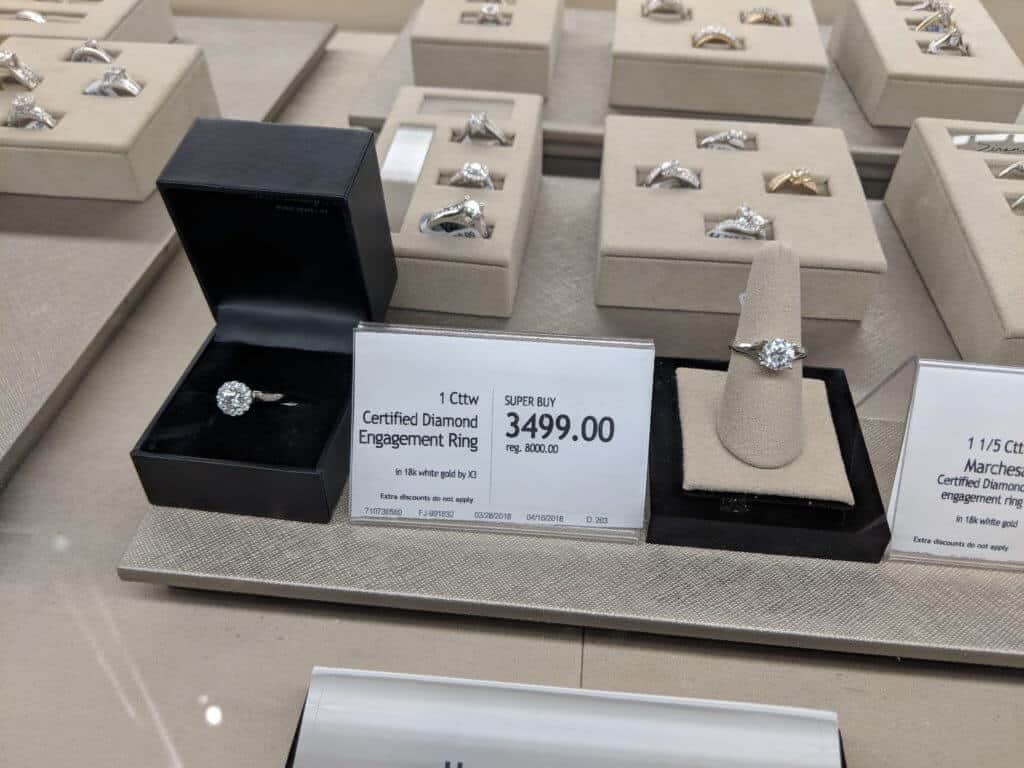 Macy's Deceptive Sale's Tactic
When one of our readers contacts us about diamonds from Macy's, we always end up having the same conversation. "But the ring is 60/65/70% off. How could it not be a good deal?" Well, it's not a good deal. It's never a good deal. It's nothing more than marketing.
Macy's has repeatedly come under fire for this tactic. The reality is that n
o one should ever pay full price for anything when shopping at Macy's. Essentially, you should completely ignore the regular prices that are listed on their jewelry as they are meaningless. You should be looking at the sale price and comparing that to the market.
As I mentioned above, I do like shopping at Macy's. I regularly buy clothing there and get all of my luggage there. If there were a Macy's in Europe, I'm guessing I would have my house accessorized by Macy's. It kills me whenever I'm in America and some of the staples I buy from Macy's don't happen to be on sale that particular week.
That doesn't mean that you can't find value when it comes to Macy's sales. Some of their items are fantastically priced (not jewelry as you will see below). The point I'm trying to make is that you need to break down any illusion you have that a "sale" is added value for you. You need to look at their products strictly by the final number.
Giving Macy's one more try
We decided to check them out one more time while visiting southern California. We went into their store in La Jolla. It was incredibly difficult to find the diamond jewelry section. When we did find it, there was no one working there. We had to walk around the store to find someone who then located an employee that can open the jewelry cases. It was a truly bizarre experience.
Once again, the diamond was underwhelming. The only engagement ring Macy's had on hand was 0.50ct "I color, I1 clarity" diamond in a white gold solitaire setting for $2,300. I put the quality in quotation marks because the salesperson didn't even know if the diamond was certified, let alone what certificate it had. The inclusions were very noticeable and the diamond had a strong yellowish tint, so I think those grades were very charitable.
The Value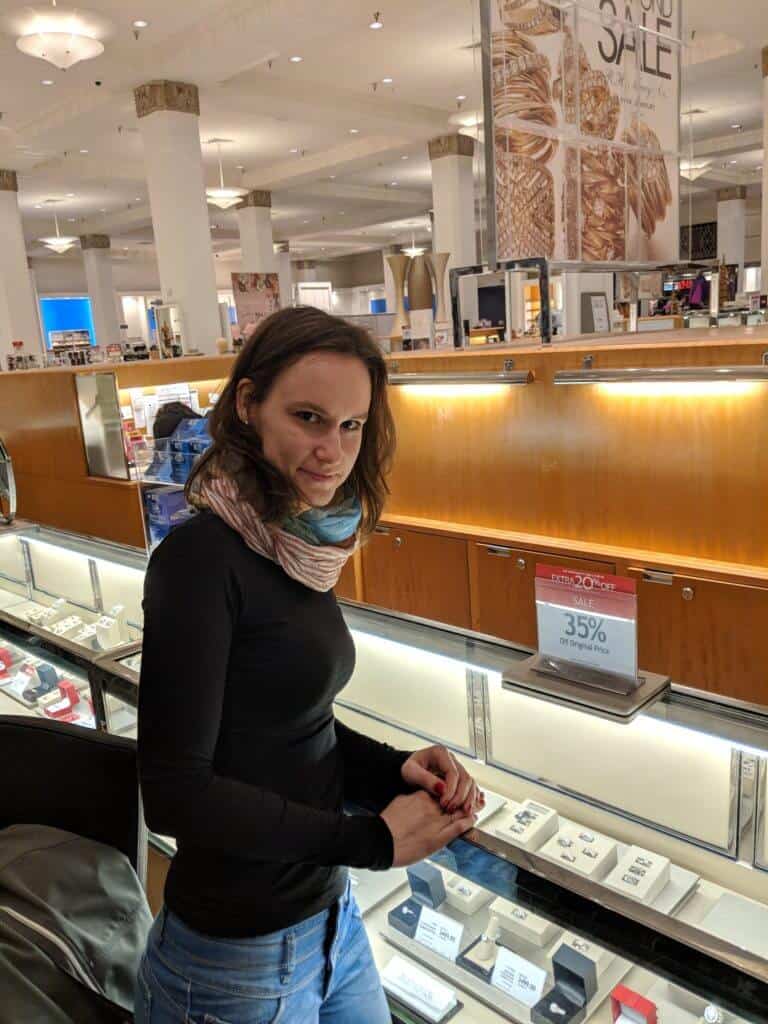 With that out of the way, lets see how the prices at Macy's stack up with the competition. As you'll see here, the $8,000 price tag is ludicrous. So we'll be using the discounted price. Despite being IGI graded, we'll compare Macy's diamond to ones with a better certificate. Here is a far superior diamond from James Allen (better certificate, higher color, larger) for $1,850. If you add it to this similar halo setting, your total price comes out to $2,562. That is a savings of 30%.
Let's compare that option with a ring from Blue Nile. Here is a stunning 0.63 G SI2 that is GIA certified from Blue Nile for $1,435. I have added this more elaborate halo setting for a total price $2,625. The Macy's ring is priced about 30% higher.
Now let's compare the diamond engagement ring we saw in Macy's La Jolla. That was a 0.50ct I color, I1 clarity diamond in a white gold solitaire setting for $2,300. Here is a comparable 0.50ct I-I1 from James Allen along with this similar setting. Those come out to $900 for a similar ring to the one at Macy's (60% less).
Or you can see what you can get for the same price. Here is a stunning 0.70ct I color, SI1 clarity diamond from Blue Nile that is vastly superior (40% larger, better clarity, GIA certification etc) to the diamond from Macy's. If you add it to this setting, the total price is $1,889. So you are getting a larger, better engagement ring and still saving almost 20%. Blue Nile quality when it comes to engagement rings is top-shelf.