About Mikasa
One of the best parts about hosting dinner guests is the exciting, giddy feeling that comes from getting to pull out the good dinnerware. Or perhaps you're fancier than most and prefer putting your bone china sets to good use without a special occasion.
Whatever your style, trying to find high-quality tableware is no easy feat. If you're having a hard time finding the right dinner sets, glasses, flatware, or even decorative pieces, this Mikasa review is here to help.
As Mikasa has been in business for years, they've been winning the hearts of anyone who wants a bit more elegance on their dinner table. With over 10K Instagram followers, their popularity is only growing, with features in publications like the NY Times.
Been thinking about doing more adulting and need something better than IKEA plateware? This Mikasa review will take an in-depth look at the brand, their tableware products, and customer reviews to help you decide if the brand has a place on your dinner table.
Overview of Mikasa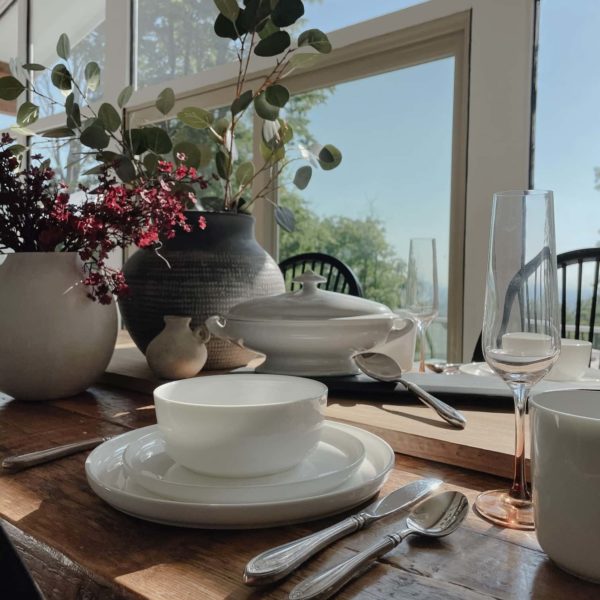 Mikasa has been a leader in what they refer to as "tabletop fashion" for over 50 years. From dinnerware and crystal stemware to essential bar accessories, Mikasa offers one of the largest selections of dinnerware globally, with over 500 patterns available.
Founded in 1948 by Japanese-American entrepreneur George Aratani, the company was then known as American Commercial Inc. and began as a dinnerware importer for clients such as Bloomingdales, Macy's, and May Department Stores Company.
By the 1970s, the Mikasa name was recognizable to Americans everywhere. They began introducing new products like crystal stemware, stainless flatware, crystal gifts and picture frames, ceramic vases, table linens, and decorative accessories.
With their timeless, classic designs, Mikasa has definitely cemented their reputation for intricate, unique patterns that are beloved by many.
But before we take you on a journey through the different types of fine and bone china, this Mikasa review will take a look at some of the highlights for the brand: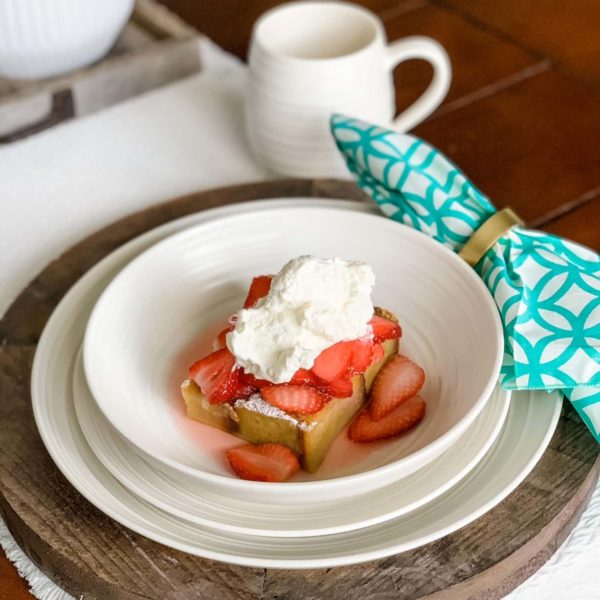 Buy Mikasa Here!
Highlights
Great selection of fine bone china dinnerware
Carries over 500 patterns and designs
Price match promise
Free US shipping on orders over $75
90-day money-back guarantee
Afterpay payment plans available
With over 500 intricate patterns and designs and flexible customer service, it's no surprise Mikasa is such an iconic brand.
We know there are literally hundreds of items on their website to choose from, but for the purposes of this Mikasa review, we'll be going over the bestsellers.
Mikasa Wine Glasses Review
Wine glasses are a type of glassware that can make or break your entire dinnerware aesthetic. They instantly add a sense of elegance to your table, no matter the style.
Now that you know a little more about this quaint tableware brand, let's dig into some of the best-selling Mikasa wine glasses.
Mikasa Cheers Ruby Set Of 4 Wine Glasses Review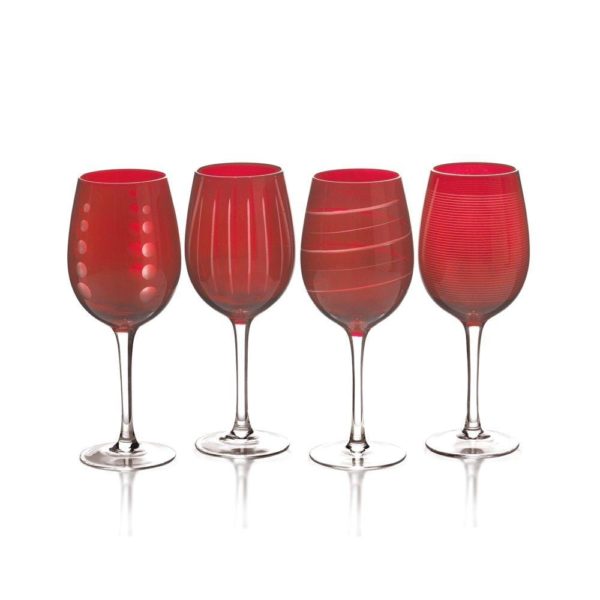 Buy Mikasa Here!
If your style is a little on the unconventional side and you love a pop of color, the Mikasa Cheers Ruby Set of 4 Wine Glasses might be for you.
The vibrant ruby red color shakes things up and is perfect for festive gatherings like Christmas, or a Tuesday if that's your vibe. Each of these 16 oz glasses is precision-etched with its own design of distinct dots, swirls, and lines. Not only is this pleasing to the eye, but your guests will never get their glasses confused with each other's.
The Mikasa Cheers Ruby Set of 4 Wine Glasses is currently on sale for $40, marked down from $50.
Mikasa Cheers Set Of 4 Stemless Wine Glasses Review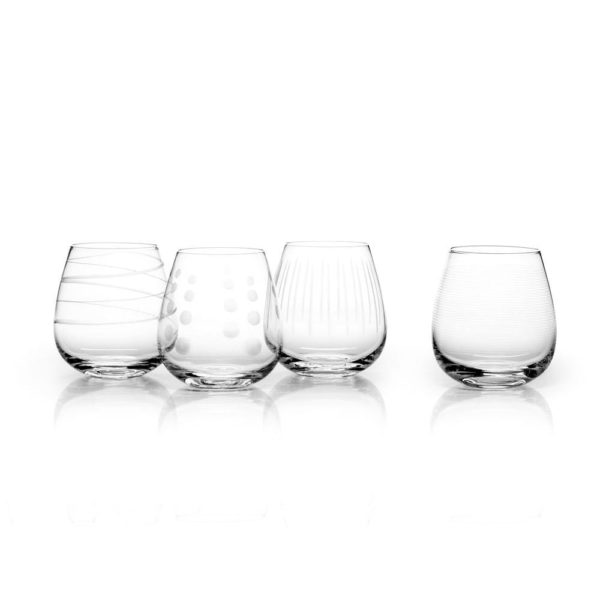 Buy Mikasa Here!
Stemless wine glasses offer an equally stylish yet casual look to your tableware. With just the right amount of whimsy, these Mikasa Cheers Set Of 4 Stemless Wine Glasses is a sublime option that your guests will love.
Much like the Mikasa Cheers Ruby Set, these stemless wine glasses are etched with a different yet coordinating design of dots, swirls, and lines. Big enough to hold 15 oz, these glasses are the perfect addition for casual dinner parties. The Mikasa Cheers Set Of 4 Stemless Wine Glasses is available for $60.
Mikasa Flatware Review
Flatware is often an overlooked aspect of the table. But once you identify all the different uses for the pieces, creating your tabletop décor becomes a delightful experience.
Let's get into the best-selling Mikasa flatware set.
Mikasa Yvonne 20 Piece Flatware Set Service For 4 Review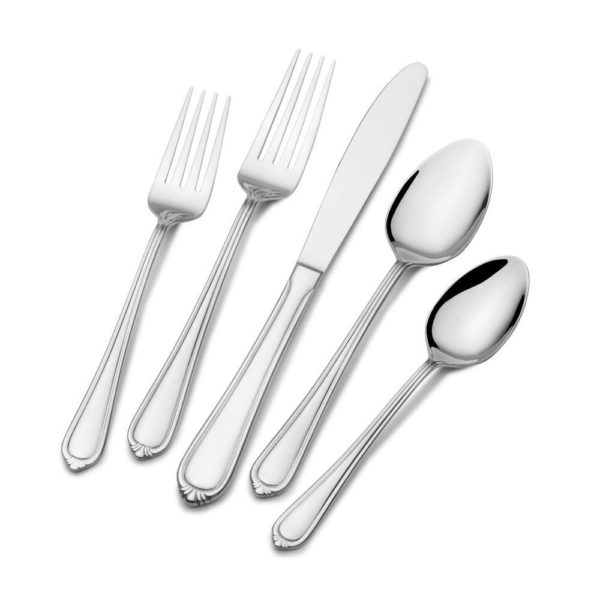 Buy Mikasa Here!
As part of the Gourmet Basics collection, this Mikasa Yvonne 20 Piece Flatware Set Service For 4 will be a stunning addition to your dinner table.
Classically elegant in its design, this flatware set is crafted from 18% chromium and 0% nickel (stainless steel), meaning it's built to last, even with everyday use. Enough for four guests, this set comes complete with forks for salad and dinner, knives, spoons, and teaspoons. You can even pop these in the dishwasher!
Currently, the Mikasa Yvonne 20 Piece Flatware Set is on sale for $61, regular $76.
Mikasa Fine China Review
Fine china could be considered to represent the pinnacle of luxury dinnerware. Known for its high level of crisp white color, translucent body, and superior strength, fine china dinnerware is chip-resistant, durable, and lightweight for everyday use.
As a leading provider of bone china dinnerware, Mikasa is known for using only the highest quality ingredients that give bone china its top-of-the-line features.
In this Mikasa review, we'll explore some of the best-selling Mikasa fine china dinnerware sets.
Mikasa Parchment Cobalt Dinnerware Set Review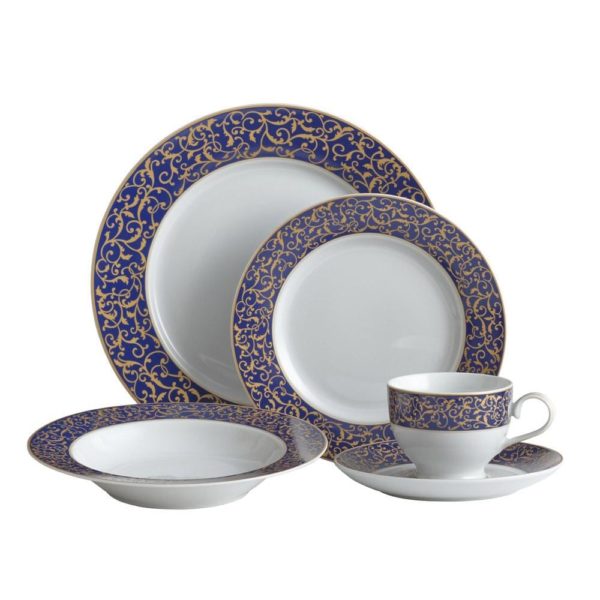 Buy Mikasa Here!
If you want something classic and elegant on your tabletop with just enough pop of color to add some drama, the Mikasa Parchment Cobalt Dinnerware Set is a perfect option.
This set is sophisticated and chic but still offers a traditional design. The blue border ring with the gold filigree pattern makes for a captivating statement, especially on the little teacups!
Made from high-grade porcelain, this 20-piece set accommodates four people and includes four sets of teacups and saucers, dinner plates, salad plates, and soup bowls.
The dinnerware comes in three size options:
20-piece: $96 (normally $120)
40-piece: $184 (normally $230)
60-piece: $264 (normally $330)
Mikasa Holiday Traditions Dinnerware Set with Mugs Review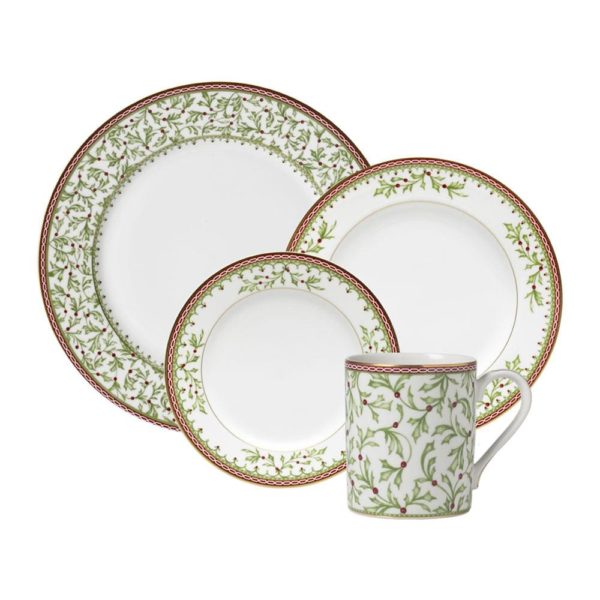 Buy Mikasa Here!
Get into the festive spirit with the Mikasa Holiday Traditions Dinnerware Set with Mugs. This 16-piece set is ideal for the holiday season while still delivering an understated, elegant look.
Made from porcelain, this dinner set features a cheerful holly and berry motif with a gold banding surrounding it. The art deco-inspired border of red hexagon shapes perfectly complement the intricate patterns on the inner holly loops.
But be careful — while this set is dishwasher safe, this Mikasa review found you shouldn't use it in the microwave. Meant to serve up to four, each set includes four sets of dinner plates, salad plates, 12-ounce mugs, as well as bread and butter plates.
This holiday set comes in three sizes:
16-piece: $170 (regularly $200)
32-piece: $300 (regularly $380)
48-piece: $390 (regularly $530)
Mikasa Crystal Review
Add a touch of luxury to your tabletop with the proper dinnerware piece. Crystal glassware is the perfect addition to an otherwise bland dinner table. They provide the right amount of class and sparkle to make your dining room stand out without being too flashy.
Thankfully, you can find a lot of Mikasa crystal pieces in their collections.
Mikasa Palazzo 9 Inch Glass Bowl Review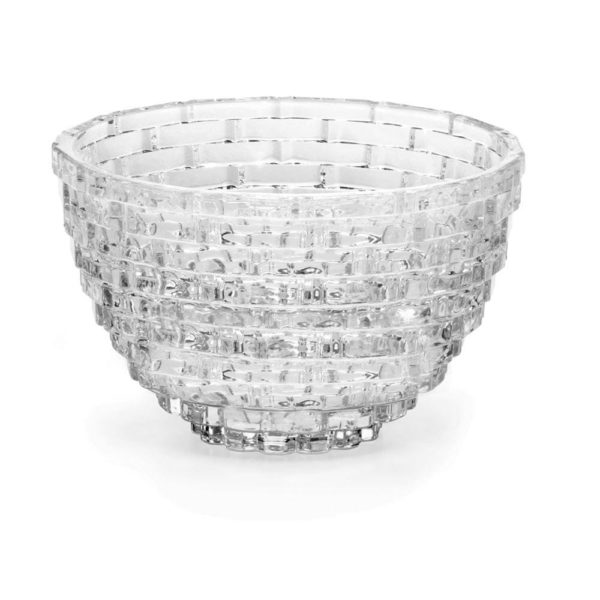 Buy Mikasa Here!
Whether filled with fresh fruit or used as a decorative piece with flower petals floating in it, the Mikasa Palazzo 9 Inch Glass Bowl is the perfect asset to any surface.
Displaying a beautiful sparkle in the light, this glass Palazzo bowl features a woven basket design that's both timeless and sophisticated. They also make perfect gifts!
Standing at 5.75" tall, the Palazzo glass bowl retails for $40.
Mikasa Saturn Glass Covered Candy Dish Review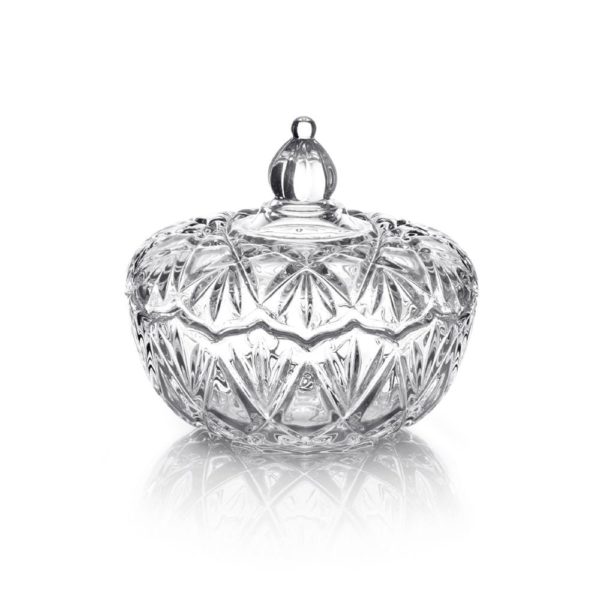 Buy Mikasa Here!
Need something simple and elegant to store your sweets or knick-knacks? The Mikasa Saturn Glass Covered Candy Dish is a timeless accent piece to put on any tabletop.
This dish is perfect for offering your guests candy or other sweets, not to mention it makes for a great gift. And who wouldn't want to receive a stunning gift like this that will last them a lifetime?
The glass candy dish measures 5.5" high (with lid) and is available for $15.
Who Is Mikasa For?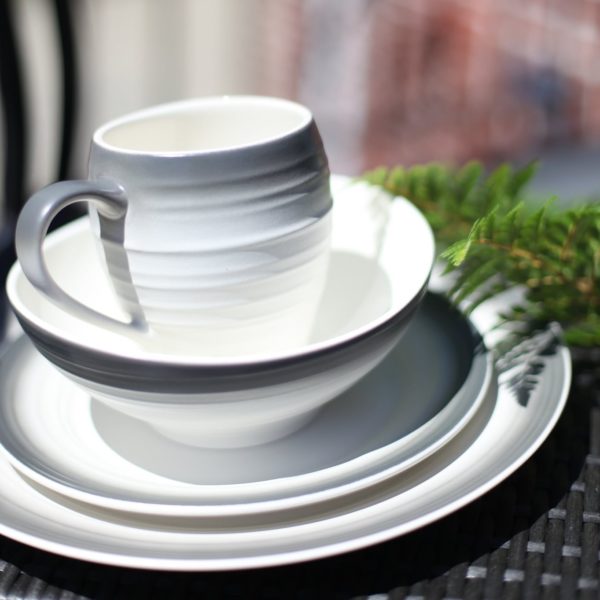 Buy Mikasa Here!
Mikasa is for anyone looking to create classic, sophisticated décor with their dinnerware at an affordable price. The brand's items are timeless and elegant with a traditional aesthetic, pairing easily with modern as well as conventional aesthetics.
The subtle pops of color and intricate patterns will add a unique flair to your dining table, especially if you generally stick to neutral tones. Not only do they provide your surroundings with elegance, their products also make great gifts! And since Mikasa's items are quite affordable, the brand is great for customers of all budgets.
Mikasa Reviews: What Do Customers Think?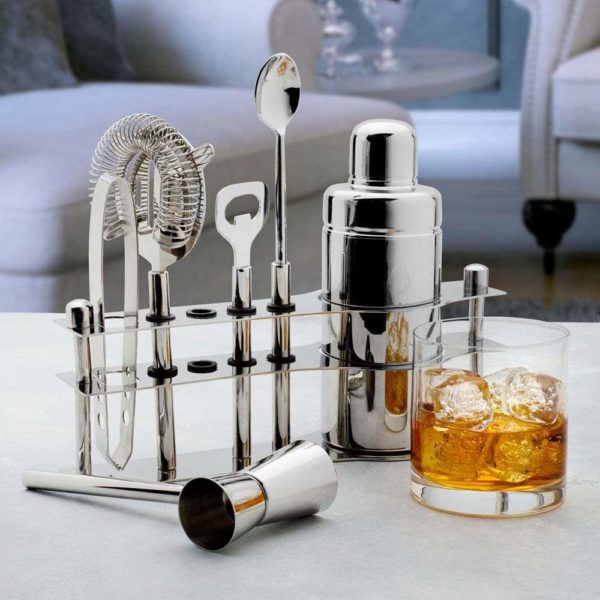 Buy Mikasa Here!
Now that this Mikasa review has given you a good idea of the brand and a breakdown of their bestsellers, you'll likely want to read more about what customers are saying. Not to worry! We've conducted thorough research so you know exactly what to expect.
First, we did a run-through of Mikasa's dedicated customer review page to get a clearer sense of the brand's quality of service and logistics. As expected, the reviews here are quite favorable, with an average of 5 stars from 320 reviews. One shopper writes:
"Easy to order. Shipped very well. Good packing. Very well protected. Great communication about the order being filled and shipped. On the waitlist for the soup/cereal bowls. Very pleased with Mikasa. I would definitely recommend them. Quality products. They last. Came timely and well packaged."
Online reviews are great, but in order to ensure these results are unbiased, we took to some of the comments on other authorized retailer sites. According to Bed, Bath, and Beyond, the Mikasa dinner sets were worth 4.4/5 stars. One testimonial says: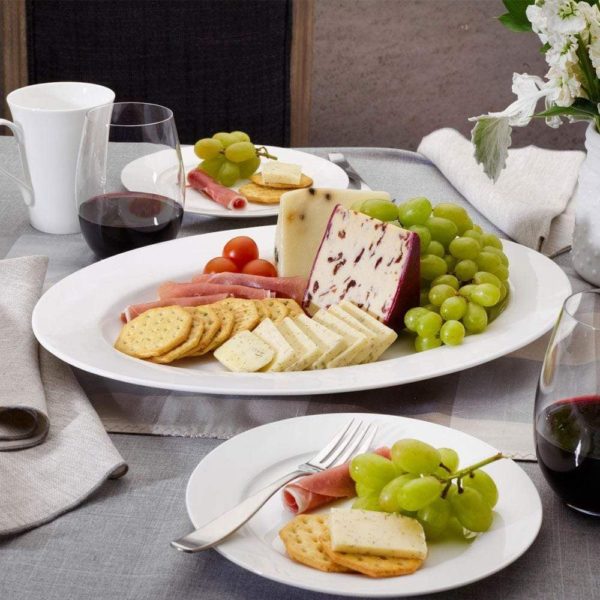 Buy Mikasa Here!
"We received this as a wedding gift and have enjoyed it ever since. It's a beautifully classy yet timeless pattern that makes every meal seem special. I highly recommend this set."
Based on the 11 reviews on SiteJabber, it's worth considering that your fragile glassware could end up damaged in transit. While not necessarily the fault of Mikasa, which was rated 2.27/5 stars, they typically do offer a replacement in this situation to make up for it.
"I bought a dinner set and found a hairline crack on 2 of the dishes. Customer service responded very quickly and agreed to ship replacement dishes after some basic questions. I thought I would have issues because I wasn't able to find my original receipt. They were amazingly reasonable and apologetic."
All in all, it's good to hear that Mikasa's customer service department is on top of any problems that might arise when it comes to cracked or chipped shipments. And it appears that the good reviews definitely outweigh the bad.
Is Mikasa Worth It?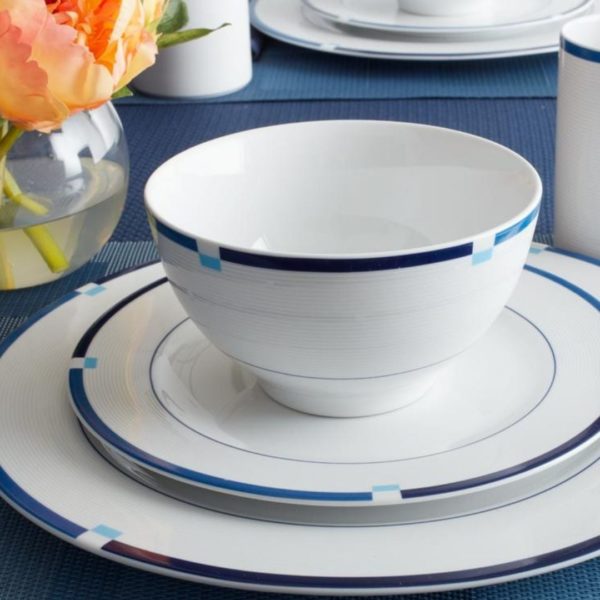 Buy Mikasa Here!
After reading this Mikasa review, you might be deciding whether or not the brand is worth it in the end. Based on the favorable reviews, elegant designs, and affordable price point, we would certainly say Mikasa is worth the buy.
Not only has the company been around for over 50 years, but they know a thing or two when it comes to outstanding customer service.
Their designs have the right blend of classic and tradition mixed with elegance and modern sophistication that you likely won't find anywhere else. If you're in the market for classic tableware or want to dip your toes into the world of fine and bone china, we'd definitely recommend Mikasa.
Mikasa Promotions & Discounts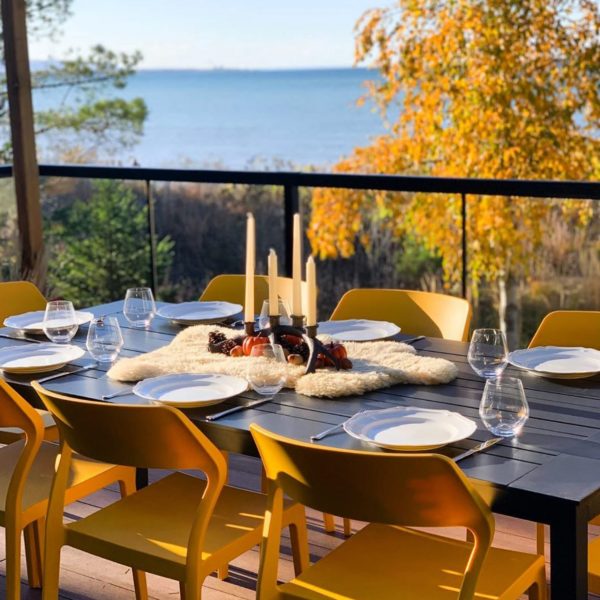 Buy Mikasa Here!
Currently, Mikasa is offering a limited-time promotion of 30% off select products, including clearance items. To access the promotion, you'll need to input the code WINTER30 when you check out.
In addition, you can also get 15% off your first order, although both promotions cannot be stacked on top of one purchase.
Where to Buy Mikasa
In addition to the company's official website, this Mikasa review found you can locate the brand at a number of authorized retailers including Wayfair, Bed, Bath, and Beyond, and Pottery Barn.
FAQ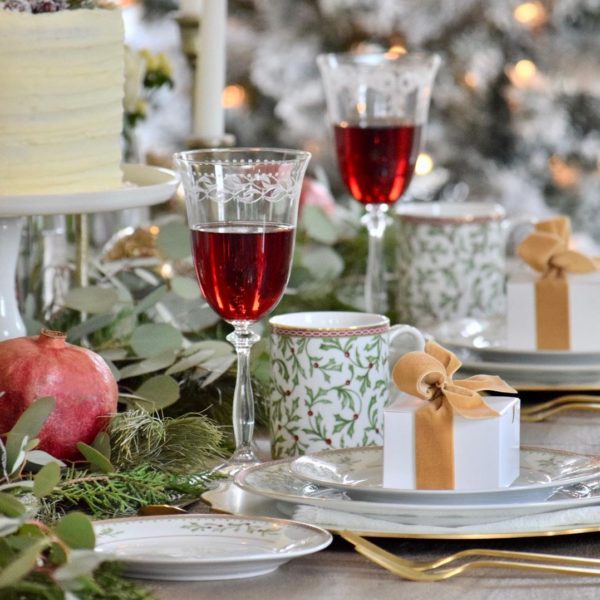 Buy Mikasa Here!
Who owns Mikasa?
While the company was originally founded by the late Japanese entrepreneur and philanthropist George Aratani, Mikasa is now a division of Lifetime Brands, Inc.
Where are Mikasa products made?
Though founded on the west coast, Mikasa has its corporate office headquarters in New York as well as another distribution center in New Jersey and California. The brand's products are manufactured in 25 countries, including India to Portugal.
Does Mikasa ship internationally?
Unfortunately, this Mikasa review found that orders from the brand's official website only ship within the US. However, many of their authorized retailers do ship internationally.
What is Mikasa's Shipping Policy?
Generally, the delivery time for shipments to the continental US is 3-7 business days via ground service. Free shipping is available in the US for orders $75 and above. The shipping cost for orders under that amount varies depending on the delivery time you choose.
Standard Ground shipping should be received within three to seven business days, while Expedited should be received within two to four business days. If you want your items even sooner, you can choose Premium, and your order should arrive within one to three business days.
What is Mikasa's Return Policy?
If you've changed your mind about your unused Mikasa purchase, you have a 90-day window from your order date to return it for a full refund. If you bought a clearance or sale item, you only have a 30-day window from your order date to return it.
When you're returning your unused Mikasa items, simply follow these instructions:
Make sure to include your original invoice.
Follow the return instructions on the packing slip from your delivery.
Package it up safely and securely, then ship it through a trackable carrier (make sure it's insured!).
Send it off.
You're responsible for return shipping fees unless Mikasa has sent you the wrong item, then they will take care of any return charges. However, if your delivery has any broken or defective pieces, reach out to their customer service team and they'll provide you with a return shipping label and authorization number.
Unfortunately, Mikasa doesn't allow straight exchanges. Instead, you'll need to return the pieces and place a new order.