Parallels 17 is definitely faster than ever due to a huge re-engineering effort for Big Sur, Monterey and M1 chips. With the death of Boot Camp and the switch to ARM M1 processors in the latest Macs, Parallels remains on the cutting edge of virtualization and is the best way to run Windows on both Intel and M1 Macs.
Pros:
Re-engineered for macOS Big Sur & Monterey
Much faster than previous versions
Allows access to shared printers
Runs Windows ARM on M1 Macs
Supports Windows 11 on Intel and M1 Macs
Cons:
Requires a subscription
Home & Student VM installation limited to 8GB virtual RAM
For as long as we can remember, Parallels has always been the best way to run Windows on a Mac and in this Parallels review, we take a look at why.
The latest version of Parallels 17 is also the only virtual machine that officially supports running Windows 11 on a Mac as it's the only software that can emulate the physical TPM chip required by Windows 11.
At the moment, it's also the easiest way to run Windows on M1 Macs and was the first virtual machine to support the latest Apple Silicon M1 chip.
Parallels 17 For Mac is also optimized to make it faster and easier than ever to run Windows and macOS Big Sur or Monterey at the same time.
It's also the first version of Parallels to offer a 50% discount to students and teachers making it an excellent deal for those in education.
What Is Parallels?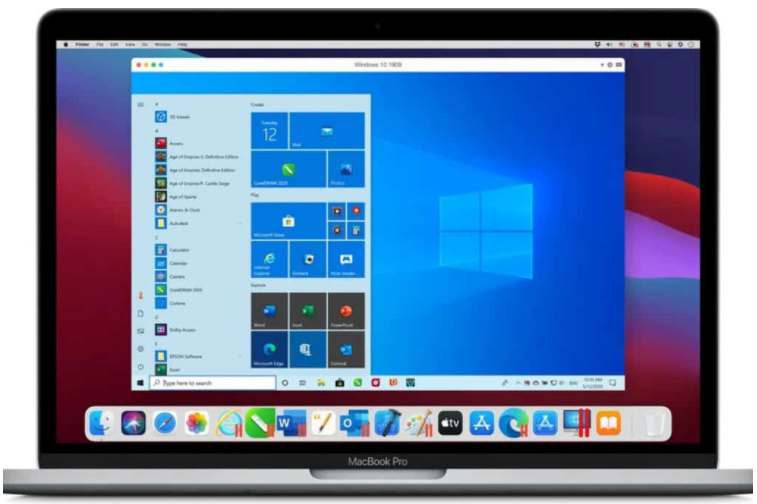 Parallels is a virtual environment that allows you to conveniently run all those Windows only applications and games that don't run on Mac.
In fact, it can run over 200,000 Windows only apps on a Mac according to Parallels.
Not only this but you can run just about any other operating system in it such as Linux and Android on it which allows you to play games such as Among Us which aren't available for Mac.
We think it's by far the most convenient way to get Windows on your Mac because it's incredibly easy to setup, launches Windows apps or games quickly and allows you to switch between macOS and Windows instantly.
The last major update to Parallels was in Parallels 15 which was a big step-up from previous versions of Parallels because it finally supported DirectX 11 and Apple Metal API which allowed Mac users to play Windows only games such as FIFA, Age of Empires and Fallout.
It also allowed Mac users to use seriously graphic intensive apps such as Windows only CAD applications for the first time.
Parallels 16 and 16.5 brought significant speed improvements plus beta support for M1 Macs.
The latest version of Parallels 17 is another evolution in the product as it's been reengineered for some fundamental changes in macOS 11 Big Sur, Monterey and beyond into Apple Silicon.
Parallels 17 is the only virtualization software to officially support Apple Silicon ARM M1 chip Macs although other virtual machines have beta versions that support it.
Is Parallels Bad For Your Mac?
Parallels runs in a virtual environment that doesn't affect your Mac in the same way as the macOS operating system installed on your Mac.
This means that Parallels can't actually harm your Mac in any way. Everything in Parallels is done in a sealed environment from macOS.
However, even in a virtual environment version of Windows, you could get a virus although it would be isolated to your virtual environment and Windows installation – it would not touch your Mac's hard drive.
If a virus damaged Windows in Parallels, you could quite simply reinstall the copy of Windows and your Mac would be unscathed.
Parallels is therefore perfectly safe to use and will never be able to damage your Mac's hard drive.
Does Parallels Slow Down a Mac?
Parallels will not slow down macOS in anyway,
Parallels runs Windows and other operating systems simultaneously to macOS so any lag will be isolated to the virtual environment.
Unless you have less than 4GB of RAM, your Mac is more than equipped to handle running two operating systems at the same time although we recommend using at least 8GB of RAM for best results.
If you are experiencing any lag in Parallels itself, you can also allocate more of your Mac's memory to it in the Hardware > Graphics settings.
With this in mind, here we take a closer look at the latest version of Parallels for Mac to see what's new and how it performs.
Parallels Review: Overview
Before we begin, here's what's new in Parallels 17.
The biggest change is official support for Apple Silicon M1 Macs. You can now run Windows seamlessly on M1 Macs with Parallels and switch between Windows and macOS 11 instantly.
As with most new releases of Parallels, there's also an improvement in speed. With each release Parallels gets a little bit faster and Parallels 17 launches Windows noticeably faster due to a re-engineering effort because of fundamental changes in macOS Big Sur, Monterey and the M1 chip. While using Windows on an M1 Mac, it feels a lot snappier than before with less lag when using big apps or games. In fact Parallels claims that Windows starts-up 33% faster on an M1 Mac, performs 20% better at handling Windows 10 disk space, 25% faster 2D graphics handling and 28% faster DirectX processing which improves the speed and responsiveness of Windows games on a Mac.
On both Intel and M1 chip Macs, Parallels claims there's a 38% increase in speed resuming a paused or shut down Windows session on a Mac.
Drag and drop support for text and images between windows including for Quick Notes in Monterey.
Parallels 17 takes up less space on your hard drive than previous versions. It now takes up to around 16GB which is mainly for Windows 10.
M1chip Macs users can now use BitLocker and Secure Boot due to a virtualized TPM (Trusted Platform Module) chip in Parallels 17.
There's a new energy saving Travel Mode for when you're on the move and using your Mac's battery. This gives an energy saving of 10% compared to the previous version of Parallels.
Windows 10 can now recognize your macOS battery status in Parallels and activate on low power saving mode when your Mac runs low on battery.
You can automatically reclaim cached disk space taken by Parallels when it puts the virtual machine to sleep.
You can now zoom and rotate in Windows apps with your Mac Trackpad as well as enhanced Touch Bar support to control Windows applications.
A new Do No Disturb Mode when you're using Windows to prevent distractions from notifications while you're working.
Far more print options from Windows including different paper sizes from A0 to envelopes and support for remote printing on networks. Support for OpenGL 3.2 which means Parallels now allows Mac users to run tools like DiaLux for lightening design and Samson for molecular modelling.
Apple Pencil and Sidecar support in Windows using Parallels so that you can now use your drawing tablet connected to your Mac within Windows apps too.
Can Parallels Run Windows 11 on a Mac?
Parallels is the only software that supports running Windows 11 on a Mac because it's the only virtual environment that can emulate the TPM module required by Windows 11.
Although Parallels only supports Direct X 11 at the moment, it will also soon add Direct X 12 required by some games and applications in Windows 11.
However, it's important to be aware that although Parallels can run the standard version of Windows 11 on Intel Macs, it can currently only run Insider Preview versions of Windows 11 for ARM on M1 Macs.
You can find full instructions how to install Windows 11 on a Mac here.
You can also watch a version of Windows 11 PE (Pre-installation Environment) build 22000 running in Parallels on an M1 Mac below.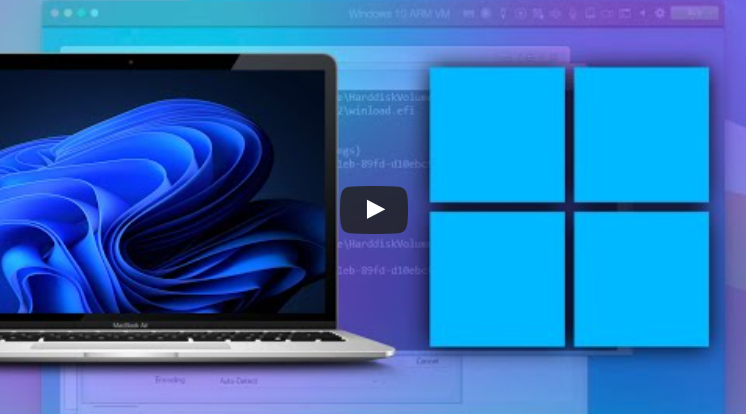 Setting Up Parallels
The setup process for Parallels has become progressively easier over the years and its by far the most painless way to install Windows on a Mac.
Note that if you're doing this on an M1 Mac, the setup process is slightly different as it used a different version of Windows called Windows 10 for ARM which is compatible with the new Apple Silicon M1 chip.
Check here to see how to setup Windows on an M1 Mac using Parallels.
The setup Wizard makes it easy to install any kind of operating system on a Mac especially Windows and Linux distros.
To install Windows, you simply select "Get Windows 10 from Microsoft" which automatically downloads it for the installation.
You can use Windows 10 for free without activating it as you only need to get an activation code from Microsoft if you want to customize it.
Alternatively if you've already installed Windows on your Mac using Boot Camp, Parallels can cleverly import Windows from that installation.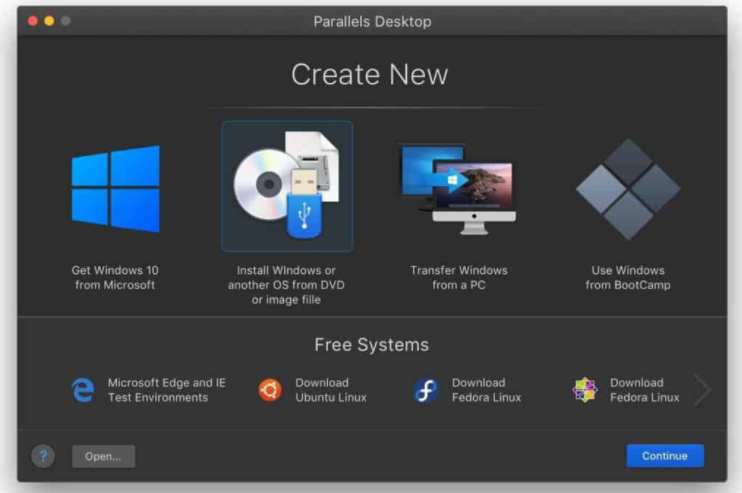 We also like how Parallels optimizes your Windows installation based on how you plan to use it. For example, the setup can be customized for gaming, productivity, software development, software testing or design.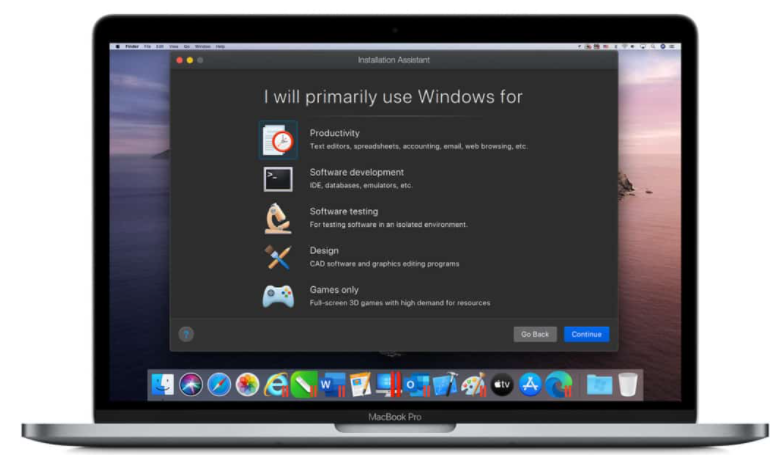 How Parallels Works
Once you've installed Windows, Parallels makes it incredibly seamless to switch between Windows and macOS.
You can use Windows and macOS side by side with no restart or reboot required (unlike with Boot Camp where you must choose to boot in either macOS or Windows when you start your machine).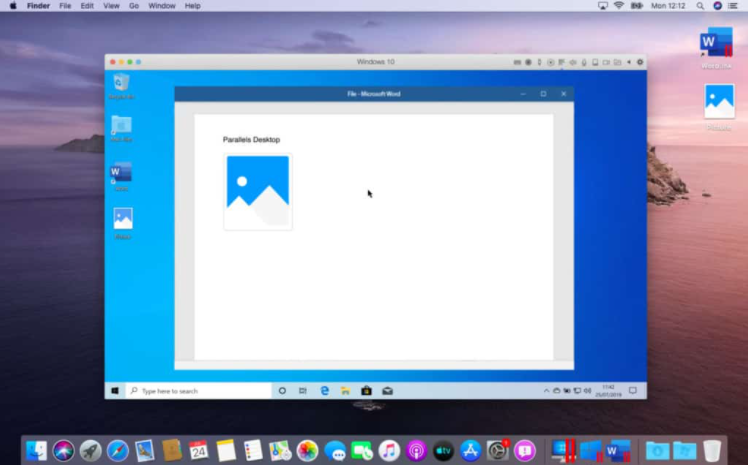 Parallels is able to run even the most graphic intensive applications within Windows on your Mac including Adobe Photoshop, Visual Studio and powerful CAD software such as SketchUp and AutoCAD.
You can of course run Microsoft Office applications too including Windows only apps such as Microsoft Publisher and Microsoft Visio.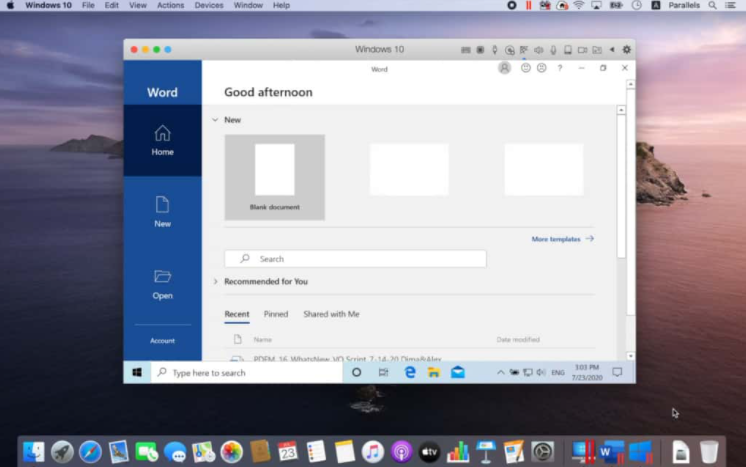 You can choose how Windows appears on your Mac too. For example Coherence Mode allows you to simply launch applications from the Dock as if they were installed on your Mac.
Or if you prefer more seperation between your macOS and Windows install, you can run Windows in windowed mode which runs Windows and its apps inside a separate window.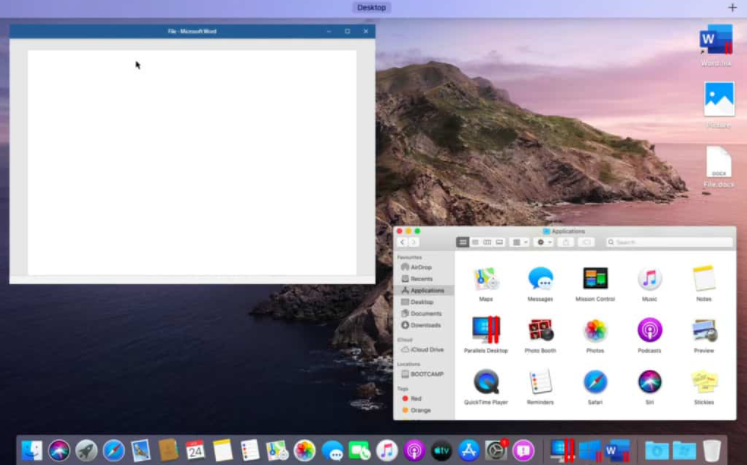 Parallels 17 Improvements
Parallels had to significantly re-engineer Parallels 17 because Apple ditched what are known as "kexts" in macOS 11 Big Sur.
Kexts are basically traditional kernel extensions which allow apps like Parallels to run other operating systems within macOS.
Apple ditched them in the newest generation of Macs built from late 2020 onwards however on security grounds. Moving to an Apple only internal hardware system also gives Apple much more control over the performance of Macs and macOS.
As a result, Parallels 17 is noticeably the fastest Parallels ever with Windows apps launching extremely quickly.
It's also much quicker to wake a virtual machine from sleep when you're not using it.
Shared printing from Windows is now available for the first time meaning if your Mac is connected to an office network, you can print to any printer.
Parallels 17 is also far more efficient at reclaiming disk space used by Parallels when it puts a virtual machine to sleep.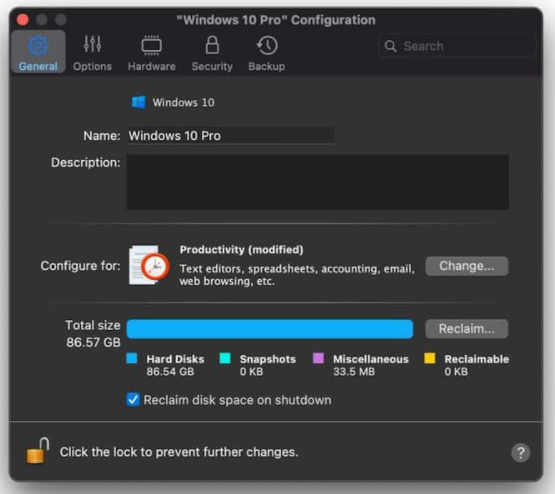 Parallels is also the first virtual machine to be updated for macOS Monterey.
One of the most useful touches has been the improved drag and drop support which now allows you to easily drag and drop text and images into macOS Monterey Quick Note from Windows apps.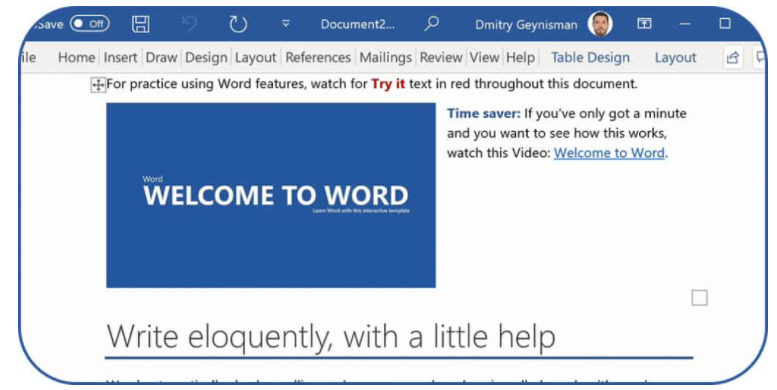 For Linux users, Parallels 17 has also been updated so that you can enjoy multichannel sound support with sound jack detection. It also dynamically updates the resolution when you resize a Linux window now.
Parallels 17 also features much better support for USB devices such as external drives, drawing pads and printers. This includes support for USB 3.1 devices and SSD drives such as the Samsung T7 Touch and Pro Elite Portable SSDs.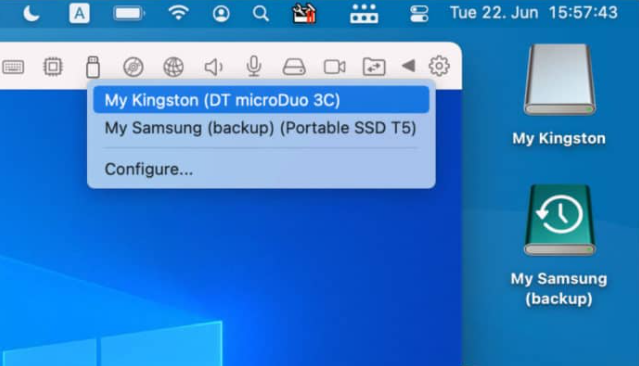 Other improvements include:
Better disk space control so you can clearly see how much space your Windows installations are consuming. Parallels 17 will also better evaluate how much RAM and other resources your Mac is using to run Windows and re-allocate where necessary.
Shift+Option+Command+V support to paste unformatted text from macOS into Windows
Ability to use the Mac Option key to work at AltGr in Windows 10
In the Pro and Business Editions of Parallels, you can also create an independent virtual machine from a linked clone
The Pro and Business Edition also have better support for Visual Studio 19 on M1 Macs
Business admins can also provision pre-configured Windows machines to M1 Macs
Parallels M1 Mac Support
One of the biggest innovations in Parallels in recent years was the addition of support for installing Windows on M1 Macs.
The M1 chip is based on Apple's own Silicon technology and the same kind of chip. You get in iOS devices such as iPads and iPhones.
Parallels has a very close relationship with Apple and even as far back as the Apple WWDC 2020. Parallels demonstrated Linux running in Parallels on a Mac with Apple Silicon.
In April 2021, Parallels 16.5 released which allows you to install Windows on M1 Macs and Parallels 17 now makes this support official.
Parallels was the first virtual machine to do this and shows how committed they are to keeping up with not only the latest versions of macOS but the latest changes in Mac technology too.
Parallels does this by using an M1 chip compatible version of Windows known as Windows 10 for ARM. Which exactly the same as the normal version of Windows that's installed on all PCs.
You can find full details and instructions here on how to install Windows on M1 MacBooks and Mac Minis using Parallels.
Downsides
On a performance level, Parallels will still only allocate 8GB of virtual RAM (vRAM) in the Standard Edition and 128GB of Virtual RAM in the Business and Pro edition to each VM installation.
Although the 128GB in the Business and Pro versions is enough for most needs. The Home and Student edition limit of 8GB becomes a problem if you're running more than a few apps or a graphic intensive program.
On M1 Macs, Parallels can only install Windows 10 for ARM which isn't compatible with all Windows software either but as Microsoft improves the x86 emulation in Windows 10 for ARM (which allows it to run 64 bit Intel only games and apps) this should become less of an issue.
Parallels Pricing
Parallels offers 3 different versions: Home & Student ($79.99), Desktop Pro ($99.99) and Desktop Business ($99.99).
The Home & Student version is the one that most general users need.
Parallels 17 is also offering a 50% discount to students and teachers as part of a new academic promotion.
The Business Version of Parallels aimed at large enterprises that need to manage multiple licenses of Parallels in an office environment. The Pro version of Parallels aimed at developers of apps and games that need debugging tools such as support for Microsoft Visual Studio.
For all versions, you can choose between a standalone version and a subscription version. Both cost ($79.99) but with the standalone version, you'll eventually need to upgrade it which costs $49.99.
If you choose the $79.99 subscription model, all upgrades included and since each new release of macOS requires Parallels to be updated, especially with Apple Silicon on the horizon (see more on this in downsides below), this makes much more sense.
If you buy direct from Parallels, there's also a 30 day money back guarantee although this doesn't apply if you buy it from another retailer.
There's also a 50% Educational Discount for educators and students from the Standard Edition.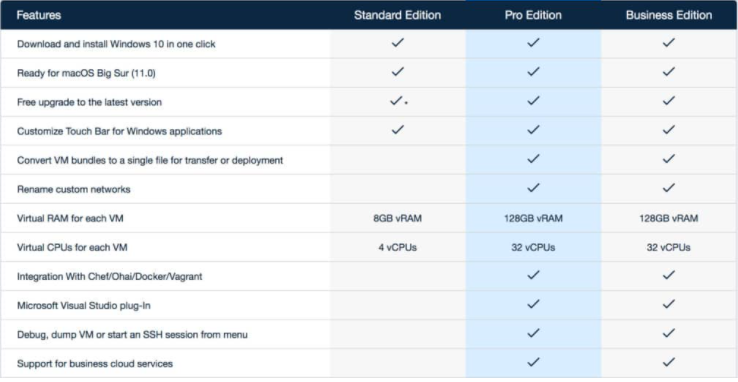 As an incentive to go for the subscription model, Parallels are also offering Parallels Toolbox and Parallels. Access for free with new subscription purchases of Parallels 16.
Parallels Toolbox offers some useful utilities to smooth integration between Windows and macOS (such as file sharing, drag and dropping, printer sharing etc).
Parallels Access is a remote desktop solution which allows. You to access a Windows installation on your Mac from your iOS and Android device.
You can also try a free 14 day trial of Parallels 17 to test it for yourself first.
Parallels 17 System Requirements
Hardware
A Mac computer with an Intel Core 2 Duo, Core i3, Core i5, Core i7, Core i9, Intel Core M , Xeon processor or M1 chip
Minimum 4 GB of memory, 16 GB recommended
500 MB for Parallels Desktop application installation
Additional disk space for the guest operating system (at least 16 GB required for Windows 10)
SSD drive recommended for better performance
Internet connection for product activation and select features
Software
macOS Monterey
macOS Big Sur 11.0
macOS Catalina 10.15
DirectX 11 requires at least macOS Mojave 10.14, but works best on macOS 10.15.3 Catalina or newer.
macOS Mojave 10.14
macOS High Sierra 10.13