The company has partnered with Sightsavers, an international organization offering people worldwide access to vision-related healthcare. DIFF Eyewear claims that it has provided over 1.6 million individuals with reading glasses over the last 6 years.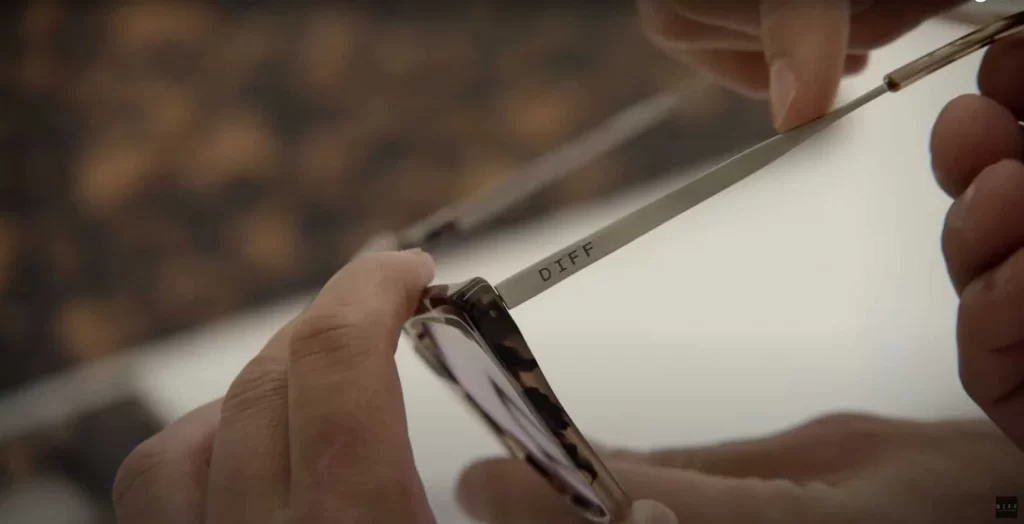 This article explores the DIFF Eyewear brand and its reputation, products, and services. It also looks at alternative brands and products and how to maintain eye health.
Brand information
DIFF Eyewear began trading in 2014. The company says that it uses premium materials but offers its products at affordable prices.
DIFF also has a partnership with the charity Sightsavers. With every purchase a person makes with DIFF Eyewear, the company helps individuals in need by providing reading glasses, eye exams, medicine, or surgery.
DIFF Eyewear also has a charitable concept called Project DIFF. The company sells various products to raise funds for good causes, including pouches from Uganda or chains for sunglasses from Honduras. Money from the sale of these items goes towards the Little Angels School, which aims to create safe learning environments.
Discover more about DIFF Eyewear's charitable work.
Brand reputation
At the time of publication, DIFF Eyewear has an average customer rating of 2.3 out of 5 stars on Trustpilot. Of these reviews, 72% award the company 1 star.
Positive reviews frequently mention the company's good customer service, while negative reviews often mention issues with returns and shipping.
Please note that the writer of this article has not tried these products. All information presented is purely research-based.
Products
A person can browse various types of products available from the DIFF Eyewear website. These items include sunglasses, blue light glasses, prescription glasses, product collaborations with brands and personalities, and accessories. The company also sells children's glasses and organizes its ranges specifically for people of all genders.
A person can apply filters to search DIFF Eyewear's sunglasses, which they can sort via:
polarized
Aviators
cat eye
oversized
rounds
square
color
collection
A person can also purchase DIFF Eyewear blue light glasses with or without a prescription. The company claims that these glasses help reduce eye strain and exposure to harmful light from computer screens.
DIFF also sells computer glasses that it claims can prevent blurry vision, reduce the risk of headaches, and improve sleep for people who use computer screens for extended periods.
The company also sells accessories, including glasses cases and cleaning kits.
Services
DIFF Eyewear features an online quiz for people to take to determine their best style. With the quiz, the company asks what the person is looking for and the shape of their face. It then suggests options to help narrow their search.
DIFF Eyewear also has a rewards scheme. A regular customer can become a member and receive points for referring friends and following the company on social media. Individuals can also earn points on every dollar they spend. According to DIFF Eyewear, 100 points is equivalent to $10, which people can use as a discount against their next purchase.
A person could also sign up to become an ambassador with the brand to get early access to new products and free merchandise. The company instructs brand ambassadors to post its products on their social media channels.
How to order
A person can order DIFF Eyewear products online via the DIFF Eyewear website. They can also buy some of the company's products in selected stores across the United States.
Individuals can submit their eye prescriptions electronically to DIFF Eyewear to ensure they receive the correct lenses. Customers also need to include their lens strength and pupillary distance measurements. An in-house DIFF Eyewear optician will then check their prescription before processing their order.
DIFF does not currently offer bifocal or progressive lenses. However, a person can order nonprescription lenses.
Note that the company does not accept payments from health savings accounts or flexible spending accounts. DIFF Eyewear also does not accept payments through health insurance. However, a person may request an itemized receipt that they can submit to their health insurance provider for reimbursement.
Shipping, returns, and warranties
DIFF Eyewear says that they usually process prescription orders within 14 business days and nonprescription orders within 1–2 working days. According to the website, shipping is free within the U.S. on orders over $115.
DIFF Eyewear also ships its products internationally. However, international customers may need to pay extra import or tax fees.
The company has a 30-day return policy on its nonprescription products. The DIFF Eyewear website claims that prescription items have a 14-day return policy, and a person will only receive store credit in return.
DIFF offers a 1-year warranty, which starts from the purchase date and covers manufacturing defects. The warranty does not cover loss, scratches, improper use, or accidental or neglectful damage.
Alternative brands and products
Alternatively to wearing eyeglasses, a person can consider getting a contact lens prescription from an eye doctor. Contact lenses work by correcting vision in the same way as eyeglasses, but a person places them directly on the cornea of the eye.
People may also wish to consider laser eye surgery, which alters the shape of the cornea to rectify the type of vision impairment a person is experiencing.
If individuals wish to try alternative eyeglasses, they have a choice of other companies within the U.S. that offer similar eye products, including:
Bonlook: This Canadian-based company provides affordable eyewear products. Learn more about Bonlook here.
GlassesUSA: GlassesUSA offers a wide range of lenses, including affordable in-house models, designer models, and contact lenses. Learn more about GlassesUSA here.
EyeBuyDirect: EyeBuyDirect sells various vision products online. Learn more about EyeBuyDirect here.
Eyewear and vision health
Research from 2010Trusted Source shows that eyeglasses for those with vision impairment increase vision-related quality of life.
The Centers for Disease Control and Prevention (CDC)Trusted Source say that visual impairment is preventable in many cases if a person receives an early diagnosis. Therefore, the CDC recommends that people undergo eye tests regularly.
The organizationTrusted Source lists some tips to help maintain eye health and prevent vision loss, including:
Undergoing dilated eye exams: A thorough eye exam can detect diseases such as glaucoma, diabetic retinopathy, and age-related macular degeneration.
Maintaining blood sugar levels: This is particularly important for people living with diabetes.
Knowing your family eye health history: Many eye diseases are genetic, so a person should be aware of any conditions that run in their family and inform an eye doctor about them during a test.
Eating a balanced diet: Dark leafy greens, such as spinach and kale, can help maintain eye health.
Using protective eyewear: A person can wear sunglasses or goggles when necessary.
Resting the eyes regularly when using computers: The CDC recommends the 20-20-20 rule, which instructs to look at something 20 feet away for 20 seconds, every 20 minutes of computer use.
Quitting smoking: The CDC states that smoking can increase the risk of developing certain eye diseases.
Summary
DIFF Eyewear sells a variety of eyewear products, including prescription or nonprescription glasses. These products are available online and in some stores across the U.S.
The company also partners with an eye health charity — with every purchase from the company, DIFF Eyewear donates reading glasses, eye exams, medicine, or surgery to those who need them.
To maintain eye health, people need to undergo regular eye testing to identify potential issues and protect their vision.