About Adagio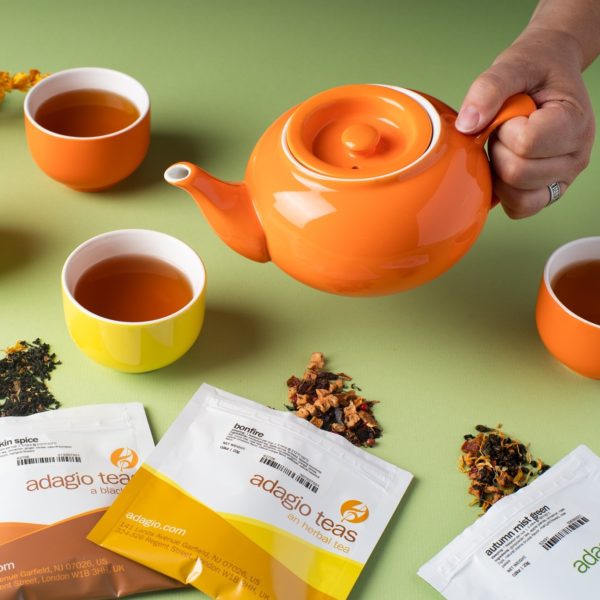 Adagio Teas is a family-owned business that sells a wide variety of gourmet teas, teaware, custom blends, and tea-related gifts. The brand takes its name from the musical term, which denotes a slow tempo—a perfect fit for a beverage that is renowned for its relaxing and calming effects.
This Adagio Teas review didn't have to look very far to find features on the brand in the media. In its over two decades in business, the company has been written up in such prime publications as The New York Times, The Wall Street Journal, the Los Angeles Times, The Boston Globe, and Time Magazine, to name just a few.
The brand's social media presence is nothing to sniff at, either: Adagio currently counts 28K followers on Instagram, and another 28K on Twitter, and a mighty 78K+ on Facebook. These impressive numbers doubtless have a lot to do with the brand's playful custom blends, many of which feature popular characters from movies, television, video games, and Japanese anime.
While this Adagio Teas review can't hope to encompass all of the brand's more than 200 special blends(!), we've pulled out some highlights below to give you a closer look at what this mom-n'-sons operation has to offer. We'll also sprinkle in mentions of some of our other favorites to show just how wide this brand casts its pop-culture net.
(Our personal favorite is definitely the Adagio Sodapop Curtis blend, named after the character in The Outsiders—how can you not be down with dreamy, early-'80s Rob Lowe?)
Overview of Adagio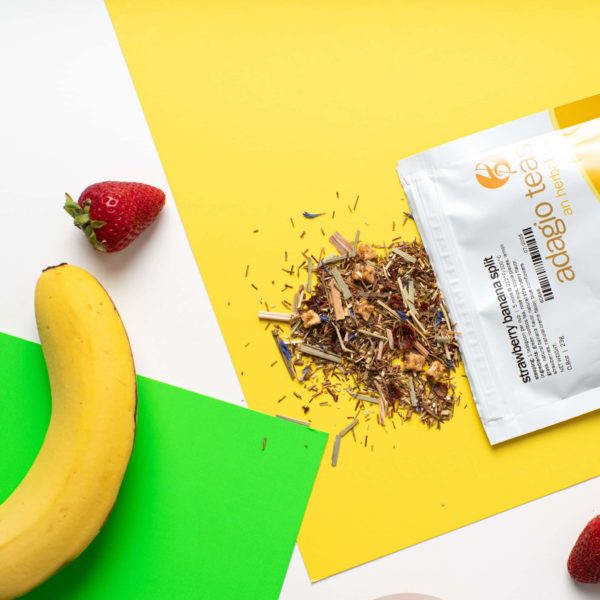 Adagio Teas was born in 1999 when former investment banker Michael Cramer had the idea to turn his mother's passion for and knowledge of gourmet tea into a business. Partnering with his mother and tech-minded brother Ilya, Michael launched Adagio as an online-first tea retailer that made a name for itself by sourcing its tea directly from suppliers all over the globe.
After some unfortunate early experiences with domestic suppliers, Adagio now procures its tea from farmers in locations such as South Africa, Egypt, India, China, Japan, Sri Lanka, Taiwan, and Argentina. The brand maintains its headquarters in Elmwood Park, New Jersey, with manufacturing taking place in both NJ and a sister facility in the UK.
One of Adagio's most striking features is the way it seeks to create a genuine community of both tea drinkers and tea producers. The brand website features interviews with several of Adagio's suppliers, who relate their stories of how they became tea farmers. It's rare to see such an effort being made to connect the consumer with the actual producer of the goods they enjoy.
Another novel initiative is that the brand's custom blends are actually created by Adagio's customers themselves. After creating an account on the brand website, users can then either select one of the formulas provided by the company, or freestyle their own unique blend by specifying what percentage of which teas to include.
Once completed, Adagio will then package your blend in the size you specify (sample tin, 3 oz pouch, or 5 oz tin), and brand it with the name and imagery you've selected, provided that you have cleared the rights for them first. The blends are then put up for sale on the brand website, and the blend creator receives reward points for every item sold.
This unique offering has created an incredible archive of custom tea blends inspired by everything from Greek mythology, to classic literary characters (Peter Pan, Sherlock Holmes), to popular movies (Jurassic Park, Kingsman: The Secret Service), to hit TV shows—for example, the Adagio Caf Pow blend, named after the fake energy drink in NCIS (Mark Harmon edition).
Without question, though, it's the nerds who rule this tea-lover's paradise: anime/manga and video games make up the largest percentage of blends on offer. (Surprisingly, though, there seems to be only one item inspired by Dungeons & Dragons: the Adagio Hellish Rebuke blend.)
Now that you know a little more about this impressively multifaceted online tea merchant, it's time for this Adagio Teas review to go into some more detail by examining some of the brand's bestselling offerings. We'll kick things off with some of the top-line pros and cons about the company and its products.
Pros
Dozens of teas available in a variety of categories: black, white, green, flavored, matcha, chai, etc.
Range of simple, aesthetically appealing teaware, including mugs, cream and sugar pots, and brewers like the Adagio IngenuiTEA
Attractively packaged tea gift sets as well as special seasonal items, like the Adagio tea advent calendar
Brand has committed to carbon offset program that donates a portion of every sale to emissions-reduction organization South Pole
Loyalty program allows customers to collect points that can be redeemed for discounts on future purchases
Auto-delivery option lets subscribers obtain progressively greater discounts on every purchase, up to a maximum of 15%
Free shipping on US orders of $49 and up
Cons
Coffee lovers are out of luck (seriously, we couldn't find much of anything to complain about in terms of the brand's products, prices, or policies)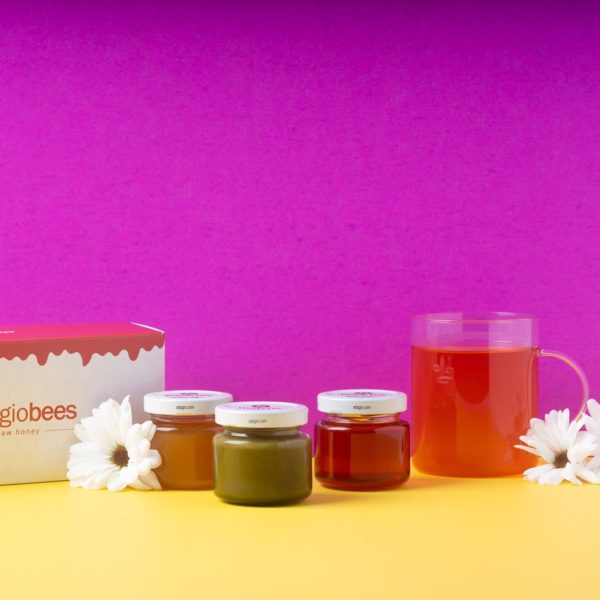 There are so many pluses to drinking tea: it's a great source of antioxidants; it has less caffeine than coffee; it can help reduce your risk of heart attack or stroke; it's virtually calorie-free if you drink it black; it can help soothe digestive troubles, and even boost your immune function. We could go on, but this Adagio Teas review has business to get to!
Adagio Teas Review
Below, our Adagio Teas review spotlights some of the unique, customer-created blends sold on the brand website. If blending isn't your, er, cup of tea, remember that the brand also offers hundreds of pure, uncut varieties of tea as well.
Adagio Shuichi Saihara Review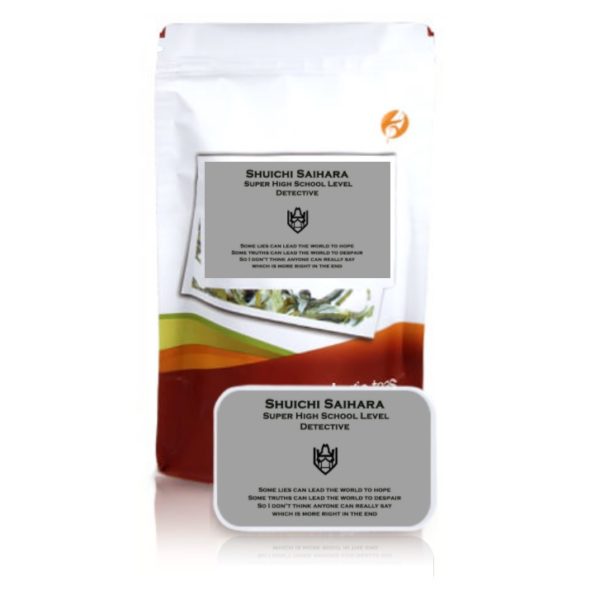 The fan-created Adagio Shuichi Saihara blend is named for the lead character of the Japanese video game Danganronpa V3, which involves a group of high school students coerced into a murder game by a robot bear. (Another blend, Adagio Chiaki Nanami, takes its name from the heroine of Danganronpa 2. Why is there not yet one named for the evil bear, we wonder?)
Thankfully, this tea's combination of Earl Grey, blackberry, vanilla, and lavender is far less high-stress than its inspiration, though it is pretty high in caffeine. Steep this for three minutes to get the most out of its smooth, flavorful aroma and taste. You can purchase this as either a sample tin ($6), a 3 oz pouch ($14), or a 5 oz tin ($24).
If gaming-inspired teas are your absolute jam, you may also want to check out the Adagio 707 Mystic Messenger (whose creator claims to have based its flavors on… Dr. Pepper…?) and the Adagio Wataru Hibiki, named after one of the characters from the Japanese mobile game Ensemble Stars!
Adagio Tohru Honda Review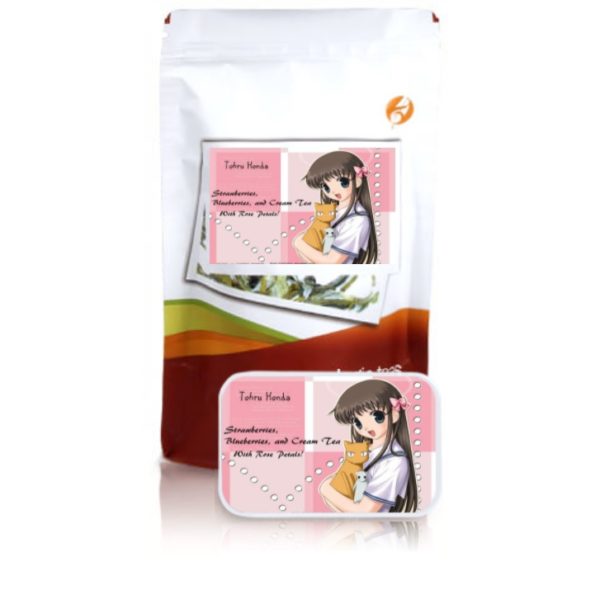 A fusion of black and white tea and natural creme, strawberry, and blueberry flavors with a rose-petal accent, the Adagio Tohru Honda blend perfectly captures the purity, cheerfulness, and wide-eyed optimism of the heroine of the beloved manga and anime Fruits Basket. As with all the brand's custom blends, this will run you $6 for sample size, $14 for 3 oz, or $24 for 5 oz.
Looking for more manganime-inspired teas? We've pulled out a quartet from the dozens available on the brand website for your delectation:
Adagio Eugeo—another floral and berry-scented blend, named for the hero's faithful sidekick in the anime series Sword Art Online: Alicization
Adagio Coach Ukai—palate-tingling cinnamon and ginger mellow into creamy vanilla in this blend that pays homage to the team coach in the volleyball-themed anime Haikyu!!
Adagio Risotto Nero—a brooding, blood orange- and cherry-infused tea that captures the dark, vengeful soul of the assassin antagonist of JoJo's Bizarre Adventure (Season Four, that is)
Adagio Shorter Wong—ginger, orange, cinnamon, cloves, and cardamom give an appropriately spicy kick to this blend that takes its name from the good-hearted gang leader in Banana Fish
Adagio Rainbow Dash Review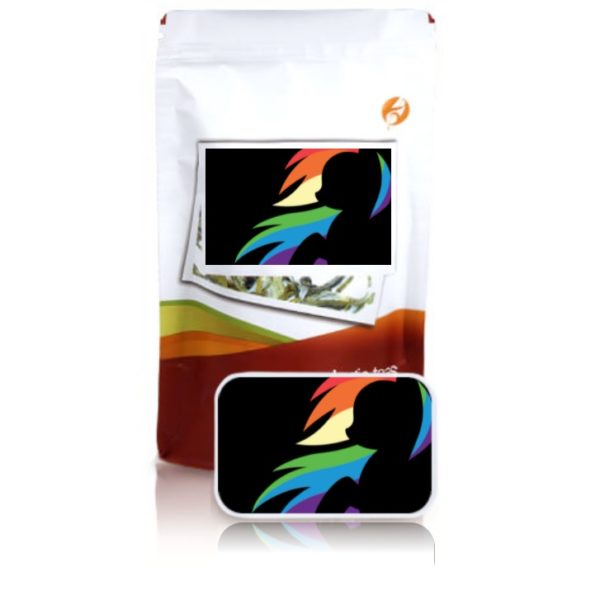 Named for the headstrong speedster of the much-loved My Little Pony reboot Friendship is Magic, the Adagio Rainbow Dash blend is a vibrant concoction of mocha nut and black teas, dark chocolate, hazelnut, mango and berries, and a dash (get it?) of marigold flowers to show the sweetness and light beneath all that turbulent energy.
Rainbow Dash is one of several MLP-inspired teas offered by Adagio. If you buy the 3 oz pouches of both this blend and Apple Jack (named for Dash's maybe-sweetie), you can knock 10% off the price of both and pay less than $13 each. If you're riding solo with Rainbow, you can get the sample tin for $6 or the 5 oz tin for $24.
Adagio Pinkie Pie Review
Yet another My Little Pony-themed offering, the Adagio Pinkie Pie blend is a super-sweet mix of black, oolong, and rooibos teas with ginger, cinnamon, vanilla, hibiscus, and other sugary-smelling ingredients. Steep this for five minutes to let the flavors mingle together into a deliciously complex, confectionery-shop taste. Prices range from $6 to $24, depending on size.
Adagio Crimson Chin Review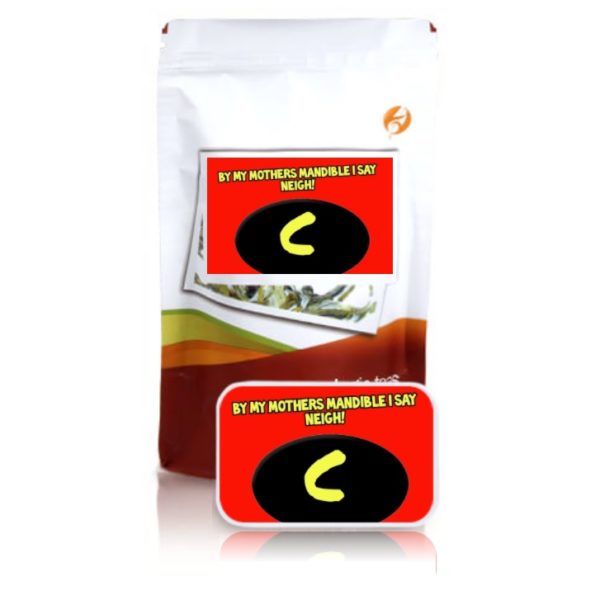 Here's one out of left field: the Adagio Crimson Chin blend is inspired by the TV superhero beloved of the young protagonist from the classic Nickelodeon series The Fairly OddParents. (Bonus weirdness: the character was voiced by…. Jay Leno?!) This low-caffeine blend includes black and rooibos teas, ginger, cinnamon, and orange, vanilla, and creme flavors.
If you buy a 3 oz pouch of the Crimson Chin along with the same size of the Trixie Tang blend (named for another OddParents character), you can save 10% off the regular $14 price tag. Otherwise, you know the drill: sample size is $6, while a 5 oz tin is $24.
Are Adagio Teas Organic?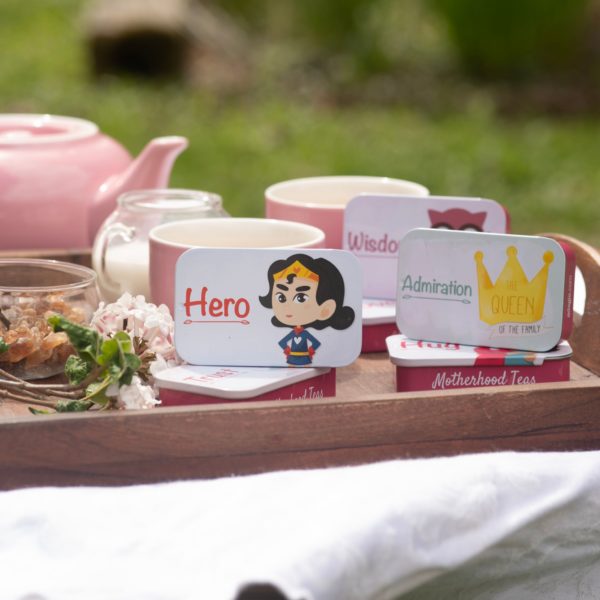 In a word, no. On the brand website, Adagio stresses that the term "organic" can be slippery when it is slapped onto consumer products, as the standards for what qualifies as organic can vary from country to country, and is no guarantee that the manufacturing of the product truly did do no harm to the environment.
The brand rolls this argument together with its justification for collaborating directly with tea farmers rather than participating in the Fair Trade process, which it claims actually disadvantages small-scale producers like the ones Adagio works with. Instead, the brand has its own model of producer-manufacturer relations that it calls the "Roots Campaign."
Does Adagio Tea Have Caffeine?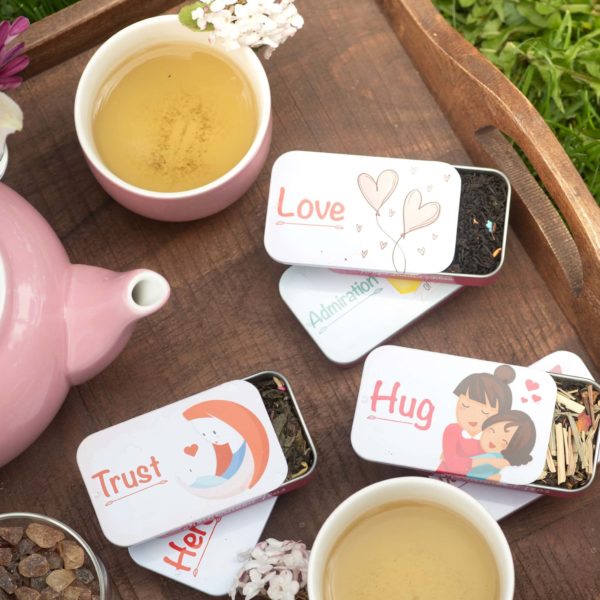 The caffeine content of your tea depends on the variety of tea you select. Our Adagio Teas review has helpfully summed up the respective caffeine content of the brand's offerings below, ranked from lowest to highest:
Herbal/rooibos—0mg
Decaf—5-10mg
White—10-15mg
Arabica—10-20mg
Green—15-30mg
Oolong—30-45mg
Black—60-75mg
Matcha—60-80mg
Mate—70-85mg
How Big Are The Samplers From Adagio Teas?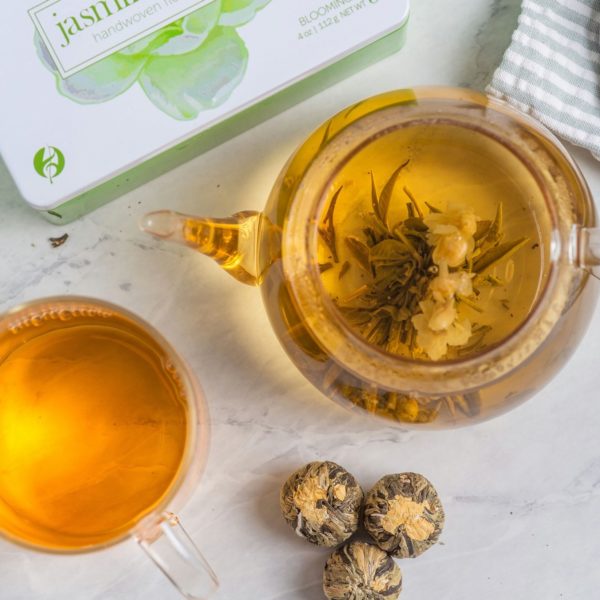 Adagio has a line of over 40 sampler sets that let you try a variety of different teas within a given category, such as Earl Grey, jasmine, Japanese, Chinese, and Indian teas, nighttime and cold-and-flu blends, and more. The sets will make between 20 and 40 cups of tea, depending on which you select, and the prices range from $12 to $39.
Who Is Adagio For?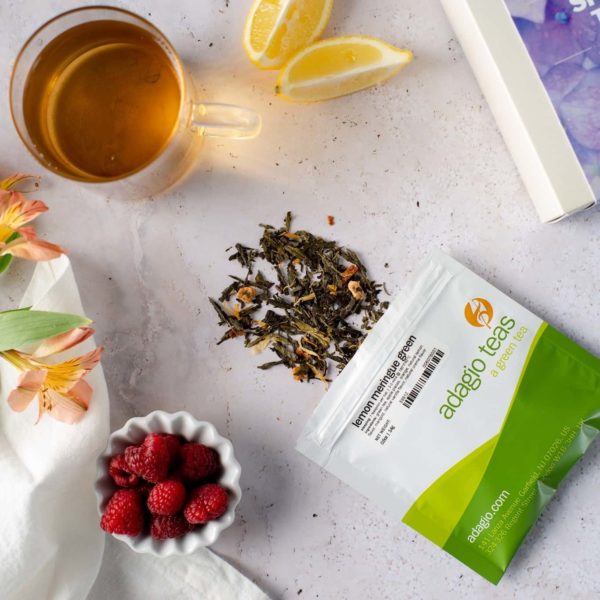 Simply put, Adagio is for both the casual tea drinkers and the wild-eyed, tea-loving fanatics among us. No matter where you fall on that spectrum, the brand's ridiculously extensive collection of teas guarantees you will find something that hits your sweet spot.
As we noted at the beginning of this Adagio Teas review, the brand is also for those who really want to create a worldwide community of tea lovers, as it has created a number of initiatives to encourage participation and exchange between its customers, such as the buyer-made blends spotlighted above.
Adagio Reviews: What Do Customers Think?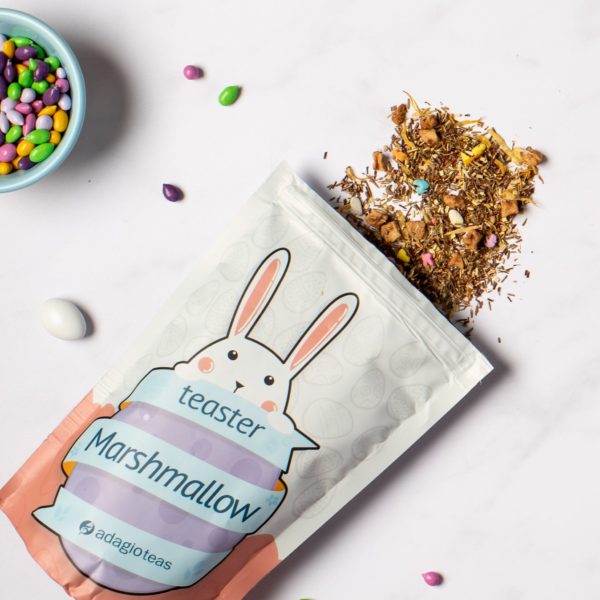 This brand carries so many products that it would be impossible for this Adagio Teas review to even begin to paint a full picture of customer feedback. So instead, we've opted to pull out a few items at random, include their customer scores, and indicate the kind of enthusiasm and participatory spirit that this brand encourages among its clientele.
Here's a random sampling of the kind of ratings that Adagio's offerings pull in at adagio.com, from a number of different categories:
Earl Grey Moonlight—96/100 based on 4,887 reviews
White Blueberry—94/100 based on 2,084 reviews
Spiced Apple Chai—93/100 based on 2,283 reviews
Blood Orange—94/100 based on 3,798 reviews
Autumn Mist Green—94/100 based on 806 reviews
From what this Adagio Teas review could glean, no product scored lower than the 90s on the brand website. Customers often leave quite long, detailed comments with recommendations for steeping time, flavor additions, and more, indicating that the brand has been extremely successful in cultivating a loyal and involved community of tea drinkers worldwide.
On a lengthy subreddit dedicated to Adagio, many commenters compared the brand favorably to Teavana, in terms of both flavor and price. One commenter said:
"I've been drinking Adagio Teas for years. I originally found them while searching for an alternative to Teavana. My experience has been that, even with recent price increases, they generally are priced lower than Teavana while also having higher quality teas. I definitely recommend what they offer."
Another contributor concurred, saying that, "I've spent a lot of time and money on teas from Adagio and Teavana. Adagio has a much larger selection of teas, especially unflavored teas. Adagio's prices tend to be much lower than Teavana's except in the 'Master's Collection' from adagio, which is priced about the same as Teavana's teas.
"However, I believe the 'Masters Collection' to be slightly higher quality tea than teavana and you get a tin with every tea in that collection."
Lastly, let's check out Trustpilot, where Adagio has an "Excellent" rating of 4.5/5 stars based on 286 reviews. Commenters highlight the brand's community-building and extensive range of offerings:
"Adagio Teas is a very fun and interesting site to find and try all kinds of different blends and teas. They have fair prices and a whole community of tea-enjoyers who are welcoming and friendly to everyone!"
Is Adagio Worth It?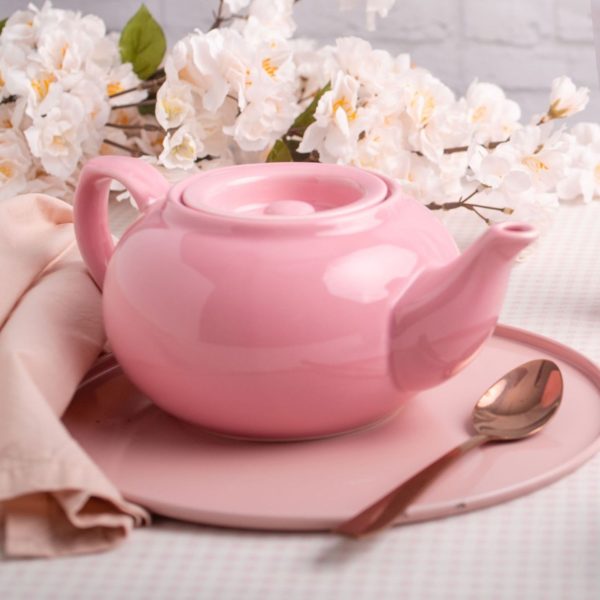 This Adagio Teas review has no hesitation in saying that, yes, this brand is totally worth it. The tea selection is extensive, the prices are entirely reasonable, and the many innovative ways the brand has found to engage with its customers is a model of how a business can build a genuine rapport with its buyers.
I also appreciate that the brand takes a determinedly individualistic stance toward terms like "organic" and "fair trade," which have become buzzwords for ethical and eco-friendly manufacturing but, in terms of their actual application, have all kinds of loopholes and grey areas.
The only real downside of giving this brand a try that I can think of is that, if you're ordering from outside the US, delivery is fulfilled via DHL, which is notoriously bad at delivering packages in a timely manner. But if you don't mind waiting a couple of weeks to receive your order, even that may not be a problem for you.
Adagio Promotions & Discounts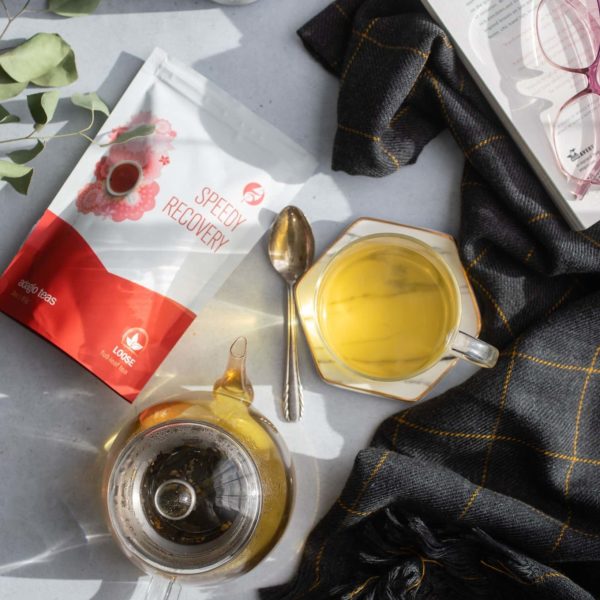 New Adagio customers can get $5 off their first purchase when they sign up for the brand's mailing list. More importantly, the brand's "Frequent Cups" loyalty program allows members to earn points that can be put toward discounts on future orders.
Members receive 1 point for every $1 spent on adagio.com. Other ways to rack up points include:
Sharing the Adagio tea you're enjoying on social media = 2 points
Writing a product review = 6 points
Promoting a custom blend = 6 points
Refer a friend to the brand with a $5 off coupon = 6 points (if they actually use the coupon, you get 10 points)
When your total reaches 100 points, you can redeem them for cash savings on your next order, or exchange them for special items that aren't normally offered.
Where to Buy Adagio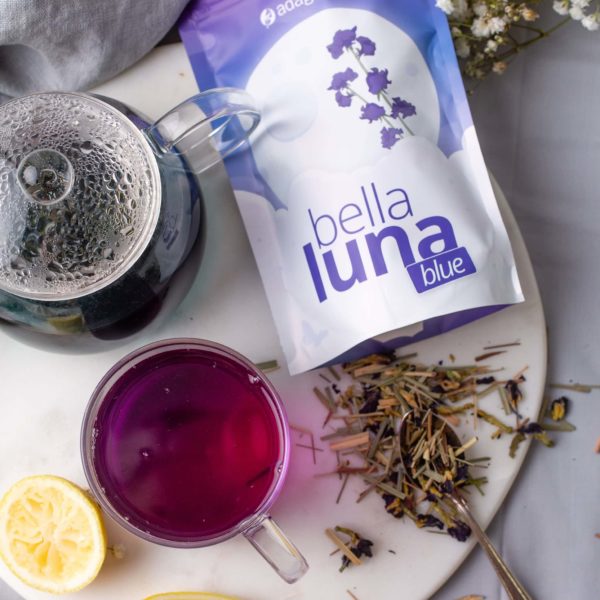 You can buy Adagio teas directly from the brand's website, adagio.com, or from either of its two Illinois retail locations (one in Naperville, the other in scenic Skokie). Select items are also available from major retailers like Amazon, Walmart, Bed Bath and Beyond, and more.
FAQ

Where is Adagio tea from?
As noted in our Adagio Teas review above, the brand sources its teas from eight countries around the world: South Africa, Egypt, India, China, Japan, Sri Lanka, Taiwan, and Argentina. The processing of the final products is carried out in the brand's facilities in New Jersey and the UK.
What is Adagio's Shipping Policy?
Standard shipping (via FedEx Economy) is $4 for contiguous US orders, or free for purchases of $49 or more. Deliveries will typically take 6-12 business days to arrive. Orders for Alaska and Hawaii are fulfilled via Priority Mail for $10, and will arrive in 5-7 business days.
For expedited delivery, you can opt for FedEx Ground ($6) to receive your order in 1-7 business days, or FedEx Next Day for overnight delivery (cost calculated at checkout based on weight and distance). Shipping to PO boxes can be fulfilled via USPS for $8.
Otherwise, Adagio uses FedEx Economy ($3.75), FedEx Ground ($5.75), USPS ($7.75), FedEx Second and Next Day shipping options.
International shipments are sent via DHL, and can take anywhere between 7 and 30 business days to arrive. Additional duties and taxes may be applied depending on your location.
What is Adagio's Return Policy?
Adagio will accept returns on eligible orders within 30 days of purchase, with the exception of sample-size pouches or custom blends. Products that have been opened will result in a 35% disposal fee being deducted from your refund. If your return is eligible, you can opt for either a refund, a replacement, or store credit.
How to Contact Adagio
This Adagio Teas review could only cover so much of what this brand has to offer, so we wouldn't be surprised if you have more questions! Adagio does not have a customer support phone number, but you can reach out to the brand during regular business hours (EST) via live chat on adagio.com, or take advantage of the interactive FAQ search page.