Anthropologie has earned a reputation for its unique boho-chic clothing and aesthetically pleasing and easygoing vibe. Now, the brand even has a beauty department, and we couldn't be more excited. Anthropologie now has an impressive lineup of makeup and skincare staples for every beauty minimalist's dream. So, we tapped the online store for the best Anthropologie beauty products that are currently bestsellers and saw what all the buzz is about. If you needed yet one more reason to shop at Anthropologie, it now has a super impressive and carefully curated section of travel-sized beauty products. They have the same effortlessly chic and indie vibe as their clothing!
Just like the best Anthropologie travel women's accessories, the brand's beauty products, especially travel-size ones, are a big hit with travelers. With travel opening up in a big way than before, these favorite finds from the Anthropologie beauty store are certainly a must-have for when you travel next. To that end, here are the 13 best Anthropologie beauty products for travel.
Oil And Bone Balm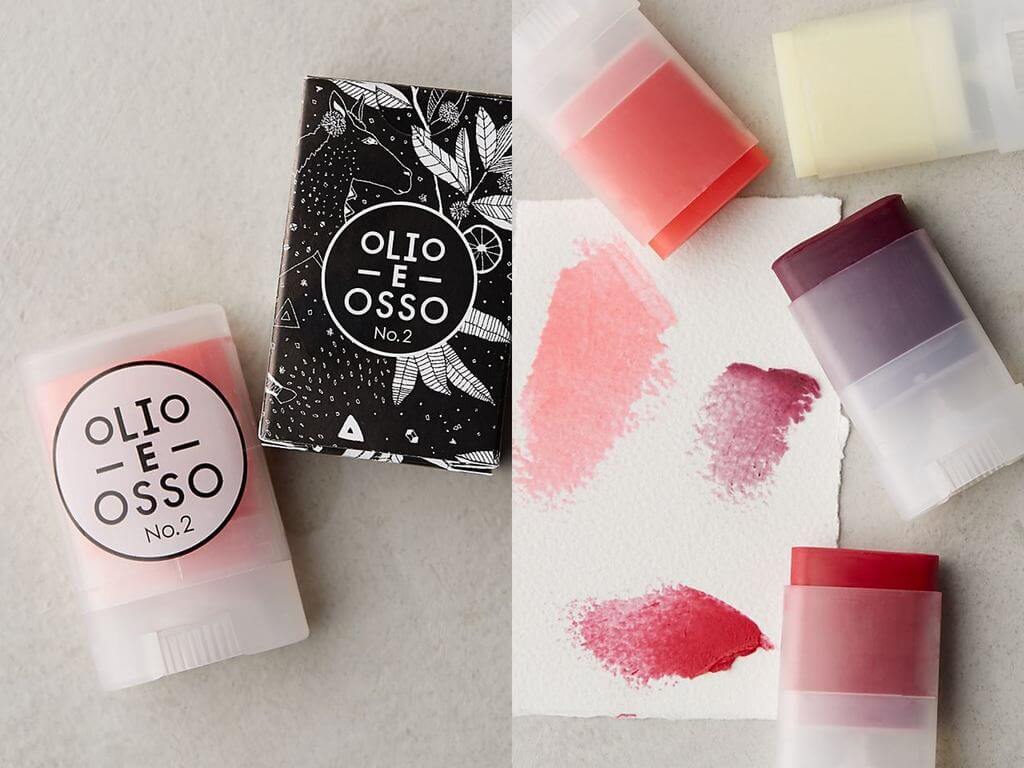 The Olio E Osso Balm is one of the best Anthropologie beauty products you can find for travel. These lovely lightly-tinted balms come in five colors: French melon, crimson, berry, spring, and plum. You can use them on the cheeks and the lips for a dewy and rosy glow. What's more, it comes in a travel-friendly size of 0.3 oz (8.7 ml), which means that you can carry multiple shades without worrying about TSA requirements. Furthermore, these lip balms feature skin-friendly ingredients such as essential oils, natural beeswax, shea butter, and organic olive oil. They're all sourced from the Pacific Northwest and hydrate and lend a natural glow to the lips and the cheeks' skin.
Pros
Comes in multiple shades.
Features natural ingredients.
Hydrates skin.
Cons
Mario Badescu Facial Spray Set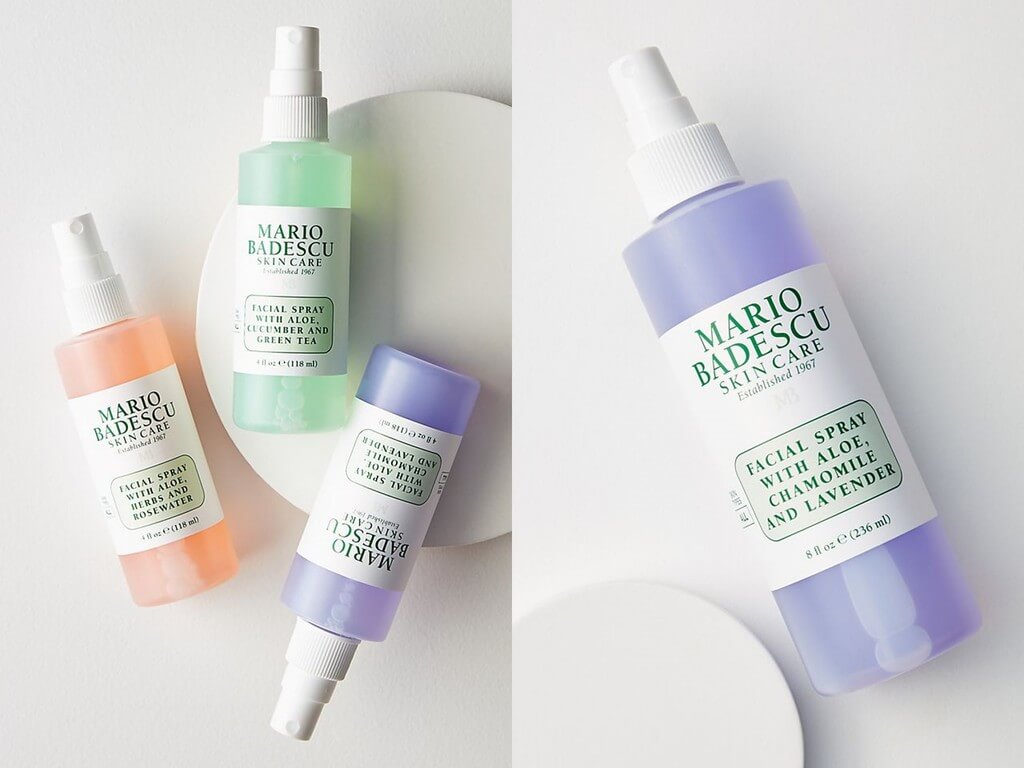 The Mario Badescu Facial Spray Set is one of the best nourishing products you can have along with you while traveling. This set of three mini facial sprays brings balance to and thus refreshes your complexion, leaving you with a fresh-faced and dewy glow. It features rosewater, herbs, aloe spray, green tea facial, cucumber, alow spray, lavender, chamomile, and alow spray. What's more, these sprays also feature fruit and natural leaf extracts, peppermint water, and even aloe vera leaf juice that leaves your skin feeling refreshed on long-haul flights. Since they weigh 4 oz. (118 ml) each, you won't have any problem carrying them in your travel-safe handbags.
Pros
Set of three mini facial sprays.
Refreshing.
Brings balance to your skin.
Cons
Some said that the fragrance is slightly strong.
Hatch Mama Mini Belly Oil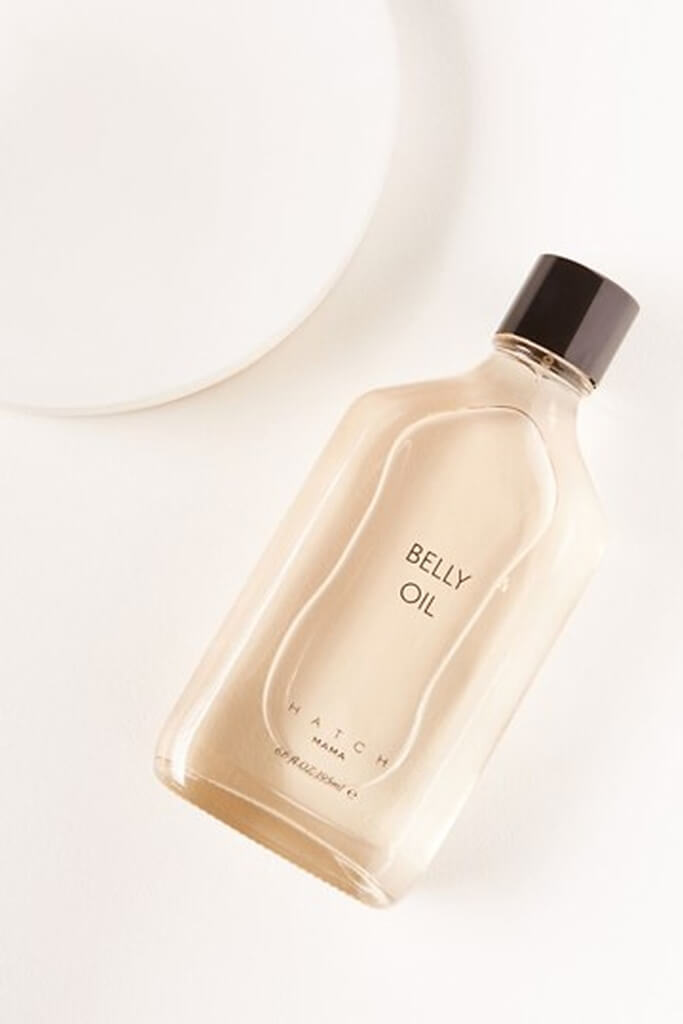 The Hatch Mama Mini Belly Oil is one of the best Anthropologie beauty products you can have on you while traveling. This intensely hydrating belly oil is crafted keeping mamas-to-be in mind and intensely hydrates the skin from head to toe. What's more, it reduces the appearance of scars and stretch marks thanks to the nutrient-rich formula brimming with antioxidants. Thus, it also helps soothe itchiness and irritation, thus promoting regeneration and moisturization. What's even better is that it dries pretty quickly and leaves behind a refreshing yet subtle citrus scent. So, you can apply it and get dressed in an instant – with no greasy stains.
Pros
Leaves no greasy stains.
Refreshing with a citrus scent.
Reduces appearance of stretch marks and scars.
Cons
Needs to be applied frequently.
Caudalie Vinoperfect Radiance Serum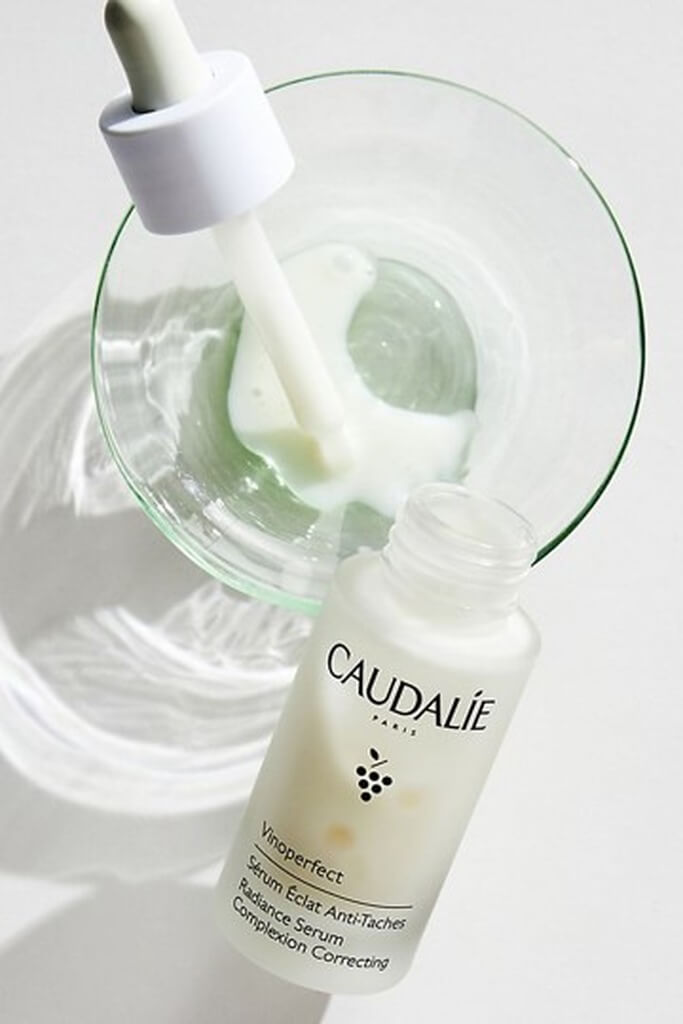 The Caudalie Vinoperfect Radiance Serum is a lightweight yet concentrated serum, all wrapped up in a sustainably-minded packaging. The cult product from the renowned French brand Caudalie is heralded for its ability to brighten dull complexions and minimize skin discoloration. Moreover, this serum is sourced from French grapevines and sinks in quickly, thus leaving skin noticeably smoother without feeling greasy. It has viniferine, derived from grapevine sap, and helps reduce scars, acne marks, and sunspots. All in all, you're left with a radiant and brighter tone and a flawless-looking complexion.
Pros
Lightweight and concentrated.
Non-greasy.
Reduces sunspots, acne marks, and scars.
Cons
Some didn't like the texture of the product.
Eau De Parfum Nostalgia
One of the best Anthropologie beauty products you can have while traveling is the Nostalgia Eau De Parfum. The perfume comes in three fragrances: golden hour, slow dance, and I do. These "Eau de parfums" have been crafted to evoke a sense of nostalgia deliberately. Do you have a fond memory of drinking rosé all day at brunch or your fave beach day from a summer holiday? These fresh and uplifting scents will take you right there – especially when you can't recreate them yourself at the current moment. The key ingredients of every bottle are water, alcohol, and fragrance. And finally, since each of the scent bottles has just 1 oz. (30 ml) of liquid, you won't have any problems adhering to TSA requirements either.
Pros
Travel-friendly.
Lovely fragrances.
Evoke a sense of nostalgia.
Cons
Slightly on the expensive side.
Captain Blankenship Golden Waves Sea Salt Shimmer Spray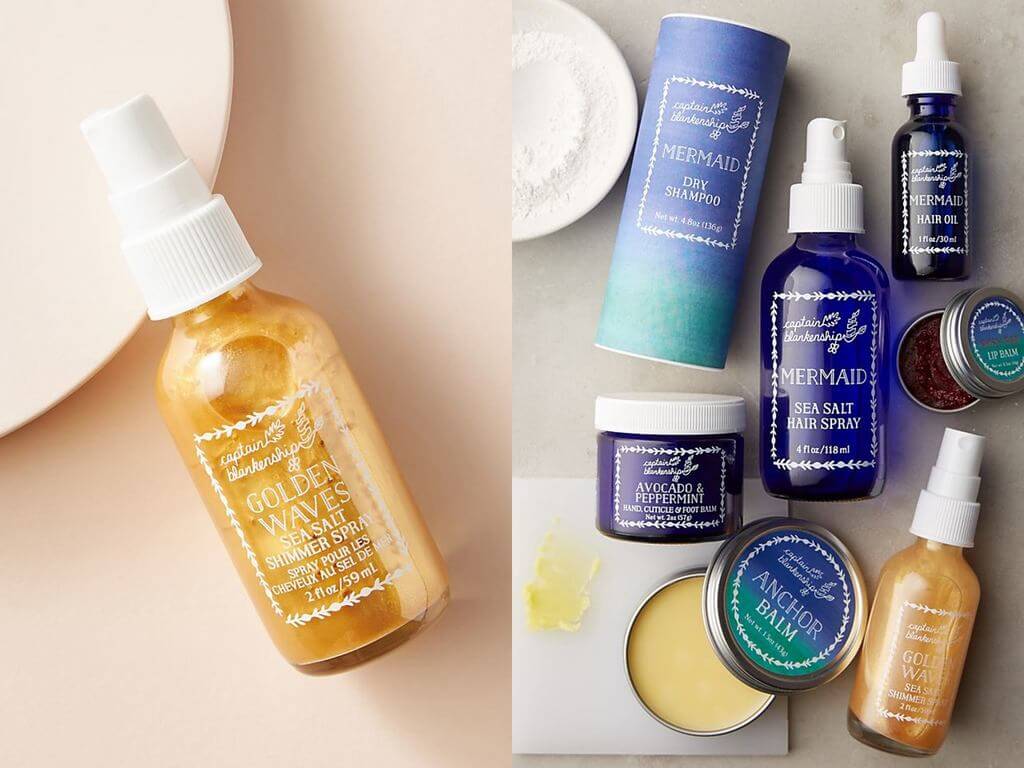 From the small yet empowering all-female Captain Blankenship comes the Captain Blankenship Golden Waves Sea Salt Shimmer Spray. Do you miss having lovely wavy hair while on vacation? Then this sea-salt shimmer spray is just what you need. This spritz is infused with gold mica for a summer-ready and subtle shimmer. It even has Atlantic sea salt that adds texture to the hair, leaving you with wavy mermaid-like locks with a treasure-inspired twist. What's more, it won't make your locks dull, sticky, or crunchy like many other hair sprays. All in all, this gold-flecked spritz is perfect for any low-maintenance hairstyles that you want to try out on your holiday and get all those cute Instagram pictures.
Pros
Adds shimmer to your hair.
Gives hair a lighter texture.
Comes in a nice travel-friendly size.
Cons
Some people say that the glitter is barely noticeable.
Smith's Rosebud Tube Gift Set
Travel lip balm moisturizers have become a travel favorite of sorts in the last few years, and no one boards a plane without them today! That's why one of the best Anthropologie beauty products is the Smith's Rosebud Salve Tube Gift Set, which is a set of three time-tested signature scents. They're original rose with a beautiful rose scent, strawberry with a fresh strawberry scent, and mocha rose, a blend of chocolate, vanilla, and mocha. This beauty classic is a lip balm, irritation soother, flyaway tamer, and cuticle smoother all in one. What's more, the tubes are handy and squeezable and keep your lips moisturized and smelling lovely all day long.
Pros
Not sticky.
Set of three squeezable tubes.
Leaves a light scent.
Cons
Simper Goods Bar Soap Gem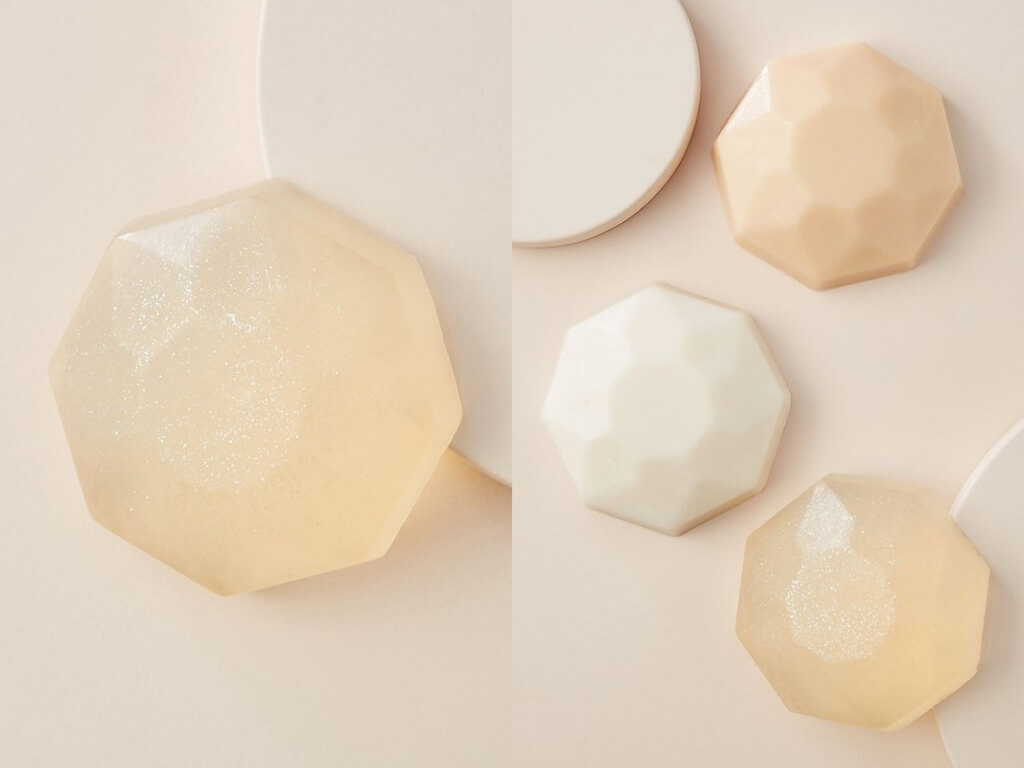 The cute little Simper Goods Bar Soap Gems make for one hell of a luxe update to your travel essentials kit. Upgrade your boring old bar that's chillin' in your soap dish with these little gems, which are shaped like charming little gemstones – hence the name. What's more, every time you lather up one of these small gems, your skin is left feeling smoother, cleaner, and softer. Plus, these soaps nourish and cleanse your skin with a deliciously scented moisturizing formula. It's available in six colors and scents, including Moonglow in the dark, surf loofah, tiki loofah, salt and coconut, cocoa and mint, and sugar and citrus. Shine bright tonight because you're beautiful like a diamond in the sky!
Pros
Available in six colors.
Deliciously scented moisturizing formula.
Leaves your skin cleaner, smoother, and softer.
Cons
Tweezerman Micro Mini Set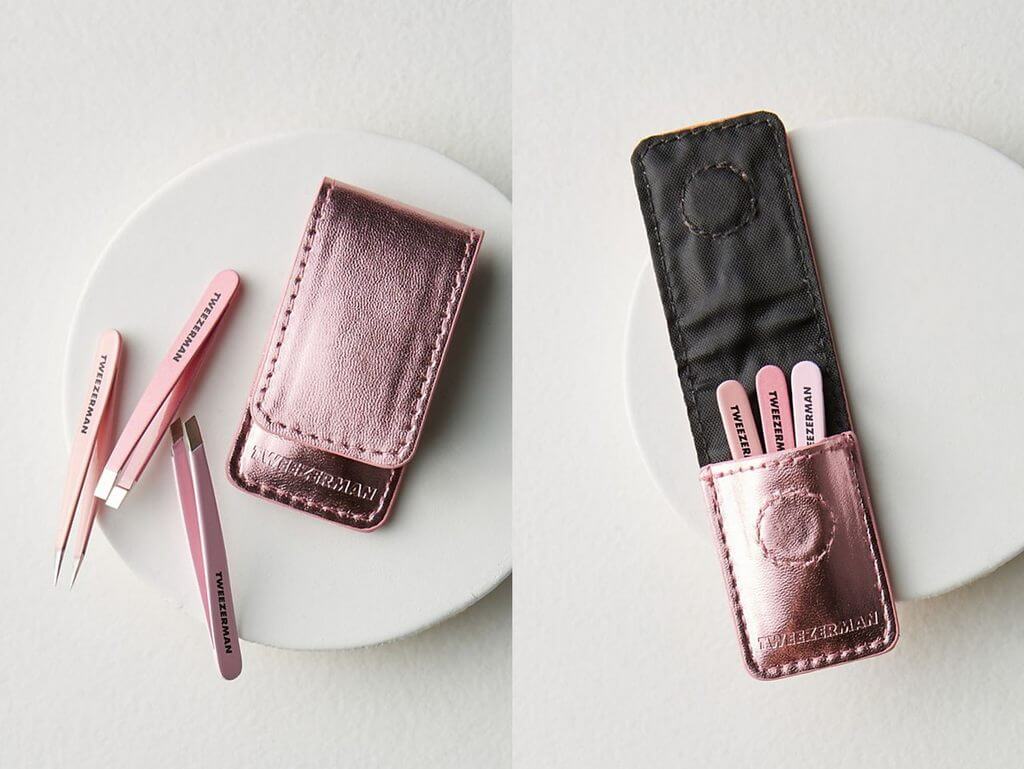 Are you going on a long, long vacation? Or do your brows grow too quickly? Say goodbye to ingrown hairs with this Tweezerman Micro Mini Set, one of the best Anthropologie beauty products on this list. The set includes two mini slant tweezers and a mini point tweezer, all in sleek-looking rose gold. This tweezer set will help immensely helping in keeping your brows in check. And thanks to the precision tip, it means that no hair will escape your attention, as these babies will scoop them right out. If that wasn't enough, this travel set comes in a gorgeous and well-designed metallic case that's perfect for carrying in your beauty bag or even your purse.
Pros
Made from stainless steel and decked out in rose gold.
Set of three tweezers.
Precision tip means no hair will left behind.
Cons
Those with larger hands might find these a tad tiny!
Tap Mini Hand Cream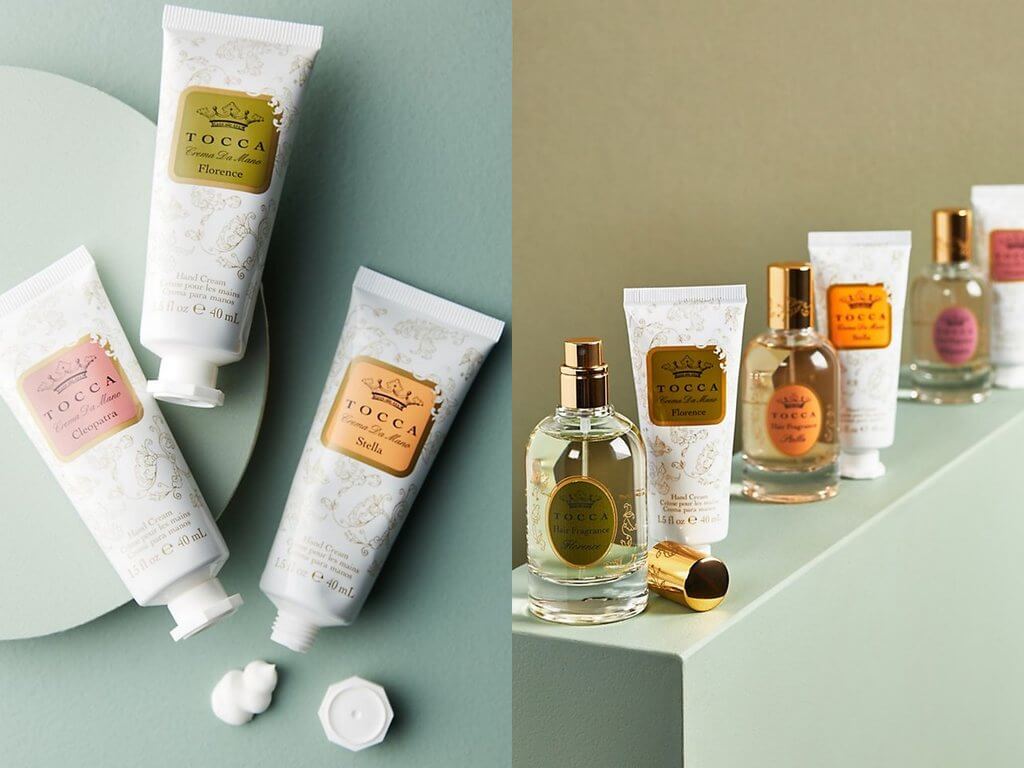 'Tocca' is the Italian word for touch, and the fragrance and fashion brand's exquisite scents are a beautiful blend of the fresh and the new and old-world romance. The Tocca Mini Hand Cream is no different and is feminine through and through. This richly formulated hand cream contains aloe leaf juice, Matricaria flower extract, jojoba seed oil, avocado oil, fragrance, shea butter, vegetable oil, coconut oil, and water. Whenever your skin needs a little TLC, then slather on this fabulous hand cream. Since it's packed with nourishing shea butter and oils, this ultra-hydrating concoction leaves your skin smoother, softer, hydrated, and with a hint of one of the signature scents from the brand.
Pros
Leaves your skin smooth, hydrated, and softer.
Has a signature scent from Tocca.
Comes in three colors and scents.
Cons
Comes in a standard 1.5 oz (44 ml) size.
Plant Apothecary Get Clean Body Wash Set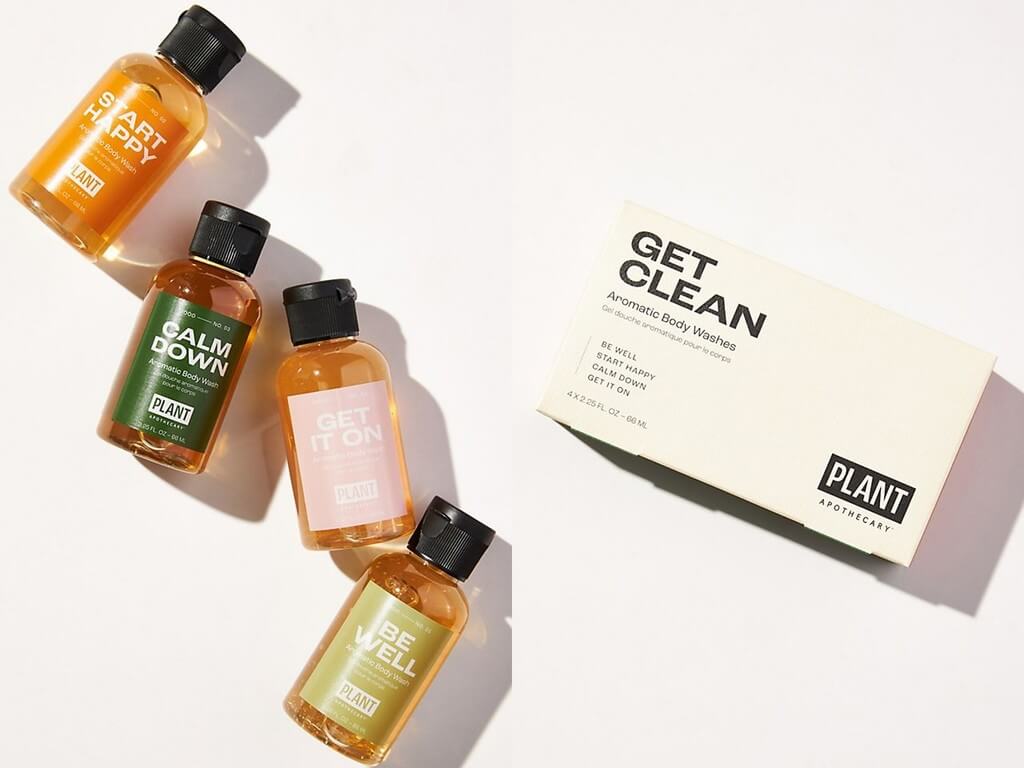 Beauty and skincare biggie Plant Apothecary makes one of the best Anthropologie beauty products on this list; the Plant Apothecary Get Clean Body Wash Set. The brand encourages environmental awareness, promotes wellness, and boasts a wide range of unisex grooming products. This body wash set is their best product and features four travel-sized body washes. What's more, this kit has aromatherapeutic scents, thus instantly elevating and upgrading your shower routine. It features fragrances such as rose geranium, spearmint, citrus notes, and eucalyptus, and cedar lead, thus effectively setting a good mood for the day ahead.
Pros
Comes in many fragrances.
Boasts aromatherapeutic scents for cleansing and calming the body.
Travel-size.
Cons
Might have to buy multiple bottles for a single trip.
Eva NYC Mini Straightening Brush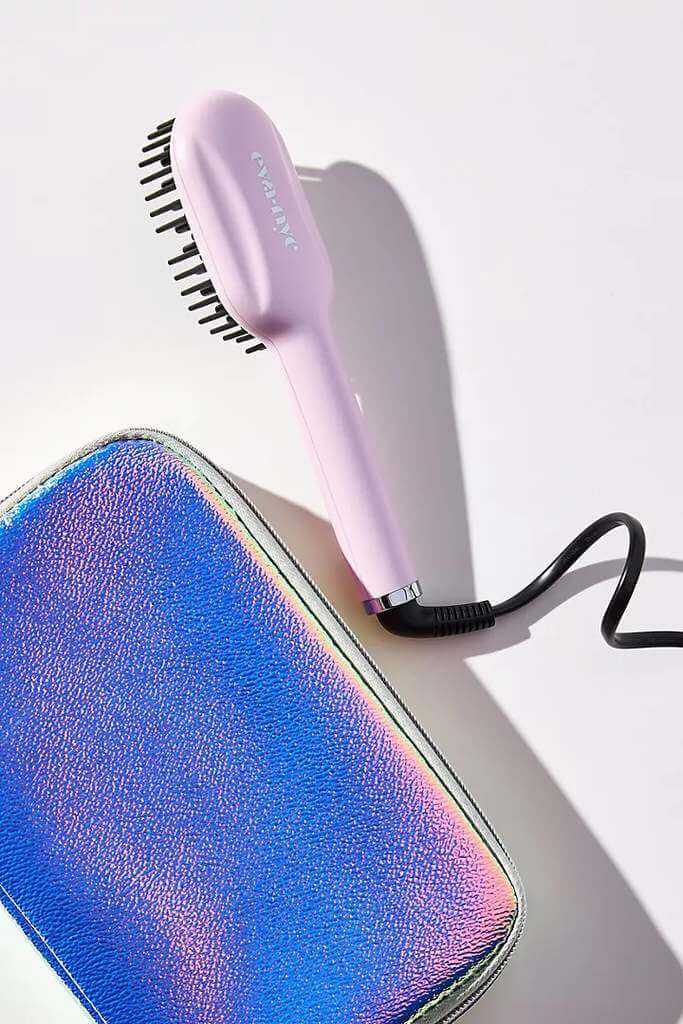 Eva NYC is a brand name when it comes to creating runway-ready hair at home – and that too without much effort or bringing damage to your locks. The salon-quality Eva NYC Mini Straightening Brush is an essential tool that employs negative ions and far-infrared heat to help eliminate frizz, lock in moisture, and, thus, achieve silky and straight hair with a single pass. The plastic body easy to handle, hold, and maneuver, while the ceramic coating on the brush ensures that your hair isn't damaged. Since it comes in a mini size, you can carry it everywhere you go and have great Insta-worthy hair days while vacationing too. Plus, it even comes in a travel pouch, which means you have your salon right in a pouch in your suitcase!
Pros
Comes in a travel-friendly mini size.
Comes with a pouch for easy carry.
Has a ceramic coating for not damaging hair.
Cons
Those with thick hair might take longer to straighten out their tresses.
Slip Sleep Mist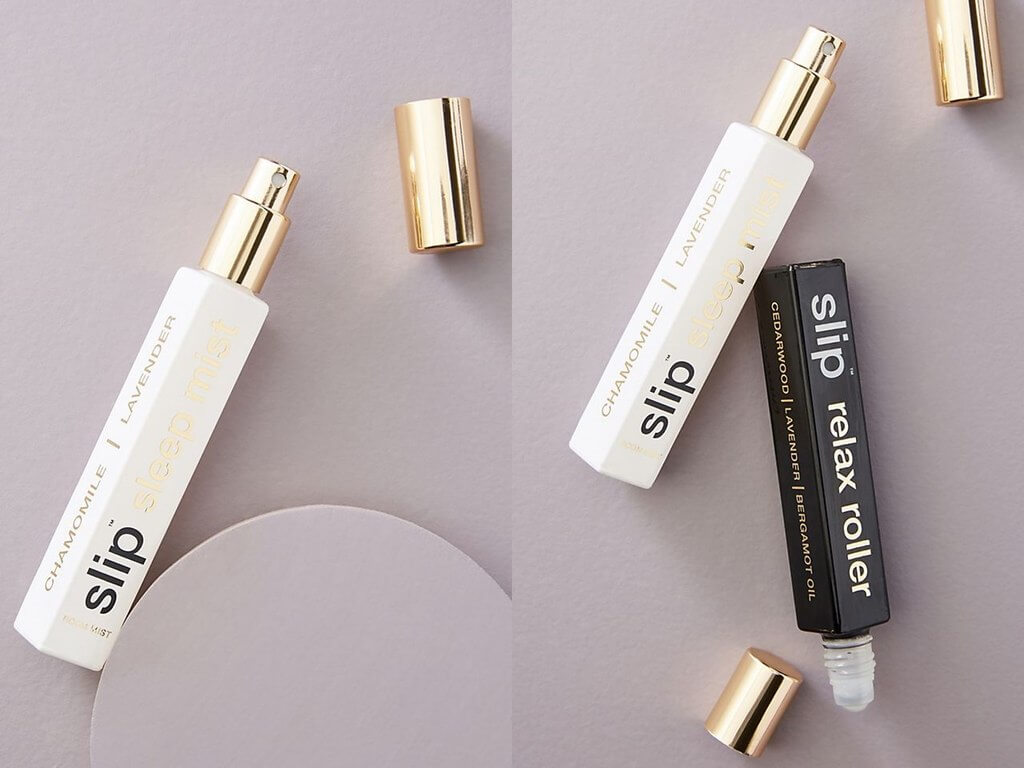 The Slip Sleep Mist tops the list of the best Anthropologie beauty products for traveling on this list. While the rest of them are for the day, this one is for the night. This mist infused with chamomile and lavender oils, thus helping create a serene and peaceful environment for a good night's sleep. Pro-tip for use: don't spritz directly onto your pillowcase. Instead, spritz it around the room where you're staying to create a calming atmosphere. Other ingredients of this calming spritz include citric acid, honeysuckle flower extract, and water, besides chamomile flower and lavender oil.
Pros
Comes in a travel-friendly size.
Creates a calming atmosphere for relaxing.
contains lavender and chamomile flower oil.
Cons