About Carter's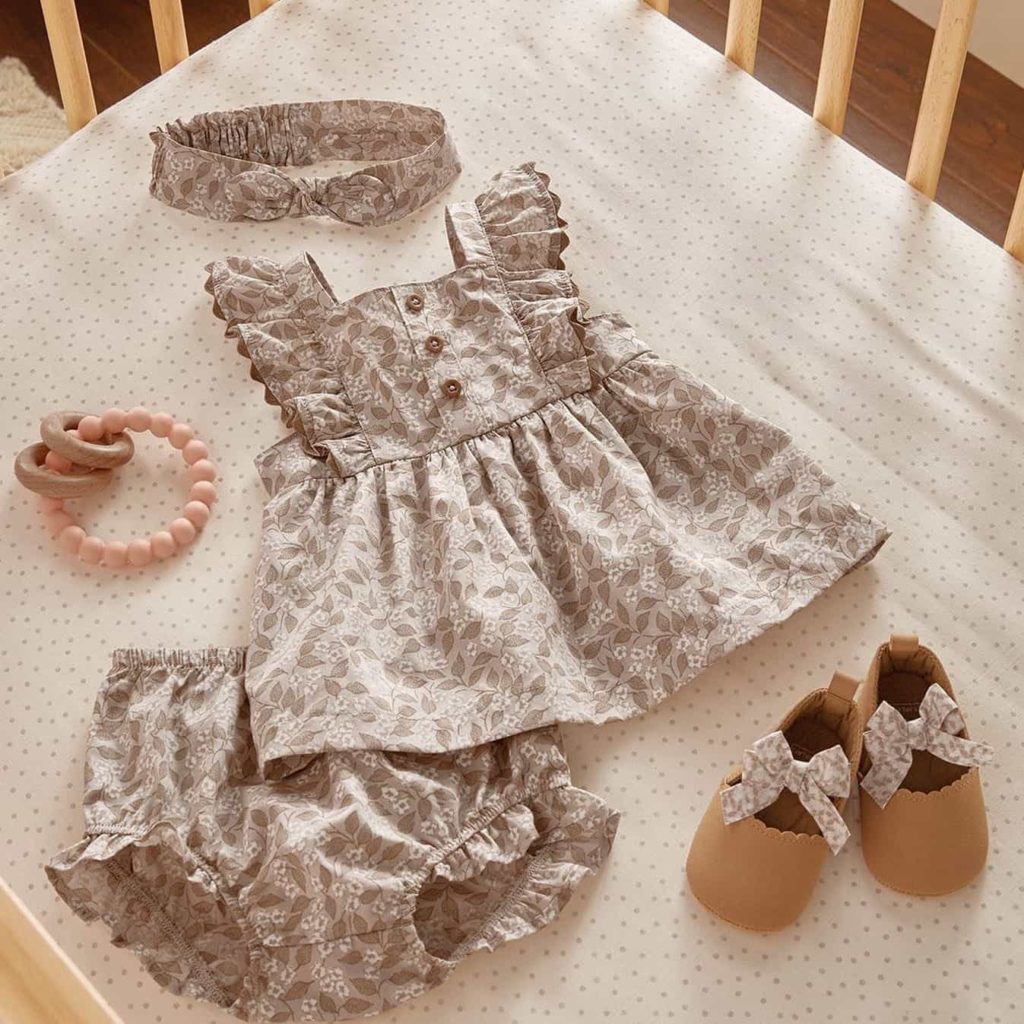 Carter's is the brand that comes to mind when you think of buying baby clothes. The well-known company has been around for over a century, and its baby and toddler clothing is adored by parents looking for something cute, cuddly, and cost-effective for their little ones.
With over 2 million followers on Instagram alone and 400+ stores across the US, this multibillion-dollar company is arguably one of the most successful baby brands to ever exist. Popular around the globe, Carter's is a name that parents can trust for safety and quality, its day and sleep-ready wear is all OEKO-Tex 100 Certified.
Obsessed over details? We'll lay them all out for you in this Carter's review. After diving into information on the brand and its best-sellers, we'll examine customer feedback and answer FAQs so you know exactly what you're getting. When it comes to little ones, you never can be too prepared.
Overview of Carter's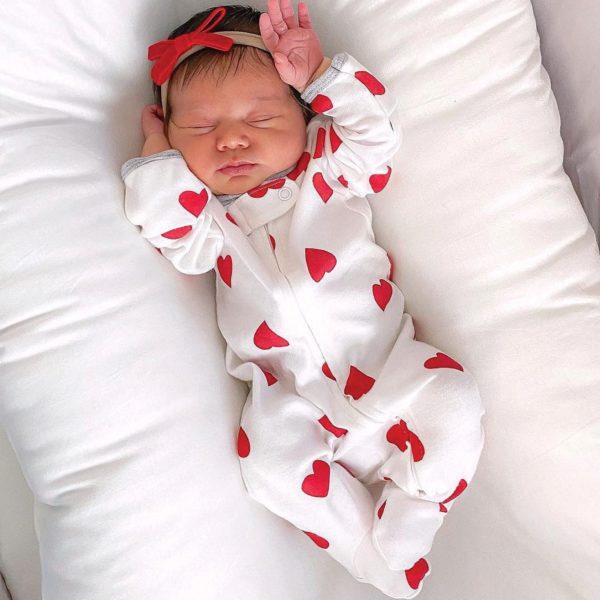 You may be wondering how Carter's grew to be such a success. Founded by William Carter in 1865, this sheer fact alone puts this historic company in line with fashion houses established at the same time.
Instead of haute couture and premium leather though, this brand approaches fashion from a younger standpoint, including the hottest designs and graphics to delight kids of any age. But you get the point.
It's a tough game getting into business, but Carter's seems to have figured out a way to stay relevant throughout the years by choosing styles that appeal to young and older audiences. Think: dad's favorite licensed sports gear and trendy styles that look just like mommy's.
The company has established quite the reputation with new parents, so much so that the majority of folks who buy from the brand once will choose it again for their second or third kid, or even for their grandchildren. And though other children's store giants like Babies R' Us and The Children's Place appear to be downsizing, Carter's continues to grow.
Interested in finding out what it is about this brand that makes it so popular? It's all coming up in this Carter's review. A little further along, we'll give you a peek at some of its adorable sleep and streetwear for babies and kids, but first, you'll find a summary of its highlights.
Highlights
Hundreds of adorable options for babies and kids
Makes a wide range of sleep and day wear
Carries sizes for newborns up to tweens
Offers matching family sets
OEKO-Tex certified for fabric safety
Extremely affordable
Tons of discounts & sales
Ships internationally
Available at many retailers around the world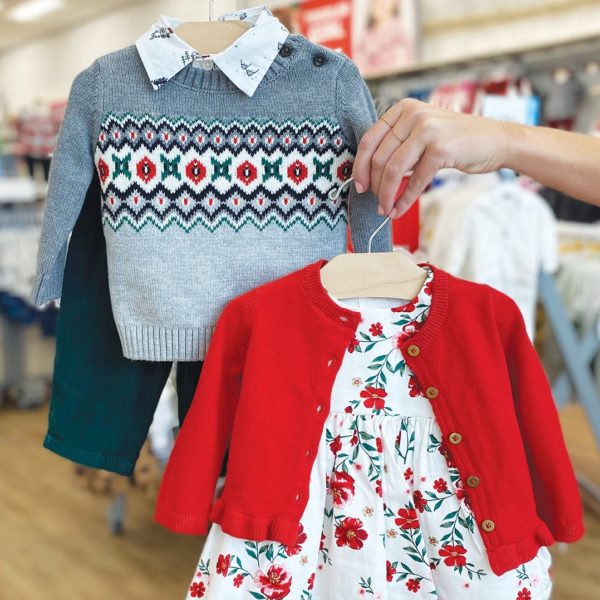 Land on Carter's website and we challenge you not to smile. It's just not possible. Whether it's the faces of cute babies smiling back at you or the absolutely adorable clothing they're wearing, it's not hard to see why this brand is such a success.
Offering a range of on-trend styles and graphics, you'll browse through sections for babies, toddlers, and kids full of fun, modern, and colorful designs. In the next part of this Carter's review, we'll walk you through a selection of baby clothes and pajamas you'll probably wish were in your size (some are!).
Carter's Baby Clothes Review
Carter's baby clothes are typically made in sizes for newborns up to 24 months, but you may also find some specially designed for preemies too. All certified standard 100 by OEKO-Tex, these snuggly essentials come in the sweetest patterns with graphics your little one is sure to love.
This Carter's review will introduce you to the brand's two best-selling baby clothes sets. Each set comes with three cohesive pieces that are perfect for stocking up your baby's wardrobe.
Carter's 3-Piece Lion Little Character Set Review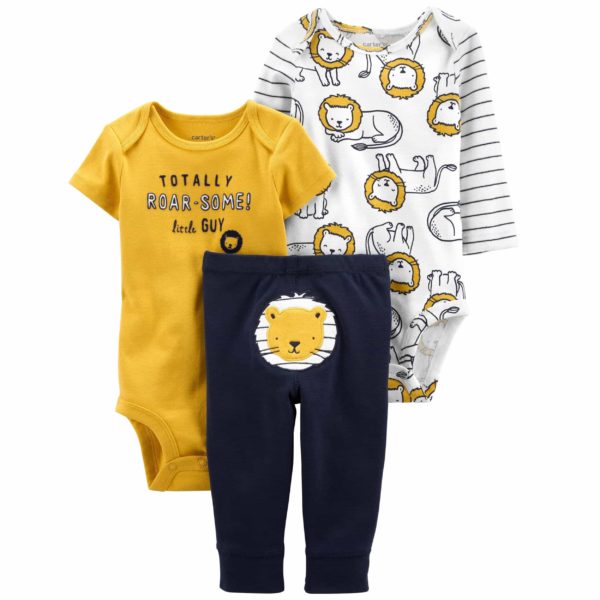 Featuring two different onesies and a pair of comfy pants, the words "Totally ROAR-SOME Little Guy" are proudly printed across one of them. The other onesie is white with lion graphics all over, and the pants are black have a friendly little lion face on the back.
A mix of lengths to get you through warm and chilly weather, each onesie has overlapping shoulders for easy on and offs, along with sturdy straps that stay put. This versatile set comes in sizes NB-24M.
Get your wild one the Carter's 3-Piece Lion Little Character Set for $18 (an MSRP of $24).
Carter's 3-Piece Butterfly Little Cardigan Set Review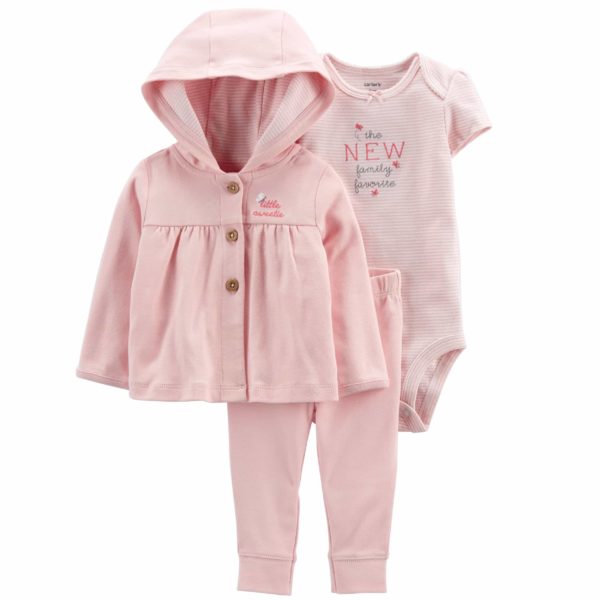 Carter's doesn't skimp on detailing here, the hooded cardigan's slightly peplum effect takes inspiration from a trendy shirt in mom's closet. Get this set in sizes P-12M for your little trendsetter for just $16 (it has an MSRP of $26).
Carter's Pajamas Review
PJs are supposed to be comfortable, which is why all of this brand's options are made with 100% cotton and have ribbing around the collar and cuffs for a good fit and an irritation-free sleep. The best-selling Carter's pajamas below are perfect for your little ones but we've also included some styles for teens, as well as matching sets for adults.
Carter's 4-Piece Penguin 100% Snug Fit Cotton PJs Review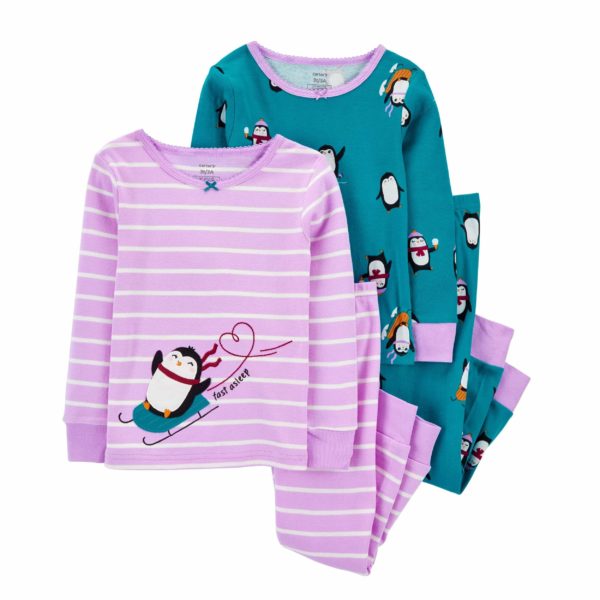 Made from super-soft cotton, one is a soothing lavender color with an adorable sledding penguin on the front, while the other is a dark teal with a happy little character print all over. Add some fun to bedtime with this cute set in sizes 2T-5T for $22 (an MSRP for $36).
Carter's 2-Piece Striped Snug Fit Cotton PJs Review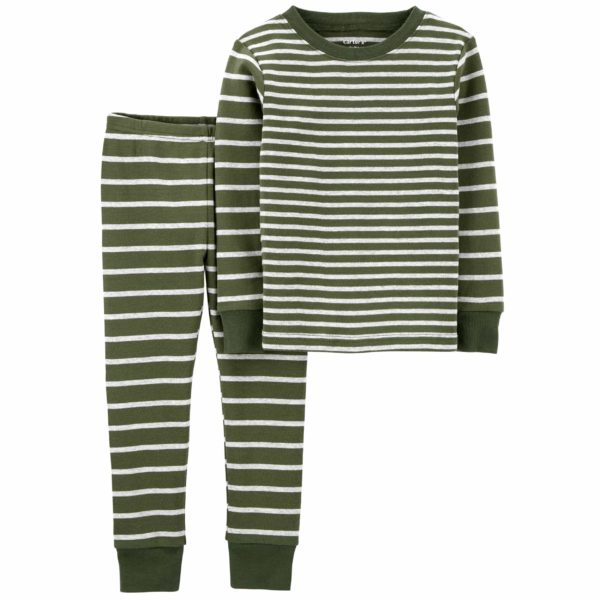 It comes with both a long sleeve top and long bottoms and is an easy choice for bedtime. Ribbed for comfort, you can get it in sizes 2T-5T for just $10 (an MSRP of $20).
Carter's 2-Piece Valentine's Day Heart 100% Snug Fit Cotton PJs Review
Outfitted with a long sleeve top and long bottoms, this set features a ribbed neckline in addition to top and bottom cuffs. The pants feature an elastic waistband for an easy fit. Made from 100% cotton, you can buy this set in sizes 4-14, but it also comes in larger sizes for the whole family.
Pick up the 2-Piece Valentine's Day Heart 100% Snug Fit Cotton PJs for $30.
Carter's 4-Piece Monster Truck 100% Snug Fit Cotton PJs Review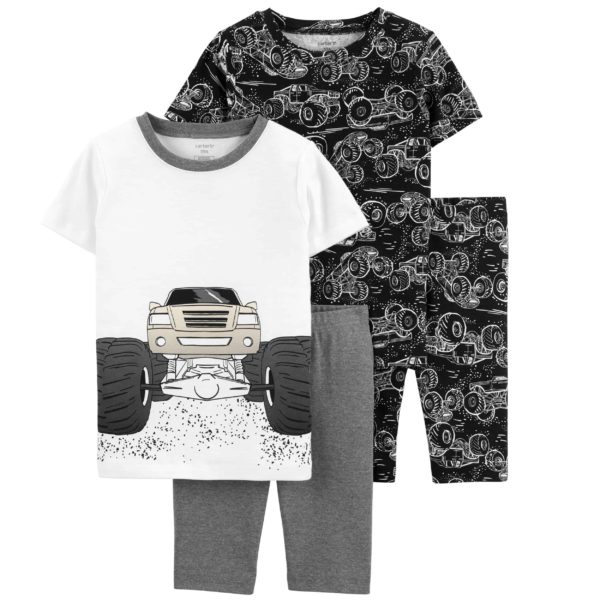 This bundle is great for the cooler months, made from breathable cotton with a ribbed neckline for added comfort. The whole set comes in sizes 4-14 and includes two shirts and two pairs of pants for $33.
Carter's 2-Piece Adult Mac & Cheese 100% Snug Fit Cotton PJs Review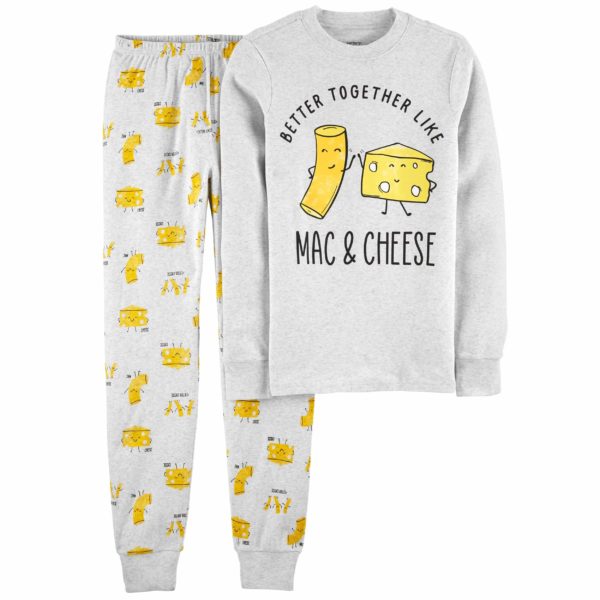 The ribbed cuffs and neckline are nice details that give the top a look of quality, while the covered elastic waistband ensures they're a good fit. Made from 100% cotton, grab the set in sizes XS-XXL for $18, a normal MSRP of $45.
Unfortunately, the 2-Piece Adult Mac & Cheese set is currently out of stock—a sign of just how popular this witty design truly is. Check back for future restocks.
Who Is Carter's For?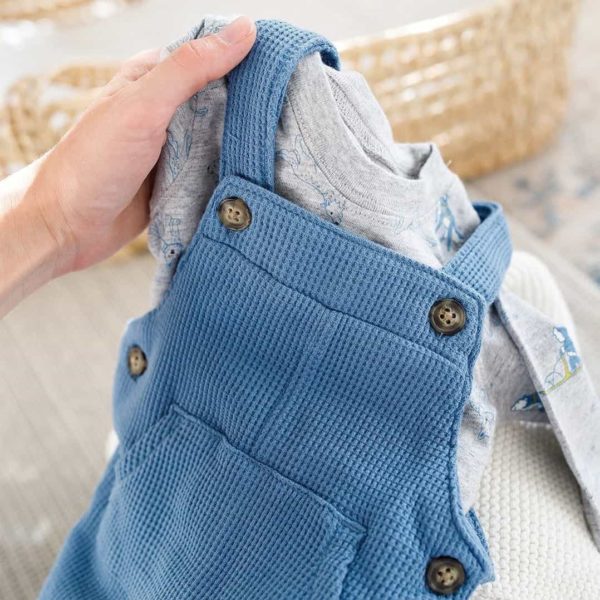 Carter's makes clothing for toddlers and kids as well as preemies and newborns up to size 14. They also have matching sets for adults to get the whole family in on the fun. With clothing free of harmful chemicals, it's an easy pick for adults who are looking for affordable, quality clothing but want to make sure their kids are safe.
Carter's Reviews: What Do Customers Think?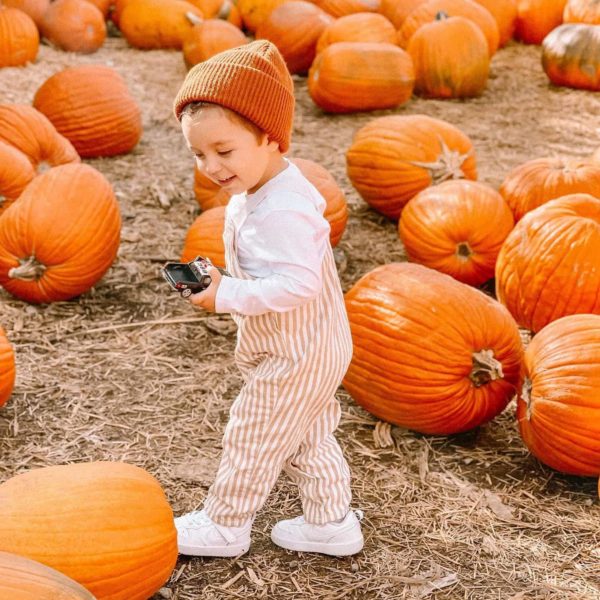 Giant brands often have the reputation of being cheap, and hey, sometimes, you get what you pay for and that's ok. But regardless of that fact, when it comes to babies, quality is a little more important.
In this section of our Carter's review, we'll be on the lookout for feedback about the brand's quality, but also, what customers think about it in general. Let's begin with a few ratings for some of its best-sellers, then, we'll jump into the comments section.
2-Piece Adult Mac and Cheese Cotton PJs: average of 5/5 stars from 9 reviews
4-Piece Monster Truck Cotton PJs: average of 4.9/5 stars from 126 reviews
2-Piece Striped Cotton PJs: average of 4.9/5 stars from 111 reviews
4-Piece Penguin Cotton PJs: average of 4.9/5 stars from 18 reviews
3-Piece Little Lion Character Set: average of 4.9/5 stars from 46 reviews
While digging through the comments section for the 4-Piece Monster Truck Cotton PJs, we discovered a lot of common feedback about the quality of the brand's apparel in general. One customer said the fabric is "very soft and colors stay vibrant!"
Another Carter's review revealed that the clothing "washes well and retains its color – nice, soft material." Overall, there's a general consensus among shoppers that the brand's apparel is comfortable and breathable for little ones—two things that are important to keep them happy and cry-free. You know how you feel in a scratchy sweater, right? It's the same for kids.
In the hope of finding a little backup evidence about quality, we swapped over to a Carter's review page on Chickadvisor. As its score, 7 chicks had awarded the brand a 4.4/5-star rating and the majority of comments were about quality. One read:
"For the price I was pleasantly surprised with the quality and everything washed up well." That's something that a lot of Carter's customers say about this brand. For kids' clothing, quality is pretty important considering it gets messier than is washed more than adult apparel.
Aside from quality, there's a buzz of appreciation about the brand's pricing across reviews on Chickadvisor, and that's something that was matched in our next source, BestCompany. Carter's was given a 4.6/5 star score from 120 shoppers there. Want to see who awarded it what rating? You'll find the snapshot below:
5 stars: 64%
4 stars: 29%
3 stars: 5%
2 stars: 0%
1 star: 2%
Of the reasons to buy from the brand, one customer wrote a Carter's review that read, "I think that Carter's has the best quality clothes for their prices. I buy a lot of my baby clothes from here as gifts for Baby showers and new moms…I love how they have trendy styles in baby form."
Tons of comments mention the "well constructed" clothing found at this store too. With good quality, great prices, and trendy styles, Carter's is an easy and affordable go-to.
For the majority of those who shop there, this brand is a home-run. You get the benefits of a huge selection, tons of deals, and well-made clothes. In the grand scheme of things, there's not a whole lot more you could ask for. But if it's safety you're after, Carter's is OEKO-Tex certified.
Is Carter's Worth It?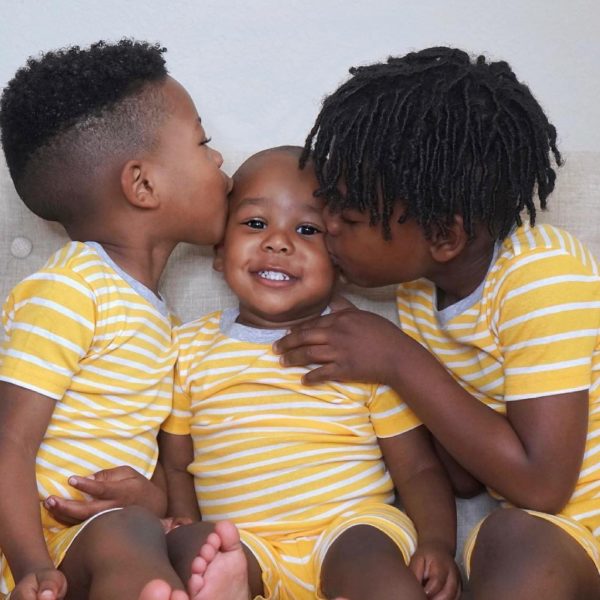 If you need us to answer this question here, you probably haven't read the previous section of this Carter's review. That's ok, we're the type that skips to the end of a book for spoilers, so we get it. Sometimes, you just want the answer. Well, our answer is a hearty YES, but we'll recap our reasons for you here too.
First of all, just like parents across the globe, we're sticklers for product safety. And any brand that bears the OEKO-Tex seal of approval is huge in our books. Secondly, we're firm believers that options make life interesting, and Carter's style range is quite impressive.
Thirdly, how about those prices? If this is the first part you're reading in our Carter's review (and if so, we heavily suggest scrolling back up to the product section to get a peek at its cute styles), just know you'll find adorable pieces for under $10 and 3-piece sets for around $30.
Altogether, those things make Carter's completely worth the buy, but it doesn't hurt that its collection is available from so many retailers and super easy to get your hands on.
Carter's Promotions & Discounts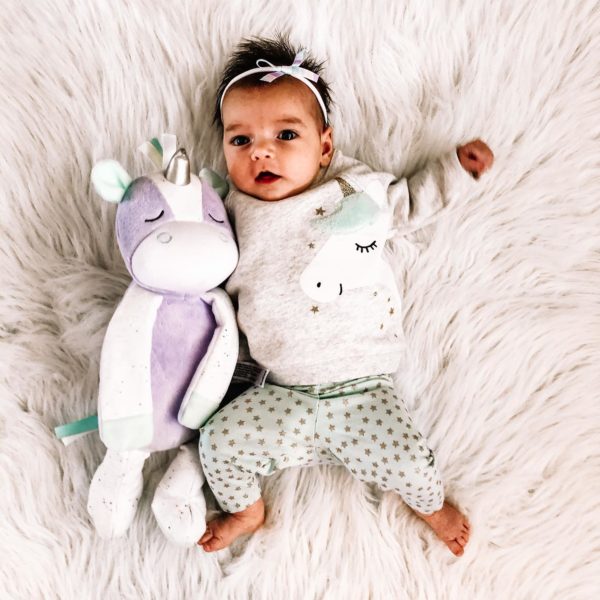 Carter's awesome pricing is one of the main reasons customers flock to this brand, so already, we knew to be prepared for some great deals. Though, while combing the website for this Carter's review, we found several seasonal promotions.
Then there are the static deals that don't go anywhere. There were still a few that fell into this category. They are:
Join the mailing list to get 20% off
Become a part of Rewarding Moments to earn points when you shop
Get free shipping on orders over $25
Where to Buy Carter's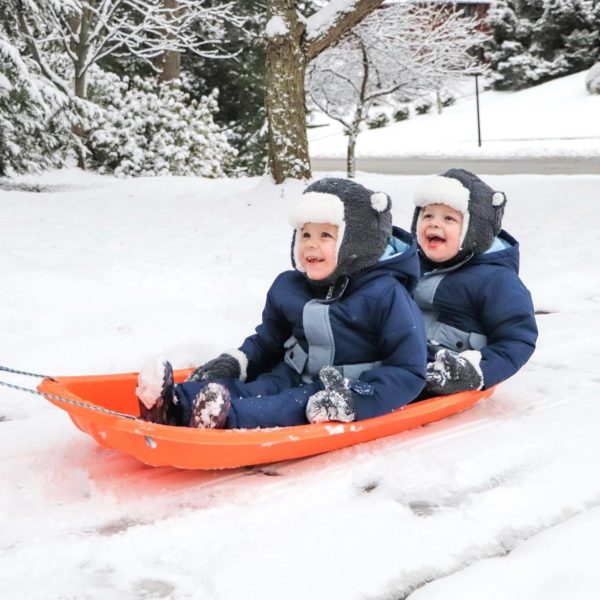 To buy Carter's, you can head into any one of its 400+ store locations across the US. You can also find it at retailers like Walmart, Target, Macy's, and Kohl's, but to access its entire inventory and the full list of deals, head to Carters.
FAQ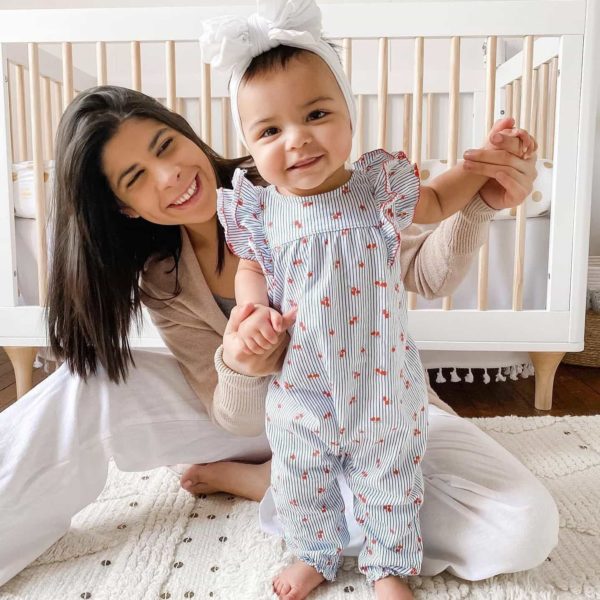 Who owns Carter's?
Carter's was founded by Willian Carter in 1865. Today, the brand is part of Carter's, Inc. and is a publicly-traded company (anyone can invest).
Does Carter's ship internationally?
Yes! Carter's ships to 80+ countries around the world. The brand has 15 different country versions of its website and 60 different currencies to give you the most effective and convenient shipping experience possible.
When it comes time to check out, your shipping cost will be calculated by the weight or number of items you buy. International shipping times can vary between 5-20 business days.
What is Carter's Shipping Policy?
Carter's has a few different shipping options for US customers. Working to process your order the same day you place it online, you'll choose from the below shipping options at checkout:
Standard: 3-8 business days $6 or free for orders over $35
Expedited: 3 business days $15
Overnight: Next business day $25
Curbside & Store Pickup orders ship for free always. For this option, you'll just select your nearest store pickup location at checkout and Carter's will give you an estimate of the date it will arrive.
What is Carter's Return Policy?
Carter's has a 90-day Happiness Guarantee that promises a full refund or exchange if you're not totally satisfied with what you bought. To make a return, you'll need to include your original sale receipt, gift receipt, or packing slip with the order. Only new, unworn products can be returned.