But it doesn't have to be like that.
Today we're going to take an in-depth look at a WordPress theme shop called Elegant Themes. They offer a few exceptional premium themes and even some helpful plugins like Monarch and Bloom, which are designed to help website owners build beautiful, highly converting websites that generate a large following and lots of money.
So, let's get started!
What is Elegant Themes?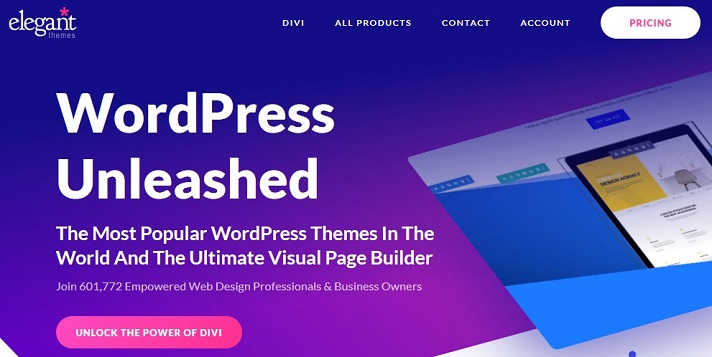 Elegant Themes is a WordPress theme shop that's highly recommended by some of the top WordPress enthusiasts and experts. Nick Roach, who started the theme club in his college apartment, has grown Elegant Themes exponentially over the past 11 years since its inception.
Centered around the idea of community, rather than simply existing as a company, Elegant Themes is powered by a team of people from across the globe. In fact, WordPress experts from over 20 different countries come together to bring website owners the very best WordPress themes and plugins for an affordable price.
And to top it off, they strive to provide nothing less than stellar customer support so site owners can achieve their dreams, no matter what they are.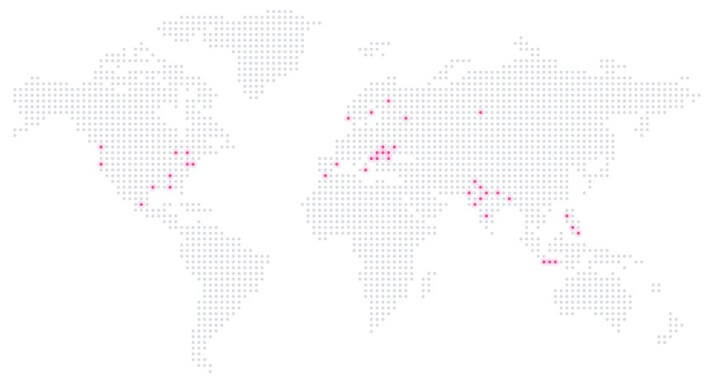 In the past, Elegant Themes offered WordPress site owners approximately 87 themes and a handful of plugins. However, in an attempt to provide the highest quality product to its customers, Elegant Themes has downsized and now only offers two premium themes – Divi and Extra – and three powerful plugins designed to help you grow your site –  Monarch, Bloom, and Divi Builder.
On top of that, Elegant Themes maintains its popularity in the saturated WordPress theme and plugin marketplace because they're not out to break your bank account.
Offering both themes and all three plugins for the low price of $89/year, or an impressive one-time fee of $249 if you want "Lifetime Access" to everything Elegant Themes has to offer, this company continues to stay competitive.
And just in case you're wondering, there's a generous 30-day money-back guarantee on all purchases. If you buy and decide you don't like Elegant Themes' themes or plugins, just request a refund – no questions asked.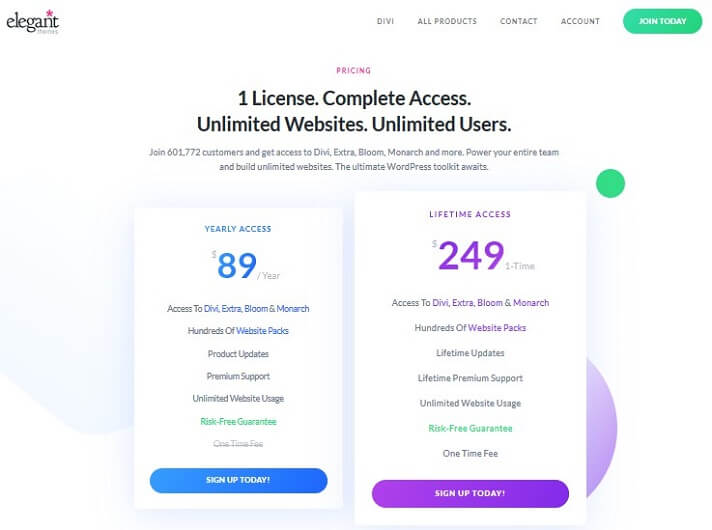 Sounds great, right? Well, we've got the inside scoop on Divi, Extra, Monarch, Bloom, and the Divi Builder so you can see for yourself.
Check out our 20% off Elegant Themes Coupon if you're ready to get started today!
Theme Features
Just like you'd expect from any reliable WordPress theme, Divi and Extra come packed with a set of standard features site owners can utilize with ease:
General Settings: Change the color schemes and typography. In addition, control your layout, featured articles, social media icons, and more. The admin page gives you control over the basic functions and features of your theme.
Navigation Settings: Set up and configure dropdown menus and links, exclude pages from the navigation bar, and more.
Builder Settings: Enable and disable the Divi Builder for post, pages, projects, and other custom post types.
Layout Settings: Set up and configure thumbnails, comments, and post-info sections for posts and pages.
Ad Settings: Manage un-widgetized advertisements. Additionally, embed Google AdSense code onto your site.
SEO Settings: Manage your SEO settings and rank higher in search results. Set SEO separately for your site's homepage, single post pages, and index pages. Trust that both themes are compatible with popular SEO plugins such as Yoast SEO, Rank Math, and All-In-One SEO Pack, too.
Integration Tab: Add third-party scripts such as Google Analytics code or any other tracking code, that you'd normally add in header.php to track user behavior, conversions, sales, and more.
Updates: Add your Elegant Themes API key so you can easily update your theme when a new version is available without skipping a beat.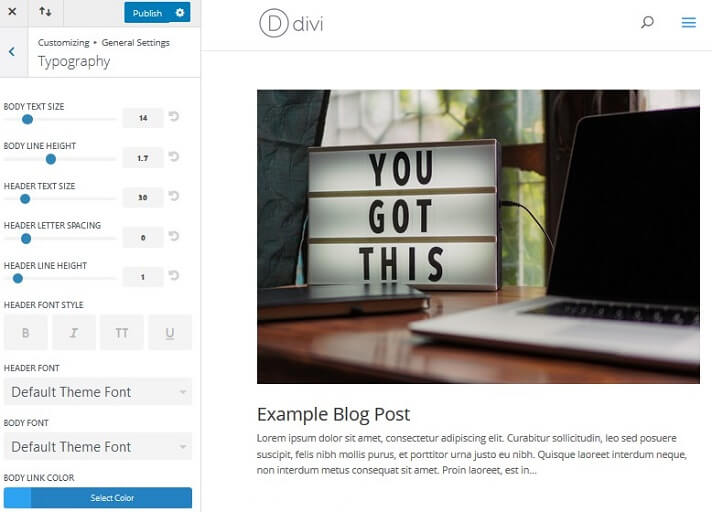 Themes: Divi and Extra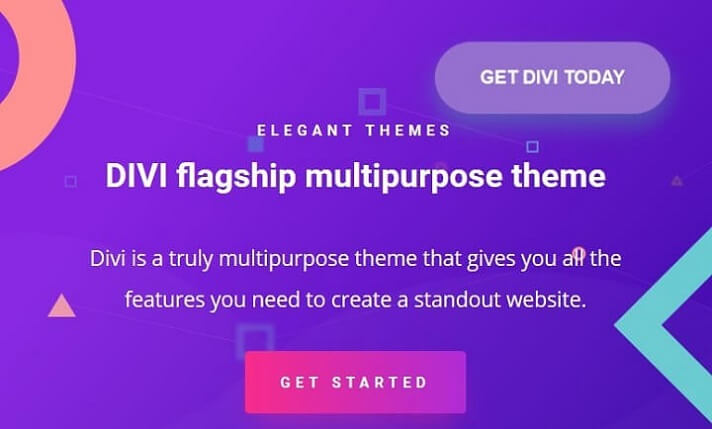 Divi, first launched in 2013, is a multipurpose theme that is nothing short of amazing. It also happens to be the flagship theme of Elegant Themes and what helped propel it to success in such a short amount of time.
With it, you can create any type of website you want. For example, you can start a WordPress blog, launch an eCommerce shop, and even manage an online business using this highly versatile theme. In fact, Divi is one of the best multipurpose themes in the market to date.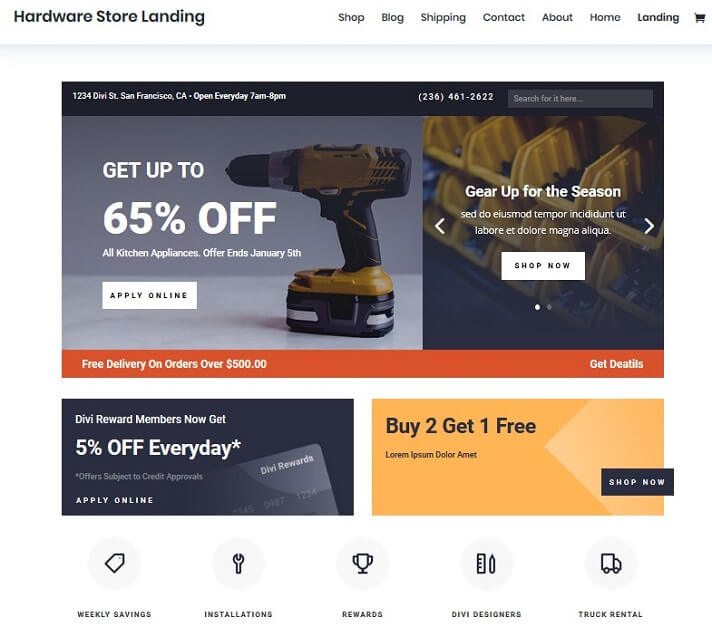 Divi comes pre-packaged with its matching counterpart – Divi Builder. Divi Builder is a drag-and-drop page builder (more on this later) that offers you the chance to create a standout website without having any technical knowledge.
You can drag-and-drop columns, rows, site elements, and exclusive Divi modules to make your own unique layouts – all without ever needing to look at our touch a single line of code.
You can either do this via a backend wireframe editor (pictured below) or via a visual front-end editor where you can see your finished design while you're building it: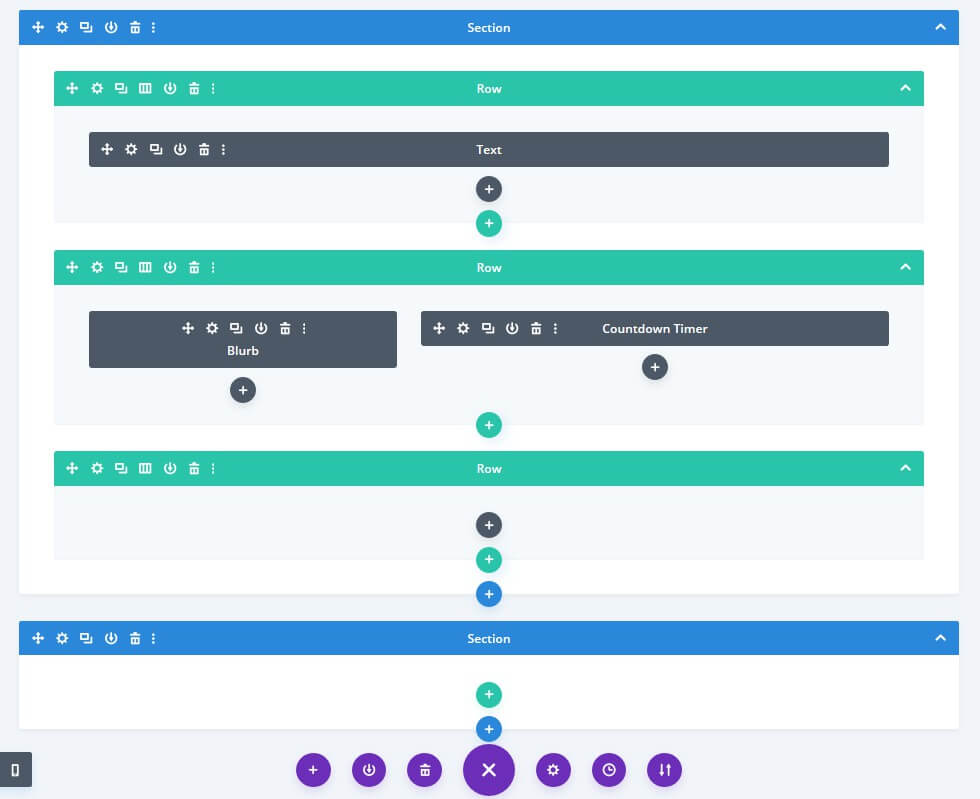 And to makes things really simple, Divi has included over 46 content modules for you to pick from to help you build each webpage on your site. For example, you can add a call to action button, number counter, image, video slider, testimonial, and so much more.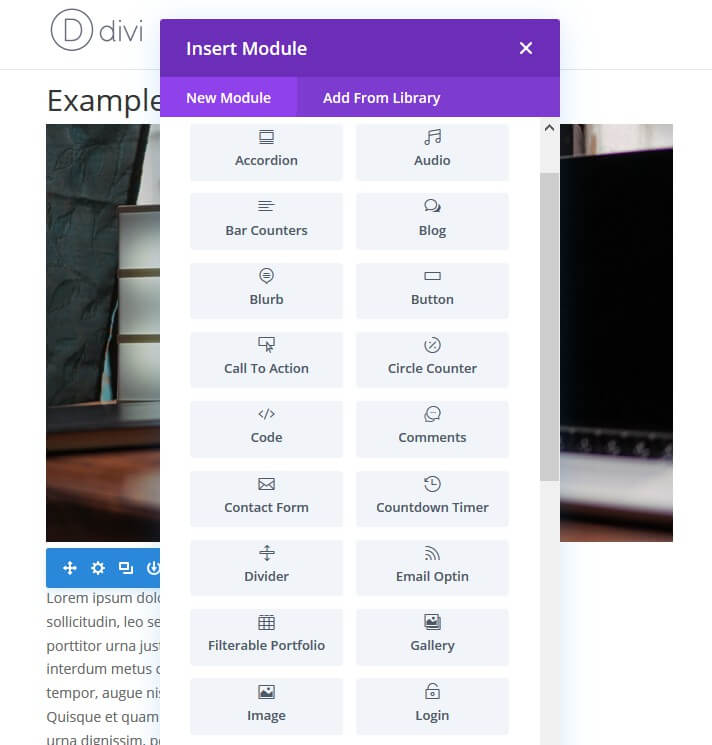 Once you choose the right content module, you can then customize it to fit your needs. Change the typography, font size, colors, position, and more depending on the module you're using.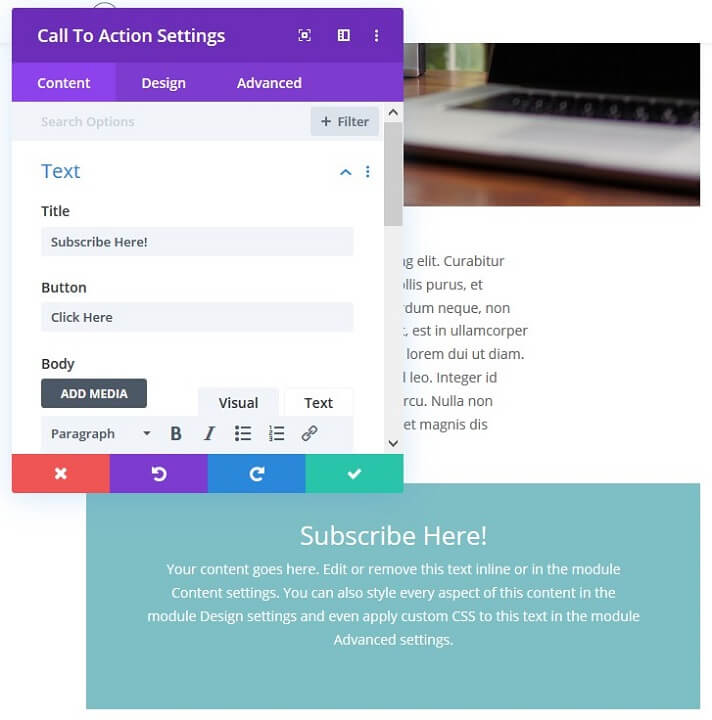 This gives you complete control over how your theme, and thus your website, looks. It also helps you prevent your site from looking like every other website on the internet.
Here's more of what you get with the Divi theme:
Stunning hover effects that engage the user and create an interactive experience
Drop text and shadows for adding depth to your site's content
Magic Color Manager for customizing a unique color scheme
Bulk editing functionality to speed up page building
Custom shapes and effects that allow for seamless transitions between blocks of content
Hundreds of built-in web fonts and full customization of all font styles
100% mobile-friendly and responsive design so your site renders perfectly on all device types
Animations that trigger based on user behavior on your site
Tailor-made borders that come in all different shapes, sizes, and styles
Divi Layouts and Inline Editing
Another standout feature of Elegant Themes' Divi theme is its pre-designed layout packs. With over 100 to choose from, it won't matter what niche your website is in, there will be a layout that caters to it.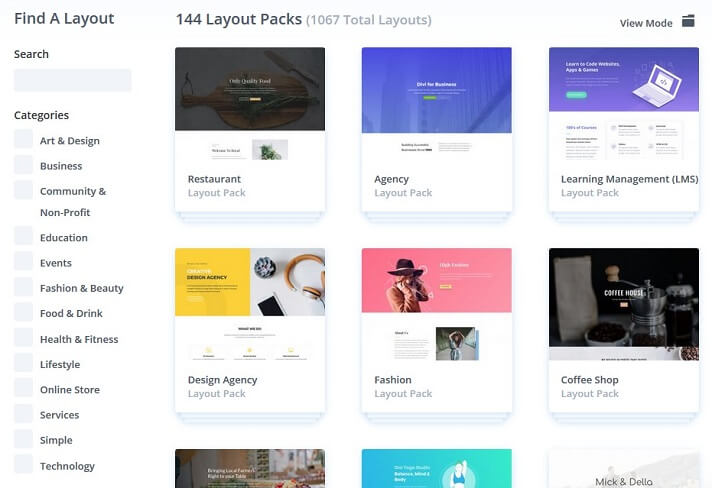 When you find a layout you love, just import its content straight into your WordPress site. And don't think that you'll just have one template to pick from. Divi will provide you with pre-made templates for your home, about, landing, team, and even shop pages. Of course, the templates available will depend on the niche you choose. But there is no shortage of variety with this theme.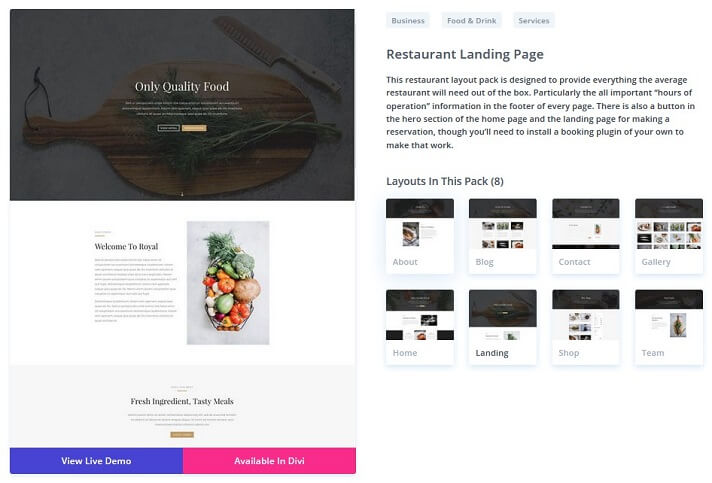 Lastly, one of the best reasons to use the Divi theme is the front-end, inline editing option that's available. Not only can you choose from a set of pre-designed, high-quality templates to guide your web design, but you can also access the front end of your site and use the WYSIWYG drag and drop user interface. This gives you the freedom to create anything your want from scratch with ease.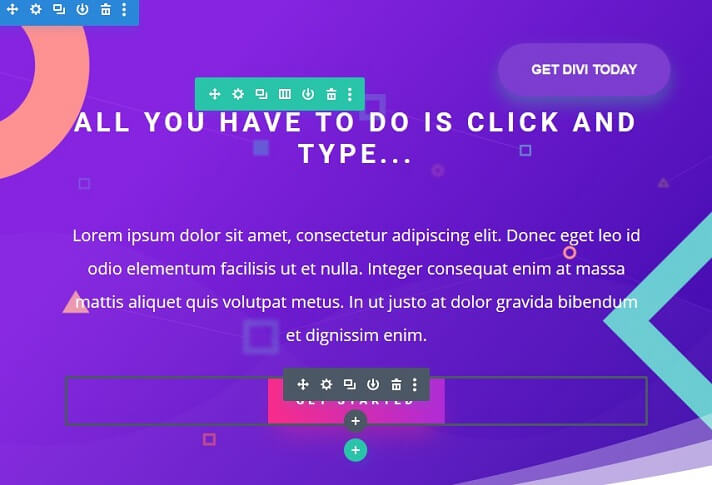 Full Theme Building Support
When it first launched, you could only use the visual, drag-and-drop Divi Builder to design the content for your posts and pages. Now, that's completely changed as of Divi 4.0 thanks to theme building.
With Divi's theme building, you can use the visual editor to design 100% of your theme, including your header, footer, and the templates for your individual blog posts, pages, blog lists, and more.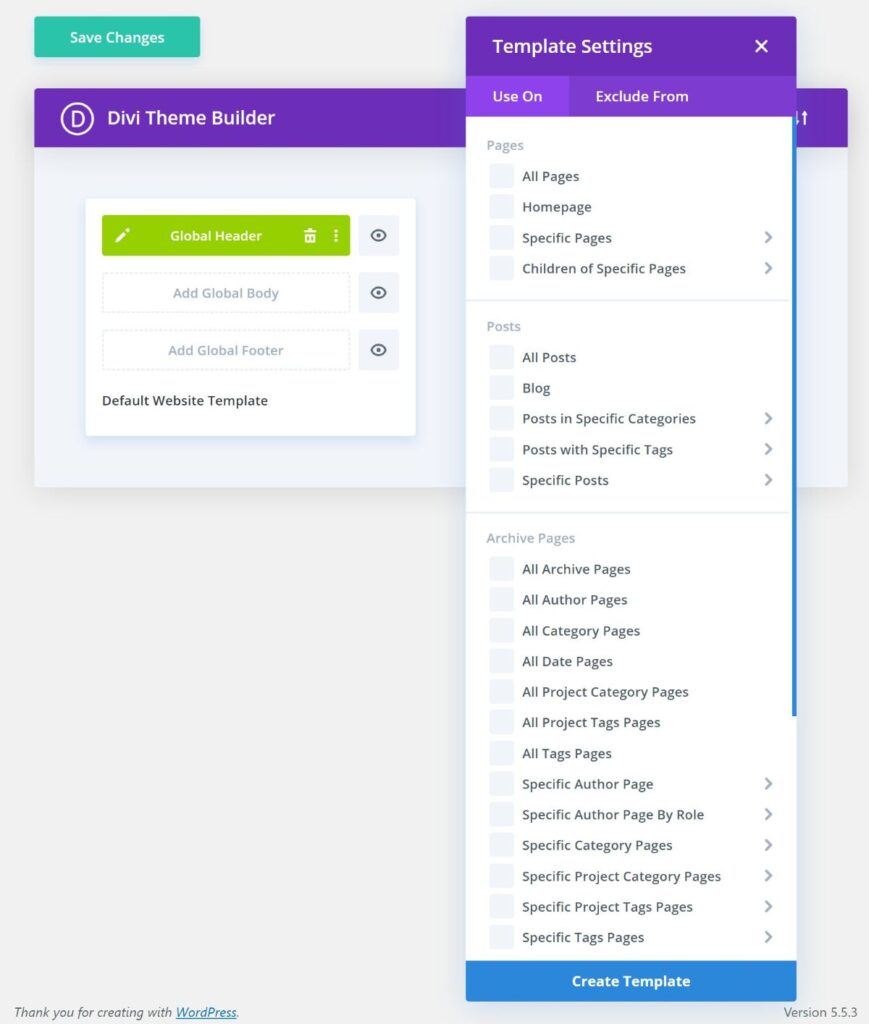 Essentially, this lets you control every single part of your website using visual, drag-and-drop editing.
With this feature, Divi basically gives you two ways to build your site:
You can use the Divi theme options to control your header, footer, etc. while still using the Divi Builder to design your page content.
You can use Divi Builder to design 100% of your site.
Built-in Marketing Features
Boosting your marketing efforts with the Divi theme is a cinch. It comes with a built-in email optin module for building a bigger email list. And with support for popular email marketing service providers like Mailchimp, AWeber, ConvertKit, and MailPoet, growing your following or your business, segmenting your email campaigns, and maintaining GDPR compliance is a reality.
And to make sure everything is performing the way you want it to, you can utilize Divi's split testing system. Broadcast different versions of your website to your target audience and access powerful insights that you can use to make better data-driven decisions.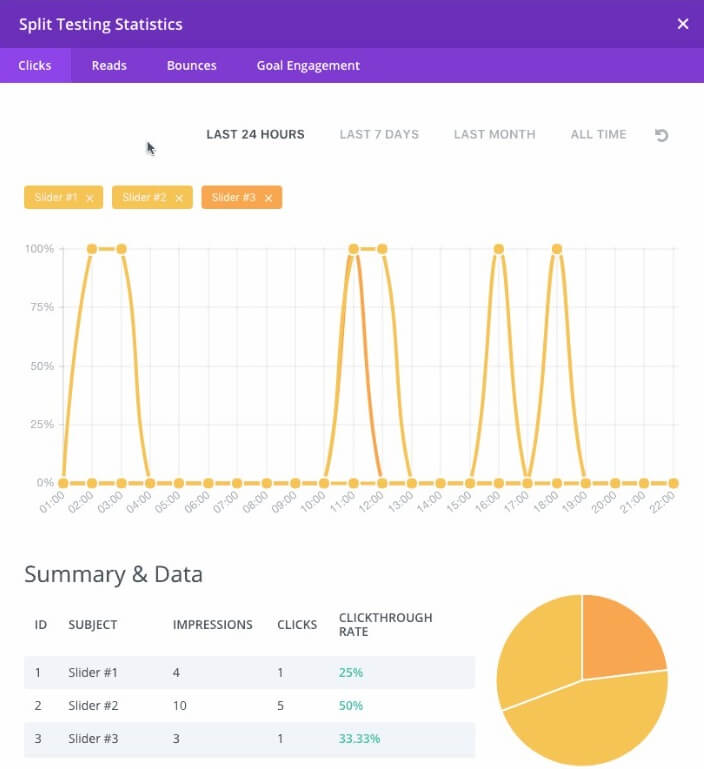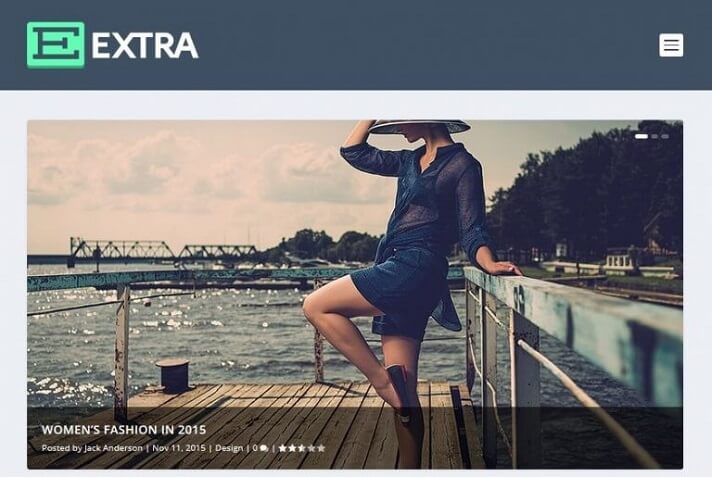 Extra, launched after the Divi release, is another theme brought to you by Elegant Themes. It's a magazine theme that's also fully powered by the Divi Builder plugin, which makes site building a cinch. Not to mention, Extra helps you create a website worth reading.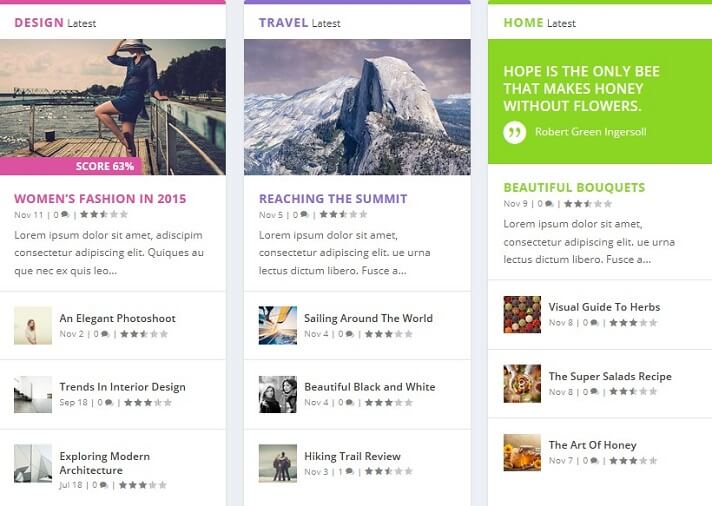 With Extra, you have access to a built-in review system, which is perfect for gathering your site visitors' reactions to your content. With enough positive reviews, you'll be able to boost engagement on your website and establish a reputable brand in no time. And if you have a ton of content for people to read, you can easily separate it into easy-to-digest categories and utilize Extra's tab feature for a better user experience.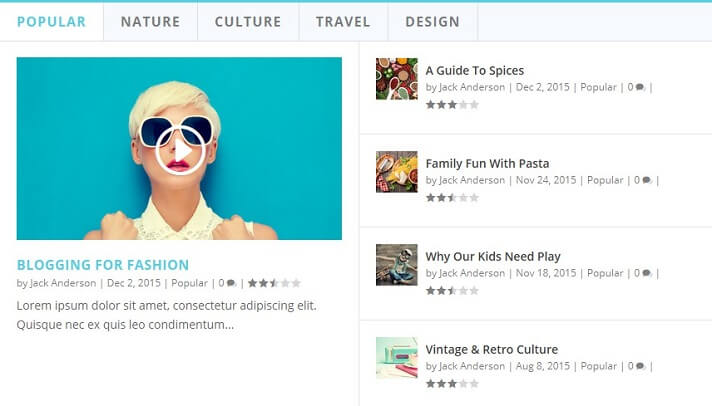 Extra makes it easy to create an engaging website filled with imagery and text that keep people wanting more. In fact, the Divi Builder framework has been extended for Extra to accommodate content modules designed specifically for online publications and bloggers.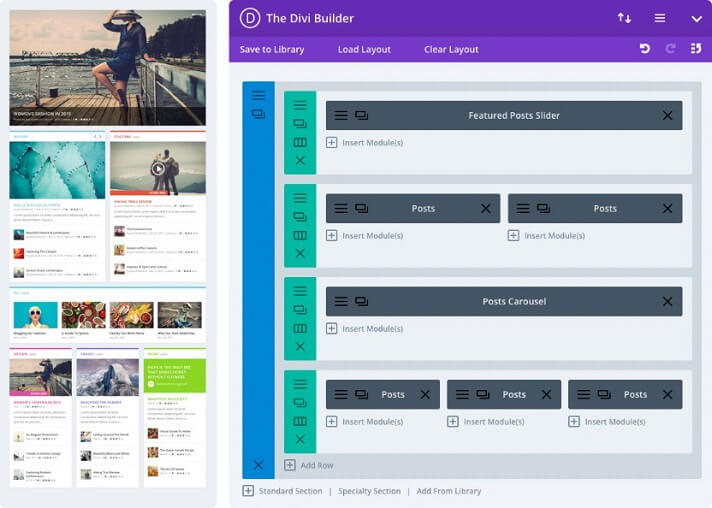 With these content modules you can:
Create a feed of blog posts and sort them into groups for easier access (e.g., Most Recent, Highest Rated, Most Popular)
Include a standard blog post feed on your site
Add photos to a carousel that users scroll through or a slider that's automated to display for readers
Display ads in your category feed and generate additional revenue
WooCommerce Integration
Want to make money online while you continue to run your online publication or blog? Extra integrates seamlessly with WooCommerce so you can  monetize your site by selling physical products, digital downloads, or even services.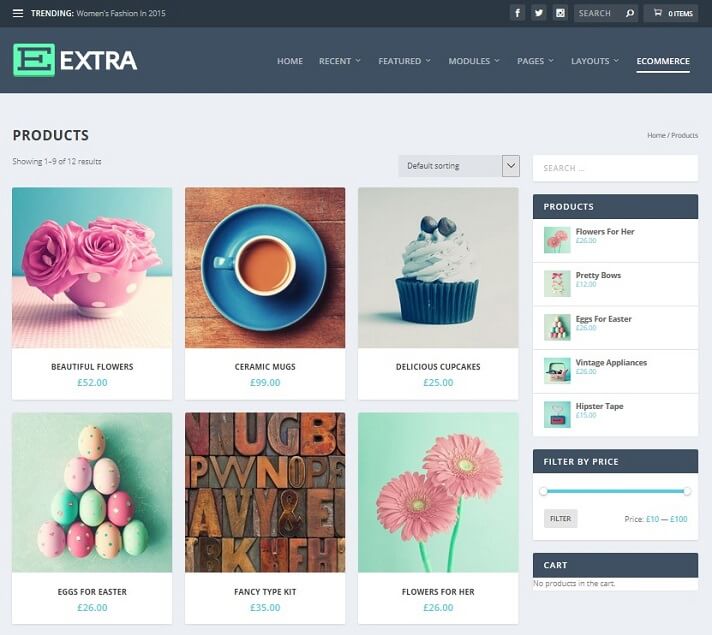 Display your top products in the sidebar, add a 'filter by price' slider to make finding the perfect product easy on customers, and of course, showcase thumbnail images, descriptions, and prices of items in your online shop. Each product page will be just as visually appealing as any other webpage on your site thanks to Extra's dedication to consistency.
And to help you boost sales and generate more revenue, the Extra theme comes with eCommerce shop features like:
Product zoom
Social share icons
Accordion product descriptions
Related products section for up and cross-sells
Customer reviews, complete with testimonial and star ratings
New Custom Post Type
Though most of what you find in Extra is also found in Divi (they were created by the same team after all), there is one feature that's exclusive to Extra: portfolio custom post type.
Using this exclusive custom post type, you can get creative and build custom portfolio archive layouts using the Extra category builder and highlight your best work for your loyal readers to view over and over again.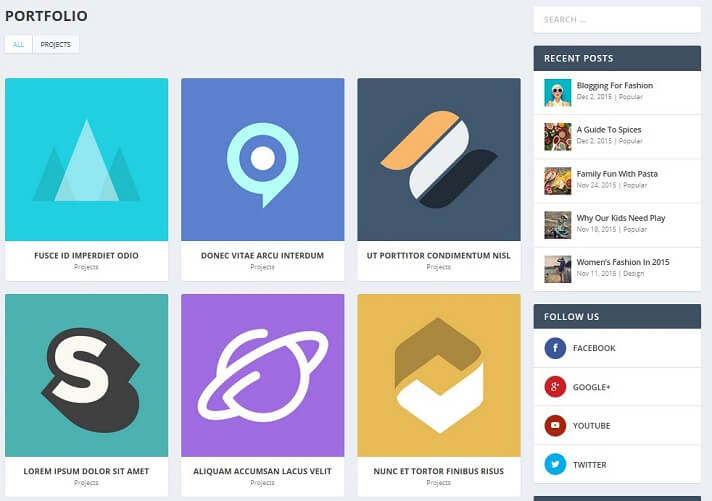 Other great features found in Extra include:
Advanced Mega Menus: create beautiful and user-friendly dropdown menus so people can explore all your content. You can also create sticky headers that follow readers as they scroll down the homepage.
Multiple Post Formats: video, gallery, map, quote, link, audio, and text give you the freedom to create the type of blog posts you want your loyal following to read.
Ratings and Reviews Customization: allow user-generated reviews and ratings, sort them to boost engagement on your website, and display them for others to see.
Built-in Social Sharing: connect with your favorite social media platforms, display social counts, and reach a wider audience.
Elegant Themes Plugins
In addition to Divi and Extra, joining the Elegant Themes theme club gives you access to some powerful WordPress plugins: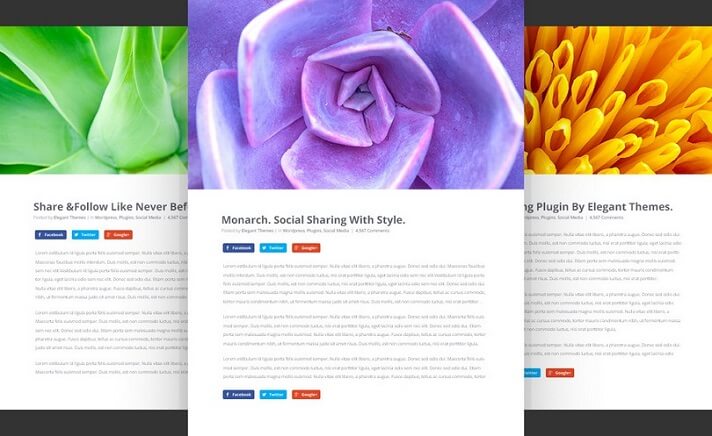 Monarch is a social media sharing plugin that lets you add social share buttons to five places on your site:
Floating sidebar
Above/below content
On images/video content
As an automatic popup
As an automatic fly-in
There are over 20 social networks to choose from with Monarch. Plus, you can enable specific triggers on your popups or fly-ins so the right people get the right message at the right time.
Plus, you can enable specific triggers on your social share popups or fly-ins so the right people get the right message at the right time:
Timed Delay: choose a time delay for your popups and fly-ins so they appear after users are on your site for a set amount of time.
Bottom of Post: detect when readers reach the bottom of your posts or pages and display an opt-in.
After Commenting: display an opt-in form after someone leaves a comment on your site. Those that comment are clearly engaged with your site's content, making them more likely to subscribe.
After Inactivity: when someone is inactive on your site for too long, trigger an opt-in to appear to re-engage them.
Upon Scroll Percentage: trigger an opt-in form to appear once a site visitor scrolls a certain percentage down your webpage.
After a Purchase: offer an update on future products and display promotions for people after they've made it to the checkout page of your eCommerce shop.

Complete Customization and Management
You may not feel like you can customize your social share buttons that much, but with Monarch, you can. For example, choose from 3 button shapes, 5 sidebar hover effects, and 4 inline button hover effects. In addition, you can pick your icon orientation, show network names and social counts, and even change the native colors to match your brand's color scheme, too.

When you use Monarch, you have access to an intuitive dashboard that lets you manage everything from customization to statistics. In fact, you can see real-time stats regarding shares, follows, and likes. And when you need to switch websites, you can easily import and export Monarch data and settings from one WordPress site to another.
Bloom is an exceptional email opt-in plugin that makes it easier for you to connect with your target audience long after they leave your website by building a bigger email list. For instance, let subscribers know about upcoming sales in your online store, alert them when new content is published, and share valuable information about your business – using the Bloom plugin.
Once Bloom is activated on your WordPress site, you'll be able to create stunning opt-in forms using one of six display types:
Popup
Fly-in
Below content
Widget
Inline form
Widget
Required opt-in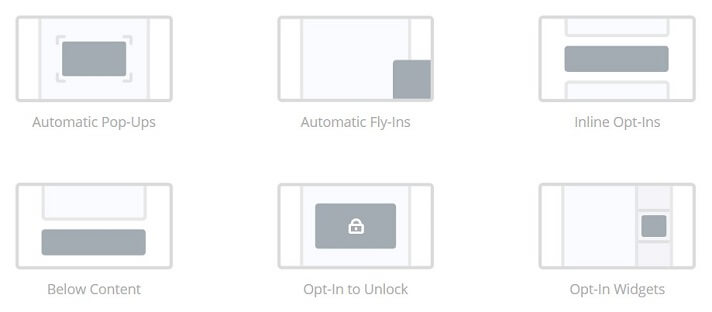 And just like Monarch, you'll have your choice of triggers so you don't disrupt the user experience, but you also give site visitors as many chances to subscribe as possible.
Bloom integrates with 19 email marketing service providers. Some of the best include GetResponse, MailerLite, ConvertKit, and AWeber.
And with over 100 beautifully designed templates, Bloom gives you everything you need to create an optin form on your site without having to do much work at all. Of course, if you prefer to build a form from scratch, there's always that option too.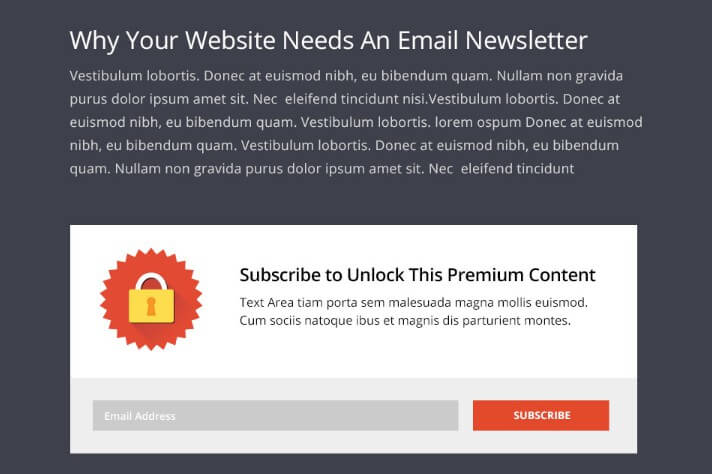 Other features found in Bloom include:
3 form orientations (left, bottom, and right)
Customized borders and edges to separate forms from your content
Image orientation adjustments
Unlimited color options using the Magic Color Manager
Fully responsive design for seamless rendering on all device types
Built-in A/B testing
Intuitive dashboard for monitoring form statistics
Easy import and export of Bloom data to other WordPress sites
The Divi Builder plugin comes built into both Divi and Extra themes. It also works as a standalone plugin, much like Monarch and Bloom, should you decide to use another theme on your WordPress site.
The best part about the Divi Builder plugin is that you don't have to have any coding knowledge to use it. It comes with a drag and drop visual editor that allows you to edit on the front-end of your site. All you have to do access the Divi Builder interface. In other words, rather than using the default WordPress Editor (whether that be the Classic Editor or Gutenberg), you'll use Divi Builder instead.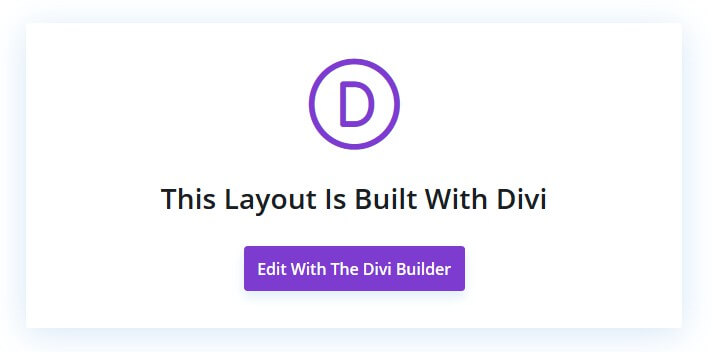 With over 40 content modules to choose from (such as CTA button, countdown times, pricing table, and more), even a novice website owner can build a successful website from the ground up. And to save you time and improve your page building efforts, Divi Builder comes with features like:
Built-in split testing of different page versions
Copy and paste rows for faster page creation
Save to the library for future use
Unlimited redos and undos
Addition of custom CSS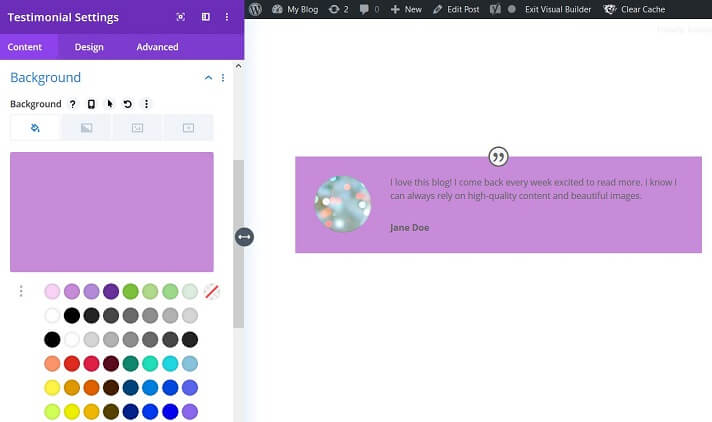 Most Divi Builder content modules comes with plenty of settings, so you can customize them to match your brand and your vision. For example, things like colors, font styles, animation effects, and more can be adjusted in real-time. This ensures your site looks the way you want it to before ever clicking 'Publish.'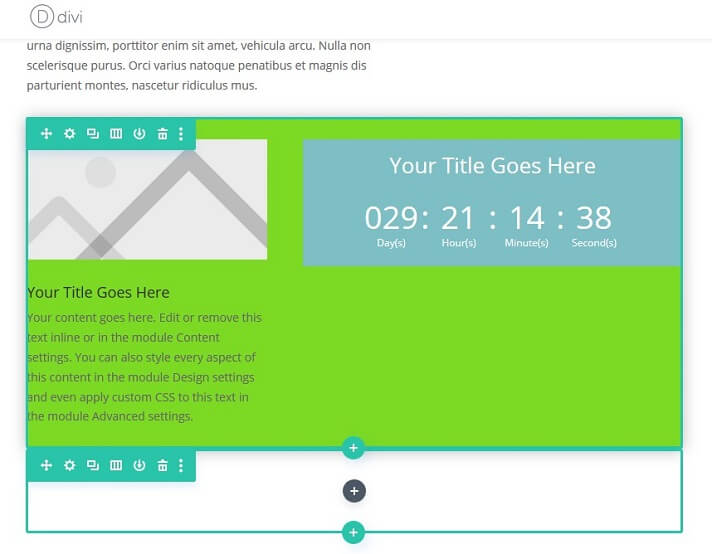 Best of all, Divi Builder also comes with the powerful new theme building feature in Divi 4.0. So you can start with any base theme and use Divi Builder to design 100% of your content and templates.
Be sure to read our comprehensive Divi Builder review to find out more about this amazing page builder plugin.
Support and Updates
A well-coded WordPress theme is of no use to you if you don't get regular theme and plugin updates or support. Unfortunately, many theme shops fail to provide their customers with proper updates and support, despite the high prices they command.
But not with Elegant Themes.
As long as you are a member of the Elegant Themes theme club, you can be sure that your theme will always be compatible with the latest version of WordPress. You'll also receive routine updates that improve security and come with more advanced features.
Plus, you'll have access to their premium support channels. For example, whether you're a customer or not, you can access Elegant Themes' 24/7 live chat support. And once you become a theme club member, you'll be able to manage your products and account using the clean, intuitive dashboard.
In addition, you can access the Community Forum, Developer Documentation, and Elegant Themes Documentation to get all your pressing questions answered one way or another.