The UK-based Beauty Works is fairly new to the haircare market compared to other brands, but is already a leader in the industry. With a huge army of social media fans – and with ex Love Islander Molly-Mae Hague as its ambassador – Beauty Works has built up an excellent reputation. Perhaps best known for its human hair extensions, this styler may be lagging a bit behind in popularity, but is good value for money.
It is a great product for anyone who wants to create a wave in their hair but forget big curls – they were impossible to achieve. When it comes to temperature, this tool allows you to control the heat, ranging from 80 to 220C. It is no surprise that the brand – which is infamous for its hair extensions – has designed this tool to work on thick and long hair; hence the fact the barrel is 18.5cm long.
Best hair curlers: get perfect curls and waves with these curling tongs
On its highest heat, I did feel my hair was sizzling a tiny bit, but keeping it at around 150C worked fine. The hand glove also ensured that it was safe to hold the tool without getting burnt.
Overall, the styler did create lovely waves but they didn't last longer than a few hours so don't expect long-lasting results.
The styler is quite long – measuring 18.5cm barrel length. 32mm barrel width – so best used at home, rather than as a travel product.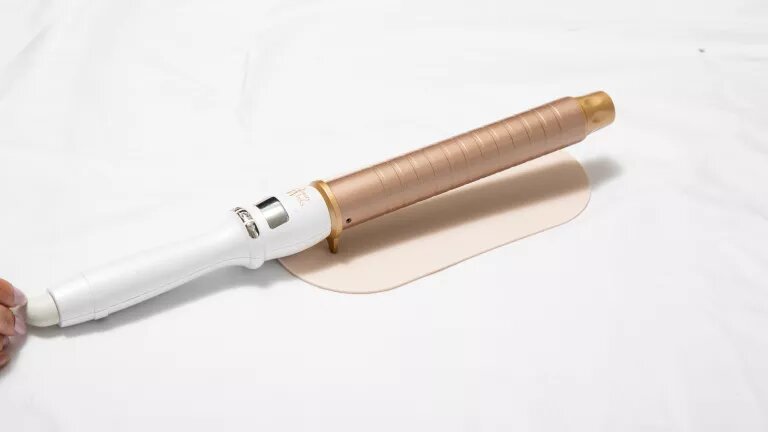 The Beauty Works Professional Styler Review: Design
The rose gold and white product comes neatly packaged in a long box, with a gold bag for the product and heat glove.
The styler kit consists of:
1 x styling wand with a barrel measuring 18.5cm long.
1 x white heat glove
1 x heat resting pad
1 x gold styling bag
This product is a lot easier to use on long hair and I think it is designed for those with Beauty Works hair extensions to use. Due to the long length of the barrel it can be wound around to create long curls and for shorter hair more of a wave effect.
The styler heats up in seconds and the fact you can control the temperature is appealing, as with a lot of other styling tools you can't. The protective heat glove also works perfectly so there is no risk of accidentally burning yourself.
As the tool is quite long in length it can be heavy to hold for long periods of time, so the heat mat provided is very welcome. The product itself is mains powered, white and rose gold, and is 18.5cm in barrel length and 32mm barrel width.
There's a silver on/off button that sits in the middle of the handle and two controls to either rpress for higher or lower heat.
If you are a novice to curling your own hair this styling tool is not the easiest one to get to grips with. Due to its length, it is quite tricky to hold onto short hair for long periods of time to ensure you get the curl. And styling the back of the hair is also rather tricky.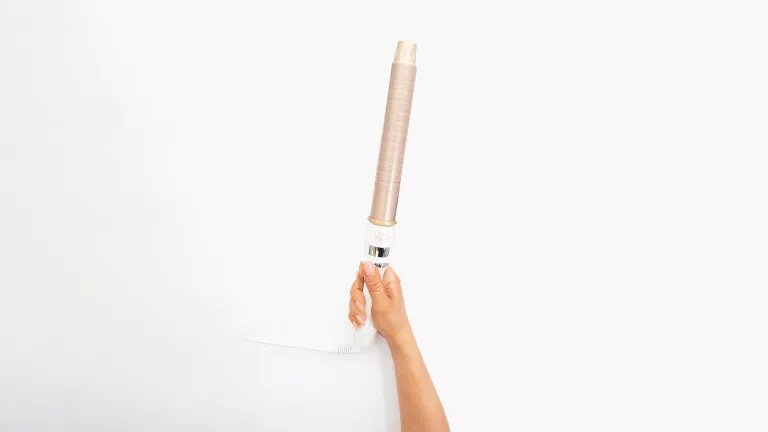 The Beauty Works Professional Styler Review: Features And Technology
You can only use this styler on dry hair. Do not try it on damp hair as then the heat just fries it. Within 60 seconds of switching it on, it reaches the maximum 180C temperature but we found it worked best when turned down to around 140C.
As with all curling tools, you section your hair and then use the barrel to wrap the hair away from your face, and then hold it in place for a couple of seconds. You can then twist the hair in the opposite direction to create movement.
The difference between using a styling product and not using one is vast. I found if you spritzed the hair first the wave remained in place immediately, yet without product, the hair still looked flat. It was fairly easy to go backwards and forwards with the styler but it does take a lot of time. I found it impossible to create large bouncy curls but am sure with much longer hair it can work. For bob-length hair it was more of a wave effect I was left with, which looked very beach-chic.
So that's the basics behind the Beauty Works professional Styler, but how does it function in real life? Let's find out…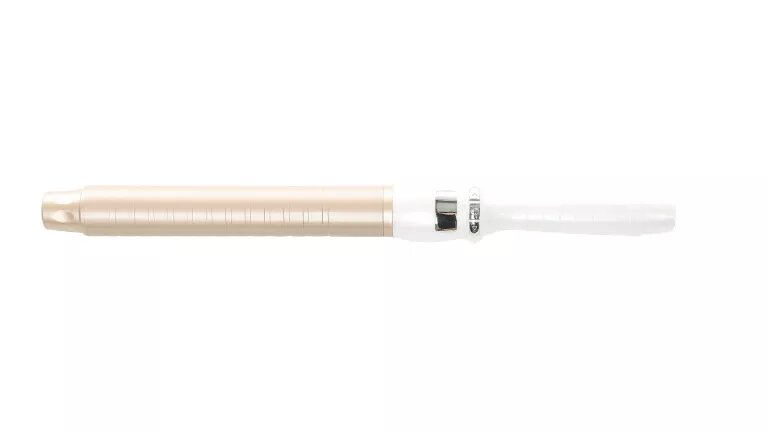 The Beauty Works Professional Styler Review: Performance
We tested the styler on shoulder-length, straight hair that's prone to breakages.
If you want beach waves, the styler is perfect. Forget it if you want something that will give you big bouncy curls, unless you have really long hair.
The fact it has a temperature option is great as it enables you to ensure your hair does not get burnt and that you can be in charge of what temperature fits when it comes to getting the best result. Unlike other hair stylers we tried, the wand length makes it a bit less appealing to throw into your handbag and use on the go. Saying that however, it does come with a super stylish suede-looking carry bag so if you want to travel with it, you can.
When it came to styling the hair, the product produced lovely beachy waves and very light curls. Try not to be too impressed by the images of Molly Mae's beautiful looking hair as, unless you are an ambassador like her of the brand, you will struggle to get such a stunning end result.
You must remember to always use a styling product before using this tool as otherwise the curls drop out immediately, as many a reviewer has stated. If used without any holding products, it will be a waste of your time.
As well as the long length of the barrel being difficult to use on short hair, the other difficulty we had was holding it long enough for the curls to take at the back of the head. The heat protector mat is great for this as it means you can rest the styler down when sectioning off your hair but be prepared to do this a few times as it is not as light as you may be used too.
We loved the fact that despite the heat on the hair there were no fly away ends and also absolutely no frizz. The barrel is coated in ceramic to seal the hair cuticle and that helped produced a shine to the end look.
As for styling the hair, it is pretty self-explanatory. You roll the wand around sections of your hair, hold for two seconds and then release. We tried holding for up to ten seconds to ensure a stronger hold but it didn't make any difference.
During our testing we found that the wave's stayed in for a few hours. Anything longer than that and they just dropped and as for staying in overnight, there is no chance.  The brand also suggests after styling the hair to run your fingers through it to separate the curls but that wasn't necessary.
In our experience, the styler produced a gorgeous beachy wave, but no curls.
Molly-Mae x Beauty Works hair straightener kit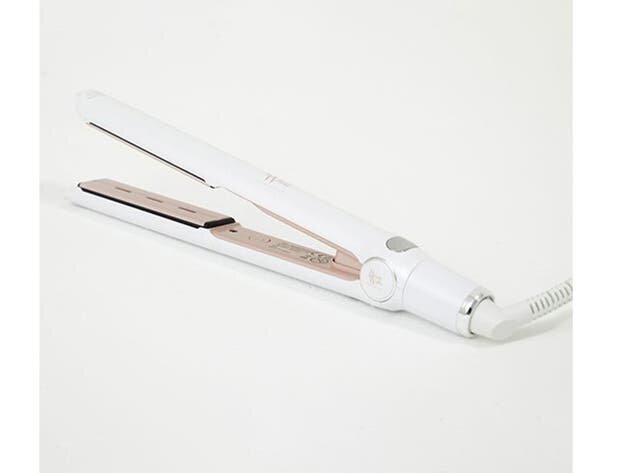 After spending weeks lusting over Molly-Mae's sleek bob, we were keen to see if we could achieve similar results with this kit that's been designed by the Islander herself.
An already saturated market, there were high expectations for Beauty Works's first foray into the world of poker straight locks but as soon as we opened the packaging, we could see how the brand was trying to set itself apart from the rest.
While most straighteners come with little else than the box they're delivered in, the clue is in the name with this one, as it comes as a kit with everything you need to style your hair, including a stylish pink faux leather storage case, bristle paddle brush and protective glove to shield your hands from any accidents.
As for the tool itself, the straightener is made with a glossy white finish and looks seriously sleek, with a long, thin design that feels lightweight yet sturdy in your hands. But, are the straighteners as technologically impressive as they are good-looking?
In short: yes. The narrow plates are visibly different from other models we've used, with a smooth ceramic coating and three infrared bars, which are said to help you create snag-free styles, eliminate frizz and provide enhanced shine. It also includes a dial at the base, which allows you to adjust the temperature (it ranges from 80C to 220C). This is a key feature that makes this tool a great option for all hair types as, while 185C is the optimal styling temperature for most people, lower heat suits fine hair best and thick or coarse tresses may need more heat to be effective.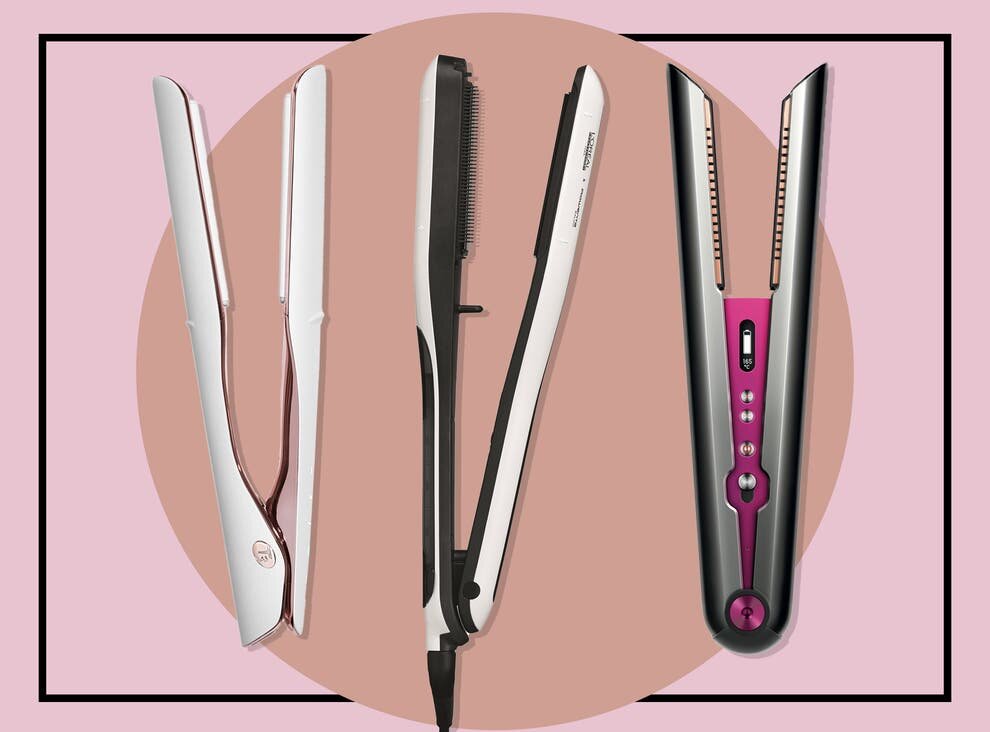 When we first plugged the straightener in, we were surprised to see a small silver cylinder shape at the base of the tool transform into a display screen which showed the plates were increasing in temperature. The dial is simple and satisfying to use as it clicks with every movement to the right or left until you reach your desired level of heat – we opted for 185C, which was swiftly reached in around 30 seconds. However, it's worth noting that, unlike ghd's, there is no sound to let you know when the straightener is ready to go.
Our hair is fairly straight to begin with but we struggle to get it looking sleek and glossy, so we decided to aim for that Jennifer Anniston circa Friends vibe with a smooth finish and curled under ends. We didn't bother to section our tresses and jumped straight in, gliding it through the narrow plates of the straightener. As the infrared heat moved over our strands, they became immediately pin-straight and noticeably less frizzy, while the curled under ends were a breeze to achieve with just one swipe. We also didn't have to hold the straightener on our hair for long as we moved it down and experienced zero snagging. In fact, our typically dull looking hair even appeared noticeably shinier.
All together, the whole process took about five minutes – a definite plus if you're the type of the person that runs late or is looking for fuss-free styling. We also loved that the straightener comes with a handy lock feature, which stops the tool from opening or closing and means the plates can cool down safely, and be stored away in the carry case neatly.
Over the last few years, we've got into the habit of waving our hair on a daily basis so, perhaps the most impressive thing about this tool is that its sleek styling job might have converted us to the straight side. We've worn our hair straight pretty much every day since the tool arrived in the post and, dare we say it, have all but ditched our much-loved ghd's.
However, fellow wave lovers shouldn't tune out entirely, as you too are catered for with this handy gadget. When it came to adding texture to our tresses, the straightener's smooth plates, glossy exterior and narrow design created really effortless-looking curls with lots of shine and staying power. After brushing ours out, they lasted a full two days before we decided to give our locks a wash but, if you can go longer, we're sure they'd go the distance.
The Beauty Works Professional Styler Review: Verdict
This product is good value for money, provided you are happy with a beach wave as opposed to big Hollywood curls.
For hair extensions, I can imagine it works brilliantly, particularly because the barrel is very long. From start to finish, styling our hair took about 45 minutes but once you are used to the product I am sure it takes a lot quicker. Hair seemed a lot shinier than usual as the styler seemed to pick up loose strays of hair and give off a cleaner finish to the ends. However, the overall look did not last long so best used before going on a night out.
Is this product right for you? I think it should be priced a bit lower but if you don't mind the look lasting just a few hours for a one-off event then go for it as the beach wave effect is super cool.
Professional Styler Trio Edition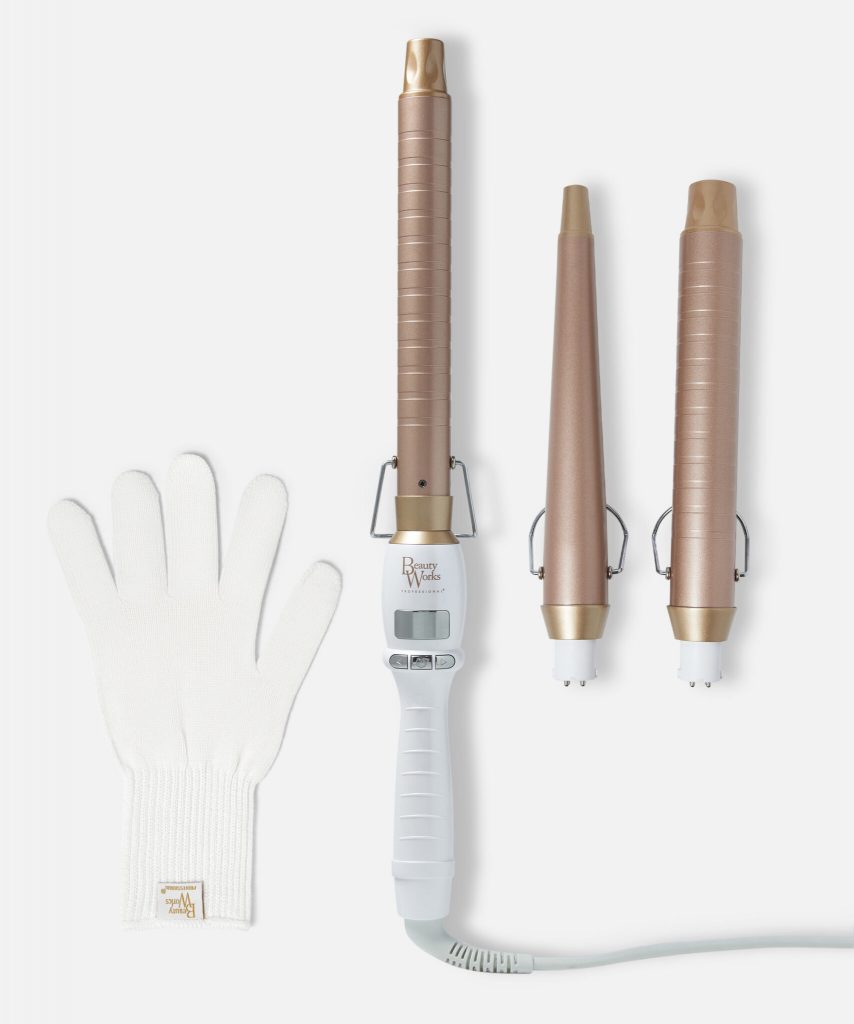 'Three is always better than one, right? IMHO this affordable styler gives its pricier counterparts a run for its money thanks to its multitasking ability to style hair in any number of curl types. The original barrel creates bouncy, voluminous curls, the tapered wand gives hair effortless, beachy waves, and the 25mm barrel is designed to create tight, perm-like curls. Truly, a curl for every occasion! All three barrels are extra long, which makes styling infinitely quicker and easier – especially if you're long-haired, like me. It's also really lightweight, so you don't feel like your arm's about to fall off by the time you get round to tackling tricky areas at the back, and if your previous experiences with curling tongs have left your hair a frizzy mess, you'll be pleased to know that the three barrels have ceramic coated wands for sleek, smooth results. The only hard part is deciding which one to go for…'
The Waver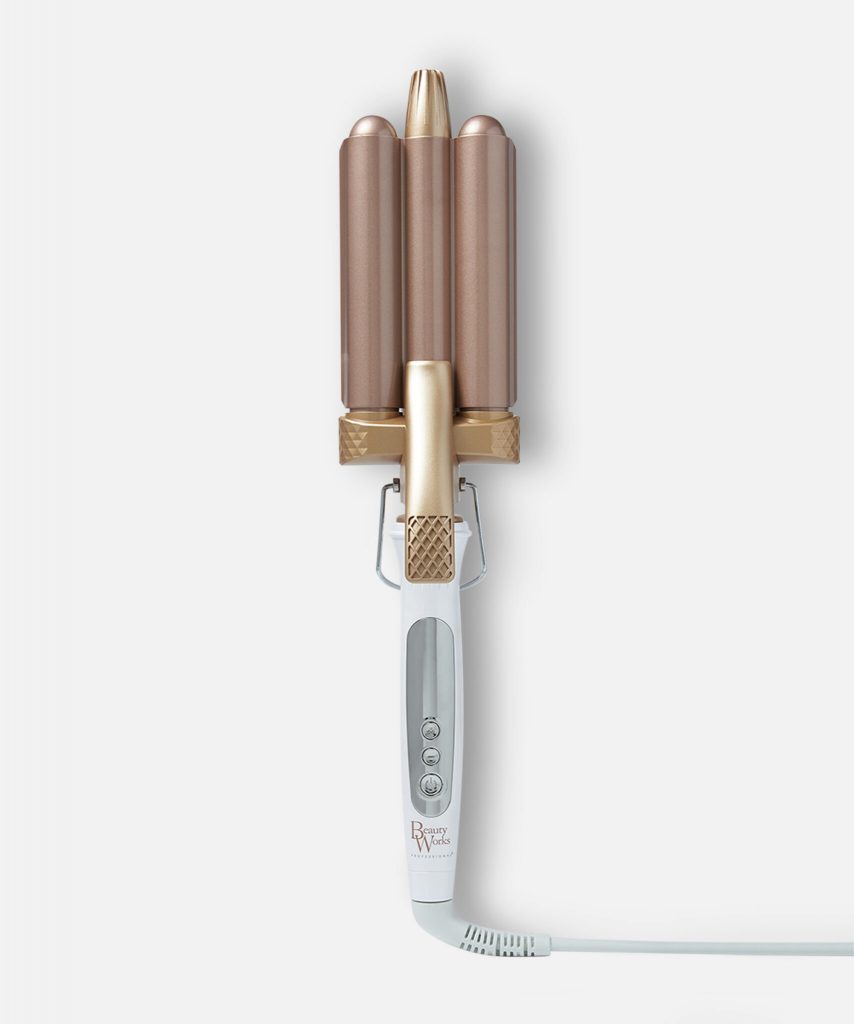 'I'm a huge fan of any styler that can keep my hair looking just-done for days. Beauty Works' The Waver is the ultimate haul for creating beach looking waves that hold their beachiness for daysssss. I have pretty fine hair so anything that can give my normally limp locks a boost of life is a huge winner for me. I waved my hair on a Sunday night after treating it to the Pearl Nourishing Argan Oil Mask and my waves stayed looking pretty fine until at least the following Thursday. The great thing about beachy, effortless waves is that going to bed and waking with bed hair only adds to the whole look! I lightly ran a comb through my hair in the morning to detangle any knots, added some dry shampoo for boosting purposes and I looked like I had just spent a day sunning myself on the beach. Turns out, good hair days need messy, wavy hair.'
Beauty Works X Molly Mae Volume 2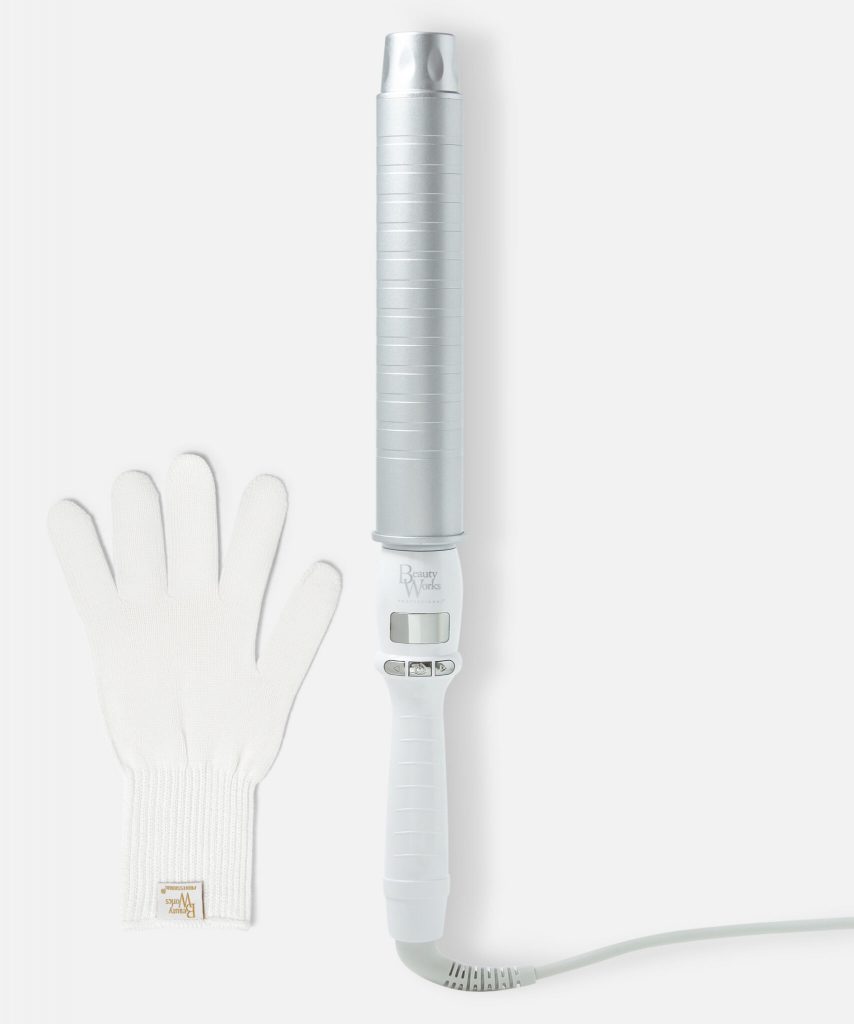 'Is there anything better than a classic curl? Well, whatever your answer, myself and Molly-Mae disagree. The Beauty Works X Molly Mae Volume 2 is the ultimate curling wand for creating; yep you guess it, those Molly-Mae worthy waves that everyone on Insta is trying to replicate. I have quite long hair and the extra long barrel of the curling wand is perfect for holding every inch of my hair, so my curls are always perfectly even. But the Beauty Works X Molly Mae Volume 2 is more than just a curling wand; it has everything you need before, during, and after your styling session. With the 100% Vegan Bristle Platinum Paddle Brush to softly comb the hair, ten sectioning clips for styling, and a pin tail comb for post-styling maintenance, the set has literally all the good for creating those Insta-worthy curls that will always look good.'