About BOGS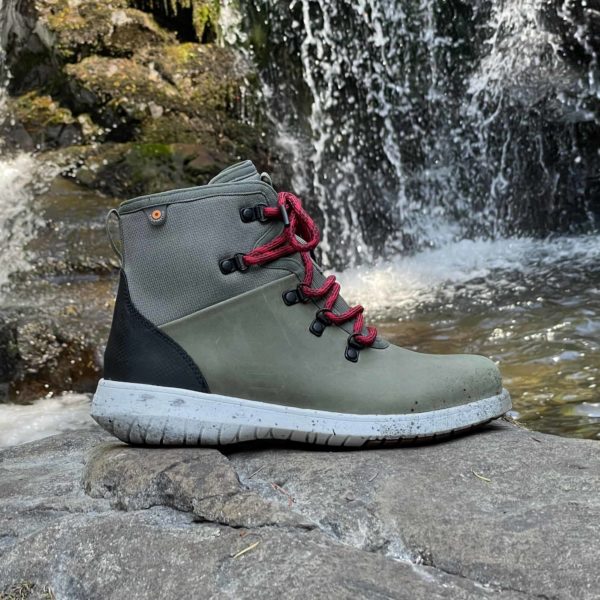 Bogs makes outdoor shoes. But not just any outdoor shoes, the ones your feet deserve. Merging classic boot design with fashionable styles, its 100% waterproof collection is made to get you through whatever mother nature throws at you.
This company is no stranger to attention. You'll find bogs in a ton of different retailers across north america, and its good-looking, performance-driven boots grace the virtual pages of noteworthy publications like gear patrol and complex. It even has a following of over 150k on instagram.
Why are so many people crazy about this brand? This bogs review has everything you need to know. We'll run through information about the company itself, its top-sellers, customer feedback, and more. Settle in for now, we're about to get into everything about this company whose mission is to help you get out.
Overview of BOGS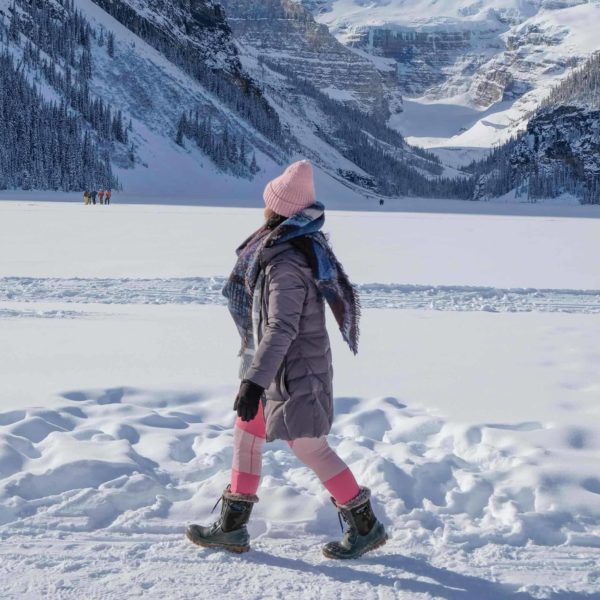 Footwear is a big part of being outside. You certainly won't make it far in the snow wearing street shoes, let alone the rain in a pair of strappy slingbacks.
Shoes are designed for specific purposes and this brand's just happens to be equipping you with what you need to make it through the elements—and comfortably. Today, bogs is owned by the weyco group but its history started with the combs family.
Founded in 2002, bogs was created by bill combs, its first shoe sold to farmworkers. It was called the classic high, and you'll still find it in the brand's current collection today.
Making its boots waterproof was a no-brainer, but how about ice-proof? To make sure they work, bogs tests its boots in some of the toughest weather on this planet, like thick mud, freezing cold water, and the icy antarctic.
Today, bogs boots have transformed from workers' footwear to a household necessity. Worn by those who want to keep their feet warm and happy in crazy weather, people now gravitate to this brand for multiple reasons including its sustainability mission, in which it aims to use 100% renewable energy for its production by 2030.
Bogs has taken huge steps towards becoming a more sustainable company period. It chose bloom algae for the footbeds of its entire collection, along with recycled and recyclable materials.
What else does this impressive brand have in store? Up next in this bogs review, you'll find a list of its highlights. Then, we'll head into its nature-approved collection.
Highlights
Wide selection of boots for men, women, and kids
100% waterproof
Designs for all kinds of weather
Stylish & functional
Sale section
Offers promotions & discounts
100% satisfaction guarantee
Free shipping
Ships internationally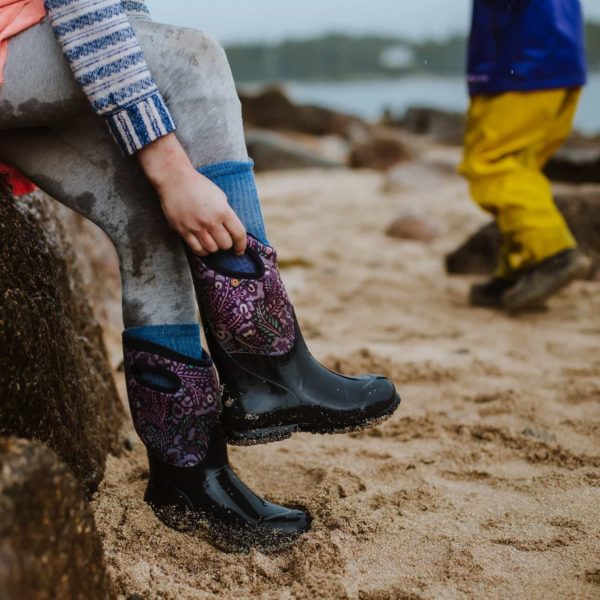 Bogs is all about making shoes that work with your life and help you get out there regardless of what the weather channel says. Its collections for men, women, kids, and work is huge, offering classic and modern styles that work with your existing wardrobe.
Coming up next, this bogs review will take you through a selection of the brand's boots for men, women, and kids designed to get you through the elements in style.
BOGS Men's Boots Review
Boots are designed to be warm and protective, but some will leave your toes frozen in the snow and wet when you walk through puddles. In other words, leave those boots for sunny days and grab a pair of BOGS when the weather gets tough.
Offering a BOGS men's boots collection of short and tall 100% waterproof designs, this brand has something for every season, whether you're heading out on snowy winter walks or to the rink and back for a league game. We'll show you its two best-selling styles below.
Bogs arcata urban lace review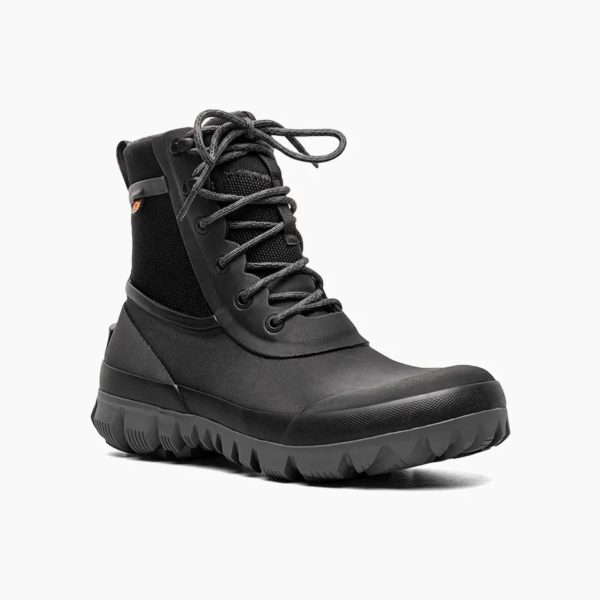 If you came to this bogs review looking for serious men's shoes, the bogs arcata urban lace boots are it. With a sturdy look and feel that stands up to tough trails, your feet will be protected, dry, and comfortable thanks to their unique construction.
The boots feature 5mm of neo-tech waterproof insulation, along with a glacialgrip slip-resistant outsole to prevent leaks and skidding out on icy surfaces. Naturally odor resisting and moisture-wicking due to their bio-tech design, your feet will thank you in cold temperatures down to –40°c.
Grab a pair in brown or black in sizes 7-13 for $170.
BOGS Classic Casual Hiker Review
Ever try to hike up a mountain in running shoes? They're just not made to handle that terrain. For unstable, tricky climbs, turn to something designed to get you through whatever nature has to throw at you.
The bogs classic casual hiker boots are made with waterproof gold-certified leather to help your feet stay dry in rouge showers, along with rebound cushioning to lessen the impact of your foot on the ground, and a heel abrasion overlay for security.
Fitted with a durafresh liner to resist orders, the boots also use max-wick to absorb moisture for a more comfortable stride. Hit new levels with a pair in cognac or black in sizes 7.5-13 for $155.
BOGS Women's Boots Review
Not all women care about what their shoes look like, but it doesn't hurt to have a collection that not only performs well but looks great too.
Bogs women's boots were designed for all different occasions, from city strolls to snowy mountain treks, all of them completely waterproof and made in sizes 6-12. We'll walk you through the top two best-selling women's boots below.
BOGS Whiteout Tonal Camo Boot Review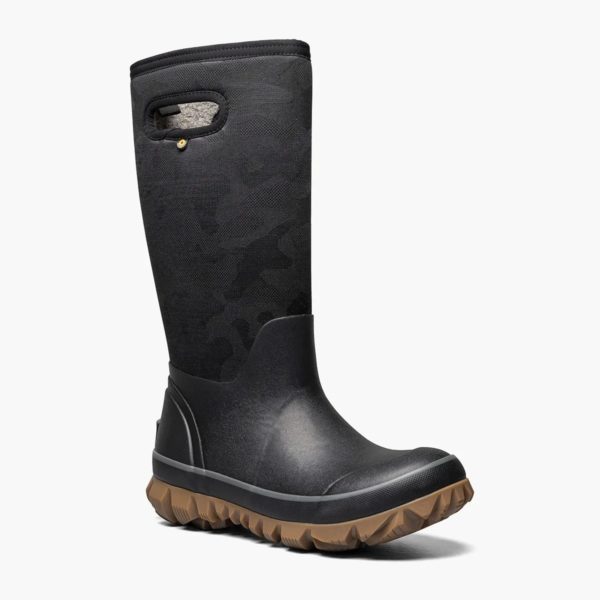 Weather can get crazy. It's a good idea to have something useful in your closet for days when regular shoes just won't cut it.
The bogs whiteout tonal camo boot is one of the brand's most popular designs. Comfortable in temperatures down to –50°c, these waterproof boots will get you through the toughest of snowstorms, fortified with 7mm of insulation.
Lined with fleece for a snuggly feel, they're constructed with max-wick and durafresh to block odors and keep your feet dry, as well as glacialgrip to keep your stride steady on slippery surfaces. To put it simply, these boots were made for action.
Get out there no matter what in a pair in dark green, grey, or black for $180.
BOGS Sweetpea Boot Review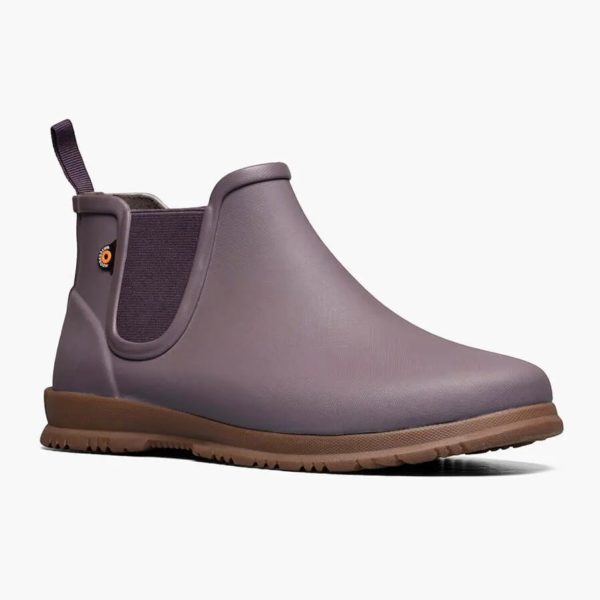 The bogs sweetpea boot looks like someone merged a streetwear boot with a short rain boot. They're attractive, sleek, and can be paired with anything from leggings to jeans to khaki. They're versatile.
Waterproof and fitted with rebound cushioning, they're great for long city walks in wet weather or on days you're not sure if you'll need your umbrella. Equipped with durafresh to fight odors and max-wick to wick away moisture, sweetpea is a cute and fashionable boot that keeps your feet warm and dry.
Get a pair in olive or black in sizes 6-12 for $90.
BOGS Kids' Boots Review
There are fewer worse feelings than soggy feet and it doesn't take an adult to know the discomfort. Keeping your kids' feet dry and protected is as important as covering their heads.
This brand takes that mission seriously with its line of kid-friendly and kid-approved boots decked out with fun patterns and colors. This bogs review will show you its two best-selling designs.
BOGS Neo-Classic Bigfoot Review
There's magic out there, it's just up to your kid to look for it. In the spirit of keeping things magical, or somewhat mythical depending who you ask, bogs created the bogs neo-classic bigfoot boot.
Completely waterproof, these boots were designed for play, made with rebound cushioning, a biogrip slip-resistant outsole, and 30% fewer materials. Encourage outdoor play with the comfort of knowing your kid's feet are protected. Choose from toddler sizes 7 and 12 and big kid sizes 3 and 4.
With the neo-classic, nature is on your side. The boots are equipped with durafresh to naturally resist odors and made with bloom, an algae-based footbed. Ready to handle temperatures down to -37°c, you can get a pair of these bogs kids' boots in dark green multi and black multi for $65 (on sale from $100)
BOGS York Super Flower Review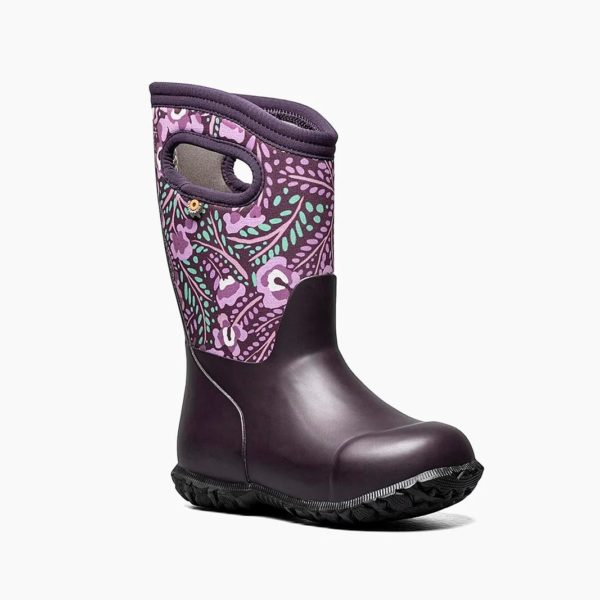 With contrasting bursts of red and orange flowers, the york super flower boot takes on the traditional bogs boot form, just with some fun, youthful color. Made in purple multicolor and black multicolor, these waterproof boots feature 5mm neo-tech waterproof insulation to keep your little one dry on the rainiest of days.
With their easy-on handles, pulling their boots on before they run out of the door is super easy. The reflective temperature rating mark on the heel shows you how appropriate they are for cold weather (these ones work down to temperatures of -20°c.)
Made with max-wick inners to wick away moisture and keep their feet dry, help your kid keep exploring with a pair of bogs rain boots in sizes 12-4 for $80.
Who Is BOGS For?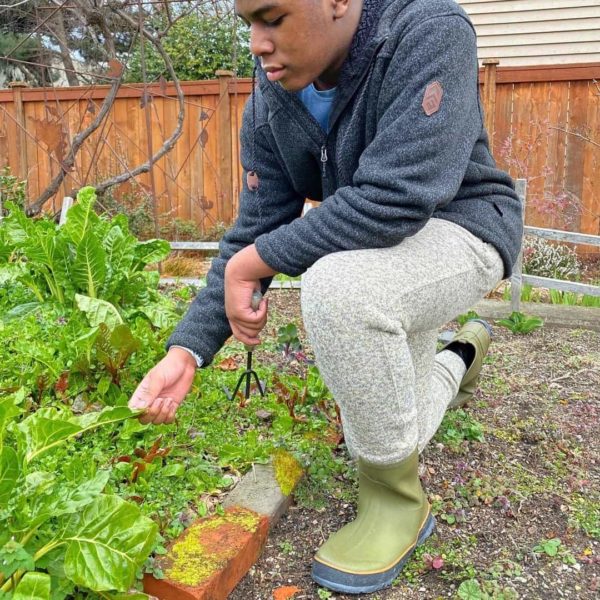 Bogs makes men's, women's, and kids' outdoor boots designed to withstand the elements. Whether you and your family need something for harsh winters or a springtime boot to navigate through downtown puddles, you'll find them here.
Coupled with its sustainability mission, bogs boots are great for anyone who loves the outdoors and wants to spend more time outside and feel comfortable all the while.
BOGS Reviews: What Do Customers Think?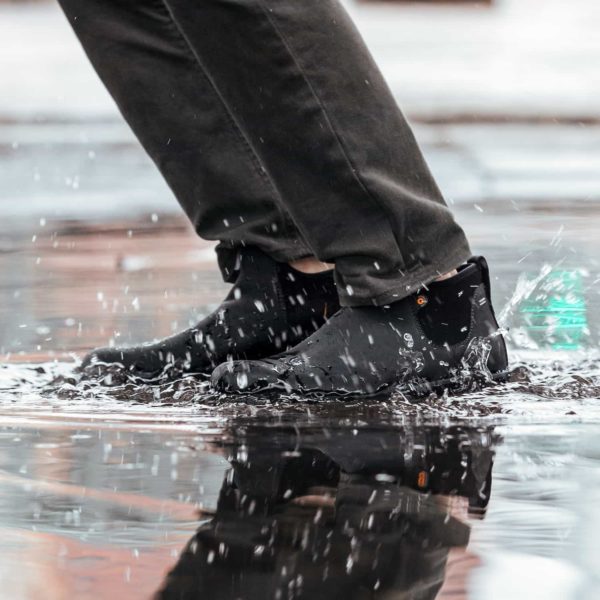 This brand has a great reputation and is sold in tons of shoe stores. But since no bogs review isn't complete without hearing from customers, in this section, that's exactly what we'll do.
Below, you'll find ratings and comments scooped up from around the web to help you understand what ordering from the brand is like and what kind of quality it delivers. Our first bit of feedback comes from bogs.Com. Here's a roundup of ratings for some of its best-sellers:
Sweetpea winter: 4/5 stars from 162 reviews
Whiteout tonal camo: 4.4/5 stars from 657 reviews
Classic casual hiker: 4.8/5 stars from 9 reviews
Arcata urban lace: 4.2/5 stars from 52 reviews
York super flower: 4.9/5 stars from 66 reviews
Looking into the comments section for the arcata urban lace boots, the general consensus from customers appears to be that they keep feet warm and dry and are very comfortable. One bogs review read:
"very well constructed, not too bulky and comfortable fit. They fit true to size. I've worn these on very cold snowy days, very warm and dry. Great wicking performance, preventing my feet from sweating."
The whole wicking thing is super important in the winter just as it is in the summer. The drier your feet, the more comfortable and warm they are. Sounds like these ones are both.
Our next bogs review is about the bozeman tall boot and comes from outdoor gear lab. Its team put the boots to the test and awarded them an overall score of 71%, ranking them #3 on a list of 20 outdoor boots. See below to find out how that score breaks down:
The folks at outdoor gear lab test a ton of products daily, and they make real, practical recommendations for using gear in real-life situations. Of the bogs bozeman tall, the review concluded:
"for chores and short errands where a protective winter boot is useful, but you don't need the comfort, fit, and warmth of a pac boot, these slip-ons are great. They perform almost as well as similar options and come at a cheaper price point, making them a high-value choice for all your winter chores and quick errands."
The bozeman tall boots are like a utility boot of sorts for the fall and spring. Easy to get on and off while keeping your feet dry in wet weather, these are great for yard work or short jaunts about town when you're hopping in and out of your car.
Out final dose of feedback comes from a bogs review page on influenster. 265 shoppers say the brand is worthy of a 4.5/5 star rating which breaks down like this:
5 stars: 68%
4 stars: 21%
3 stars: 8%
2 stars: 0%
1 star: 3%
The comments section on influenster was highly positive, with almost 90% of users raving about their bogs boots. One wrote, "i buy a pair once a year and they last extremely well. I wear them a lot for fishing and exploring and they are fantastic. They keep your feet dry and are really comfy. They would be fantastic for farm work."
Some wear them for city jaunts while others put them to work. However and wherever people like to wear their bogs, they love the fashionable look the brand has and know their feet will be protected and stay dry in wet weather.
In the end, the feedback we found for bogs is pretty high up there. What we read from customers certainly matches its reputation. Known and loved for its good-looking styles and smart construction, people think that bogs is a great option when it comes to outdoor footwear for wet days.
Is BOGS Legit?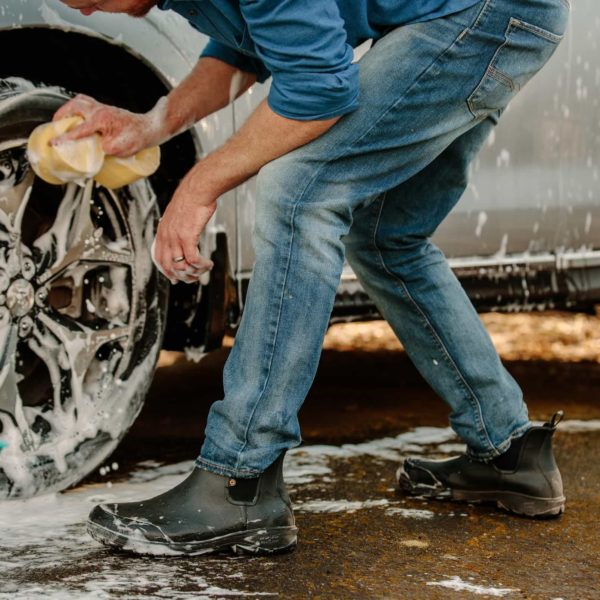 Some reviews we came across mention problems with leaking and easy scuffing on the bottom of the boots. While it isn't great that this is happening to anyone, there simply aren't enough of those comments for us to be concerned about.
Considering the heaps of other positive bogs reviews we've read online (including in-depth analysis that put them to the test), these boots still remain a highly recommended and smart choice for wet and cold weather.
Is BOGS Worth It?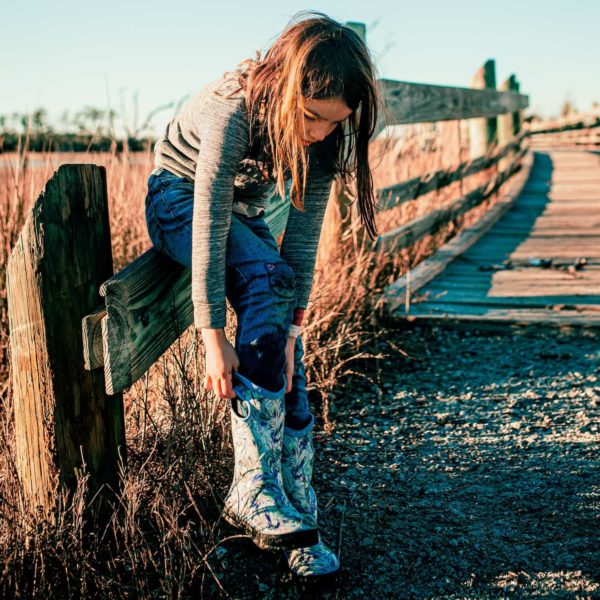 If you want a quality pair of boots, your best bet is to invest. Thankfully, bogs' prices aren't out of the realm of affordable, though they are on the higher end.
Better construction, durable materials, and smart features are going to cost you a little more, and that's something we've learned to love about investing in quality pieces from a company with a great mission.
Bogs boots are crafted with real life in mind and have been put to the test to withstand the elements. The brand itself is pushing for sustainability in everything it does, working to run completely off of renewable energy and incorporating biodegradable materials into its designs.
Whichever way you look at it, we truly believe bogs is a solid choice.
BOGS Promotions & Discounts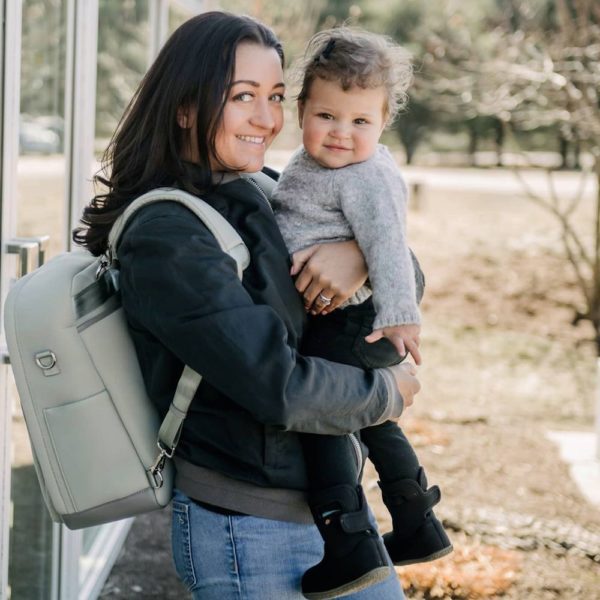 While we made our way through the brand's website for this bogs review, we spotted a few great deals. Take a look at what we discovered:
Join the mailing list to get 10% off
Sale section
Free shipping & returns for all non-sale items
Where to Buy BOGS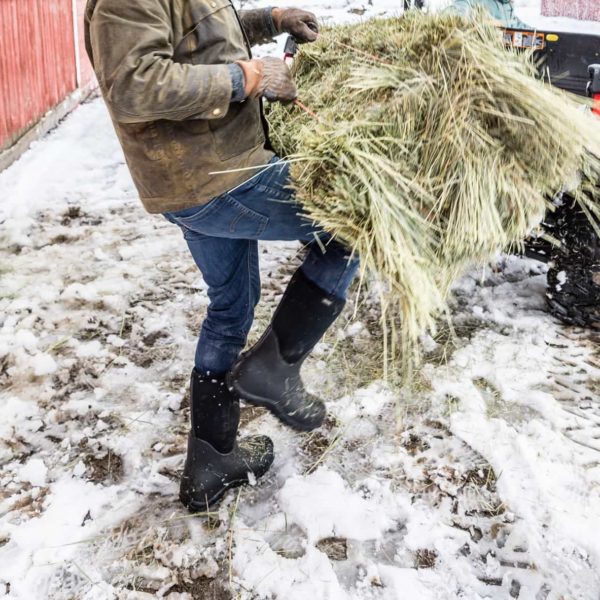 The company's shoes are sold at many outdoor retailers like sporting life, sportchek, and altitude sports, as well as amazon and softmoc. To shop its entire collection and access great deals, head over to bogs.Com.
FAQ
Who owns BOGS?
Bogs is a subsidiary of weyco group. It's a footwear company that owns several different shoe brands and distributes within north america. Its head office is located in wisconsin.
Are BOGS meant for snow?
A lot of them are, just be sure to shop in the bogs winter boots collection. The company's boots are all made from waterproof materials, but many of the winter styles have snow cuffs and snow-proof handles with a fleece lining for warmth up to -22°c.
Does BOGS ship internationally?
A lot of them are, just be sure to shop in the bogs winter boots collection. The company's boots are all made from waterproof materials, but many of the winter styles have snow cuffs and snow-proof handles with a fleece lining for warmth up to -22°c.Yes. Bogs ships around the world to countries including the usa, canada, australia, germany, korea, and the uk. To shop in your currency and get the most relevant information and policies, be sure you're on the correct version of the brand's site.
To swap over to yours, click the country button on the top right-hand corner of the main menu.
What is BOGS' Shipping Policy?
BOGS offers free US shipping for all regular-priced items and a flat rate of $8 for all sale items. Delivering via USPS, your order will ship out in about 2-3 business days after which you'll receive a confirmation email with a tracking link. You can use this link to keep an eye on your order's progress.
What is BOGS' Return Policy?
Ordering online sometimes means taking a gamble on size or realizing you maybe don't need something by the time it gets to you. Bogs gets that and has a 30-day return policy in place to cover you should you need to return or exchange a product.
Any items that were bought on sale can be returned for store credit within 30 days as well. Anything you wish to return needs to be in brand new condition with the original packaging, so be sure to keep the box or bag your shoes come in and try them on over a clean, carpeted surface.
Bogs covers all returns for regular-priced items, and all you'll need to do is follow these steps:
Fill out the return or exchange form (adobe acrobat required)
Download & print the prepaid return label
Attach the label to the outside of your package
Drop it off at the nearest post office
If you bought your items on sale, you'll need to send them back on your own accord, but you will still need to fill out the return or exchange form. Refunds will be processed to your original method of payment in about 8-10 business days after they're inspected at bogs' warehouse.