Today we're looking at a really special sneaker — its the Converse Chuck Taylor All Star Renew Crater. As you can guess from the name, it is a sustainably made shoe as part of Nike's Move to Zero initiative.
These actually dropped in North America back in July 23rd, but they only just went on shelves here in Asia, available in Converse stores in Malaysia and Singapore and online at Lazada.
Sustainability is the way to go
The Converse Chuck Taylor All Star Crater is a complete re-imagining of the classic Chuck Taylor 70 silhouette, but with completely new and updated recycled materials.
The entire shoe uses at least 40 percent recycled materials by weight.
The midsole made entirely out of Nike's Crater foam which made from 12% recycled rubber. That recycled rubber comes from Nike Grind, which made from recycled surplus manufacturing materials.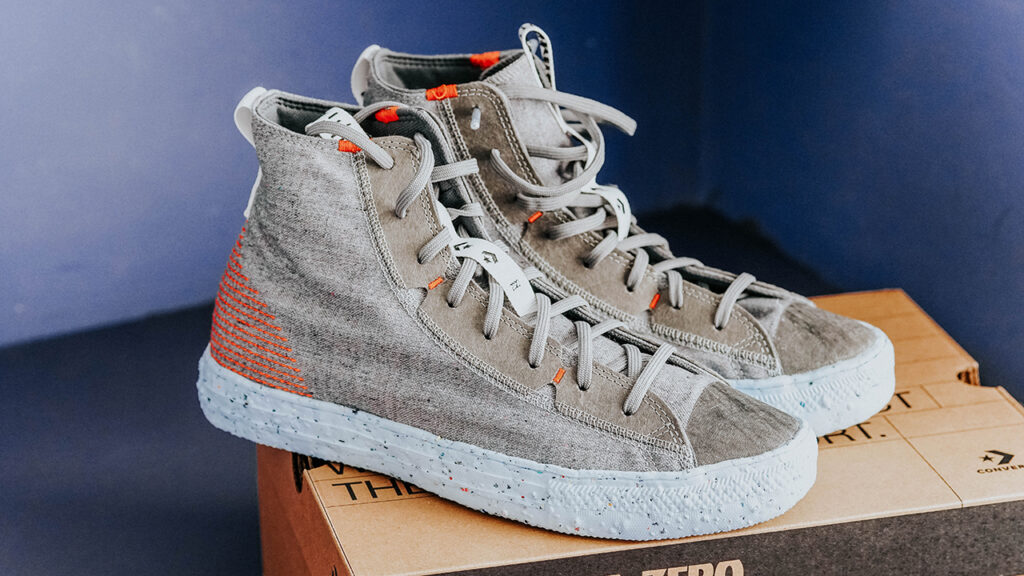 Meanwhile the upper inherits from Converse's Renew initiative, and made out of a new material called Morphlon. It combines recycled polyester with industrial textile waste scraps to create a material that feels like classic canvas.
Converse's popular Renew line has always been a personal favorite of mine in the way they use recycled materials. It gets a nice little jumpstart thanks to Nike's Move to Zero initiative and the use of the new crater foam.
The Converse Craters might not have the same hype as Nike's Sustainably made Space Hippie Collection when they dropped, but I really think these are one of the most interesting takes on the Chuck Taylor 70s in a while.
They come in three colorways right now, there's the Charcoal Chambray Blue, which is the one I'm checking out.
Then there's the White/Chambray Blue which looks okay, and then there's the Black Chambray Blue which is my personal favorite of the three.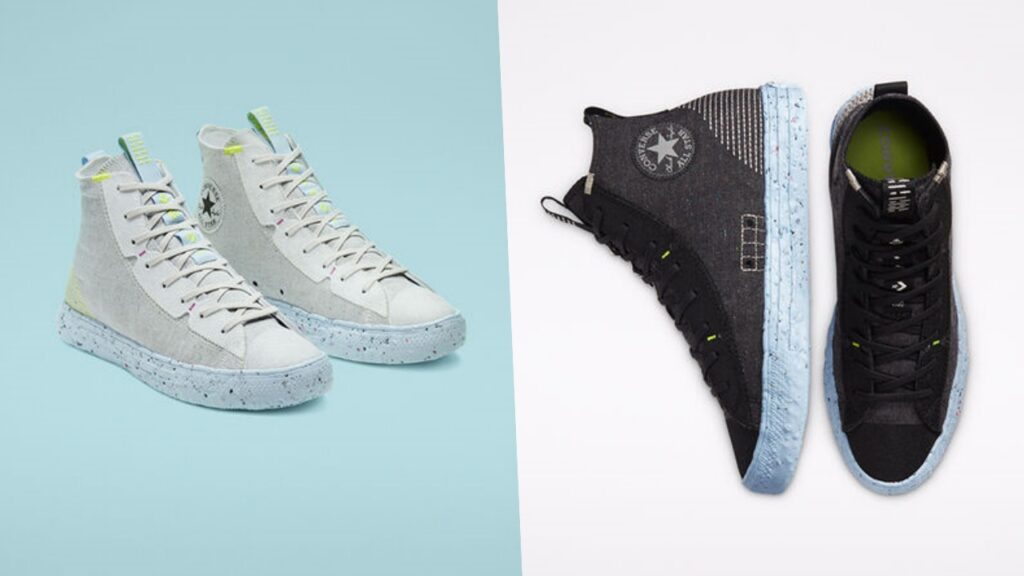 ICYMI: Nike owns Converse now
Starting from the box, I have to admit it's still weird seeing the Nike branding on a Converse box.
It's the same Nike Move to Zero Box you'd get with any of Nike's Move to Zero shoes. Like the Space Hippies, the Air Jordan 1 Crater, or any of the new Air Force 1 Craters as well.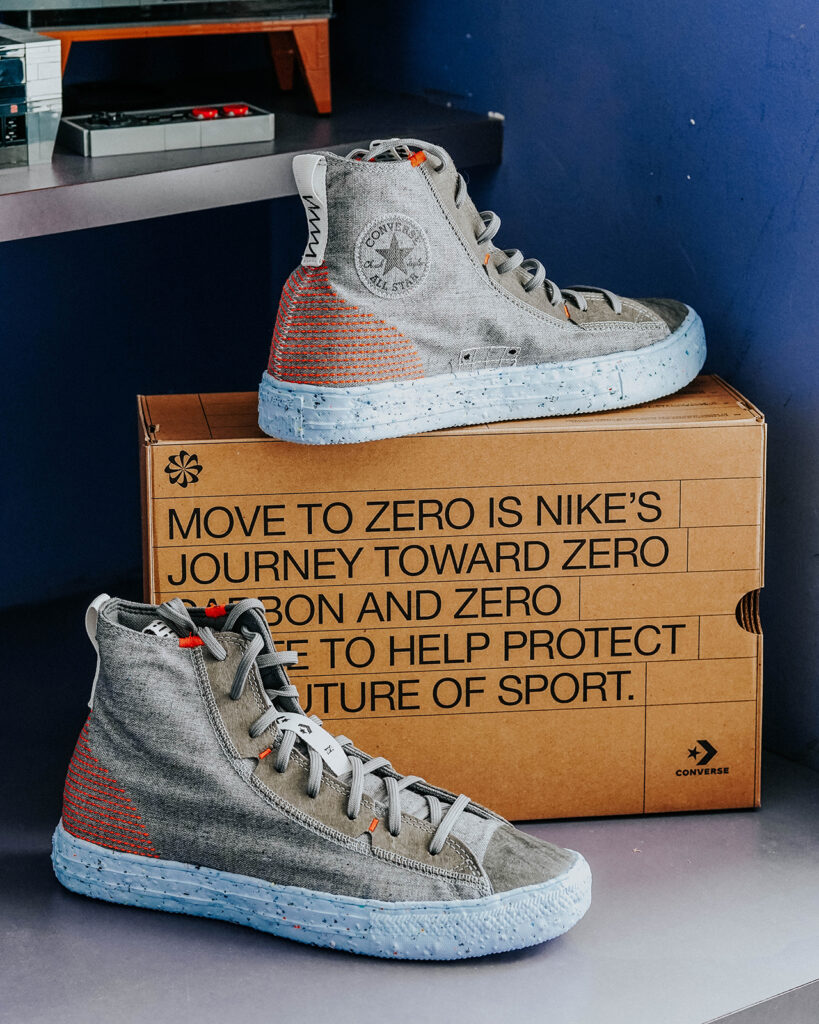 Only difference here is the Converse branding. I feel like this box is going to be very confusing for people that don't know that Nike owns Converse. So imagine you head into a store and buy this shoe and get a Nike box.
It's weird but I'm guessing Nike was hoping that the branding power of their Move to Zero initiative would give some hype to this shoe. That's why the Nike branding has been used on the box.
Materials and design
Coming to the shoes themselves, the first thing you notice. When you take them out of the box is how crazy light they are. Usually with a pair of Chuck Taylor 70s you expect some amount of weight but these, they're just so light. It's crazy.
Starting with the upper, the Morphlon material feels smooth, like canvas, but is made from a blend of recycled polyester and waste scraps, putting old materials to new use.
As you might already know, Morphlon is a 100% recycled blend composed of 50% recycled polyester and 50% recycled post-industrial waste scraps.
It actually feels and looks pretty great, in this Chambray Greyish color here.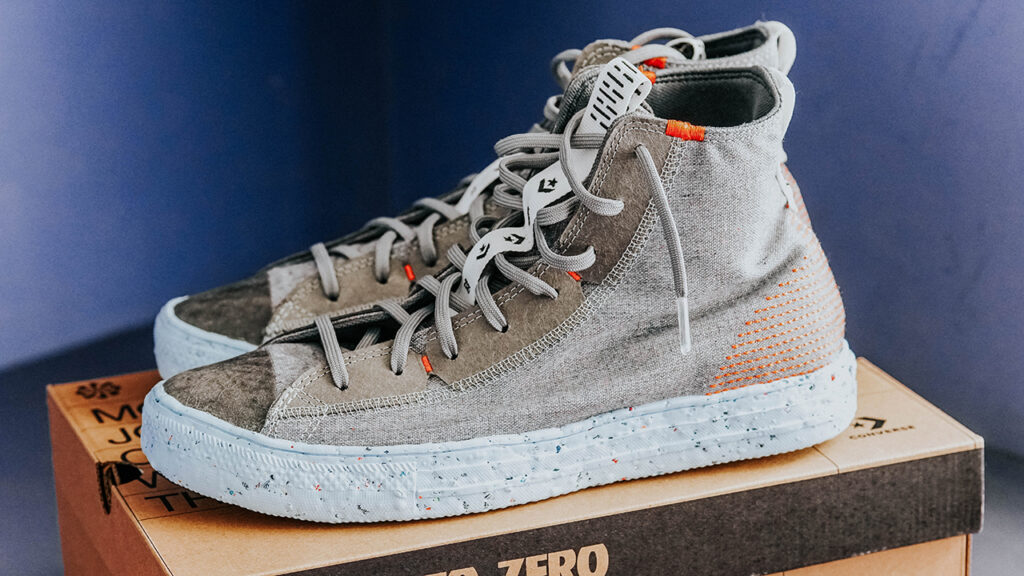 Snazzed up Chucks
Like all Chuck Taylor 70s, the lateral side has a clean, minimalist look while the medial side. The Converse Chuck Taylor All Star badge which also seems to be made out of recycled materials.
The lateral side also has these two ventilation holes at the bottom of the mid-panel to help with breathability, with a little bit of white stitching around it to give this area a bit more structure.
Moving on to the toe box area…
The toe cap is one of the most iconic parts of the Chuck Taylor 70s and the reinterpretation here looks a little weird admittedly.
They've given the toe cap an unfinished kind of look which you'll either love or hate but the material on the toecap, which is also the material used for the eyestays, is 85% recycled, which is awesome.
Moving upwards, you'll see that the eyestays also have this textile overlay in a unique unfinished rough design to them, almost seemingly broken up into three sections by this orange stitching.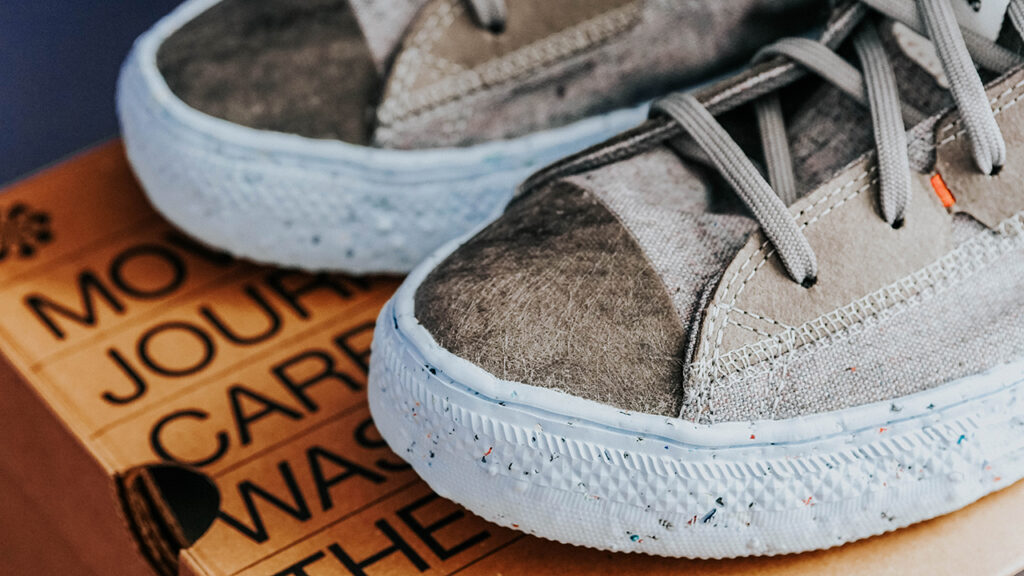 This is different from the usual minimalist metal eyestays you'd see on a usual pair of Chuck Taylors.
The webbing and stitching you see around here all 100% recycled as well. Apart from that, you'll see these charcoal colored flat laces weaving through the eye stays.
Underneath the laces, there's the tongue which is made from the same recycled canvas material as the rest of the upper, with this white pull tap nylon piece on top. That the Converse logo branding in different orientations, and "2020" stitched on.
This pull tap fabric on the tongue seems a little unnecessary to me but I'm not sure if it's here for just aesthetic reasons or whether it was necessary to hold the laces in place.
Coming to the inside of the shoe…
There's a 100% recycled dark grey mesh sockliner, with a neon green cushioned ortholite insole that 20% recycled, and looks very similar to the one on the Nike Space Hippies.
Apart from that, coming to the back of the shoe, you have this orange stitching that done throughout the back that I think supposed to simulate a heel cup.
There's a tiny bit of reinforced material here as well, so this section is a little stiff to ensure no heel slippage.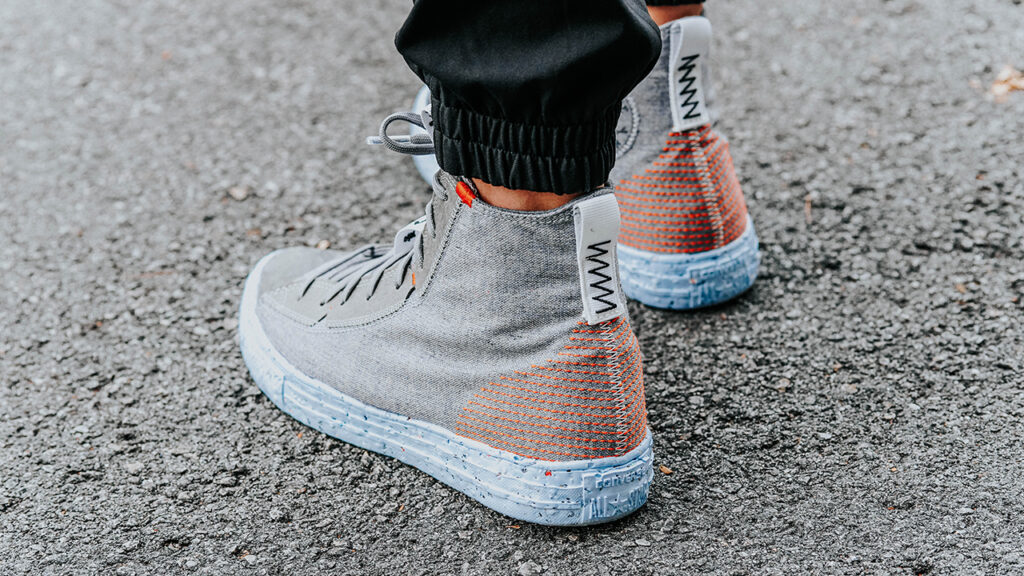 At the back of the shoe, you'll see more of that white stitching that runs up the sneaker towards the white pull-tab on the heel that has black stitching.
That entire upper sits on a full length Nike Crater Foam midsole that shaped to look exactly like the midsole on a pair of Chuck Taylor Highs.
Crater foam holding things down
We've seen Crater foam used on several of Nike's sustainable series of shoes, from the Space Hippies to the Jordan Crater. The Air Jordan 1 High Crater, the VaporMax 2020, and even the more recent Air Force 1 Craters.
Nike's Crater foam basically uses about 12% Nike Grind rubber for a lightweight and responsive cushioning. Nike Grind materials created from recycled athletic footwear and surplus manufacturing scraps.
So basically, they're taking all leftover materials from outsoles and midsoles in the manufacturing process. They grind them all up together and create the Nike Grind Rubber that used in the Crater Form in this midsole and outsole.
A fun little bonus of this process is that no two midsoles will ever be the same because of the sheer amount of different recycled materials used with all these different speckles of materials.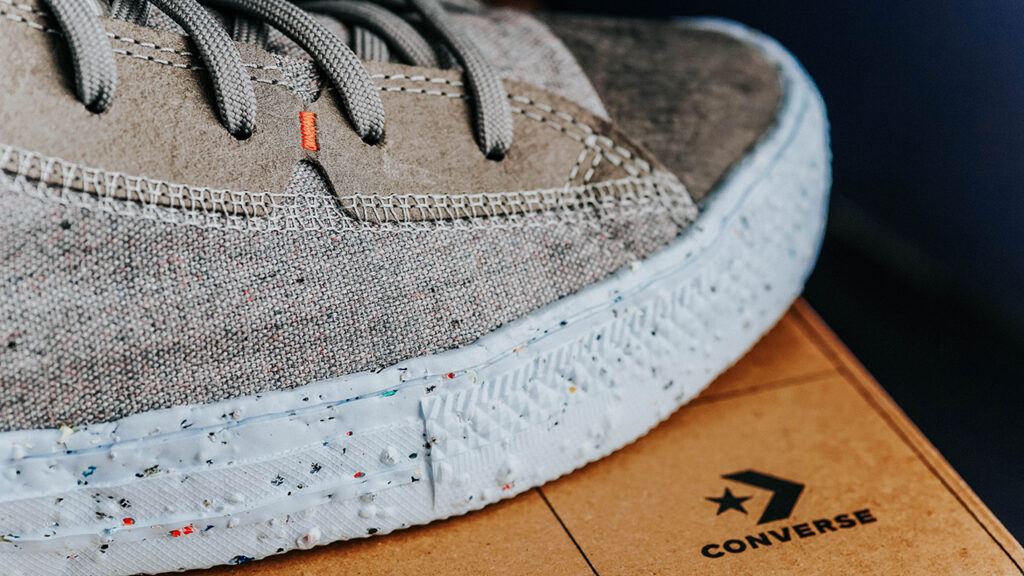 What I love about the implementation here that instead of the vulcanized midsole. You'd see on a usual pair of Chuck Taylor All-Stars. You have this one piece Crater form that shaped exactly like the midsole on a standard pair of Chucks.
Even moving downwards, the thread pattern on the outsole is exactly the same as a standard pair of Chucks, with the Converse All Star branding.
It's just so awesome and so well done.
But the main advantage here that instead of the usual flat kind of feeling you'd from a standard pair of All Stars, with the All Star Craters you have a really lightweight pair of shoes that also feels a lot more flexible, plush, and responsive compared to the flat stiff cushioning you're used to getting from All Stars.
Granted its not Nike React or Adidas Boost levels of cushioning but it's much better than a standard pair of Chucks. Which makes these probably the most comfortable pair of Chuck Taylor All Stars you'd ever wear.
Which was a fun surprise because I really did not expect much from these shoes.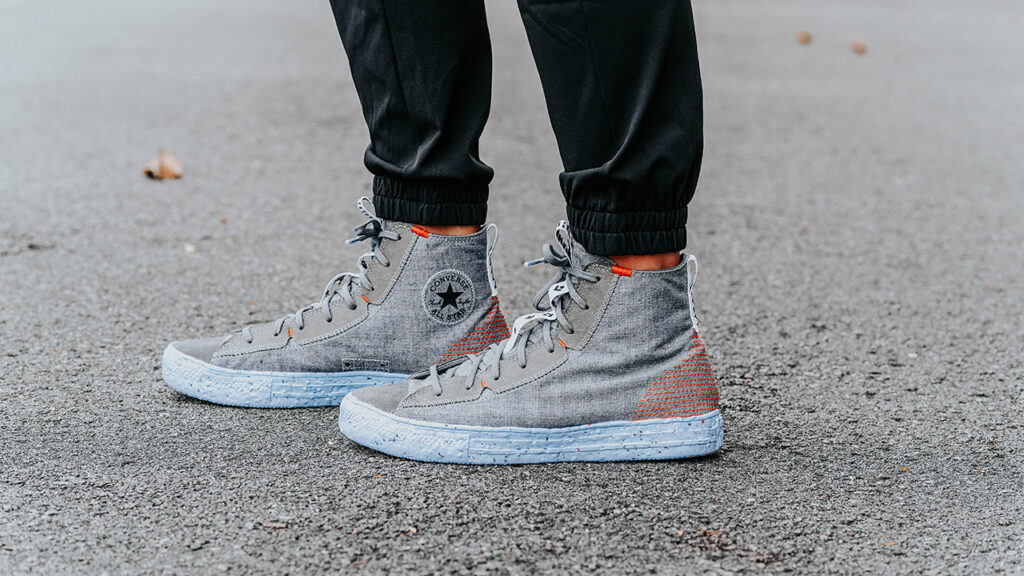 Fit and sizing
Coming to sizing and fit, these fit the same as any other pair of Chuck Taylor All Star Highs.
All Star highs generally tend to fit a little large so you'd want to go down half a size for sure. For example I'm a UK 11 but I generally go down to a size UK10.5 for All Star Highs.
Of course, the best way to know for sure is to head on over to a store and try out a pair.
Is this your SneakerMatch?
All in all, I think Converse has actually done a great job with the All Star Craters.
As a huge Converse fan, from a purist point of view. I will admit that there's a few things I wish they did not do here. The orange stitching at the back for example, to simulate a heel cup, is a little out there. Maybe if they used a more subtle muted color, or just left that area alone. It would have been a much cleaner shoe.
Honestly, I'm just not a fan of the little orange stitching everywhere, so it's mostly just the color choices, maybe. But I get that they were going for a more unfinished look here.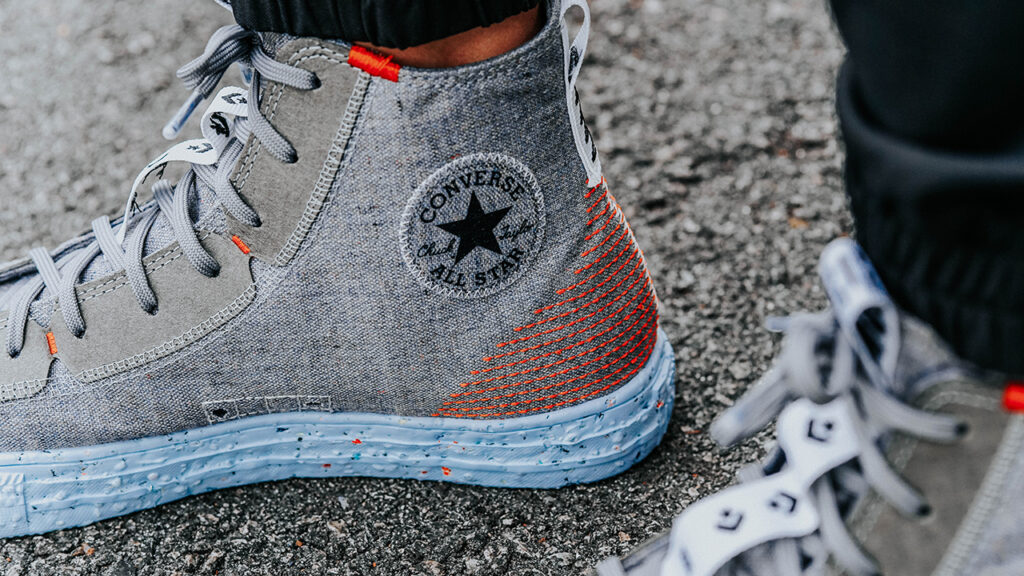 From a comfort point of view…
You guys have to check out this shoe. If you're a fan of the Chuck Taylor All Star Highs and you want a more comfortable version, this is where it's at.
It's quite impressive how Converse and Nike made such a lightweight shoe here. With the soft recycled materials used and the soft Crater foam. It's just way more comfortable to wear than a standard pair.
I just wish that maybe they made a more purist version but that's just me.
I also feel like a low top version of these shoes would just be crazy popular.
These do seem to be sitting in stores though so if you want to know what I'm talking about. Just head on over to a Converse Store to try out a pair and let me know what you think about them.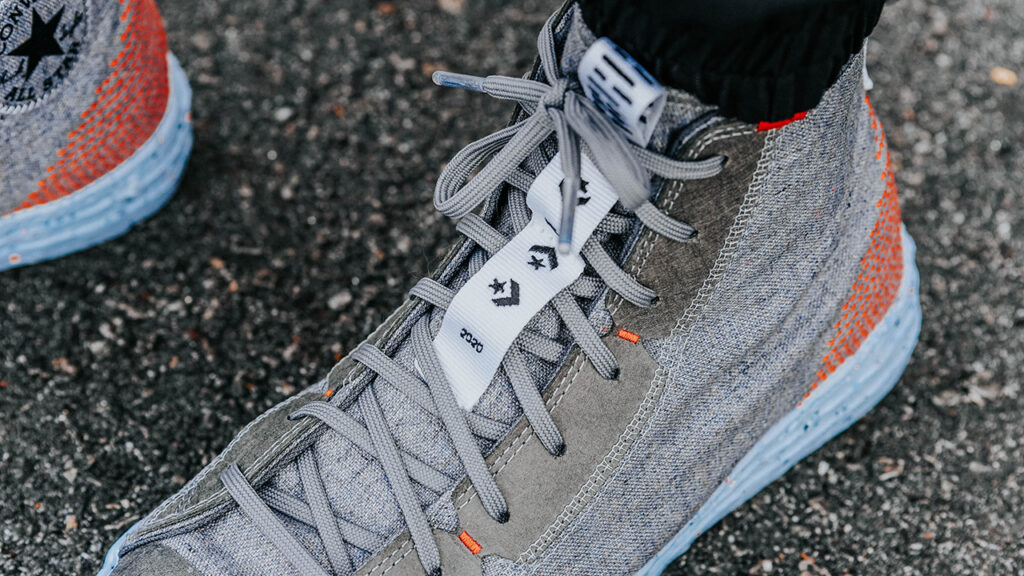 At the end of the day, the Chuck Taylor All Star Craters are Converse's most sustainable shoe ever. They are literally reducing the carbon footprint of footwear manufacturing.
I'm really hoping these shoes catch on. Maybe if Converse makes a more purist looking version because that might catch on really well. And more people switch to that shoe instead of the standard All Stars which almost everyone has.
Now that might actually make a huge impact for sustainable footwear.