Let me guess something. You've been creating useful content for a while, and now you want to have an Envato Elements subscription.
But not sure about the decision?
There is no doubt, Envato is one of the biggest digital asset providers. They have expanded the services over the past few years with covering many more areas.
Maybe you aren't even thinking about what are the benefits of using Envato Elements because your main focus may at free things on the Internet to create your content.
It doesn't matter if you're a Blogger, YouTuber, Designer, Digital Marketer, or any other professional working in any industry.
If you're one of them who needs to produce great content then you'll need to focus on many things that make it great.
In this article, I'll cover the reasons why Envato Elements is the perfect choice for all your digital assets needed to create high-quality content in 2022.
Let's dive in!
Disclosure: This post contains some affiliate links. If you purchase any service through these links, we may earn a commission at no cost to you.
What is Envato Elements?
Envato Elements is a subscription service that gives you access to unlimited downloads of 54+ million digital assets for a minimal recurring cost.
With this, you will get access to millions of digital assets including graphic templates, video templates, fonts, stock photos, web templates, music, and more.
These assets can be downloaded so long as you have an active subscription, you can download any Envato Elements item.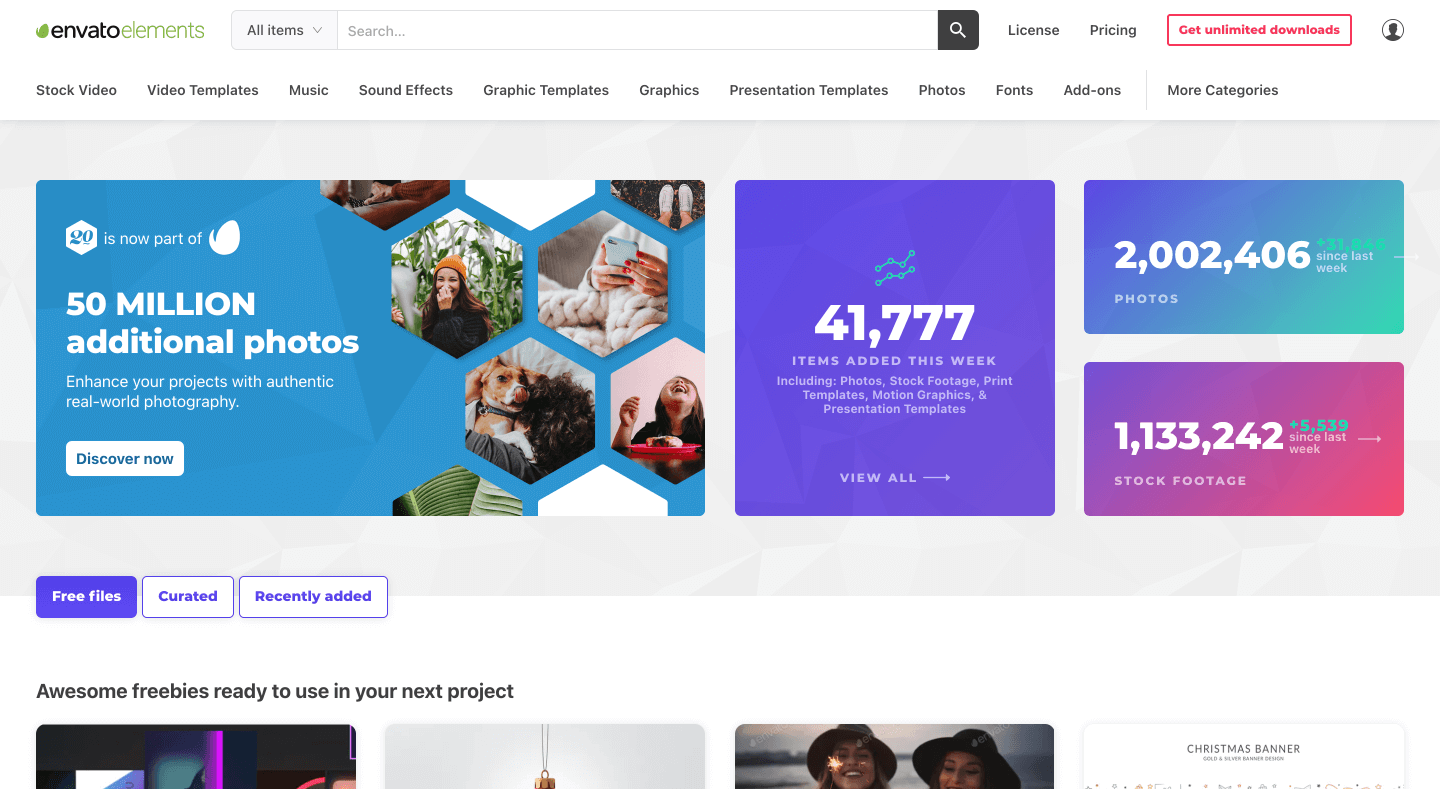 Envato has made its subscription plans clear for everyone to understand easily. If you're an individual you will pay $16.50 per month when paid by yearly or $33 for a single month (monthly plan). All these plans include unlimited downloads.
The best thing is you can also skill up with 1,200+ courses and tutorials with that subscription and students also can get 30% off from the subscription price. So, that proves that the Envato Elements subscription really worth it.
→ Click here to head over to Envato Elemenets to start your subscription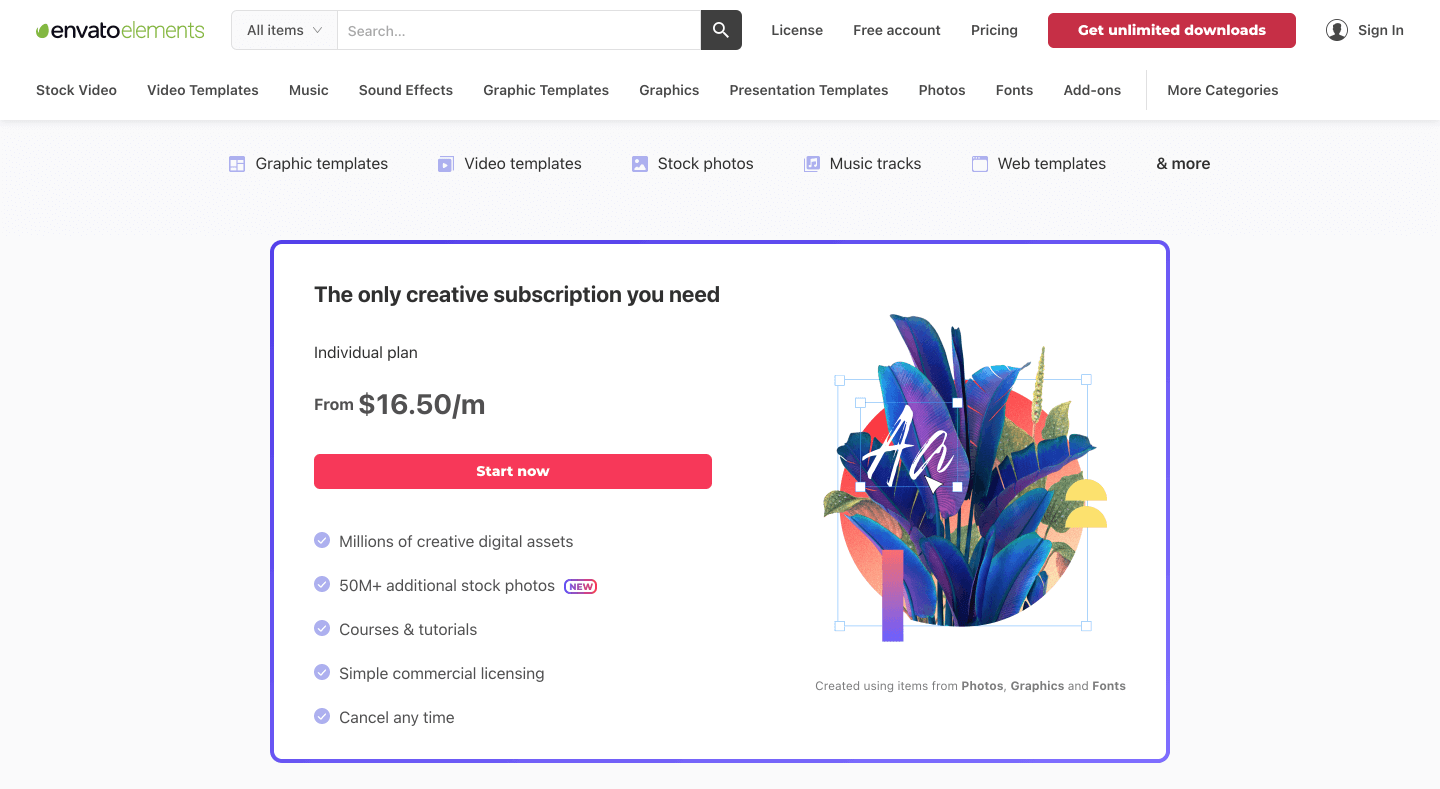 That's not all, teams also can able to save up to 35% depending on the total number of team members, and if you're an organization, agency, or team of six or more you can inquire about custom plans and pricing.
If you're not one of them, the individual plan best suits you! You can also cancel it anytime.
Put simply, If you're looking to create the perfect content, Envato Elements has you covered. Access to unlimited downloads makes it a huge surprise for content creators and anyone to a wide variety of digital assets.
Let's find out why the subscription service really shines!
WordPress Themes and Plugins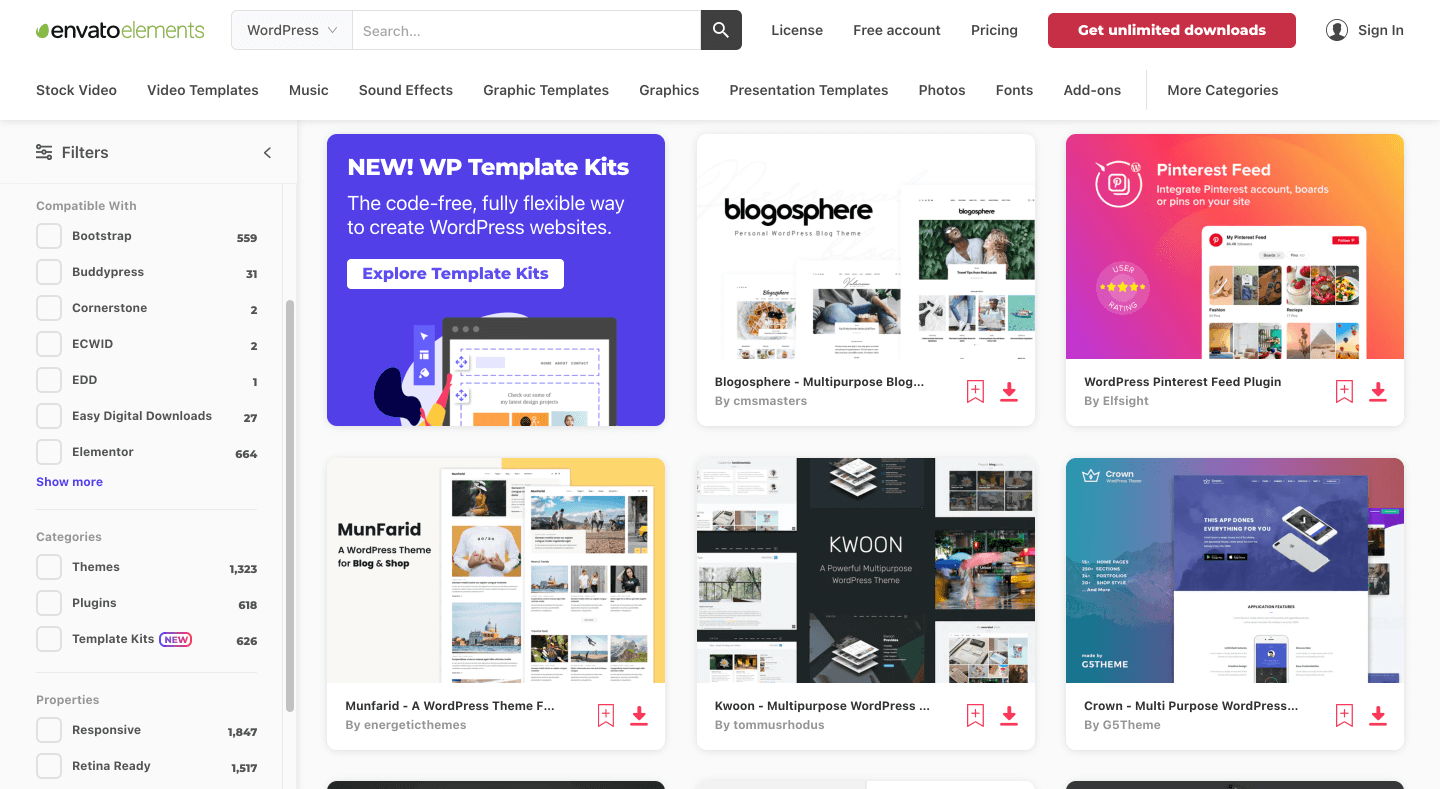 Envato Elements subscription comes with unlimited access to all the WordPress themes plugins and templates kits on their platform. If you're going to select them for a special purpose, you can simply filter them to find your perfect result.
If you're using WordPress page builders like Elementor, you can able to find creative templates for your WordPress site and I'm pretty sure that will save you time and your visitors will love it.
Here're some valuable WordPress assets in Envato Elements:
Blogosphere – Eye-catchy multipurpose blogging theme.
Refresh – Feminine pink and grey light colored template for Elementor.
Pinterest Feed – WordPress Pinterest feed plugin to Attract new followers.
Copycat Protector – A WordPress plugin that can add your copyrights to any copied text on your site.
WooCommerce PDF Invoices & Packing Slips – A WordPress plugin for automatically create and attach PDF Invoices & Packing Slips.
If you have a WordPress site, you know each theme, plugin, or template will cost more than the Envato Elements subscription itself when purchased individually. So this can be a life-saving addition to save money and time.
Tons of Stock Photos and Videos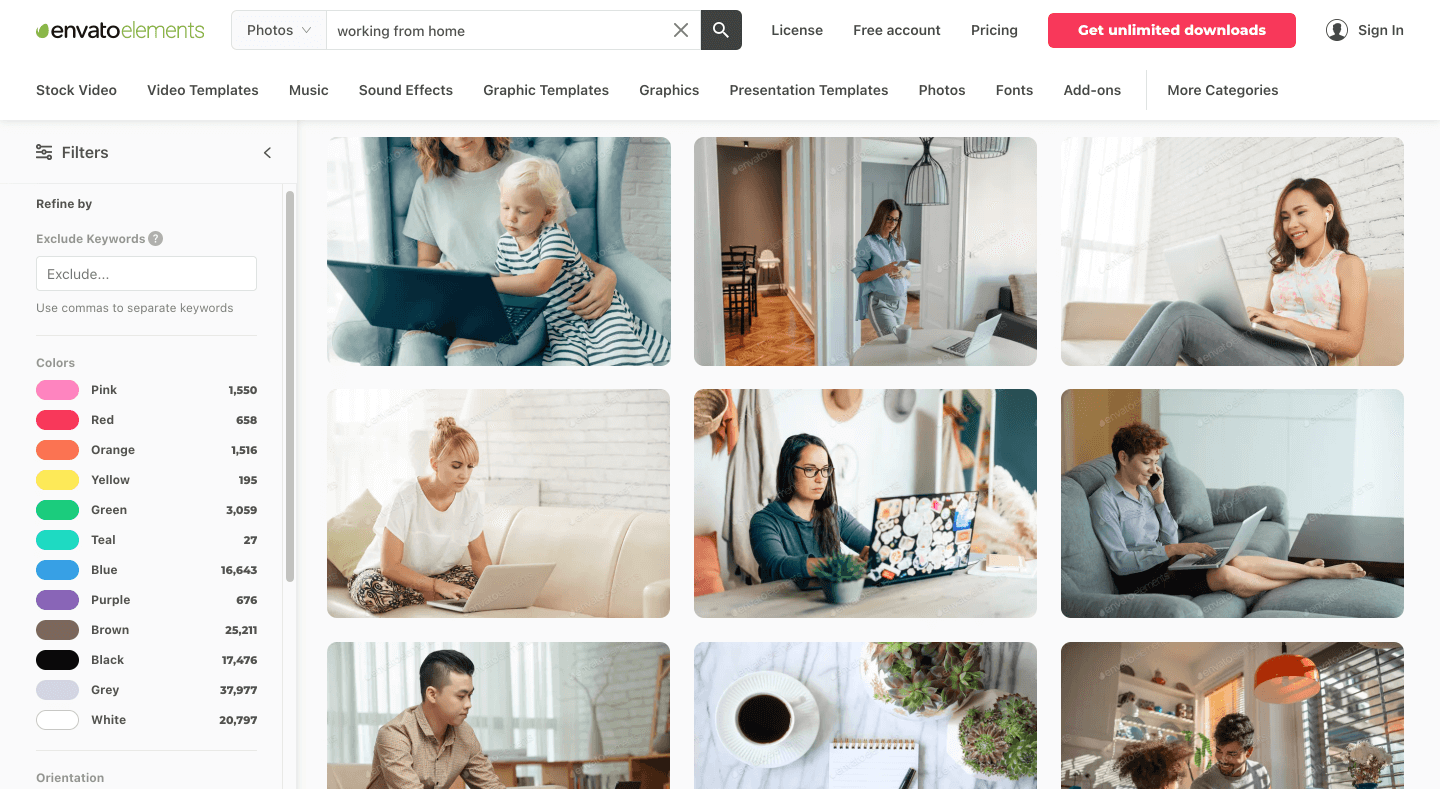 This is where the subscription service really comes in handy. Envato Elements gives you millions of high-quality stock photos and videos that help you to take your content creation to the next level.
Moreover, the recent addition of Twenty20 has extended Envato's stock image library by another 50 Million. So you will have additional photos with the subscription. If you're a blogger, this is perfect for you and all the other assets will power up your content marketing journey.
With the help of Stock videos, you can able to download high-definition videos by filtering resolution, bit rate, and length as you want for your projects.
Font Styles and Types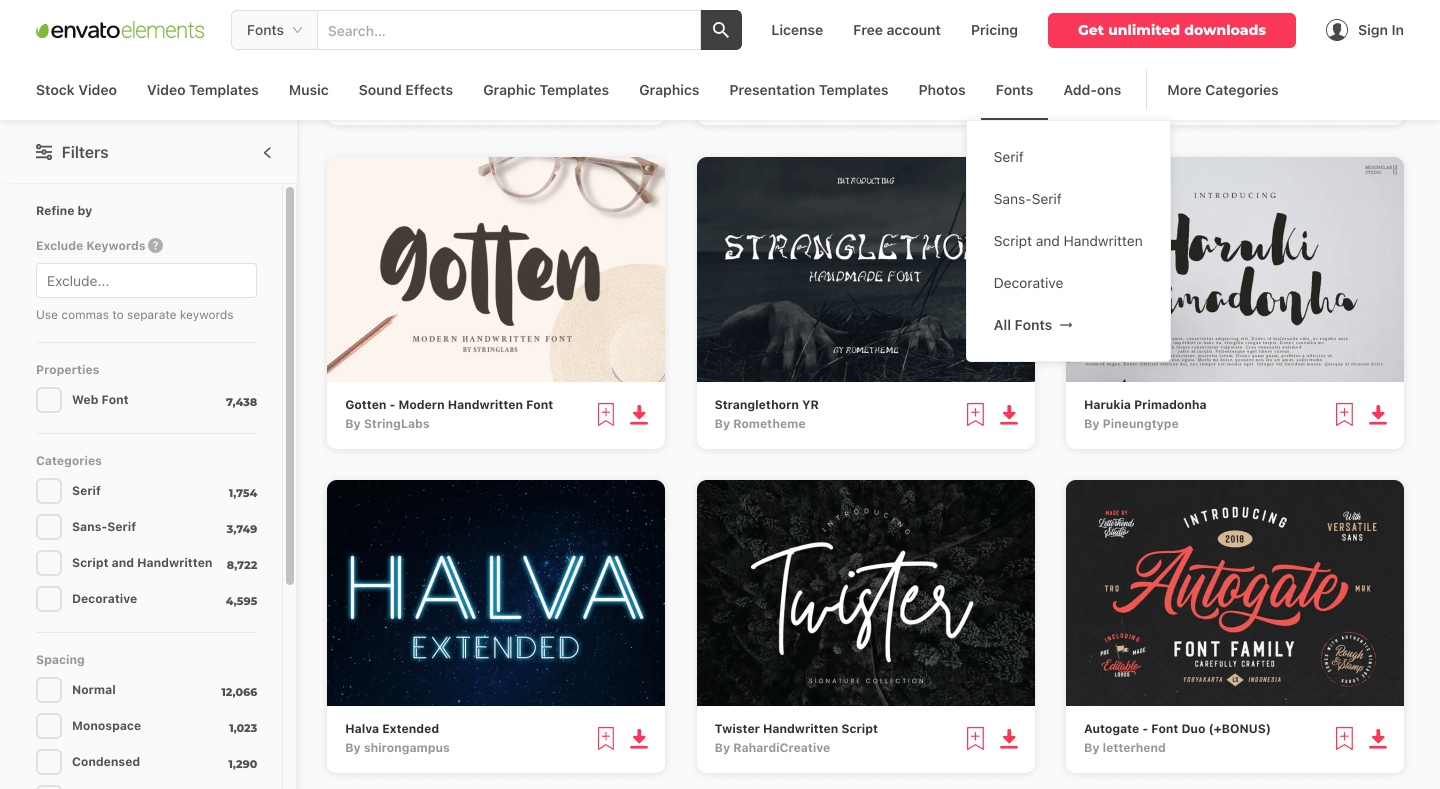 That's another surprise. Your subscription comes with thousands of professional fonts, which is helpful when you need some unique value on your designs and anything you create.
The best this is you can choose your perfect font by using the filtering options and it also saves you money on buying fonts individually.
Library of Graphic and Video Templates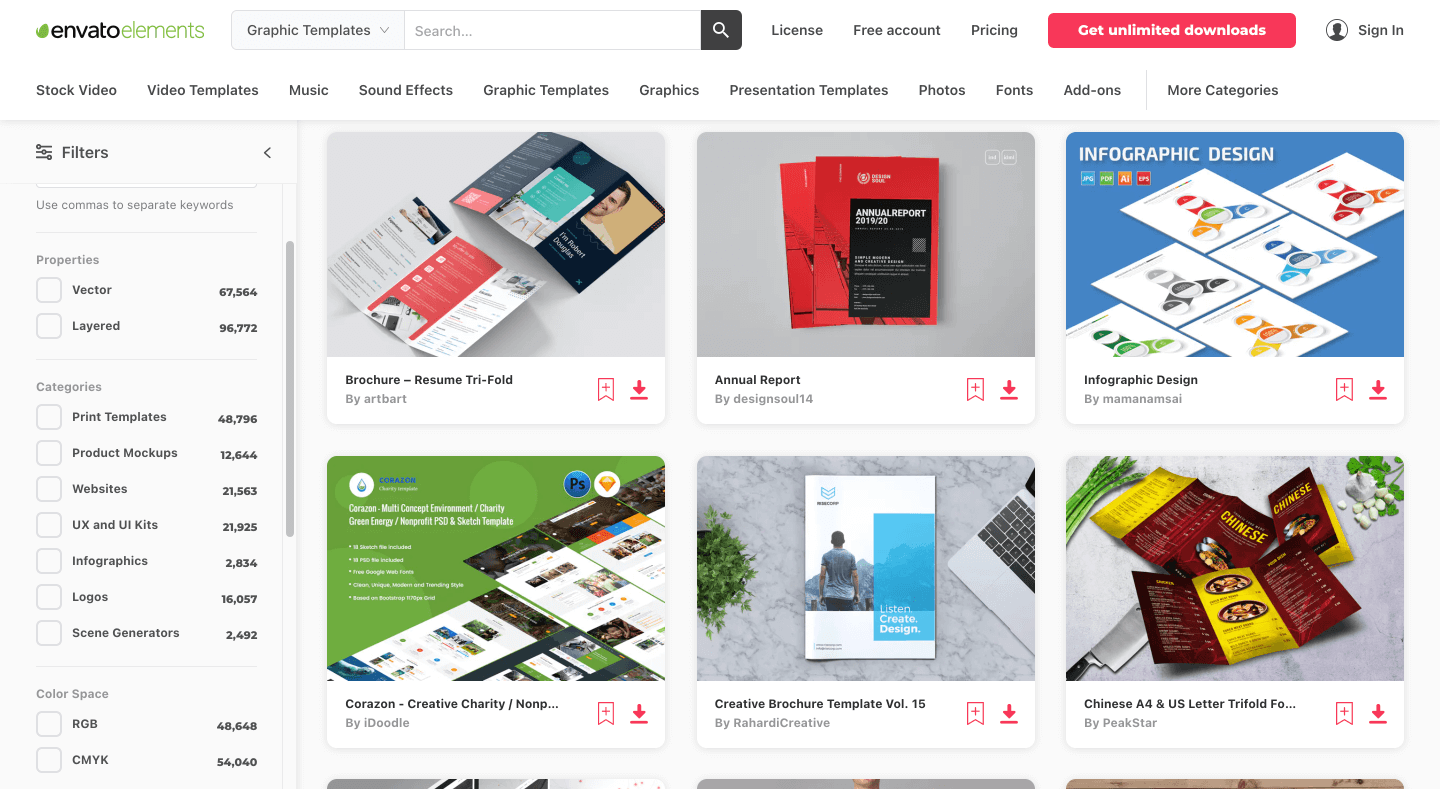 The Envato Elements subscription allows you to access over 100,000 high-quality graphic templates including product mockups, website designs, infographics, UX/UI kits, printables, and even logos. Also, you can find over 4,000 individual add-ons including action presents, brushes, and layer styles.
This will help you create high-quality designs for your blogs, websites, social media, and ads whether you are a digital marketer, blogger, or social media influencer.
If you're a Youtuber, the Video templates library is a massive addition for you to create great intros/outros, logo stings, product promos, and many more stunning videos with the support of Adobe premiere pro, After effects, and Final cut pro.
Music and Sound Effects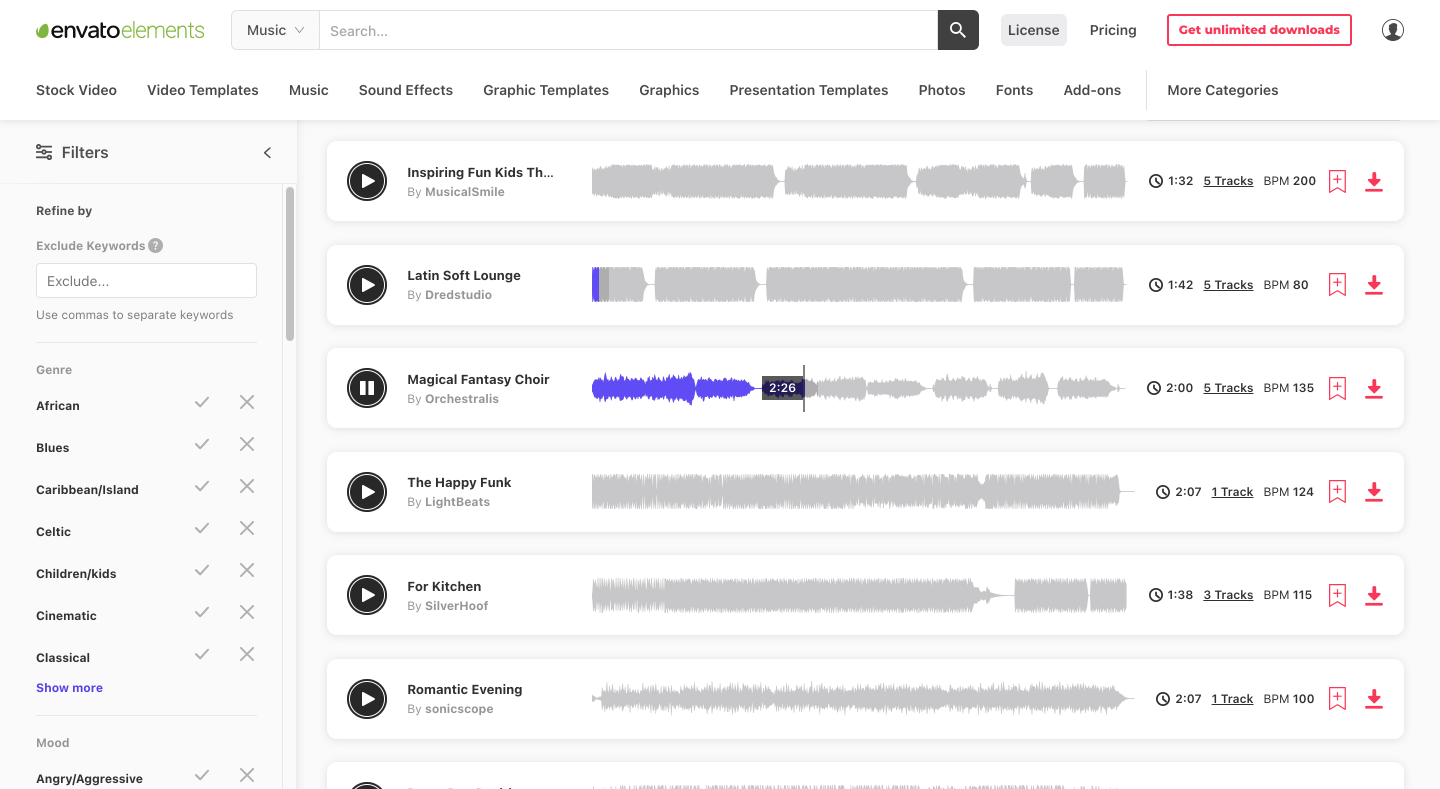 You create videos then you need music to make them completed. The subscriptions give you access to high-quality audio tracks to discover and download across all genres. You can easily find audio tracks for your needs by filtering mood, instrument, tempo, and also length.
You create videos then you need music to make them completed. The subscriptions give you access to high-quality audio files, discover and download stock audio across all genres. You can easily find audio tracks for your needs by filtering mood, instrument, tempo, and also length.
Creative Email Templates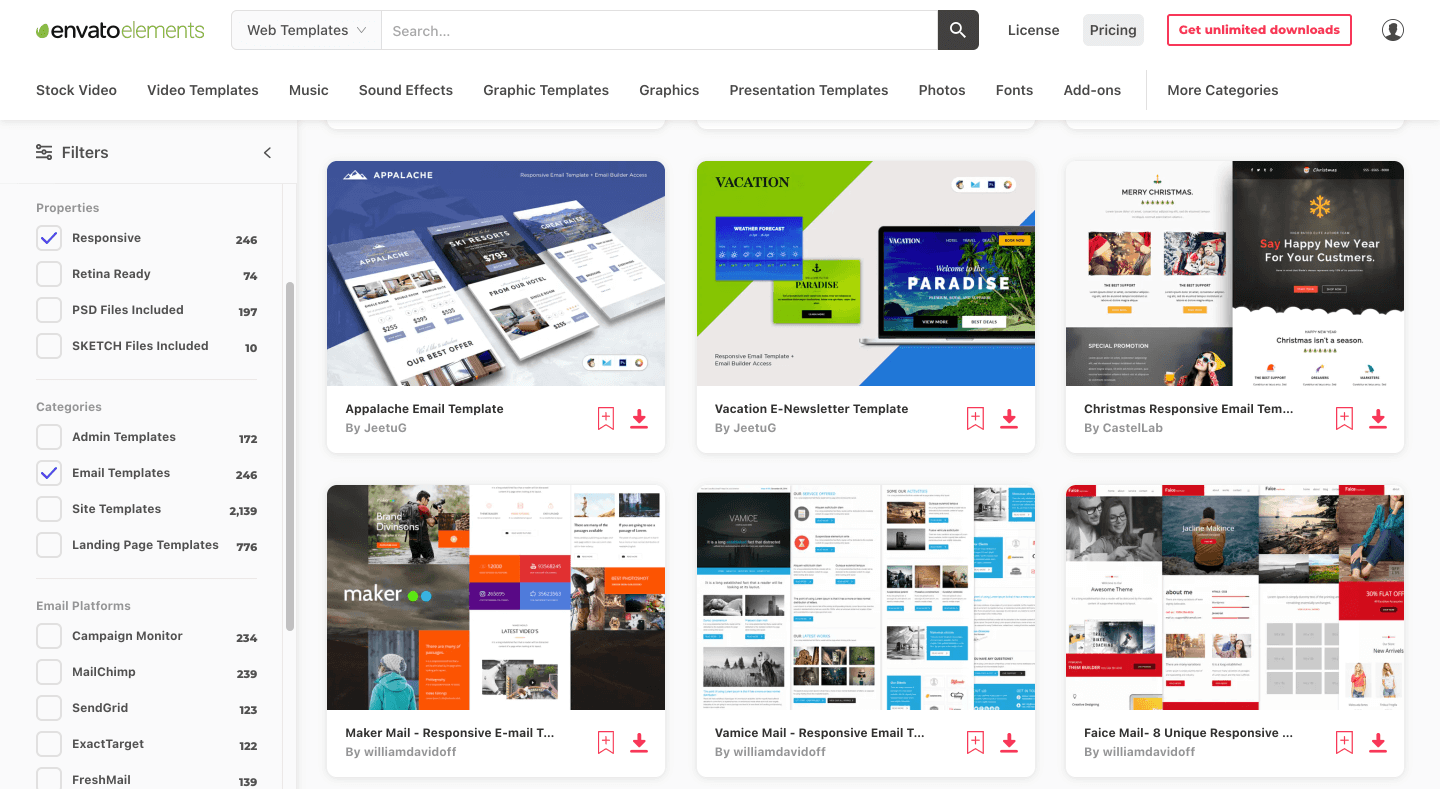 You can find these Email templates from the Web templates category in Envato Elements. There are hundreds of templates to choose from.
You can view each template to see its features for promoting your products and services and also your newsletter. Most of the templates are compatible with email service providers like Constant Contact.
CMS Templates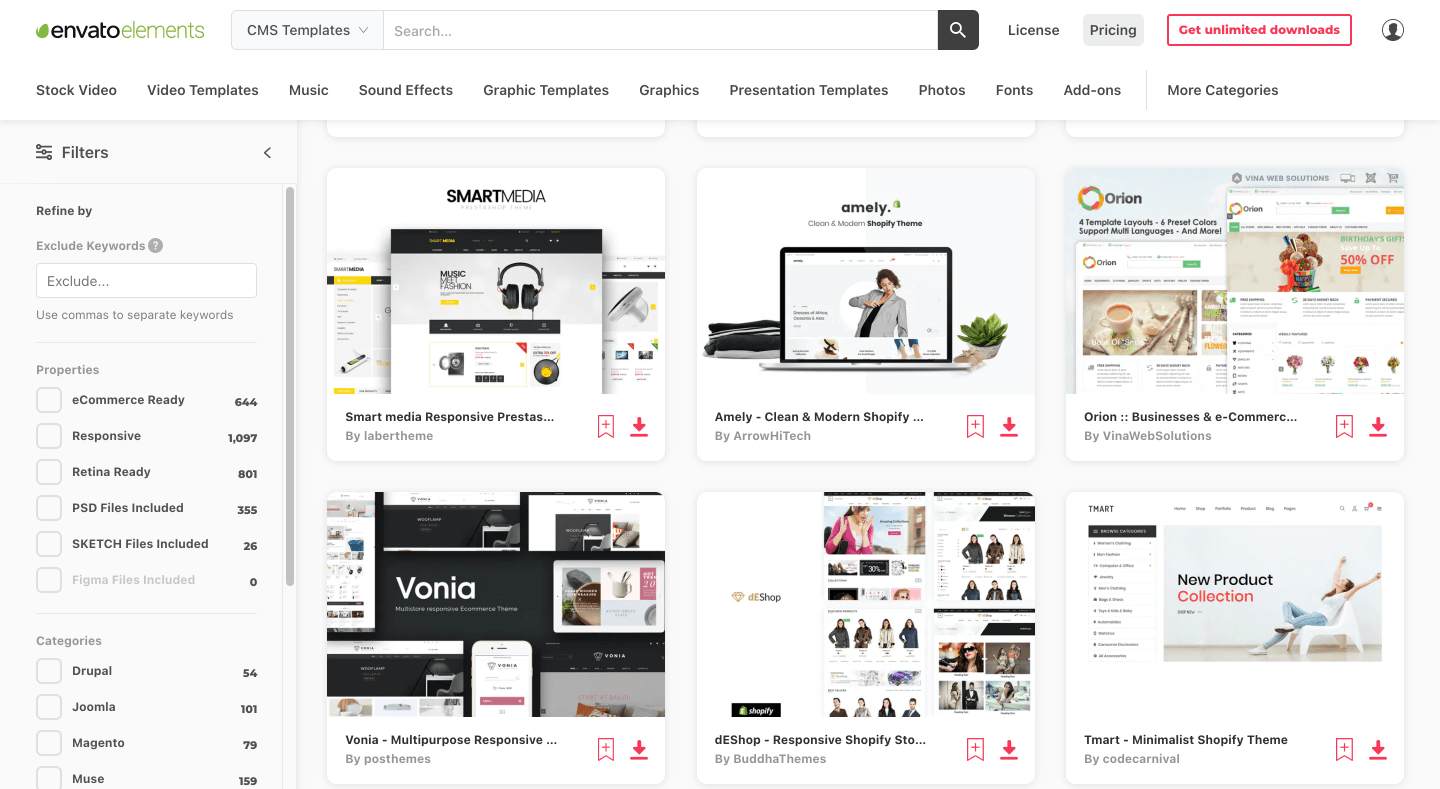 This is where you can find CMS templates that can be used on various popular CMS platforms including Shopify, Drupal, Magento, Opencart and Prestashop, etc. You can use filters from the templates library to find the best one right for your work.
Presentation Templates and Slides Themes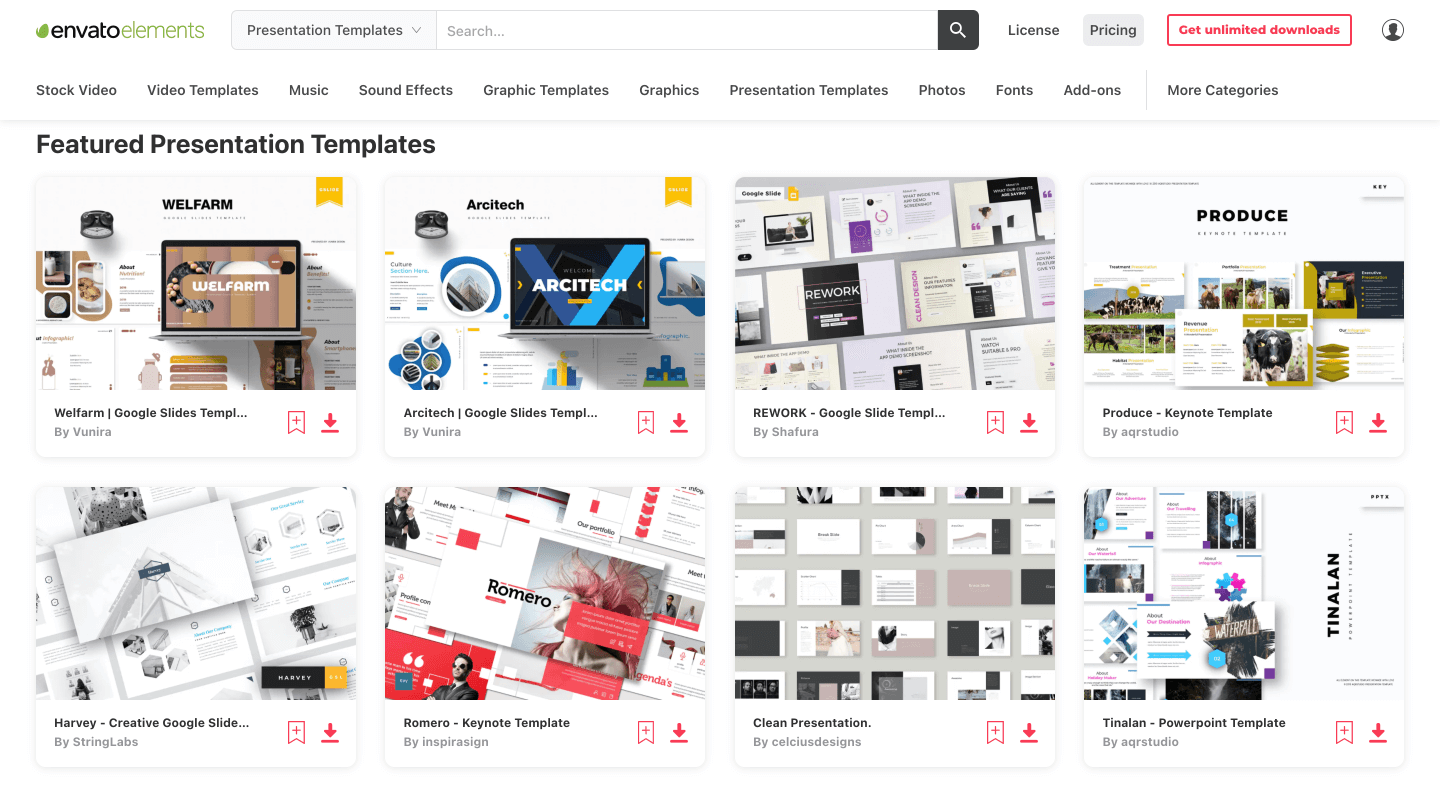 This tells us that Envato Elements is really valuable for everyone. Over 10,000 presentation templates, Envato Elements can help you craft high-quality presentations fast with Keynote, Powerpoint, and Google Slides.
If you're stuck on searching Presentation templates on tons of sites then this valuable Envato Elements subscription can shine on your upcoming projects.
3D Objects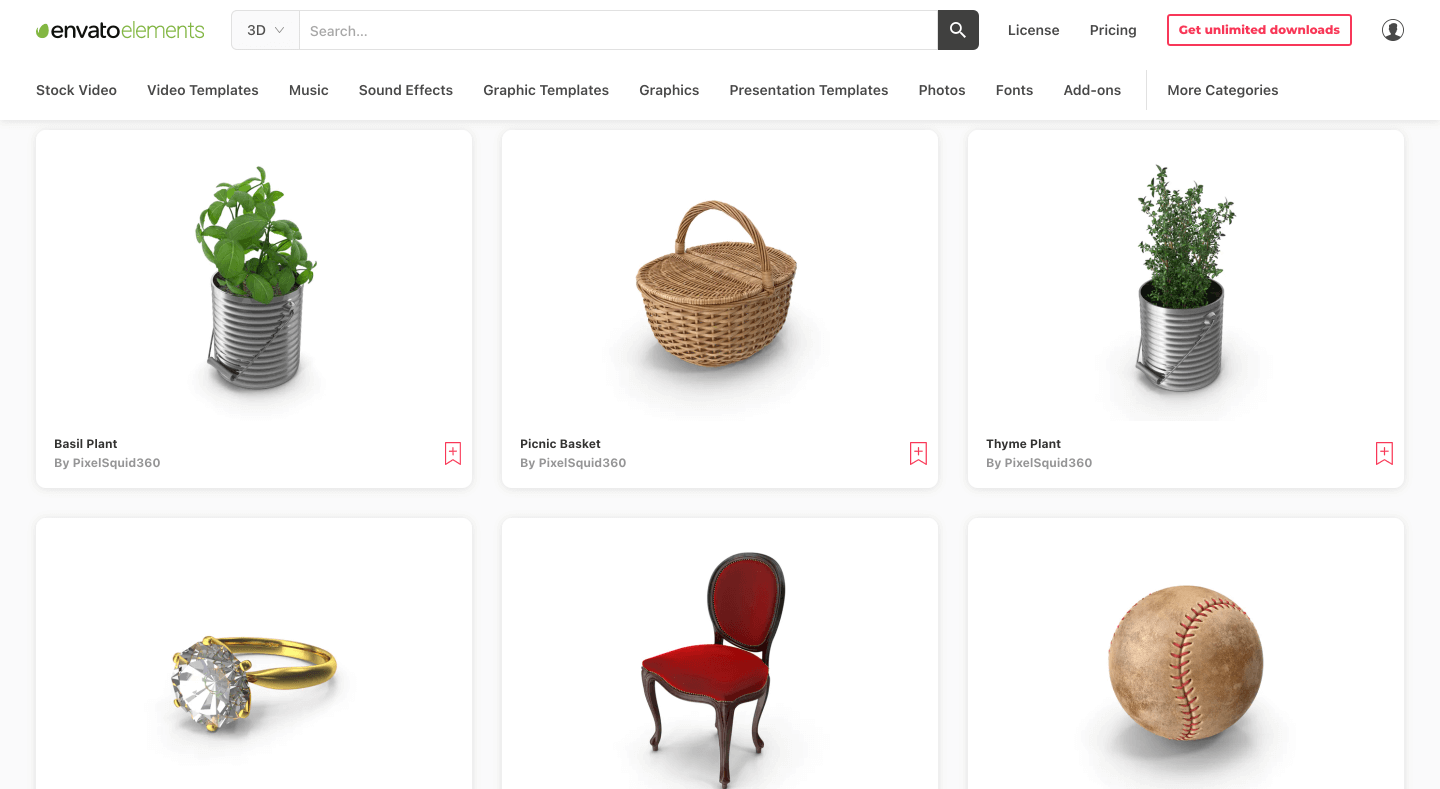 With this Envato Elements subscription, you'll get access to over 39,000 3D objects available as PNGs or PSDs. The best thing is you can view each item in a 360-degree view before downloading them. This is how subscription provides more flexibility for designers to find 3D objects easily.
Envato Elements Free Files

Envato gives you freebie items. With this, you'll receive 12 hand-selected files, including fonts, videos, presentations, and more each month. All you need to do is create a free account on Envato Elements and after that, you'll get freebie items every month.
Final Thoughts
Envato Elements Is an "All-in-One" type solution for most creators which provides them many assets of their choices. This is an excellent service that offers good value for money.
That's certainly worth it. The subscription covers a lot of areas.
And just another thing, don't forget to read their license and terms to learn how to use their assets on your personal and commercial projects.
Before you sign up, note that Envato Elements offers its plan at the cost of $16.50 per month when paid by annually. That will save you completely 50% rather than paying every single month.
Enjoy it!