Envato Elements is a service provided by Envato. Its primary purpose is to give creators, designers, and other access to an impressive, expanding library of digital assets. Envato Elements includes WordPress plugins and themes, HTML templates, fonts, graphics, illustrations, photos, audio files, videos, and other content. In this Envato Elements review, I will show what this service offers, and show its advantages and disadvantages.
Envato Elements subscribers can also access over 1,200 eBooks and video courses supplied by EnvatoTuts+. This allows customers to access over 1 million digital assets and educational content from EnvatoTuts+.
Originating from Melbourne, Australia, Envato is one of the largest online digital asset providers in the world. They have seven primary asset directories:
ThemeForest – Website themes and templates
CodeCanyon – Get access to plugins, scripts, and code snippets
VideoHive – Royalty free videos and templates
AudioJungle – Provides royalty-free audio and music
GraphicRiver – Various graphic elements, icons, fonts and logos
PhotoDune – Huge number of royalty-free stock images
3DOcean – Provides CG textures and three-dimensional print models
Envato has expanded its operations in recent years to include a handy website builder, online courses and tutorial service, a marketplace for freelancers, and more. Envato Elements has made the biggest impression. It's been marketed as the "Ultimate Creative Asset Subscription."
During this Envato Elements review, I will show this subscription's features, functionality, and pricing so that you can determine if this solution meets your needs.
Envato Elements Review – What is Envato Elements?
Envato Elements is a paid subscription service that allows creators to access over 2,000,000 digital assets that can be downloaded for use in their projects. Subscription is billed either monthly or annually.
Both subscription pricing plans offer unlimited digital downloads. After a recent change to their pricing plan, customers who use either subscription (instead of just the annual subscription) can use Envato Elements' 900+ WordPress plugins and themes.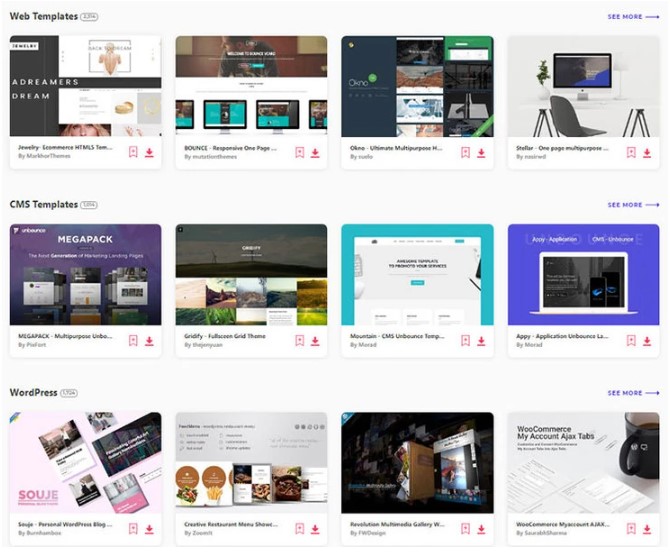 With this service, you don't need to worry about download limits or credits. This allows you the freedom and flexibility of experimenting with different graphics, files, and themes before selecting the ones that are ideal for your particular project.
A vast community of independent designers creates Envato Elements' digital assets. Each designer is paid for their work from a revenue-sharing model. Half of the revenue is shared with the content creators who supply the assets used in Envato Elements.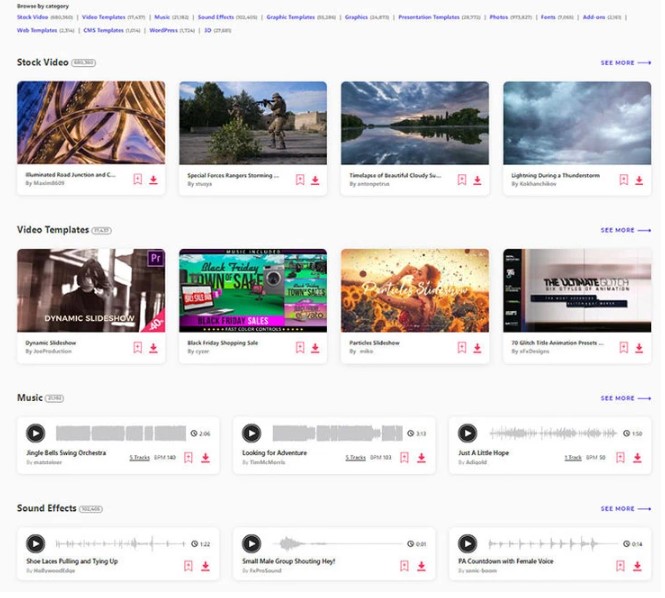 If you already have a WordPress website, I strongly recommend using the Envato Elements WordPress plugin. This plugin allows you to browse through the Envato Elements stock images archive from your WordPress website admin area and add media to your existing posts and pages.
The plugin grants access to over 80 different template kits and over 1,400 page templates. These kits and templates can be added to your site using Beaver Builder (see difference between free and paid Beaver Builder versions) or Elementor (see how Elementor free and pro version differ).
Who is Envato Elements For?
Here are some of the main groups that could benefit from using this service:
Audio producers looking for sound effects for their compositions.
Bloggers who are searching for high-quality images to go along with their blog posts.
Business owners who could use ready-made business cards, stationery, and website templates.
Illustrators and graphic designers who want more font, action, brushes, and layer style choices.
Podcasters who could use audio for their episodes.
T-shirt designers and creators who want starter templates and graphics.
Vloggers in need of video templates and stock video files.
Website owners, agencies, and freelancers which need various WordPress plugins and themes.
Web designers that need HTML templates, WordPress themes, and other similar assets for the sites they're working on.
Anyone who creates or uses audio and/or visual content should be considered part of the Envato Elements' target market.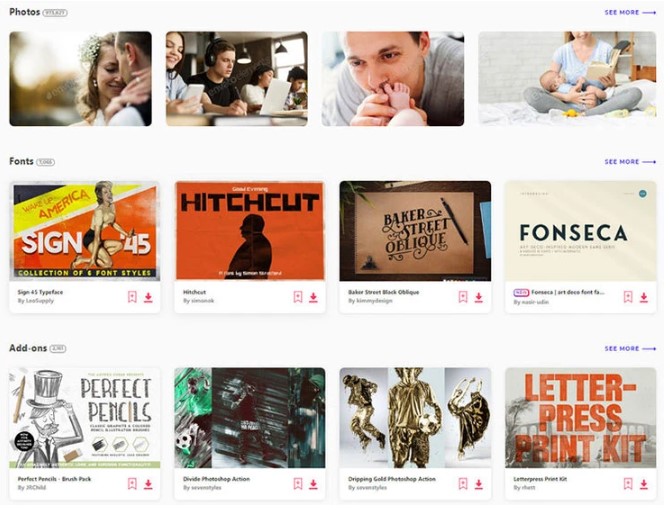 This service is an invaluable resource for people who are searching for the perfect image for a blog post, or who want to improve workflow efficiency by either using a template or beginning with presets and actions for specific programs that you use the most.
People who use WordPress can largely benefit from using Envato Elements. Their impressive library of WordPress themes and plugins make this service essential for WordPress bloggers, website owners, freelancers, etc.
What Do You Get With Envato Elements?
At the time of writing this Envato Elements review, their asset repository items include:
WordPress Themes (1,116+ items) – Business, blogging, e-commerce, portfolio, multi-purpose themes, etc.
WordPress Plugins (502+ items) – Forms, email marketing, social media plugins, etc.
Photos (955,551+ items) – Many high-quality tech, people, food, landscape, etc. royalty-free stock photos.
Graphics (24,335+ items) – Plenty of objects, illustrations, icons, vectors and backgrounds.
Graphic Templates (52,716+ items) – UI and UX kits, infographics, and product mockup templates.
Add-ons (2,064+ items) – Presets, actions. layer styles, brushes, etc.
Fonts (6,666+ items) – Sans serif, seriff, decorative fonts, and more.
Presentation Templates (26,654+ items) – Keynote, PowerPoint templates, etc.
Web Templates (2,281+ items) – Admin, email, landing page, and website templates can be found here.
CMS Templates (993+ items) – Drupal, Ghost, Magento, Shopify, and Tumblr templates to use.
3D Renders (26,174+ items) – Renders for a wide variety of objects.
Stock Video (616,900+ items) – Motion graphics and stock video footage.
Video Templates (16,840+ items) – Product promos, broadcast packages, and titles.
Music (19,501+ items) – Many royalty-free idents and tracks to choose from.
Sound Effects (101,470+ items) – Animal, cartoon, game, and nature sounds.
WordPress plugins and themes are now part of Envato Elements. There are also over 600,000 royalty-free stock photos that can be used.
New items are added to Envato Elements' resource library regularly. Even with all of these choices, it's still very easy to find precisely what you're looking.  Most of their top-level categories are broken down into sub-categories to help narrow down your search.
How Does the Envato Elements License Work?
Envato Elements keeps licensing simple. A commercial license covers all downloadable assets. You can learn more about this license here. This allows you to use those assets in your work with clients and your own work.
To summarize licensing:
–A single commercial license
All items that can be used in Envato Elements have the same license terms. You get broad commercial rights so that you can use items in client and for personal projects.
–Register items each time they are used
Whenever you download an item, you'll receive an ongoing license for single-use. If you want to re-use an item, all you have to do is go to your downloads and register that item again for different use.
–Certain common-sense limitations apply:
You can't redistribute or re-sell items;
You can't use items in on-demand services;
Generally can't use the items you've downloaded as a basis for merchandising. For example, you can't print an item from Envato Elements onto a T-shirt.
–License if you stop using Envato Elements
If you've paid for access to the Envato Elements library, you can use any of the items in that library for commercial purposes. If you cancel your subscription, you can't download any more items.
However, any items that you've already downloaded and registered for a project before the subscription was canceled can still be used for that particular project.
Envato Elements User Experience
Envato Elements keeps the overall user experience simple. You can even browse their library for free before you decide to sign up for a subscription. If you find something you like, it only takes a few minutes to sign up and start downloading items.
After you've created your free Envato account, you can opt for either the monthly subscription or the yearly plan (which is a better value).
When you find an item that you like, you can learn more about that asset on its own page before you decide whether or not to download it. When you're ready, click on the "download" button to access the files.
Before you can download an asset, you have to either register it to be used for a particular project or download it for trial use.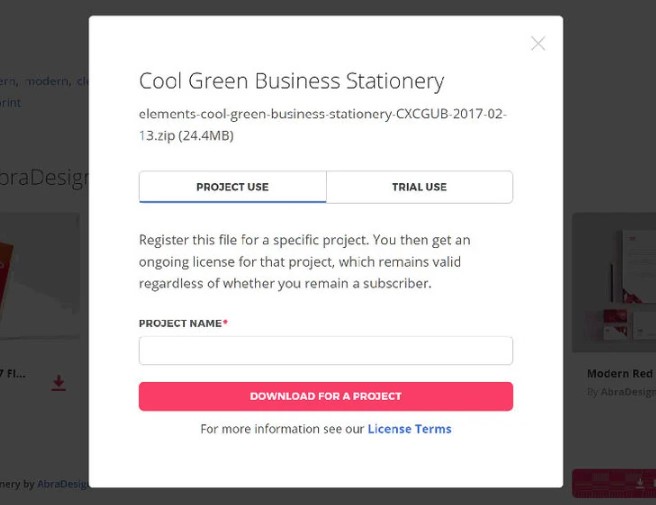 Envato Elements license example when registering a product for use.
The latter option is ideal for those who want to examine a particular item before deciding to use it. Once you've downloaded an item, you can keep using it even if you cancel your subscription.
Items that you select will be downloaded as zip files. You can extract the necessary files on your computer and open them using compatible software.
If you download a background image or other kinds of graphics, you can also use the PNG or JPEG versions of the image in addition to the Illustrator or Photoshop versions. Having PNG or JPEG versions allow you to use that image immediately without having to open a particular software application first.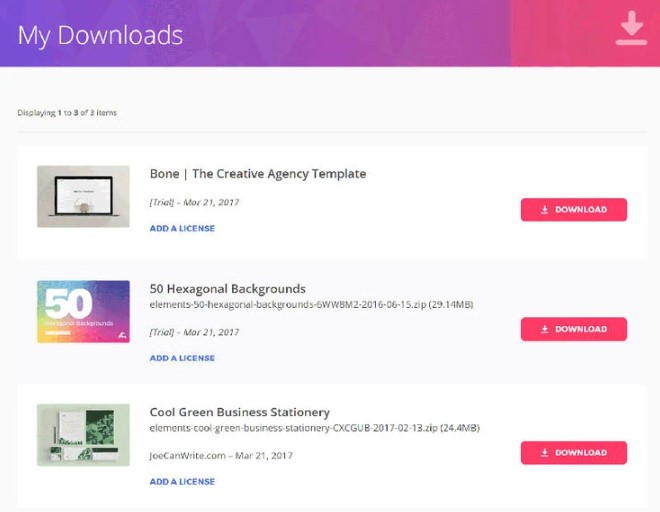 Envato Elements account dashboard when you can see all your downloads.
You can see all your downloaded items from your Envato Elements account dashboard. This makes it easier to find particular items in case you want to download them again or to register them for different projects or add a license for a trial item so that it can be used in an active project.
How To Find Items You Need in Envato Elements?
With so many items to choose from, you may need to narrow down your search to find the right digital assets that meet your needs. Fortunately, Envato makes this process very easy.
You can apply filters and use categories to find just what you're looking for. The top of every page has a search bar. You can also refine your search by categories to find what you want faster.
Selecting the "Browse" option on the top of a page takes you to the "All Items" page. Here you'll see a list of item categories at the top of the page. Below is a selection of items from each category. You can scroll through the items that are previewed before choosing a category.
Hovering over the Browse button will display a list of item categories and sub-categories. This menu page can be accessed from any page on Envato Elements website.
Another great way to find the right items is by adding filters. Once you've chosen a category, you'll see a list of available filters on the left-hand side of the page. You can use filters to restrict search results to specific sub-categories or related tags.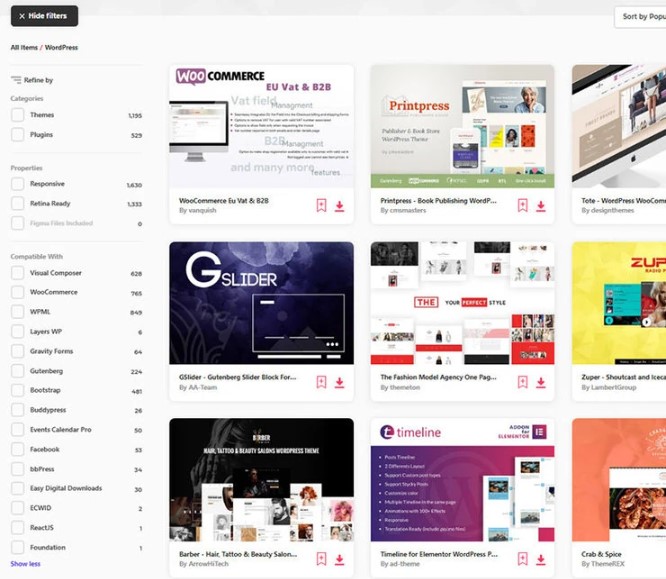 You can apply filters to find what you are looking for in Envato Elements easily.
For instance, you may only want to see items that work well with Adobe Photoshop. When you have millions of items to choose from, having proper search functionality is essential.
If you have the right keywords, using the search bar that's at the top of every page may be all you need. However, sometimes you will probably return to categories menus and narrowing down searches using filters.
Don't forget to look underneath the main description area to see the related items that are displayed.
Pros & Cons
Here are the advantages and disadvantages of using Envato Elements service:
PROS
A single subscription with access to unlimited downloads
A single commercial license for all items
New items are added every day
A vast library of themes, photos, videos, templates, design assets, etc.
Affordable price
Each subscription includes premium access to EnvatoTuts+
It's an excellent value for the money
CONS
–Quality is a mixed bag
Envato Elements provides a wide variety of templates, graphics, stock videos and photos, website assets, fonts, sound effects, music, 3D elements, and more. However, sometimes when you browse photo selection, it can seem like some images are somewhat dated, and the section is comprised of images that didn't sell.
–Finding the right graphic is a challenge
Having a large quantity of stock images means you'll probably spend more time sifting through them until you find the right images for your needs.
Sometimes you might download images, only to find that those particular photos aren't up to your standards for quality. But with the massive amount of items to search through, you will definitely find relevant, usable content.
Envato Elements has everything in one location. However, sometimes you may need to search thoroughly for just the right images and still come up disappointed.
–Everyone gets access to the same files
Another drawback is the fact that every user has access to the same files. That means that you may see or hear the same items being used by other companies, bloggers, or your competitors.
This is the primary reason why individual companies opt only to use original content. That way, they own all the content they use, and it can be used however they prefer.
Remember that when you purchase stock content, you don't really own it. You're just buying a license from someone else in order to use it.
–No item support or update notifications
Unfortunately, Envato Elements doesn't offer any kind of technical support. Envato isn't able to provide this because this is an unlimited subscription and because independent creators provide all content.
In most cases, this shouldn't be an issue. It can be an area of concern for web developers looking for web templates, WordPress plugins, and themes to purchase.
There is also no item upgrade or update notifications. If you're using a current item and want to find out if they've been updated, you'll have to search for those updates yourself manually.
–Smaller catalog than traditional stock marketplaces
Other similar creative stock marketplaces such as Adobe Stock, Pond5, Shutterstock have more extensive digital libraries than Envato Elements. One of the main differences with these companies is that they either offer a limited subscription plan or require you to pay individually for each item that you use.
This can be rather expensive, especially when they also limit you in a number of allowed downloads to a certain amount of daily, weekly, or monthly downloads.
Each Envato Elements subscription provides access to unlimited downloads. Just keep in mind the fact that their Video Template and Stock Footage collections are relatively new. I'm sure these are things that the company is working on expanding.
Envato Elements vs. The Competition
There are lots of options when it comes to finding images and other assets for your website. Most of them come from either free repositories or commercial services. Each option has its own pros and cons.
Free services are an attractive choice for individuals and small businesses. Still, they usually have either a large amount of low-quality items or a small number of high-quality items.
The best items from free repositories are often widely used throughout the web. Opting for commercial service is a better way to gain access to more high-quality images and other items. Still, the cost for premium services such as Shutterstock and others can be rather expensive.
Envato Elements ranks somewhere in the middle between the free and premium options. It provides subscribers with access to a growing amount of high-quality items.
Envato Elements is great choice if you need a little bit of everything. But if you, for example, just need stock photos, then it would be better that you pick website or service which is solely oriented in providing stock photos.
ENVATO ELEMENTS VS ONE BY TEMPLATE MONSTER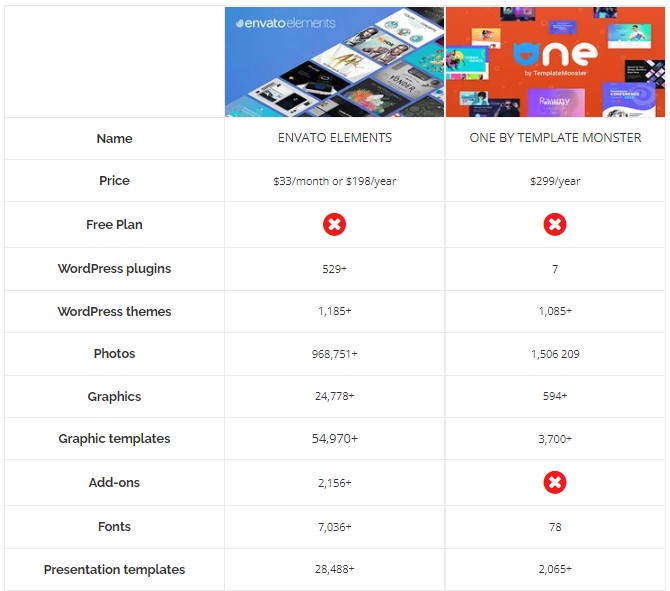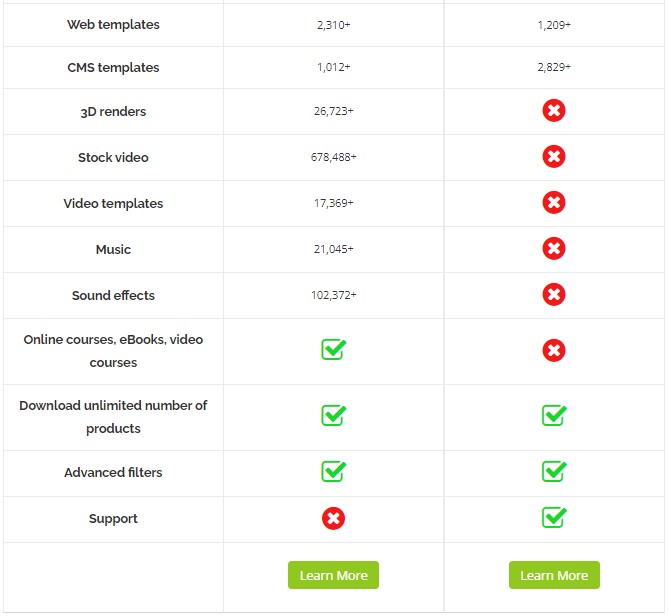 NOTE: Information stated in the comparison table may become outdated as services get updates and changes. Please check official websites for the most accurate information.
For more info, be sure to also check One by Template Monster review. As alternative to those two options, you can also check Motion Ridge service.
How Much Does Envato Elements Cost?
An Envato Elements subscription grants access to over 1.6 million Envato Elements digital assets and over a half-million stock photos on Twenty20. TutsPlus eBooks and online courses are also provided with each subscription.
The annual membership cost breaks down to just $16.50 per month (for those in Europe price is 14.50€/month). If you opt to pay monthly, your price is 29€ per month.
Students can save an additional 30% off a subscription by entering a student email address when signing up. Eligible charities can receive a 50% discount off selected Envato Elements subscriptions.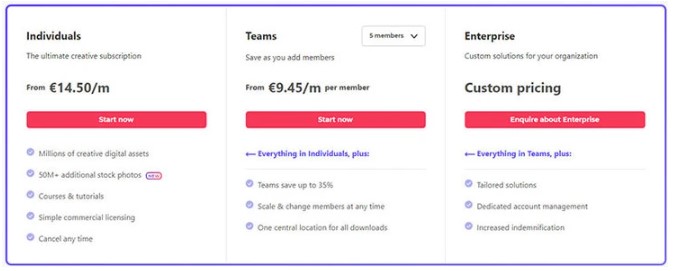 Envato Elements price. Students and charities can get a discount.
There are no long term contracts or commitments. You can choose to pay either annually or monthly and can cancel your subscription at any time.
Each subscription allows you to download an unlimited number of digital products. Just remember the fact that downloading an asset doesn't mean that you own that asset.
For instance, you can't download a particular item and then use it to be printed on T-shirts to be sold commercially or resell an item that you've downloaded. Read Envato Elements' license terms so that you fully understand what is and isn't allowed.
Envato Elements Review Conclusion
Envato Elements is impressive. Just $33 per month (or $16.50 per month if you pay annually) gives you access to a vast library of high-quality digital assets.
As a social media user and website owner, I'm always in need of images to enhance my blog posts, tweets, and other social media activity. Envato Elements is especially useful for web developers, graphic designers, and different kinds of creators.
The ability to quickly download different fonts and website templates that can be used in client projects can really help. Company owners who need appealing stationery templates can find plenty of options using this service.
The addition of WordPress themes and plugins make Envato Elements an even better option than before. My one concern with this service is quality control. All items appear to have been created according to very high standards.
I'm optimistic that as this resource continues to grow in popularity and becomes a primary source for creative people to sell their work, that the company stays on top of each submission to ensure that the high-quality standards are being upheld.
This service is an excellent option for anyone in need of WordPress plugins, themes, templates, graphics, mockups, and many other visual contents at a price that is very affordable.
It provides excellent value, even if you only need a few items to complete a project because you can continue to use any assets that you've registered and downloaded even after your subscription has ended.
I think this is a service that many people can benefit from. The monthly cost is surprisingly low when you consider how many digital assets are available for you to use.
You can cancel your subscription at any time, and don't have to worry about being tied down to a long-term contract. I appreciate everything that Envato Elements has to offer, but I also realize that it isn't for everyone.
Just like any other subscription service, you have to use it often enough to make the purchase worthwhile. If you don't need to download audio files, videos, images, or other types of digital files regularly, then you're probably better off just buying the items you need when you need them.
Envato Elements may not have everything that you're looking for. A lot of Envato Marketplace's more popular files aren't included in Envato Elements subscriptions.
That means that you'll either have to purchase those items separately or limit yourself to the items that you can access using your subscription.
This second is important to understand before you decide to sign up for a subscription. However, if you do choose to pay for an annual subscription, you're only paying $16.50 per month. You're not shelling out hundreds of dollars like you would with other popular content services.
For some users, Envato Elements will be a one-stop solution that provides everything that they could ever ask for. For other users, an Envato Elements subscription is an affordable addition that complements their other asset purchases perfectly.
I highly recommend that you visit Envato Elements' website to see all that they have to offer. It can give you a greater appreciation of the numerous quality items stored in their archive. And if you need good graphics app, be sure to check RelayThat review.