Lululemon is known for its infamous leggings that feel like wearing nothing while being comfortable for just about everything. Their line of exercise essentials offers so much more than a great pair of stretchy pants though. From bras designed for all levels of support to hyper-specific sets for yoga and running, they're a one-stop-shop for all of your workout needs. While historically Lululemon doesn't have a specific Memorial Day sale, that doesn't mean there aren't major deals to score this holiday weekend. Their sale section, aptly named "We Made Too Much" is consistently updated with new items that shoppers can snag for up to 30% off. Be warned though, that these styles are final sale, so make sure you're okay passing whatever you buy to a bestie or a resale store if it doesn't work out! Sizes tend to go out of stock fast due to the brand's following, so I've scoured their site for the best deals. Shop these 25 Lululemon Memorial Day sales while your sizes are still available.
25 Memorial Day Clothing Deals at Lululemon
lululemon Align™ Reversible Bra Light Support, A/B Cup, $29.00 – $39.00 (originally $58.00)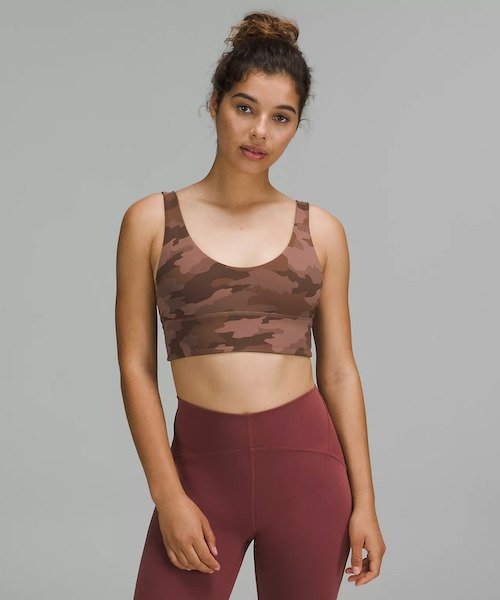 For members of the IBTC, this revisable light support bra is a must-have. The color with the most stock is a warm toasted brown camo print with a deep chocolate hue as the alternative side. It's constructed in lululemon's signature Nulu™ fabric which is buttery soft and ultra-lightweight. Part of their Align™ collection that's designed for your yoga practice, this style is ideal for a restorative class full of gentle stretches and soft movements.
Energy Bra Medium Support, B–D Cups, $29.00 – $39.00 (originally $52.00)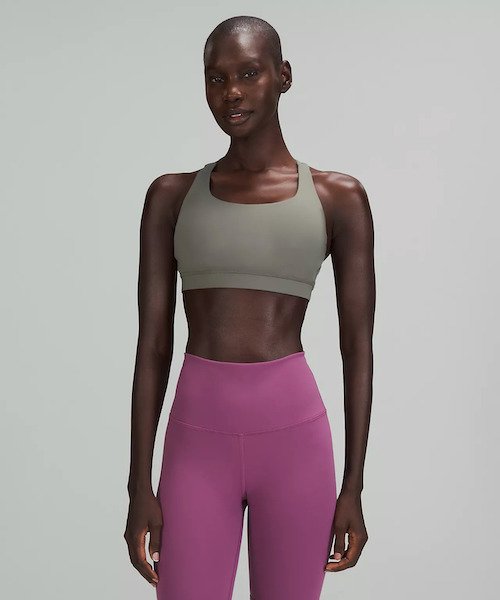 Crafted to provide a medium level of support, the Energy Bra is an all-sport style ideal for anything from yoga to gym time. Available in most sizes in the playful and dimensional print pictured, it allows for endless pairing options. Style it with a solid bottom in any of the print's colors for a coordinated look. Designed in a smoothing fabric with a criss-cross strap feature in the back, you'll be grabbing for this one as your universal go-to.
Invigorate Training Tank Top, $29.00 – $49.00 (originally $68.00)

Training tanks are my personal favorite when it comes to versatility and comfort. They're supportive — this one has a built-in shelf-bra — while providing enough coverage to feel good stopping by the store for a quick errand post-workout without being ogled. Made from their custom Everlux™ fabric, it's designed to keep you cool and dry with its moisture-wicking technology. Available in 9 colors, the off-white and lemon multi option is currently in stock in sizes 0 – 20 so everyone can get in on this under 50 dollars deal.
Classic-Fit Cotton-Blend Tank Top, $34.00 (originally $48.00)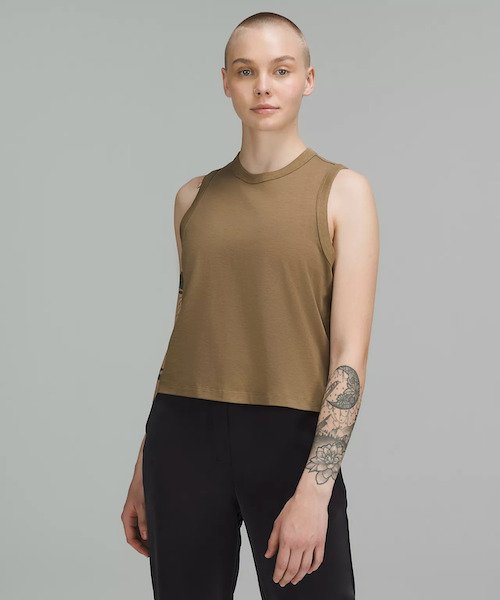 Workout wear has expanded to be so much more than high-tech cooling fabric full of fancy features. Whether you're hiking or doing the TikTok Doja Cat workout, this cotton and lyocell number is an easy staple. Featuring a crew neck and rib details, don't be surprised if this one works its way into your everyday wardrobe outside of the gym. Currently available in 5 trending hues, don't miss out on this essential for just $34.
lululemon Align™ T-Shirt, $34.00 – $54.00 (originally $68.00 – $74.00)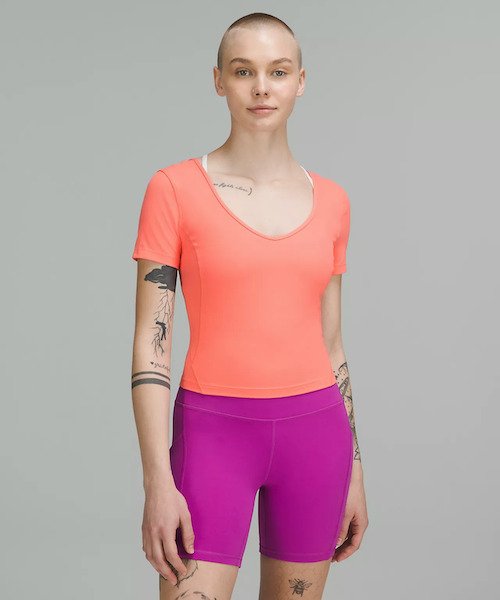 Yoga is a practice dedicated to clearing your mind and connecting with your breath, so the last thing you want to be focusing on is how your clothes feel while you're moving through your sun salutations. Crafted in the ultra-soft super lightweight Nulu™ material, this form-hugging fit keeps you cool and centered. Its soft V-neck and slightly cropped length are great for pairing with high-waisted shorts and leggings
Invigorate High-Rise Short 8″, $34.00 – $59.00 (originally $68.00 – $88.00)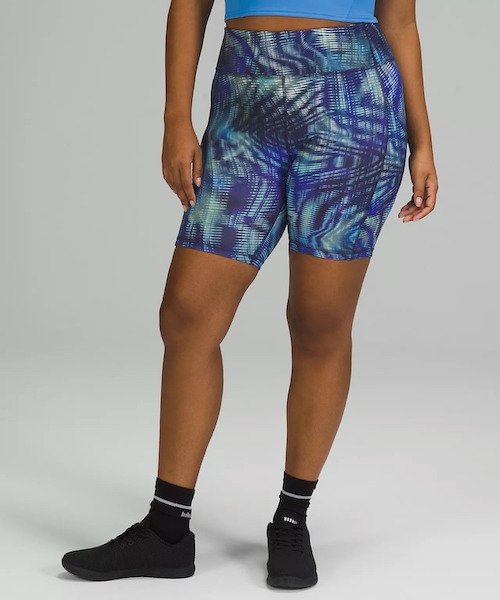 Bike shorts re-entered the fashion zeitgeist a few years back and they're not going anywhere. From the pilates studio to happy hour, a great pair of cropped stretchy bottoms are a wardrobe staple these days. This particular style was designed with drop-in pockets on the side panels and a third hidden pocket on the internal waistband. Constructed from their fastest-drying fabric, this highly breathable pair has full-size availability in this futuristic blue motif and limited sizes left in the remaining three shades
Fast and Free High-Rise Short 8″, $34.00 – $64.00 (originally $68.00)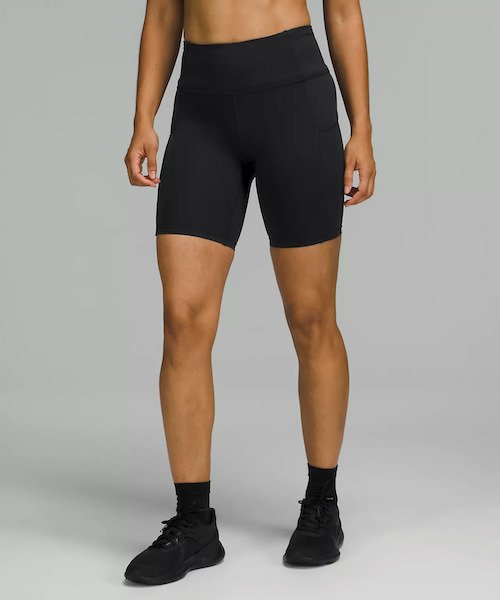 The dreaded inner-thigh chafe is something many of us know all too well. Sprint through life with ease and with zero irritation with these Fast and Free High-Rise Shorts. Featuring an 8" hem and a high-rise waist, pair these with your most supportive bra for a running experience centered around fun and freedom, not discomfort. Produced in 8 colorways, everyone in sizes 0 – 14 can find at least one color in stock while supplies last.
Hold Tight Crewneck Tank Top, $39.00 (originally $58.00)
Another style that's likely to sneak its way into your workwear as much as your gym bag, the Hold Tight Crewneck Tank Top is made from a versatile ribbed modal material. While it comes in a cloud blue and a light terracotta, the pastel lime has the widest size availability. Perfectly stretchy for a slim fit that doesn't restrict movement, it's got the range to take you from office to yoga studio to happy hour.
Energy Longline Bra Medium Support, B–D Cups, $39.00 – $49.00 (originally $58.00)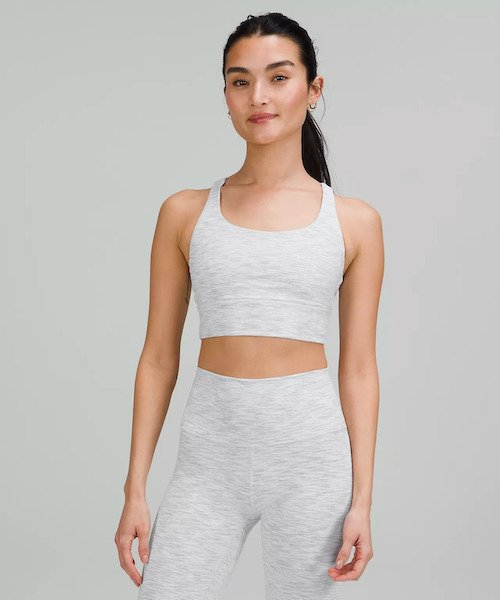 Ideal for any activity where you need medium support, this bra features a scoop-neck shape paired with a criss-cross back detail and removable bra cups. It's made from a sleek, low-friction fabric that dispels moisture from your body and is cool to the touch. Its longline silhouette is proportional to pair with high-waisted leggings, shorts and skirts alike, leaving only a small section of exposed midriff. The nimbus grey color currently has the most availability, but some shoppers can score select sizes in the remaining 8 colorways.
Speed Up Low-Rise Lined Short 2.5″, $39.00 – $49.00 (originally $58.00 – $68.00)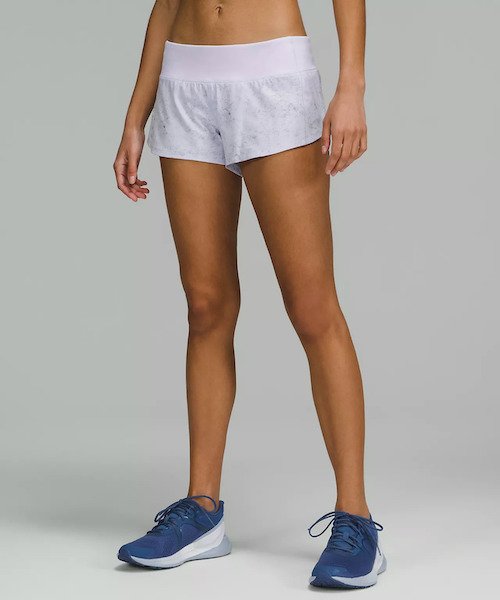 Everyone in my life who runs for fun swears by Lululemon's running shorts. Part of their Speed Up collection, the ultra-lightweight fabric is made for a breezy run. Featuring a low-rise waist and a 2.5" inseam this style moves with your body for maximum freedom. A built-in liner offers some additional coverage to the barely-there silhouette and hidden pockets in the waistband and a zipper pocket at the back make it so you can carry your essentials and not be weighed down. A hidden drawcord on the inside provides a customizable fit with an aerodynamic outer core.
All Aligned Mock Neck Long Sleeve, $39.00 – $54.00 (originally $78.00)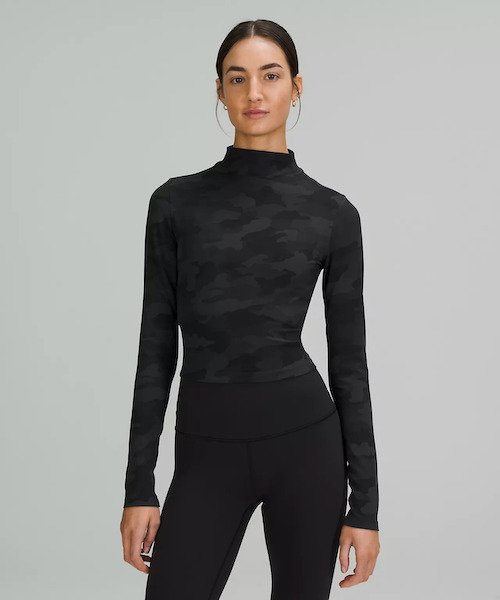 Another one of those pieces that you might buy for exercise but end up wearing more outside of the gym, this mock neck long sleeve top has so much range. Dreamt up in their airy Nulu™ fabric, its slim fit and cropped length are ideal for layering under stylish winter coats and weather-conscious puffers alike. Size 0 shoppers can snag this style in any of the four textural hues, but the marbled graphite grey style has availability up to size 14.
lululemon Align™ Long Sleeve Shirt, $39.00 – $59.00 (originally $78.00 – $84.00)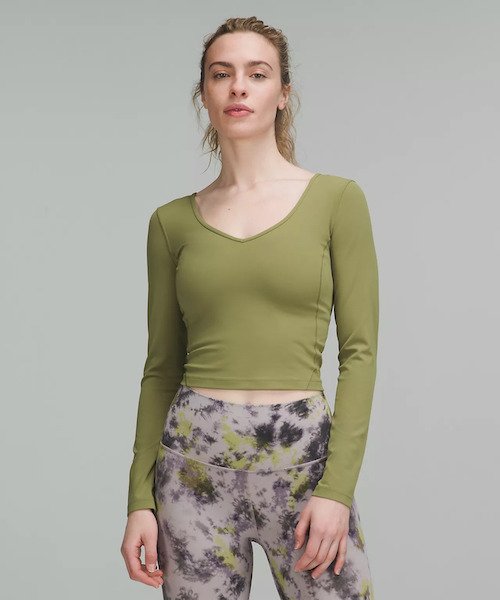 This long-sleeve number likely *just* got added to the sale section as it's got lots of availability across colors. Designed with a subtly scooped V-neck, side seams for a fit that glides over your curves and sleeves that graze your wrists it's the right balance between light *feeling* and lots of coverage. With a cropped bodice, it's a great pairing piece with your favorite all-sport leggings.
Base Pace High-Rise Running Tight 25″, $39.00 – $79.00 (originally $98.00)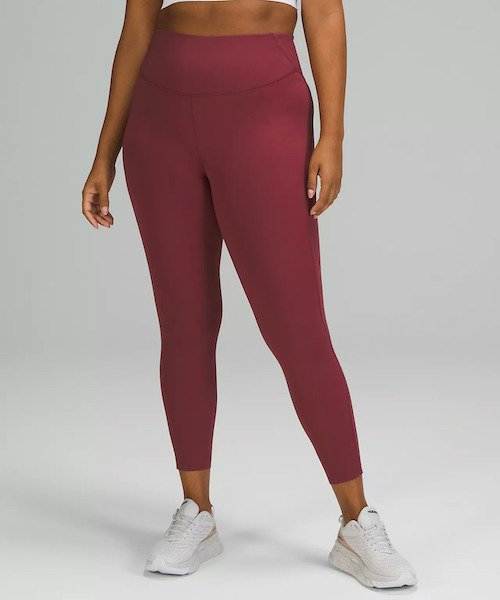 Designed for a weightless running experience, the 25" seamless inseam hits at ankle length while the high-rise waist secures you without digging in. Lululemon's continuous drawstring design has the cord concealed within the waistband, so sinching is accessible and not distracting. An internal slit pocket gives a hidden storage option for keys. Run, don't walk, towards this sale section, as many colors are already almost sold out.
Wunder Train High-Rise Tight 25″, $39.00 – $79.00 (originally $98.00 – $118.00)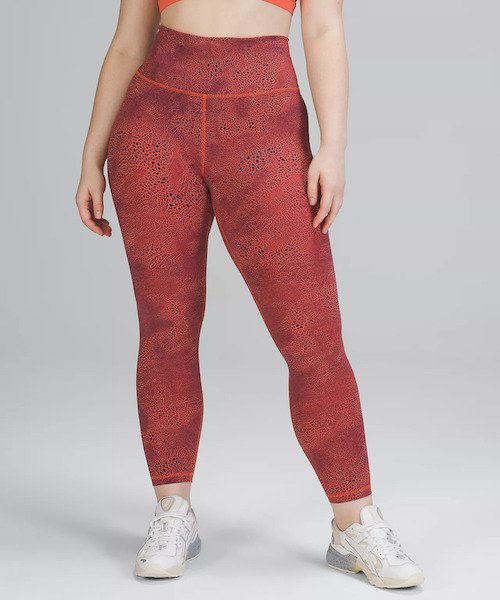 Developed for hours spent running on a treadmill and lifting weights, this pair of training leggings does it all. They're made from Lululemons proprietary Everlux™ fabric that keeps you cool and dry during *and* after high-intensity movement. A hidden internal pocket allows you to carry keys and cards discreetly. The colorway featuring an intriguing crackle effect has size availability for shoppers size 0 – 20, but if you're looking for a different print or shade, you'll want to shop ASAP before they all sell out.
Ribbed High-Rise Yoga Short 8″, $49.00 (originally $78.00)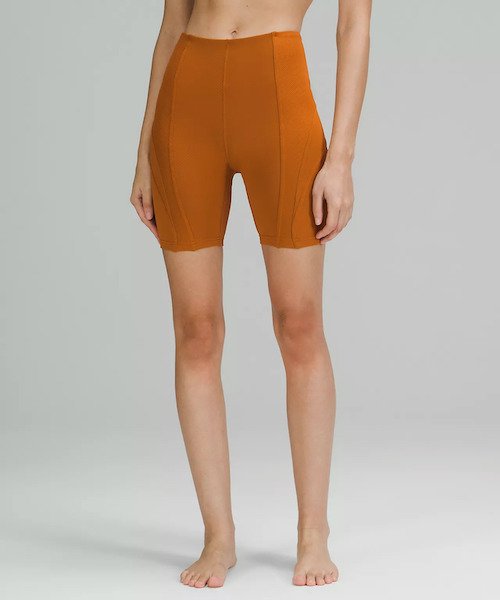 Your yoga buddies will surely be asking where you grabbed these ultra-luxe shorts. They're made from sweat-wicking ribbed fabric for a piece that seamlessly blends from exercise to play. Pair them with the coordinating top for an enviable studio fit or throw on an oversized T-shirt for a casual athleisure look. In stock in sizes 0 – 14 in both a yummy butternut squash material and a slimming black variety, don't snooze on this stylish sale.
Ventilated Open-Back Training T-Shirt, $49.00 (originally $68.00)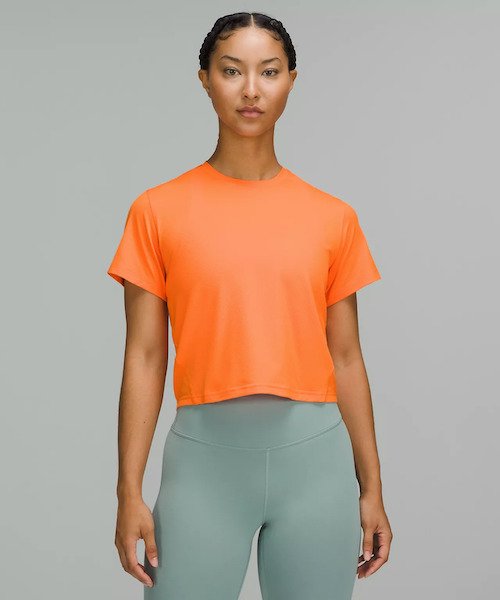 This training T looks pretty classic from the front, but a peek at the back will reveal half-moon-shaped cutouts along the shoulder blade area. A design detail that is both functional and fashionable, it allows for breezy ventilated wear as well as interesting layering options over strappy bras. Its relaxed fit and slightly cropped length make it the perfect top layer for training days. The fabric has been treated with Lululemon's No-Stink Zinc™ to kill bacteria that can linger on your clothes causing unpleasant odors so that you can get the most life out of your garment.
Run Times Bra High Support, B–G Cups, $49.00 (originally $68.00)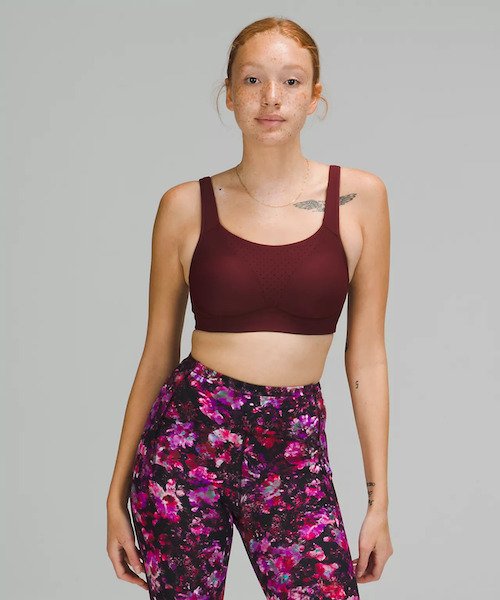 For those runs where you leave feeling like you gave it your absolute all, you need a bra that's going to match your effort with its support. The sweat-wicking material is constructed in a classic sports bra shape with a hook back closure and adjustable staples for a secure fit. Structural cups keep your chest in place for soft, low-impact wear with high rewards. Suitable for B through G cups, act fast on this deal as supplies are limited.
Ribbed Asymmetrical Yoga Tank Top, $49.00 (originally $68.00)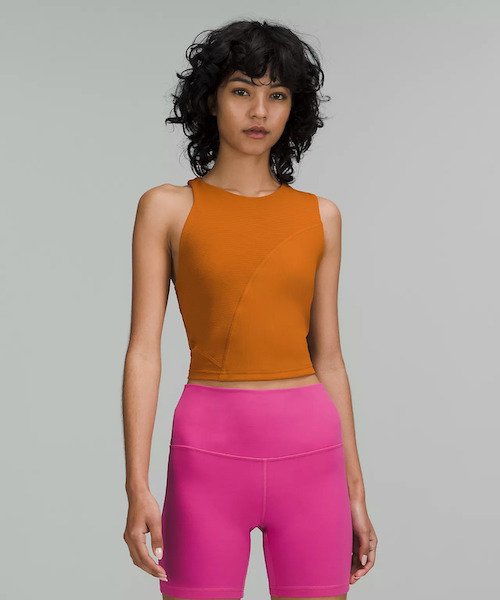 If you style it right, your friends may never believe that this chic top was designed to withstand major sweat. Made from two contrasting fabrics — a smoothing knit and ribbed Luxtreme™ fabric, the asymmetrical construction creates an elevated feel. The collarbone grazing neckline provides coverage and security while the cropped hem sits comfortably at your natural waist. Suitable for light support on smaller chests, snag this deal and let the compliments roll in.
lululemon Align™ High-Rise Crop 23″, $49.00 – $79.00 (originally $88.00 – $98.00)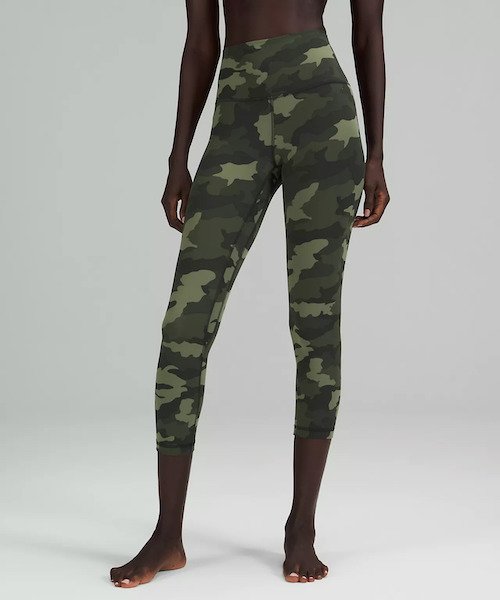 A cropped legging is a must-have for those in-between days where a bike short feels like not enough but you want a little less fabric than a full-length fit. Just enough ankle to embarrass a pilgrim. Offered in 15 colors, the widest size variety is definitely in the classic olive camo color. This is one of their best-selling yoga bottom styles with over 1,500 reviews, so this stock won't last all weekend.
Ribbed Yoga Bodysuit, $54.00 (originally $78.00)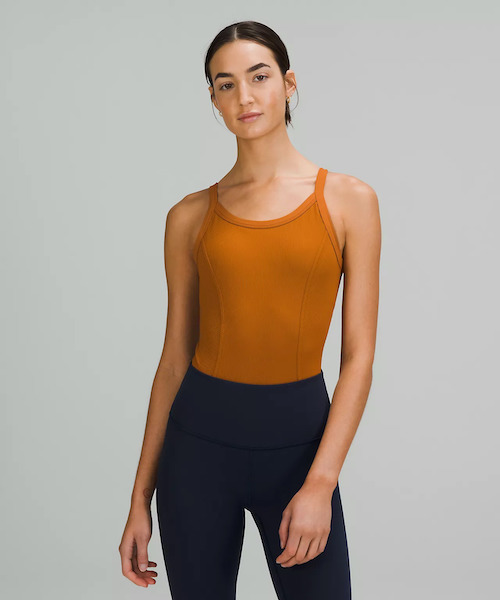 This piece was designed for anyone who has worried about spilling out of their top during the downward dog (me, very much me). Made from a soft and smooth ribbed fabric, it's got light support that still keeps you feeling secure. Offered in a dreamy burnt orange hue and available in sizes 0 – 16, this is one of the best bodysuit deals Lululemon has to offer. Wear it with lightweight shorts to yoga and then swap into tailored trousers for after-class drinks with friends.
Hotty Hot High-Rise Skirt Long, $59.00 (originally $78.00)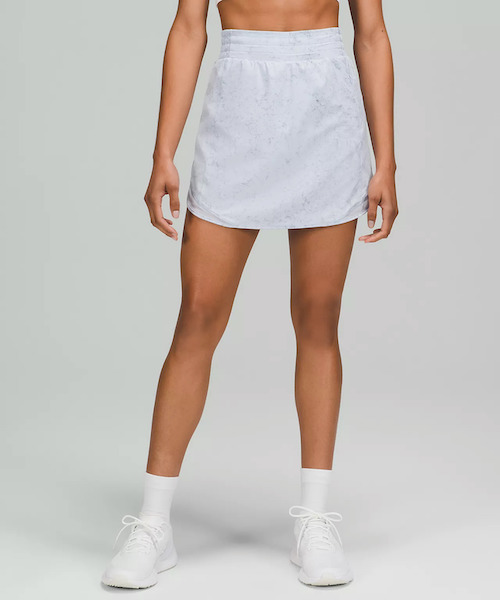 Aptly named for both its style and its cooling fabric, the Hotty Hot High-Rise Skirt is a piece that can add some serious range to your wardrobe. It's incredibly wearable with a built-in lining and a hidden drawstring. Plus it has pockets! An invisible zipper pocket is built into the front seam for your keys, while another stash pocket in the undershorts can hold your phone.
Perfectly Oversized Hoodie, $89.00 (originally $118.00)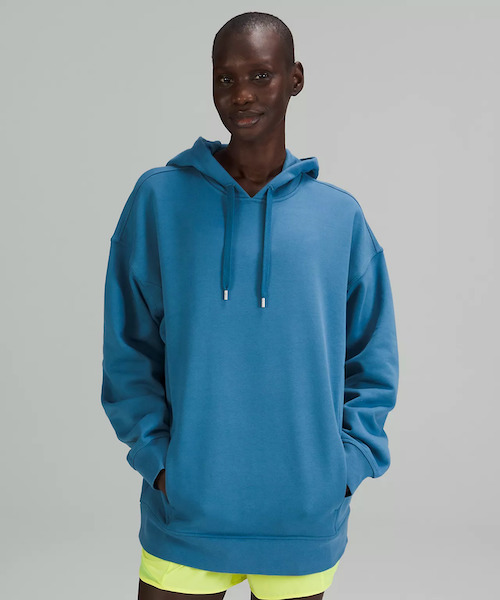 It's 2022, you don't need a boyfriend's hoodie to steal! Snag your own oversized cozy go-to on sale now for $89. While a few sizes are sold out, there's still a bit of availability for shoppers in sizes 0 – 12 in both the muted teal and wine red colors. Constructed from a cotton french terry fabric, this is the style you'll be grabbing on mornings at the gym and nights curled up on the couch alike.
Hooded Define Jacket, $69.00 – $89.00 (originally $128.00)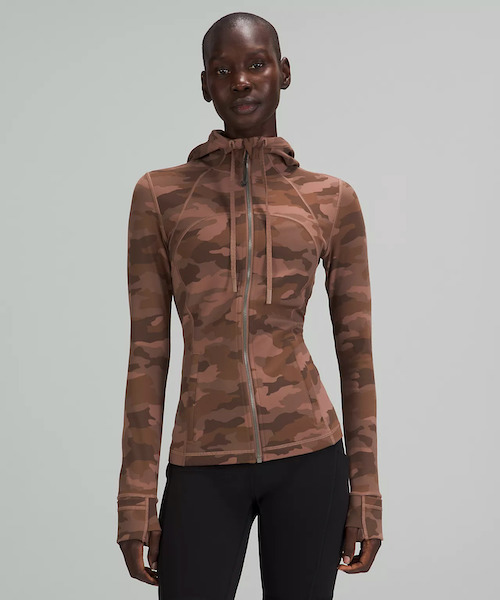 I personally own a version of this style in a different fabric and can attest to how great of a fit it is. The form-fitting silhouette feels comfortably snug but not restrictive, moving with you through exercise and errands. It features a front closure that zips all the way up past your collarbone and a spacious hood to protect you from chilly breezes. The thumbhole design detail in the long-sleeves adds to the ergonomic functionality of this jacket
Lightweight Half-Zip Track Pullover, $119.00 (originally $168.00)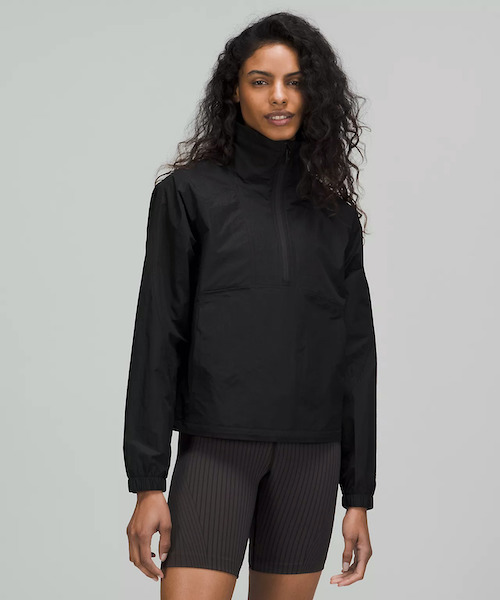 This lightweight half-zip track pullover is amazingly still stocked in all their offered sizes in the classic back color! Pick up this wardrobe staple and watch it become your favorite running layer. It's got a relaxed fit throughout the body and sleeves and a wide collar feature to allow for lots of mobility. Its water-resistant ripstop fabric will keep you dry as you fly around the track.
Lightweight Relaxed-Fit Down Jacket, $139.00 (originally $198.00)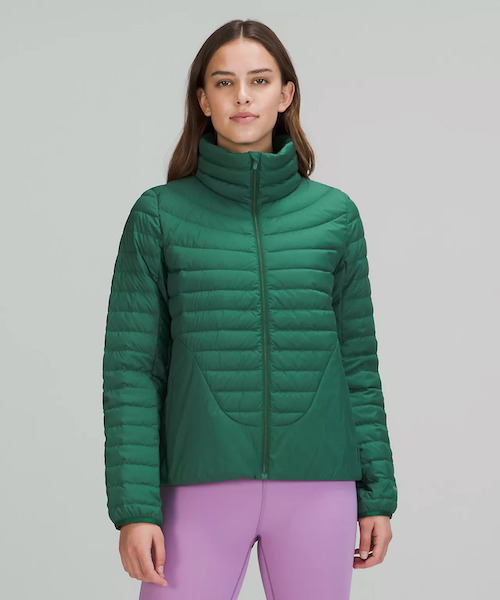 I'm not sure when down jackets went from tech bro vibes to chic NY girl status but you won't hear any complaints from my warm torso. It's made from Lululemon's SoftMatte™ material making it simultaneously plushy, lightweight, and water-repellent. It's designed in rich emerald, burnt orange and classic black to fit into any cold-winter wardrobe. Currently on sale for just $129, it's a savvy time to buy. Your future fall self will thank you!