Agoda is an online travel agency and metasearch engine that's designed to help you find cheap hotels, home rentals, flights, and airport transfers. It's owned by Agoda Company Pte. Ltd, headquartered in Singapore, and is a subsidiary of Booking Holdings, which also owns popular websites like Booking, Priceline, and Kayak.
In this post, we'll take you through this site to show you how to use it and we'll do some price comparisons to see if you'll save money by using Agoda.
Agoda Hotels & Homes
With Agoda, you can search for any type of accommodation, from hotels and resorts to hostels or vacation rentals.
To get started, enter your destination (or specific property) along with your travel dates and number of travelers in the main search box on the home page. If you want to search for a home rental, you can click on agoda Homes or you can filter your Hotels & Homes search results to show just home rentals.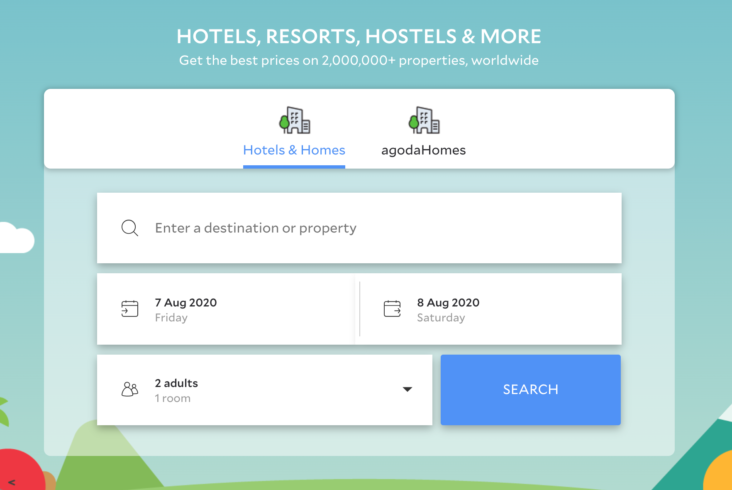 The filtering options on Agoda aren't quite as robust as on sites like Airbnb or VRBO, but there are a few options. You can filter your results by:
Homes (this is the same as searching through the agodaHomes tab on the home page).
Family Friendly (narrows your list to properties with larger rooms and family-friendly amenities).
I want free breakfast
Book without a credit card
You'll find these options on the upper left-hand side of your screen. You'll also be able to sort your results list by options like price, locations, and reviews.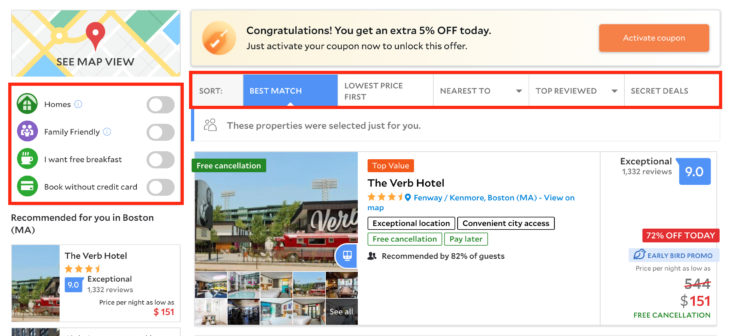 Each property's result box will give you basic information including price, cancellation policy, and hotel highlights. The price you see on the search results page does not include taxes and fees. You'll need to click through and select your room before you see the full price. Be sure to read carefully because sometimes the price won't include certain fees like a "destination fee" that you'll have to pay at the hotel.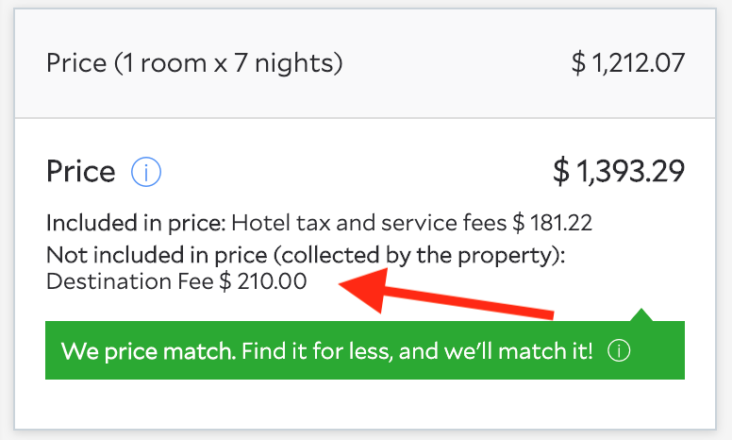 Agoda's prices don't include taxes and fees until you get to the payment section. At first glance, Agoda may appear to offer the cheapest prices, but you'll need to click through to the final booking stages to see the full price including taxes and fees.
Agoda's Best Price Guarantee
When you're booking a hotel room on Agoda, you might notice a price match guarantee. This guarantee says that Agoda will match or beat a better price on a hotel room. If you want to submit a Best Price Guarantee claim, be sure the lower rate matches all of Agoda's criteria:
Same hotel
Same room and bed type
Same dates
Same terms (advance purchase, prepayment, and deposit)
Same cancellation and change policies
Must be viewable and instantly bookable on another website
Must not be part of a third-party loyalty program, promotional offer, or vacation package deal
Must not require membership (like AAA or AARP)
Price Comparisons
Let's take a look to see if you can save money by booking a hotel room through Agoda. We priced out 2 hotel rooms on Agoda and several other leading booking websites to see who had the best prices.
Agoda Flights
In addition to hotels, you can also use Agoda to find cheap prices on flights. When using Agoda to book flights, the site acts as a metasearch engine. That means you'll use Agoda to search for your flight but will then be transferred to a separate booking website to complete your purchase. This is a similar model to other popular sites like Kayak or Google Flights.
To get started, just click on Flights in the menu at the top of the screen.

Next, you'll need to enter your departure location, destination, travel dates, number of travelers, and a class of service in the main search box.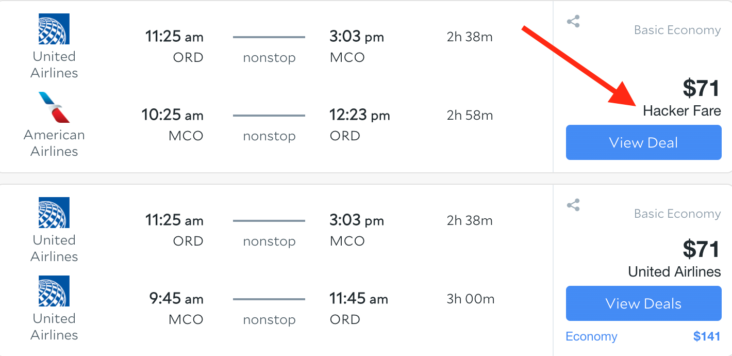 To the left of the search results, you'll find lots of filtering options including:
Aircraft
Airlines
Airports
Alliance
Booking sites
Cabin
Duration
Fees
Flexible options (due to COVID-19)
Flight quality
Layover airports
Price
Stops
Times
Transportation type
On some search results, you may notice a flight labeled as a Hacker Fare. This just means that the ticket is made up of segments from more than 1 airline or booking website and you'll need to book these parts separately. Hacker Fares can be a good way to save money, but be sure to double-check that both parts are actually available before you start booking the ticket.
By clicking View Deal you'll be transferred to a separate website to complete your booking.
Agoda Airport Transfer
Agoda can help you book airport transfers from over 2,000 locations worldwide. To get started booking your airport transfer on Agoda, just click on Airport transfer in the top menu.
Then enter your pick up and drop off locations plus pickup date, pickup time, and the number of travelers. If you're getting picked up at the airport, you can toggle to Landing time to enter your flight information.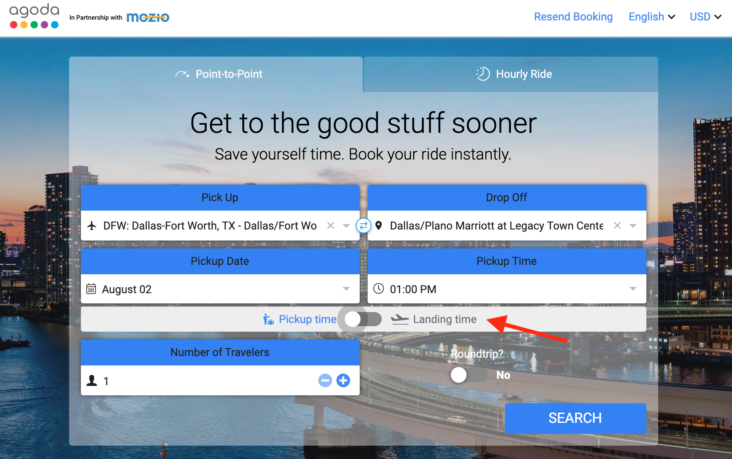 Each search result will include important information including:
Price
Ride time
Number of passengers allowed
Number of bags allowed
Amount of Free Waiting Time
Meet & Greet eligibility
Cancellation policy
Then, when you're ready to book, click Book Ride to complete your reservation.
COVID-19 Prepared
When you're searching for an airport transfer, you may notice that some listings carry the COVID-19 Prepared label. This means that at least 2 of the following safety guidelines are being followed.
The driver wears a face mask
The vehicle is equipped with sanitizing wipes
The driver sanitizes the back seat after each trip
The driver provides hand sanitizer during the ride

Agoda Car Rentals
Agoda also allows you to search for rental cars. To start your search, click on the 3 dots in the menu at the top of the screen and then click on Car rentals.

What you'll notice next is that you'll be transferred to Rentalcars. Agoda acts as an affiliate for Rentalcars so they'll earn a commission if you choose to rent a car after clicking over from the main website.
To get started with your rental car search, just enter your pick up location plus pick up and drop off dates and times.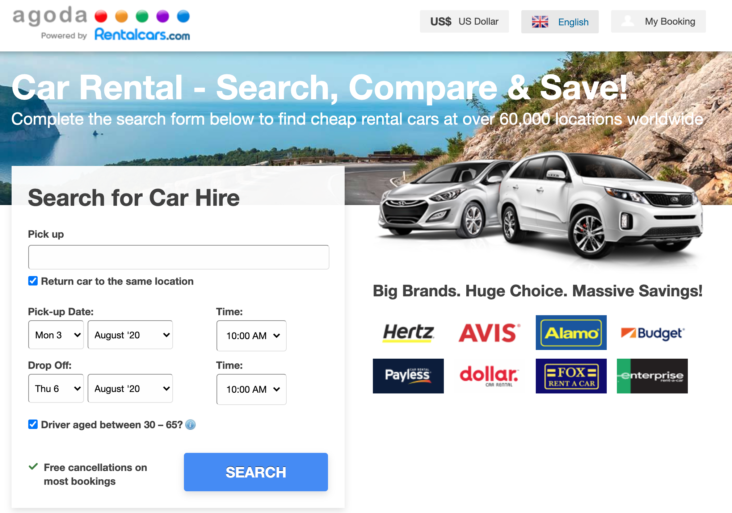 In the search results list, you'll find options from all of the major car rental companies like Alamo, Hertz, Budget, Enterprise, National, Sixt, and Thrifty.
Each search result will clearly display lots of information including:
The car rental company
The final price with a breakdown of what you'll pay now and what you'll pay at pick up
Free cancellation, if applicable
The type of car, including amenities

You may notice that some results are labeled Wild Card. These are what's known as opaque rentals. That simply means that you won't know every detail of the car you're renting until after you complete your reservation. This is a common practice among rental car companies and can often help you save money if you're not too particular about what type of car you're renting.

After clicking the blue Select Car button, you'll be prompted to add a Collision Damage Waiver (CDW) and Theft Coverage. While it's always a good idea to have insurance when you're renting a car, you may already have plenty of coverage from the credit card in your wallet.
Many popular credit cards come with car insurance, and some, like the Chase Sapphire Preferred® card or the Chase Sapphire Reserve® card come with primary insurance. Primary insurance is great because you don't have to make a claim with your existing insurance first.
You'll also be able to add extras to your rental like an additional driver, child car seat, or GPS at this time.
Then, before you finalize your payment information, you'll be able to see the breakdown of your price, including what you'll need to pay upfront and what's payable at the time of rental.

Agoda Things to Do
If you need some ideas for things to do on your next trip, Agoda can help with that, too! To get started, click on the 3 dots in the top menu and then click on Things to do.

Next, you'll need to select your destination country and city from the drop-down menu options and fill in your travel dates.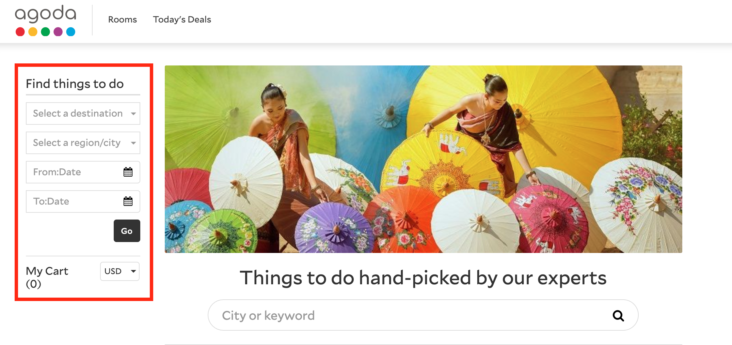 You can scroll through your search results or refine the list by selecting one of the categories at the left-hand side of your screen.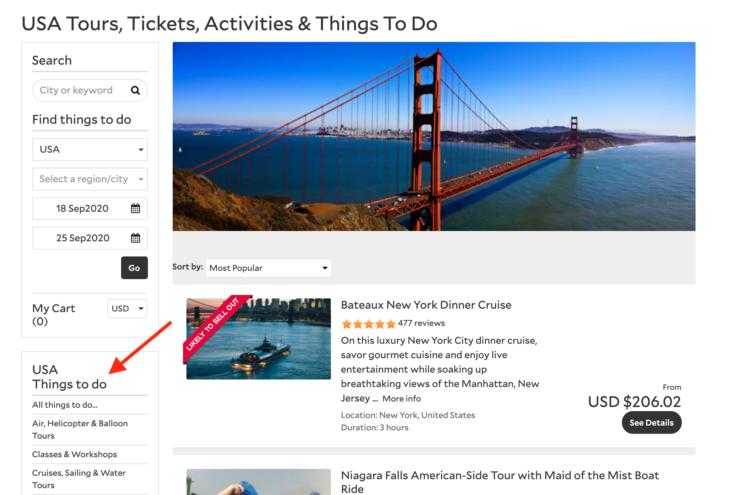 Once you've selected your activity, you'll be transferred to Viator to complete your purchase. Viator is part of TripAdvisor and is a popular website for booking activities.
Agoda PointsMAX
PointsMAX allows you to earn points in your favorite loyalty program when you use Agoda to book accommodations.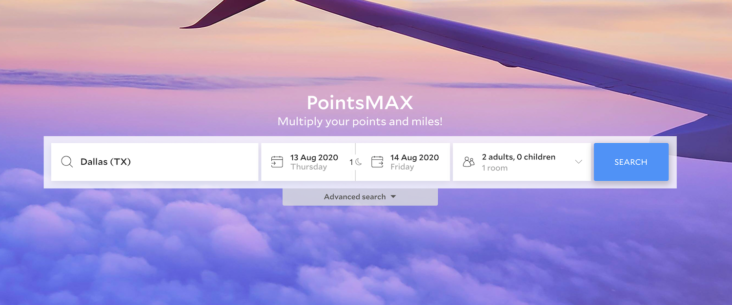 Agoda PointsMAX partners with the following loyalty programs:
Aer Lingus AerClub Avios
American Airlines AAdvantage
Asiana Airlines Asiana Club
Bangkok Airways FlyerBonus
AirAsia BIG Loyalty
Bonus Link
British Airways Executive Club
Cathay Pacific Asia Miles
China Eastern Eastern Miles
Etihad Guest
Flybuys
Flying Blue [Air France/KLM]
Garuda Indonesia Garuda Miles
GetGo
Iberia Plus Avios
L. Point
Malaysia Airlines Enrich Miles
Philippine Airlines Mabuhay Miles
Qatar Airlines Privilege Club
Singapore Airlines KrisFlyer
SMAC BDO Rewards
Thai Airlines Royal Orchid Plus
The1
United Airlines MileagePlus
Virgin Australia Velocity Frequent Flyer
Vueling Airlines Vueling Club
Wagon Point
To earn loyalty points through the PointsMAX program, you'll need to start your hotel search on the PointsMAX page. You can use the main search box and then select your loyalty program afterward or scroll down the page first until you see the list of loyalty programs to select your favorite.
When you're searching for a hotel through the PointsMAX program, you'll be able to see how many points you'll earn for that booking in the search results.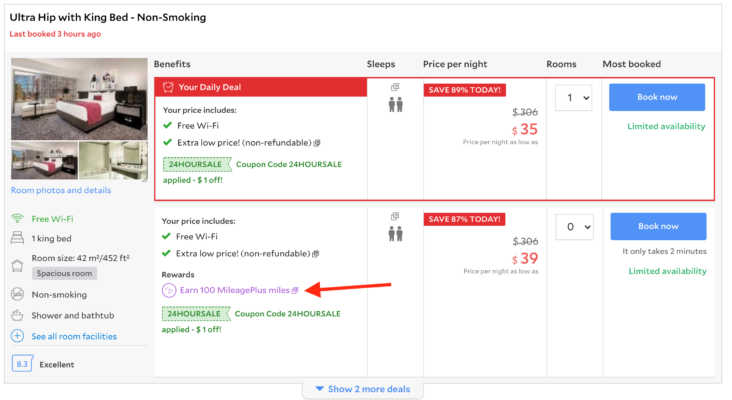 There are a couple of things you'll want to keep in mind when you're making a PointsMAX booking.
PointsMAX bookings may have different rates than regular bookings for the same hotel
The Agoda Price Match Guarantee does not apply to PointsMAX bookings
To earn points, the loyalty program you choose must belong to the main guest on the hotel reservation
PointsMAX bookings can not be adjusted; if you need to make changes, you'll have to cancel your reservation and start a new one
AgodaCash
AgodaCash is a loyalty program that lets you earn credits that can be applied to hotel bookings through Agoda. You'll have to sign up for a free Agoda account to see any information about the AgodaCash program.
Once you create an account, click on the drop-down menu next to the dollar sign icon in the upper right-hand corner of your screen, then click on AgodaCash.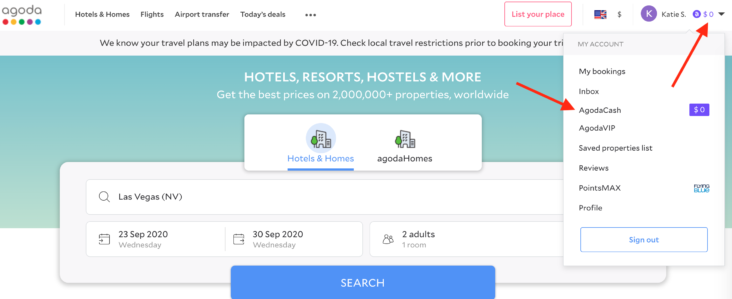 Next, you'll be able to see how much AgodaCash you've earned and redeemed. You'll earn AgodaCash by booking eligible hotels and homestays. If a location is participating in the AgodaCash program, you'll see how much cash you'll earn in the search results box.

Once you've earned AgodaCash, it can be used to pay for any eligible booking. There aren't any minimums when redeeming your AgodaCash and you can even earn AgodaCash on bookings where you're using AgodaCash as payment.
AgodaVIP
AgodaVIP is a loyalty program that rewards you for booking hotels through Agoda. There are 3 levels of membership — Member, VIP Silver, and VIP Gold — that are based on the number of your completed bookings in the last 2 years.
Once you create a free account, you'll be a Member and have access to Insider Deals and the Best Price Guarantee.
After 2 completed bookings in the previous 2 years, you'll be a Silver VIP member which makes you eligible for VIP deals up to 12% off. After 5 completed bookings in 2 years, you'll be a Gold VIP member, eligible for VIP deals up to 18% off.
Agoda Coupon Codes
You can find Agoda coupon codes in a few different places. First, you'll want to keep an eye out for coupon codes right on the website.
You can also search for Agoda coupon codes on many popular coupon and cash-back sites:

BeFrugal
CNN Coupons
Coupon Chief
Giving Assistant
Groupon
Rakuten
Retail Me Not
TopCashback
Final Thoughts
Agoda is an online travel agency and metasearch engine that can help you book hotels, home rentals, flights, airport transfers, and activities.
One of the nice things about this site is that it offers a few perks when booking, including AgodaCash, the AgodaVIP loyalty program, and the PointsMAX program.
Unfortunately, all of those perks only apply when you're booking accommodations, so they won't be helpful if you're in the market for a flight, rental car, or airport transfer.
Agoda is just one of many booking websites out there to help you find great deals on hotels, flights, and rental cars. No matter which website you choose to book your next trip, it's always smart to do some price comparisons first so you know you're getting a great deal.