Several weeks ago I wrote a post about how I find renting cars to be so frustrating, and also shared my concerns about an upcoming car rental in Hawaii, given all the reports of car rental agencies in Hawaii running out of cars.
For once it's time for me to write about a positive car rental experience. I'm not sure if I just got lucky, if National is actually usually this awesome, or if my expectations are just way too low (I suppose those things aren't mutually exclusive).
Why I was worried about our Maui car rental
There have been widespread reports of car rental agencies running out of cars and not honoring confirmed reservations. During the pandemic car rental agencies sold many of their cars to raise cash. Now that people are traveling again on a widespread basis (at least in the United States), there have been lots of disappointed car rental customers.
I'm on a special trip to Hawaii with my family, and had reserved a large SUV for us. Based on the reports I had seen, what were my concerns?
I worried if the car rental company would have any cars at all, given reports of car rental companies not honoring reservations
Even if they did have cars, I worried if they'd have the type of car we reserved; I was fully expecting to have to strap our luggage to the roof of the car
Even if they did have our type of car, I worried if there would be a really long line to get it, given reports of waits of several hours at car rental companies
My awesome Maui car rental experience with National
Many readers have shared positive experiences with National Car Rental, particular with National's Emerald Aisle, which Emerald Club Executive members have access to (you can get this status just by having a premium credit card).
I figured I'd give National Car Rental a try (originally I reserved with Sixt, but changed my reservation). I reserved a large SUV for under $100 per day (obviously that's not cheap in absolute terms, but for Hawaii it was a bargain), and I finally registered for National Emerald Club Executive status, so that I could skip the counter.
When I arrived at National Car Rental at Kahului Airport (OGG) in Maui, I headed to the car rental center. There was a sign telling Executive members to head straight to the lower level. A friendly agent asked for my name, checked my name off a list, and walked me over to the area with SUVs.
"Pick any car you want, and then just drive up to the exit and present your ID and credit card." I had my choice of an endless selection of Chevrolet Suburbans, and the whole experience was kind of fun. I went up to several to see which had the fewest miles and was in the best condition, and then drove off with one.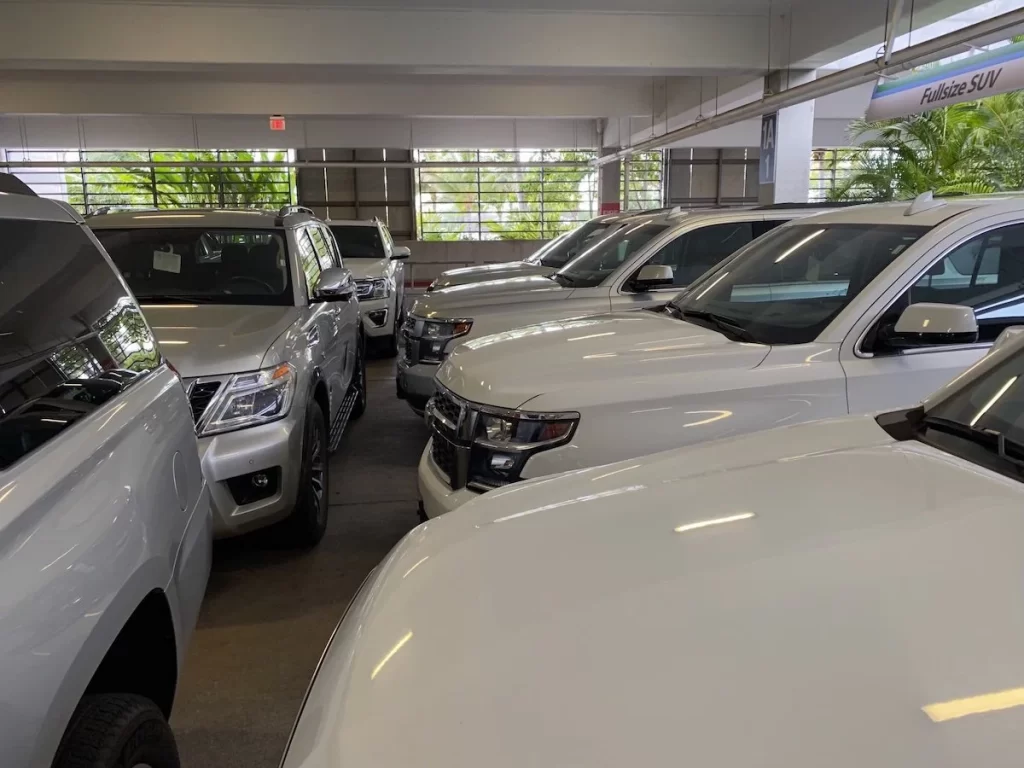 I didn't have to sign a dozen pages of contracts, I wasn't endlessly upsold, and I didn't have to spend 10 minutes marking all the damage on the car. As a matter of fact, there were no signatures or paperwork required.
It was less than five minutes from the time I arrived at the car rental center to when I was driving off. I had left my family in the terminal area and warned them that it could be a while and that I might show up hours later in a U-Haul. Suffice to say that they were shocked when they saw me less than 15 minutes from when I initially left the terminal.
Perhaps my praise for this rental experience is just a reflection of how low my expectations of car rental companies are. I got the car that I reserved and didn't have to wait for a very long time. That shouldn't be worthy of praise, but sadly I don't remember the last time I had such an easy car rental experience.
Bottom line
With all the negative reports of car rental experiences in Hawaii, I figure it's worth sharing my awesome experience. I was grateful to not only get the car that I reserved, but to have the entire experience be so seamless.
Is National Car Rental always this awesome, or did I just get lucky? If this is how renting cars with National usually is, then I'd totally pay a premium to rent with the company over a competitor in the future.