If you drew a Venn diagram showing the best ideas from TED Talks and the high-quality production values from the best television of the past decade, the overlap would be MasterClass. MasterClass is an online learning service that takes the form of video lectures and demonstrations from top talent in many fields. It is simultaneously binge-worthy, educational, and thought-provoking. The quality alone leaves you whispering, "How is this so good?"
The cast, or rather the instructors, consists of a lineup of A-list talent, whether the subject is basketball (Steph Curry) or culinary arts (Alice Waters). Since we last reviewed MasterClass in 2022, the lineup of instructors has grown to include more top talent who are women and people of color, which was an area we had previously called out for needing improvement. This is a welcome development, and we hope it continues. MasterClass is an Editors' Choice winner for online learning, and it gets our enthusiastic endorsement.
How Much Does MasterClass Cost?
MasterClass offers three plan types. First is the Standard all-access pass that costs $180 per year. You'll see it advertised as $15 per month, but that's misleading, as you must pay by year, not by month. With this plan, you can watch the entire catalog of content at any time on any device, but you can't download lessons to watch offline or stream to multiple devices simultaneously (in other words, share your login and let other people watch MasterClass at the same time as you).
Second is Plus, for $240 per year. Again, you must pay for a year upfront. There's no month-to-month option. Plus lets you stream on two devices simultaneously and watch lessons offline.
Third is Premium at $276 per year, with annual billing only, just like the other plans. You can stream on six devices simultaneously and watch videos offline.
A few years ago, MasterClass offered a monthly subscription and also sold access to any single class for a one-time fee, but it no longer does. Is there a free trial of MasterClass? Nope. There is a 30-day money-back guarantee, but you still have to lay down a credit or debit card and get charged $180, and only then if you're unsatisfied you can request a refund.
Nonprofit organizations can apply for a grant to get access to MasterClass for free. There are also group-rate discounts for organizations that buy five or more memberships at a time.
How Does the Pricing Compare?
Other similar non-degree learning courses are priced all over the map.
Skillshare, for example, has a free tier of service with limited content. You can upgrade to a Premium Skillshare membership, which opens up the catalog to unlimited access, for $8.03 per month or $31 per year. In terms of what it offers, Skillshare has a little of everything but tends to focus on the arts and skills adjacent to the arts. You can learn to sew, write a memoir, create 4D scenes in After Effects, or build an Etsy store.
LinkedIn Learning (formerly Lynda.com) gives you a month for free to try out the service. After that, it costs $29.99 per month or $239.88 per year. LinkedIn Learning's content ranges from soft business skills, like management, to more technical ones. A lot of the lessons from the days when it was Lynda.com expertly cover software skills, especially photo and image editing, graphic design, and such.
Wondrium (formerly The Great Courses) starts at $20 per month and the majority of the content is along the lines of what you'd expect from educational television. Khan Academy is free, and it's tightly focused on academics.
What Makes MasterClass Different?
MasterClass has two defining characteristics that set it apart from any other online learning system.
First is the talent. MasterClass recruits A-listers as its instructors. Steve Martin teaches comedy. Natalie Portman teaches acting. Serena Williams teaches tennis. Frank Gehry teaches design and architecture. It's an awe-inspiring lineup.
Second, the classes are supremely high quality in both production value and course composition. You can tell the team at MasterClass spends significant time working with the instructors to create an outline and sequence for each course so you, the learner, get the right information at the right time. Concepts build on one another. For example, you can't learn to blanch vegetables without first getting acquainted with the tools of the kitchen. The quality of the sets, lighting, and audio are equally high. When Christina Aguilera teaches you how to use different microphones while singing, you can hear every example she makes with the mics without losing your grasp on her normal speaking voice when she's explaining what she's doing.
For in-depth descriptions of some of the best content from MasterClass, see PCMag's list of the best MasterClass Courses.
Compared with other online learning sites, MasterClass has fewer courses and a limited range of topics, though courses often are much longer and more in-depth than what you get elsewhere. Skillshare, for instance, covers practically any skill you can think of. It also has recruited a few big names, like Ashley C. Ford on personal essays and Mary Karr on memoir writing. On Skillshare, you can also find people who teach much more specific or niche skills, say, how to increase your presence as an Etsy seller or how to draw succulents and cacti. That said, there's no uniformity in the quality, length, or structure of the class.
What (and Who) Is Inside MasterClass?
Inside MasterClass are eleven categories:
Arts and Entertainment
Home and Lifestyle
Music
Business
Writing
Food
Design and Style
Sports and Gaming
Community and Government
Wellness
Science and Tech
Some sections have a slim roster of courses. As of this writing, the Science and Tech category has just five. Community and Government was light not long ago but has been growing steadily, now with courses by Malala Yousafzai, Hillary Rodham Clinton, Doris Kearns Goodwin, Cornel West, and others. Some courses are doubled-booked into more than one category. For example, all the Food courses are also listed in Home and Lifestyle.
The catalog showcases people at the top of their fields and as mentioned earlier, is better now at recognizing women and people of color than at the time when MasterClass first debuted. Simone Biles is the face of expertise in gymnastics, as she rightly deserves to be. LeVar Burton teaches The Power of Storytelling. Timbaland has a course on music production and beat-making. Niki Nakayama explains the depths of modern Japanese cooking.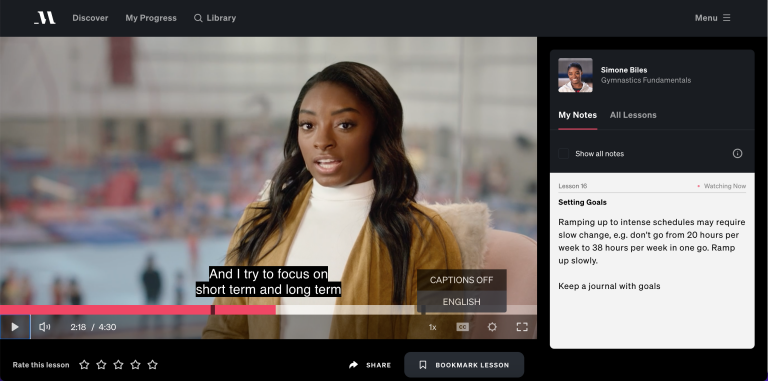 Getting Started With MasterClass
When you start a course, you can read an overview of everything it contains, including the number of videos and any supplemental materials. You see a breakdown of the videos, each with a title and description.
How long are the videos? The run times appear on thumbnails of the video inside the course. What you don't see is what year the course was filmed, which would be nice to know.
Most lessons are anywhere from 6 to 20 minutes long, and most courses are at least 18 lessons long, though some are much longer. Some courses have bonus content, too, such as David Lynch explaining transcendental meditation for 17 minutes using diagrams he draws with a Sharpie.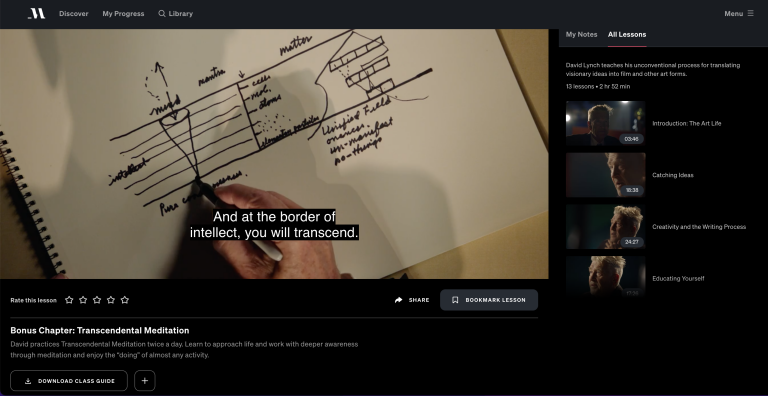 The MasterClass Experience: What Are the Classes Like?
I've watched a lot of MasterClass courses. I started with Penn and Teller, who teach the art of magic. Johnny Thompson, who passed away in 2019, also shows up for several lessons. He's worth mentioning because he was one of the most respected magicians of the last 100 years and a longtime consultant and collaborator for the duo.
The course is fun, and it's as much about storytelling and the meaning of truth as it is about sleight of hand. Plenty of the other MasterClass classes have a similar meta-narrative. The instructors often veer into a soliloquy about the meaning of their craft, or the emotional draw of it, or what from their early experiences in life shaped who they are today.
Penn and Teller invite magic students onto the set to learn and practice alongside them. You see common mistakes beginners make and how the pros correct them, which is incredibly helpful. Some videos in this series come with PDFs summarizing the lesson. For other courses, you might find recipe PDFs or an entire course booklet.
Later videos in the magic course bring in more experienced performers, and you get to watch Penn, Teller, and Thompson essentially workshop with them. Again, the benefit for you, the viewer, is to see what kind of feedback the pros give and how they collaborate with the performers. Finally, you get to watch a few acts from the Penn and Teller show. It's the payoff moment when you see the craft, philosophical underpinnings, and showmanship culminate on stage.
You can find versions of some of these tricks on YouTube, usually taped for television, but on MasterClass you get the full theatrical performance. Watching the craft at its most refined, while understanding the practice and care that goes into it, is true beauty. I gobbled up this course in two days.
From there I moved on to Alice Waters teaching home cooking. Her course couldn't be better for beginner cooks who are looking for the confidence to feel comfortable in the kitchen. Waters insists on filming in her home kitchen. She brings her daughter in for a few segments. They talk about eating seasonally and share stories of different dishware and cookware in their home. You learn a lot of the "why" behind cooking. Why choose this ingredient? Why pair these flavors? I polished off this class in two days as well, though I admit I watched some of the videos on 1.5 speed. If there had been a 1.25 speed (Skillshare has that, MasterClass does not), I might have used it more, as Waters speaks slowly and easily gets sidetracked by a story she wants to tell or takes 20 minutes to wash lettuce.
In addition to speeding up the playback, you can also turn on closed captioning. It's a saving grace for people who need it.
I watched Christina Aguilera warm up her vocal cords, a course that comes with a neat range-finder app to help you track your singing voice as your range expands. I learned from Thomas Keller that you can tournée artichokes. I listened to Shonda Rhimes tell the joke, "In film, the director fires the writer. In television, the writer fires the director" to explain the difference between writing for TV and movies. Paul Krugman gave me some lessons on economic theory. Ron Finley encouraged me to upcycle household items into planters. Simone Biles tumbles, Steph Curry dribbles, Judd Apatow explains comedy writing—the topics are varied and the insight and reflection you get from these A-listers is rich.
Features Old and New
In 2021, MasterClass added a few new features, including My Notes, articles, and bookmarks.
My Notes is a note-taking tool that appears to the side of any video you're watching, when you aren't in full-screen viewing mode. Whatever you write gets saved in your account, and it's associated with the course and video chapter you're watching. That way, you can easily review key concepts and rewatch relevant segments.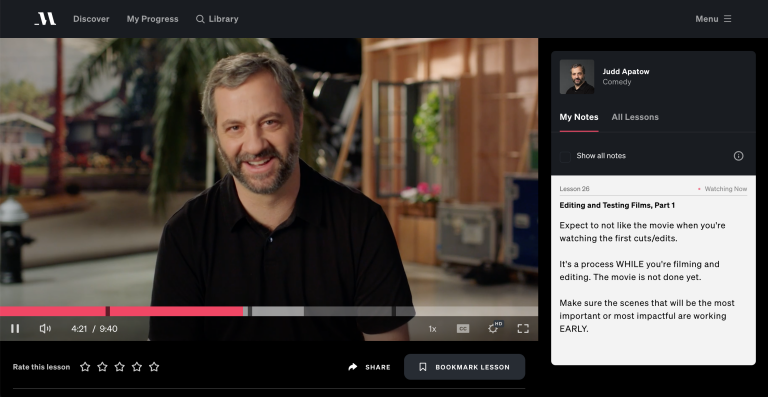 Articles are what they sound like—written articles. MasterClass has articles on some of the same topics covered by its courses. In addition to reading them, you can bookmark them as content you want to return to another time, and they get saved to a page you can access by choosing Bookmarks from the Menu.
Bookmarks also work for video lessons, but confusingly, when you bookmark a video, it saves to My Progress rather than Bookmarks.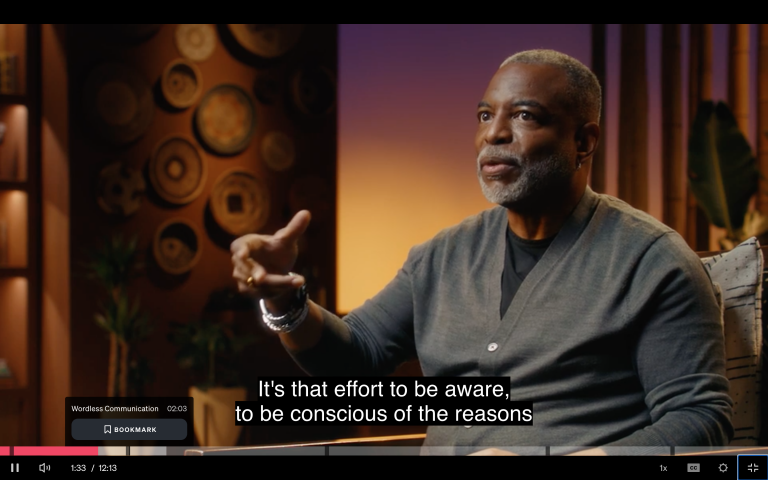 Sometime in 2021, MasterClass did away with community features. Previously, MasterClass had message boards, a space for subscriber comments, and even areas where subscribers could organize networking events—which have all been removed. Good riddance—many of these interactive features were either underutilized or utilized exactly as you might expect by cranky complainers who added no value.
Curation for Inspiration
If you don't want to watch the same person on the same topic for hours on end, you can turn to curated playlists instead. Playlists are selected videos from different presenters that share a similar theme. Formerly these playlists were called Quick Lists, but they now simply appear as suggested content. Each playlist has a name that highlights the theme, such as A Healthy Amount of Risk, Dialogue for Screen and Stage, Leadership, and Understanding Ingredients.
The playlists are fantastic, as they let the MasterClass editors pull together some of the best moments from courses that have the most universal appeal. Plus, they are much shorter than a full course. They also may lead you to get interested in a course that might have not captured your attention when browsing through the MasterClass content in other ways.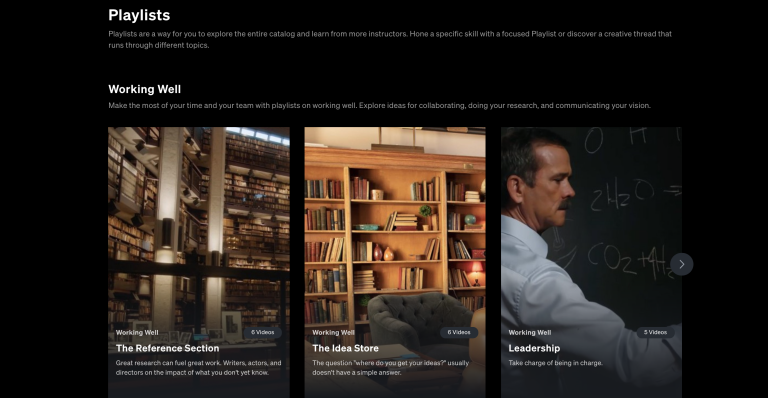 MasterClass Live
At the start of the COVID-19 pandemic, MasterClass hosted several live online events with a few of its instructors. Paying members were invited to join the live conversation and participate virtually.
The events were recorded, and they are available to the public for free. Look for the link to them hidden in the footer content of the MasterClass homepage, or on YouTube. While some of these hour-long sessions can give you insight into a particular MasterClass instructor, they aren't at all representative of the quality of the courses you get from the paid membership. Those videos are highly organized and produced, whereas the MasterClass Live content is off-the-cuff and informal.
Masterfully Compelling
MasterClass is a joy to watch. While reviewing the service, I would play a video in the background while making notes or doing other work, only to find myself drawn into it or pausing it until a time when I could engage with it more fully.
The question I kept asking myself is "Could I find this content online for free if I really wanted it?" and the answer was always "no." I might be able to watch interviews with Reba McEntire or astronaut Chris Hadfield on YouTube or catch a glimpse of insight from a celebrity on TikTok or Instagram, but I'm not going to get hours' worth, and they won't lay out the process of how they work in a clearly defined structure.
The meat of it is masterful, and it's an Editors' Choice winner for online learning.
THE BOTTOM LINE
Online learning service MasterClass lures you in with its A-list instructors, then hooks you with thoughtful material and exceptional production values.