Is Masterclass worth it? Find out in this 2022 Masterclass review. Plus, watch a FREE preview of its online classes for students.
I joined Masterclass several years ago and I've spent dozens of hours taking its courses. In this 2022 review, I share my thoughts about this online learning platform for creative professionals.
I completed over a dozen of the Masterclass courses over the past few years by teachers like Steve Martin, Malcolm Gladwell and James Patterson.
Alongside reading my impressions, you can watch a Masterclass course preview. I also offer tips to help you answer the important question, "Is Masterclass worth it?" Let's dive in:
What Is Masterclass?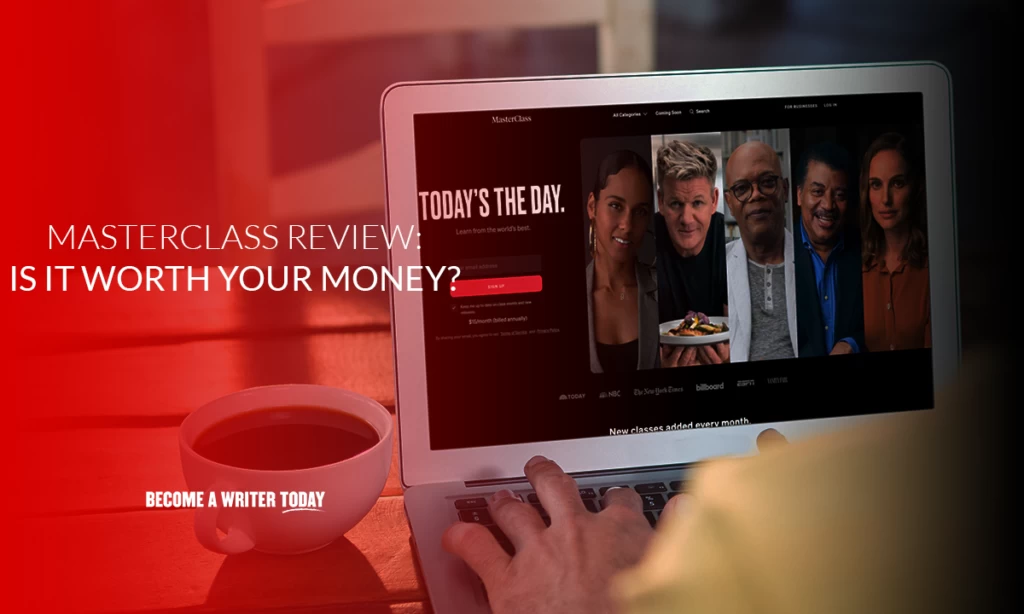 Masterclass is a San Francisco based online learning platform for creative professionals. Of course, you don't have to travel to San Francisco to take a Masterclass. You can watch Masterclass courses using your computer or phone and consume the materials on the go. Just open the online class and get started.
As a student, you can learn
Writing thrillers from the James Patterson masterclass
The art of comedy from Steve Martin
Filmmaking from Martin Scorcese
Dramatic writing from David Mamet
Screenwriting from Aaron Sorkin
Acting from Helen Mirren and Samuel L. Jackson
Directing from Ron Howard
Dance music from Armin Van Buuren
Gardening from Ron Finley's Masterclass
Photography from Annie Leibovitz
Advertising from Jeff Goodby and Rich Silverstein
Mixing Cocktails, including a spin on the classic Bloody Mary cocktails from Lynnette Marrero and Ryan
Chetiyawardana
A cooking enthusiast can learn how to incorporate sea urchin and white truffle into scrambled eggs from a great chef in Gordon Ramsay's masterclass.
The list goes on.
It is a great online learning experience from top creators you would not usually have access to.
Who Owns MasterClass?
Entrepreneur Aaron Rasmussen and film editor and director David Rogier started Masterclass in 2015. Since then it has acquired hundreds of thousands of students worldwide.
Who Are The Masterclass Instructors?
Masterclass instructors are celebrities and world-renowned experts in their craft, from filmmakers like Martin Scorcese to advertising gurus like Jeff Goodby and Rich Silverstein.
Who Is Masterclass For?
Masterclass is for writers, photography enthusiasts, chefs, artists, musicians, painters, and creative professionals. It's ideal for students who are happy to learn at their own pace using a computer.
This is an exciting niche. Many of the other online courses I've taken help students learn business skills like marketing or a more practical skill like coding or web development basics.
Masterclass isn't ideal for people who thrive in classroom environments and prefer a more hands-on approach from teachers.(More on that later.)
What Is A Masterclass Like?
I've taken a lot of Masterclasses since joining. Each instructor video averaged between five and 10 minutes, which was digestible enough for me to watch at lunch.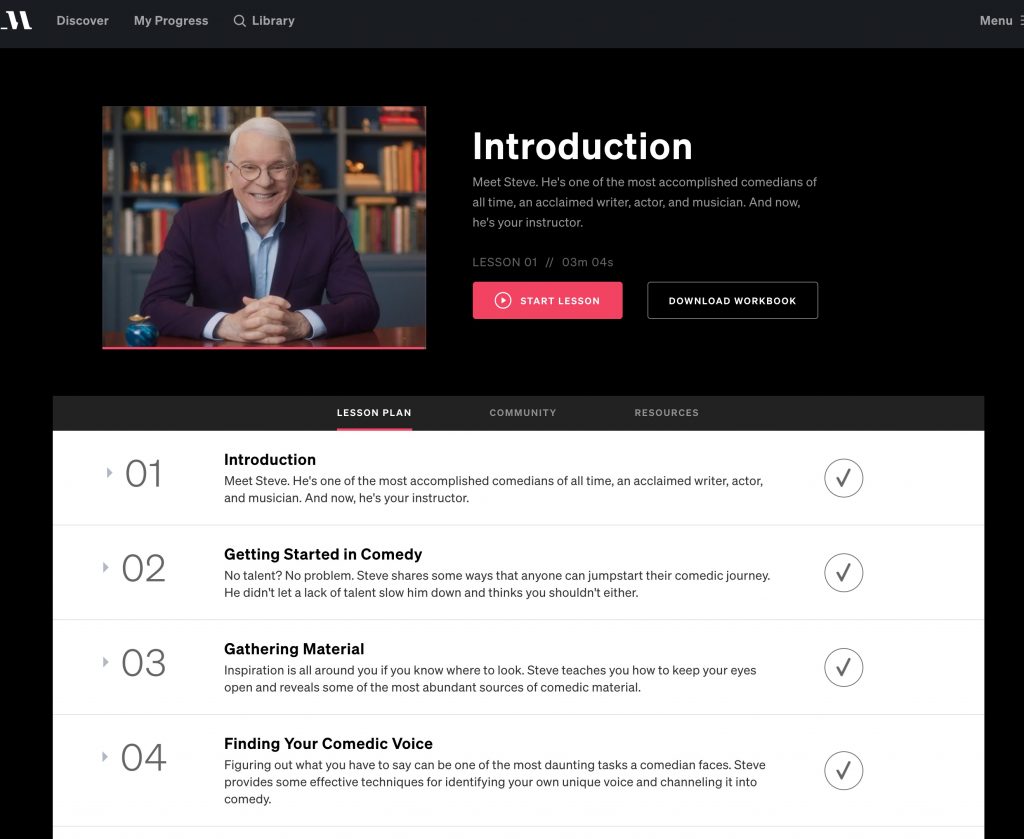 I've admired Steve Martin's comedy and films over the years and took his course first. In this online course, he condenses everything he has learned about the craft of comedy and draws on many anecdotes from his colorful career.
That's a lot of insights, as he's in his 70s! In the real world, it's difficult to get access to quality materials like this. Steve Martin's Masterclass course contains 25 lessons. It took me several weeks to get through this course, but that's only because I took a break when I got the flu.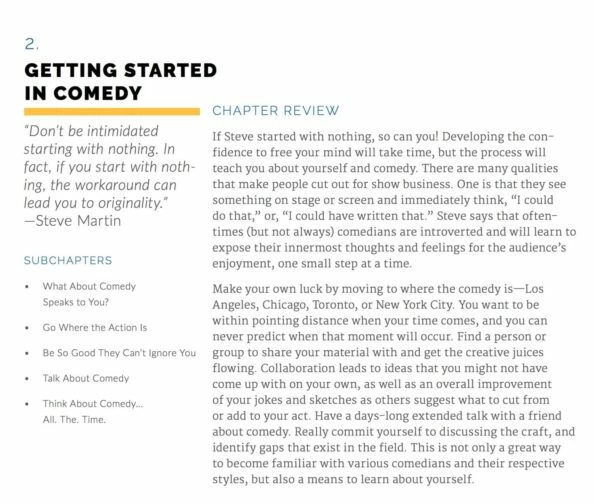 The recommended background reading was helpful, particularly Martin's autobiography. However, I got less value from the community. (More on that later.) The online learning portal has undergone several changes recently.
Let's look at what's new.
Updates To Masterclass
I've been a member of Masterclass for several years now. Since I joined, Masterclass has rolled out numerous updates that should help students.
When I first joined Masterclass, it focused mostly on the craft of writing and the creative arts. These days Masterclass covers a range of categories including:
Cooking and culinary arts
Film and TV
Music and entertainment
Writing
Sports and games
Design, photography, and fashion
Business, politics, and society
Science and technology
Lifestyle
The Masterclass instructors in all of these areas are high calibre and household names. For example,
Chris Voss teaches the art of negotiation.
Bob Iger at Disney teaches business strategy and leadership.
RuPaul teaches self-expression and authenticity.
Ron Finley's Masterclass is about gardening.
Annie Liebowitz teaches photography.
Spike Lee teaches independent filmmaking.
Werner Herzog teaches filmmaking.
Hans Zimmer teaches film scoring.
Deadmau5 teaches electronic music production.
Aaron Franklin teaches Texas-style BBQ.
Stephen Curry teaches basketball.
Neil deGrasse Tyson teaches scientific thinking and communication.
Masterclass continues to regularly invest in and add new content to the learning platform so you can work through a course without running out of something new. Now, you'd be eager to know this:
How Much Does Masterclass Cost?
A Masterclass annual membership pass costs $180 per year. With this, you can access every single class on the learning platform and any new one that launches that year.
Does Masterclass Offer A Discount?
No, Masterclass doesn't offer discounts. It'll be interesting to see how Masterclass compares to other alternatives like Skillshare and Khan Academy in terms of price.
Masterclass Pricing Vs. Alternatives
I picked Skillshare, LinkedIn Learning, and Khan Academy for comparison.
Skillshare
Skillshare is available via these options:
For free: You sign up on Skillshare with an email address, and it gives you access to every single class that is free on Skillshare mobile (iOS) and web.
Premium Skillshare subscription: Costs $99 for a year, and gives you access to 20k+ Skillshare classes in their premium catalog, along with other features like offline viewing.
LinkedIn Learning (Formerly Lynda.Com)
This portal offers a one-month free trial. An annual subscription costs $19.99 per month.
Khan Academy
All courses are free for use.
How Masterclass Works
A Masterclass course typically contains 25 video lessons. Each video is between five and 30 minutes long (most are around 10 minutes long).
In some cases, the teacher speaks straight to the camera. In others, the instructor works with their students' efforts in front of the camera. Some Masterclass videos also include extracts from the teachers' works.
You can take a Masterclass lesson online, watch them on your computer or phone using the Masterclass app.Each one comes with background material, downloadable worksheets, and reading lists to peruse. You may just find your new favorite story.
MasterClass Annual Membership Benefits
With an annual membership pass, you'll be able to access every single class in Masterclass, and any new ones. You can watch any Masterclass lesson as many times as you'd like. All you need to do is
Login to your account
Go to the class enrollment page for the course you want to enroll in
Click "Take the Class"
Click on the instructor tiles to find the enrollment pages
Workbook
Each lesson provides a workbook that helpfully summarizes the key points in each video. Plus, the workbook provides additional reading materials and provides space to write lesson notes on the craft.
Although Masterclass doesn't offer a membership for lifetime access, they always allow users to access the lesson workbook to each of the courses they've taken.
The Community
Masterclass emphasizes the community aspect of its online learning. They've created a Hub where you can engage in discussions and ask questions about the classes with fellow students. You can also post some of your work.
For example, one student posted his lesson notes and takeaways from David Mamet's rules for screenwriting. Although I spent little time in the Hub, it's a useful resource for students who value learning from other students. Since I joined Masterclass, the team has rolled out many improvements to the Hub.
Masterclass also features office hours. Here, students can ask their teachers questions. For example, one student, John Zucker, asked Martin how to find your voice and received a reply.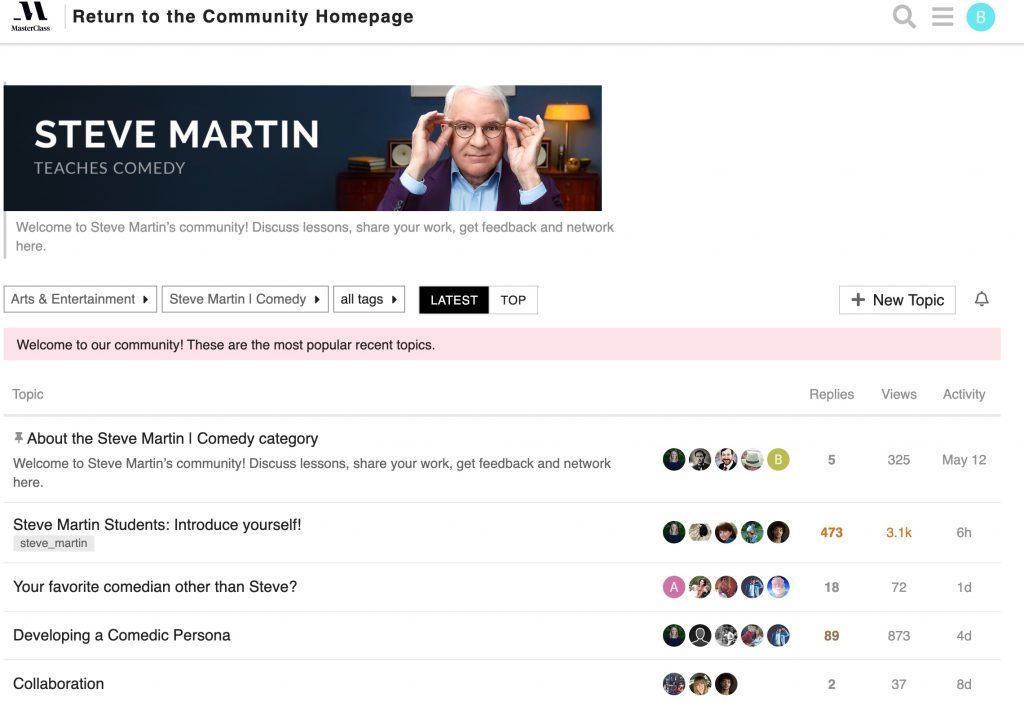 Quick List
A specialty of the annual membership pass is that if you pause watching a video lesson, it shows you suggestions of related segments from other courses.
This feature is almost similar to that offered by NetFlix and is called a Quick List. Using a quick list, editors compile a few classes related to the same theme.
So, if you were watching chef Gabriela Camara's lesson on cooking Tacos al Pastor, you may be recommended a cooking lesson from another chef. For example, a lesson on knife skills from Gordon Ramsay's Masterclass, or a Masterclass video on Sous Vide cooking by chef Thomas Keller.
Snapshots
Masterclass has a feature called Snapshots, where they present a single class or lesson from the chosen Masterclasses straight in the app.
This will give you an idea of what a Masterclass looks like and if the teacher is right for you before you decide to invest hours of your time in a particular craft.
One particular snapshot worth watching is Creating the Illusion of Control by Chris Voss, a former FBI hostage negotiator. Now, let's see if the Masterclass app is user-friendly or not.
The Masterclass App
The Masterclass app feels polished. Here's why:
It works on an Android, iPhone, and even an Apple TV. I used it on my iPhone and iPad while researching this review.
You can speed up or slow down the hours of videos.
It supports closed captioning or subtitles.
You can select whether you want to watch a video or listen to audio. Masterclass will indicate if a particular online class is best suited to a video or audio format. It depends on whether the instructor is demonstrating something in front of the camera or talking straight to the camera.
What Are Masterclasses Like?
I took "Steve Martin Teaches Comedy" first because I wanted to learn how to inject more color and comedy into my writing. I've no desire to become a stand-up comedian, but I've always admired Martin!
Next, I took David Mamet's Masterclass because I was interested in learning from a dramatic writer, and Mamet is a writer's writer. He is a more direct teacher than Steve but just as knowledgeable. In the first video, Mamet revealed this gem for screenwriting:
Who wants what?
What happens if they don't get it?
Why not?
In between these Masterclasses, I watched some of the lessons on Aaron Sorkin and James Patterson's courses. I've watched most of Aaron Sorkin's shows and films over the years, and I was more than happy to watch him reveal how he writes.
Later, I completed all of Malcolm Gladwell's Masterclass. More recently, I took Neil Gaiman's Masterclass and David Lynch's Masterclasses. As you can see, I took most of the Masterclass writing classes as this is where my area of interest lies. You can easily keep track of different classes too.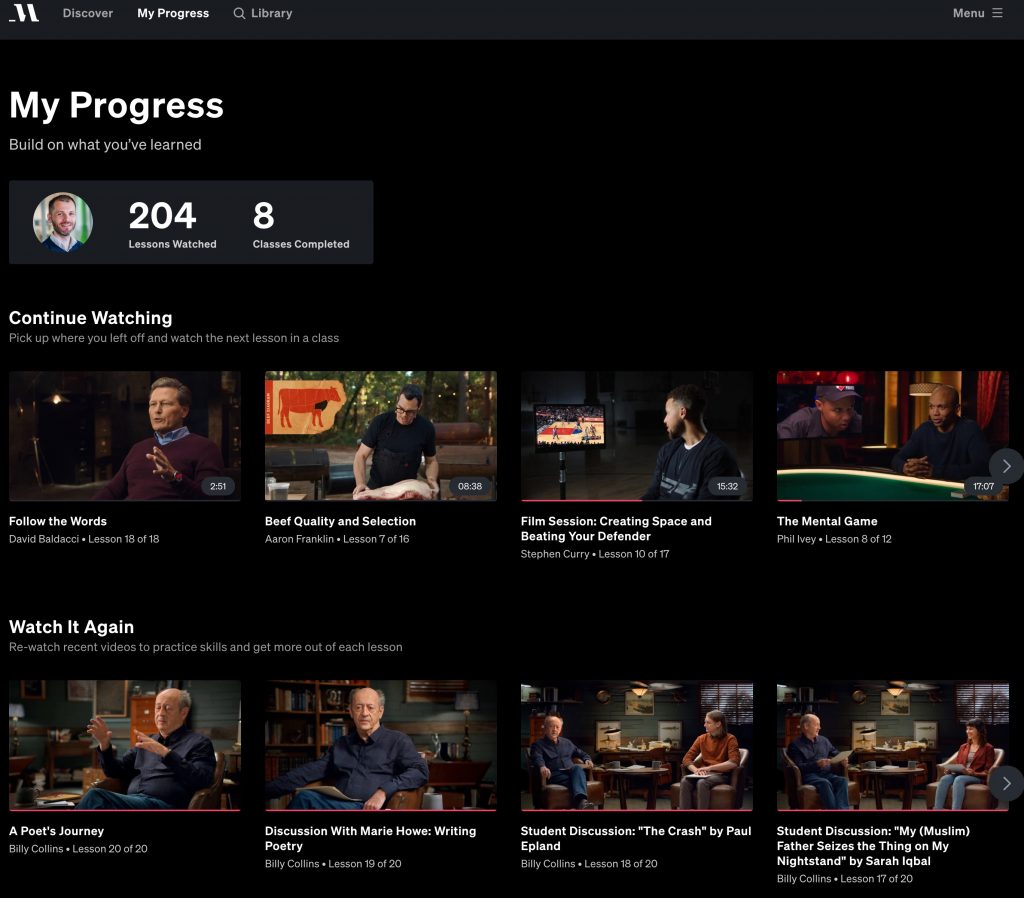 Which Masterclass Courses Should You Take?
Over the past few years, Masterclass has broken out into other areas beyond writing and the creative arts.
Need examples? Here are plenty of them:
American tennis sensation Serena Williams teaches tennis as part of her Masterclass.
Academy award-winning Hans Zimmer teaches film score.
Werner Herzog and Martin Scorsese teach filmmaking.
Annie Leibovitz teaches her philosophy of photography in her photography masterclass.
Chris Hadfield teaches space exploration.
Neil deGrasse Tyson teaches scientific thinking.
Garry Kasparov teaches chess.
Shonda Rhimes (creator of Grey's Anatomy) teaches TV writing.
Stephen Curry teaches basketball.
Herbie Hancock teaches jazz.
Jimmy Chin teaches how to take breathtaking shots in his adventure photography masterclass.
And, herein lies one of the other issues with Masterclass. It's hard to imagine a student will have an interest in all of these Masterclasses, no matter how great the topics are.
So while I found the writing classes useful, I'm unlikely to learn country music from Reba McEntire anytime soon, no matter how talented she is. If you're a writer, consider how well you know James Patterson's works and if you want to write thrillers before you sign up for his class.
While you could take the "James Patterson Teaches Writing" Masterclass without knowing much about his books, you will learn far more if you've read some of his thrillers.
So, which Masterclasses should you choose? Should you learn about writing fiction like Neil Gaiman, making a BBQ like Aaron Franklin, adventure photography like Jimmy Chin, or pick up a skill like cooking from chef Gordan Ramsey? Start by exploring the classes by structure, discipline, or topic. A writer, for example, should take the following on Masterclass:
James Patterson Teaches Writing
David Mamet Teaches Dramatic Writing
Aaron Sorkin Teaches Screenwriting
Malcolm Gladwell Teaches Writing
You'll get tips and advice about writing your story, and you will hear in Malcolm's lecture that your account will surely change as you continue to develop it. After these classes, writing thrillers will no longer look like a feat.
Meanwhile, a musician looking to advance her skill set is more likely to take "Deadmau5 Teaches Electronic Music Production", "Herbie Hancock Teaches Jazz", "Christina Aguilera Teaches Singing", or "Usher Teaches the Art of Performance."
If you're still unsure about what Masterclass to buy on this online learning platform, ask yourself, "Do I like this teacher and his or her materials?" After this video, I review my preferred Masterclass courses.