About Saatva Mattress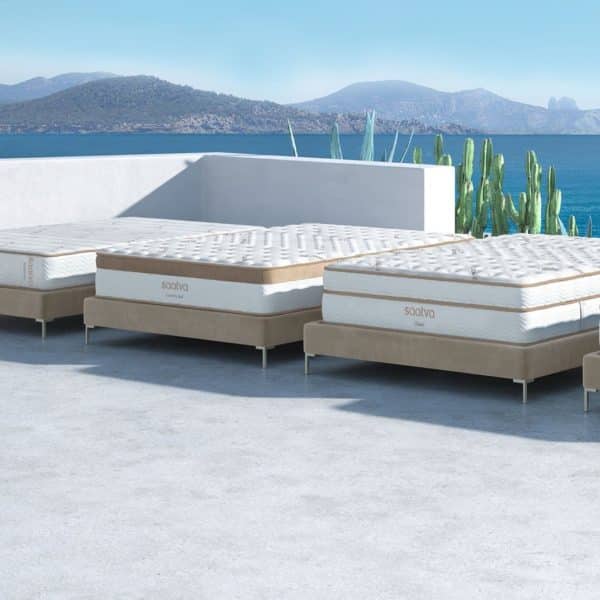 The average person spends a good chunk of their life in bed, but I have a feeling much of that time is spent tossing, turning, and staring at the ceiling. At least, that's what my "sleep" consists of.
The amount of people who suffer from a bad night's sleep is high. One study[1] from 2017 estimated that about 38% of adults have poor self-reported sleep quality.
While another study[2] showed that sleep hygiene and habits, such as the type of mattress one sleeps on, is closely related to sleep quality. This is where Saatva comes in.
Saatva is a luxury bedding company known for its cushy mattresses. Designed as a way to reinvent the sleep industry, the brand is all about support—from its range of body-cradling mattresses all the way through to its round the clock customer service.
Hailed as a favorite of Oprah Magazine, Saatva has amassed a sizable social community of 135k. Media outlets such as Healthline, the Chicago Tribune, and the New York Post have headlined this company as well.
With this amount of hype, does this brand send alarms ringing, or should you hit the snooze button? In this Saatva mattress review, I will help you answer that question.
Stay tuned, as I'll provide you with everything you need to know before making the purchase that could make or break a good night's sleep.
Overview of Saatva Mattress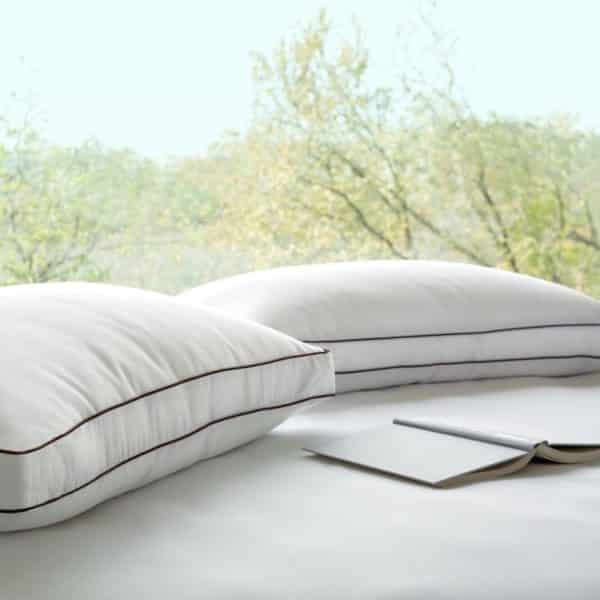 Let's be real. The mattress industry doesn't have the best reputation. Commonly known to have misleading marketing, overbearing salespeople, and outrageous prices, I often think that there has to be a better alternative to purchasing high-quality mattresses.
Founders Ricky Joshi and Ron Rudzin had the same notion when they decided to start their own company. They dreamt of making luxury mattress shopping easier for the average consumer.
Saatva made its online debut in 2010, establishing headquarters in New York City. By offering 24/7 support and premium bedding at an affordable price, buyers can walk away feeling happy with their decisions—which is all any of us really want when shopping.
In addition to making their customers happy, Saatva makes it their mission to give back to the community. Recently, they have partnered up with the Housing Authority of the City of Austin and an education-based non-profit called PENCIL.
Feeling a little better acquainted with the brand? Before I dive headfirst into this Saatva mattress review, let's go over some highlights:
Highlights
A variety of mattresses and bedding materials—from waterproof protectors to memory foam pillows
Every Saatva mattress is engineered for pain-free sleep
Provides 24/7 hour customer support
Offers affirm as an alternative payment option
Tons of deals & discounts
Mattresses have a 180-night guarantee
Complimentary white glove delivery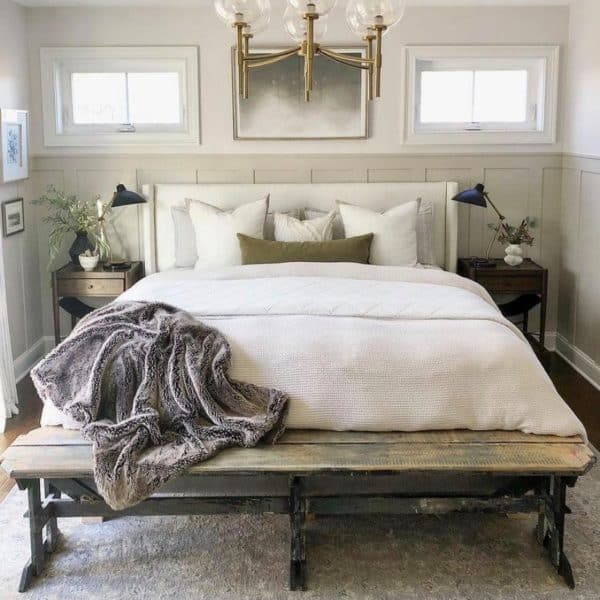 Everybody can benefit from a good night's sleep—which is why Saatva has a wide array of mattresses and bedding to help you drift off. They offer a variety of pillows, sheets, toppers, blankets, and frames on their website, but I came to learn that the brand is most popular for their mattresses. What makes them so special?
Saatva mattress models are built using a lumbar zone support to promote healthy spinal alignment. Lumbar support[3] in a mattress can help in preventing back pain. Handcrafted using the finest materials such as organic cotton, the company only provides the best when it comes to luxury bedding—and I really mean it.
Coming up in this Saatva mattress review, I will provide a selection of bestsellers that I think you may want to try out for yourself.
Saatva Mattress Review
Sleep like a rock, without actually sleeping on one. Saatva offers a large collection of mattresses designed for every sleeper, ensuring you wake up feeling refreshed.
This includes their memory foam models, innerspring builds, and their specialty prototypes such as the Zenhaven Latex. Just ahead in this Saatva mattress review, I'll take a look at some of the cult classics.
Saatva Loom and Leaf Mattress Review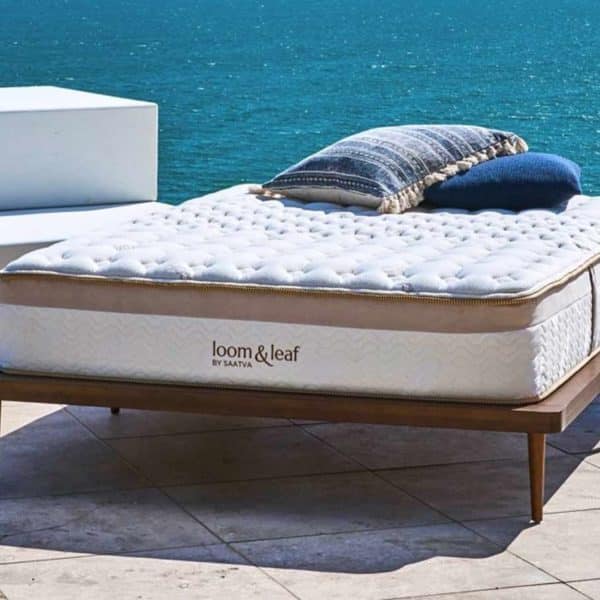 The Loom and Leaf Mattress by Saatva introduces a more indulgent way to snooze. Made with a quilted organic cotton cover, this model is soft, airy, and hypoallergenic.
It's treated with their exclusive Guardin botanical antimicrobial treatment, which means there's no worry of bacteria or unwelcome organisms cuddling close to you. The thought of that is enough to give me nightmares and I've read that sleep environment cleanliness[4] is a huge factor to a good night's sleep.
Additionally, this mattress uses premium memory foam so you can sink into the mattress instead of tossing and turning. One study[5] looked at the effect of memory foam mattresses on lower back and shoulder pain, and besides reducing pain, the mattresses were able to improve sleep quality.
Infused with cooling gel foam, this bedding also keeps the internal temperature of the bed at an optimal degree. One study[6] showed that cooling the body can help with getting a good night's sleep. This prototype uses a 5-lb, high-density cushion for lasting support and pain relief.
I implore that eco-friendly shoppers listen closely: The Loom and Leaf Mattress is made with renewable oils and produces fewer greenhouse gasses during manufacturing. I think it's a great choice if you're worried about your eco footprint.
Customers can choose the comfort level of this model, as it varies from firm to relaxed firm. I'd say it's pretty much the closest thing to sleeping on cloud nine you can get.
In terms of pricing, the Loom and Leaf Mattress is offered in 8 different sizes, which all vary in cost. You'll find the full range just below in this Saatva mattress review:
Twin: $946 (was $1,074)
Twin XL: $1,232 (was $1,399)
Double: $1,826 (originally $2,074)
Queen: $1,914 (original price was $2,174)
Here's a list of the king sized models as well:
King & California King: $2,178 (was $2,474)
Split King & Split Cal King: $2,463 (original price was $2,798)
Saatva Classic Mattress Review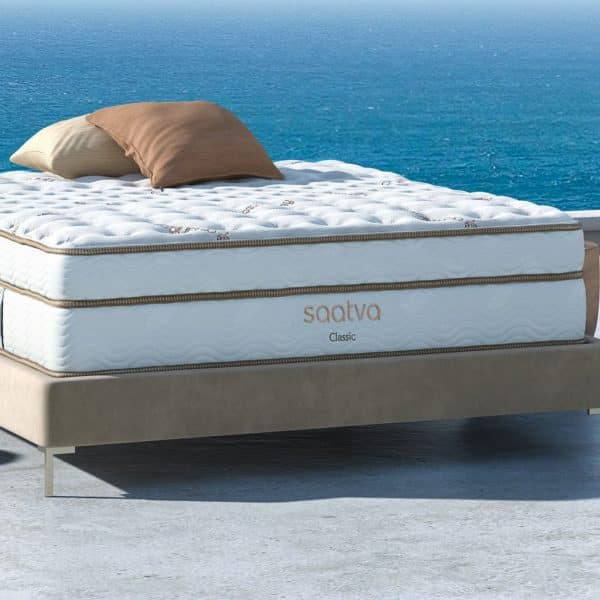 The cream of the crop, the star of the show, and what you probably came to this Saatva mattress review looking for: let me introduce you to the innerspring hybrid Classic Mattress. This incredibly comfy bed features 5 distinct upgrades compared to other traditional models.
Those includes a breathable, antimicrobial pillow top, durable edge support to prevent sagging, and 884 individual pocketed coils made to contour your body's movements. To help translate the jargon: it all basically means you can sleep in peace.
It's also built using patented spiral zone technology and a tempered support coil base. This duo acts to provide sleepers with enhanced back support.
Why is back support so important? One study[7] showed that reduced back pain was associated with improved sleep. Additionally, these materials help keep the bed durable over time.
Recommended by leading chiropractors across the nation, the award-winning Classic Mattress was granted a seal of approval by the Congress of Chiropractic State Associations. I think it's shaping up to be the perfect mattress, don't you think?
I love that this Saatva bed is offered in plush soft, luxury firm, and firm options to suit all kinds of sleepers. You can also choose your preferred height of 11.5" or 14.5". Regardless of plushness and height, the price of the Classic Mattress stays the same. I'll outline the cost of each size below:
Twin: $912
Twin XL: $1,055 (marked down from $1,198)
Double: $1,470 (was $1,670)
Queen: $1,558 (originally $1,770)
Saatva king mattress: $1,910 (marked down from $2,170)
California King: $2,109 (was $2,396)
Split King & Split California King: $2,109 (marked down from $2,396)
Saatva Zenhaven Latex Mattress Review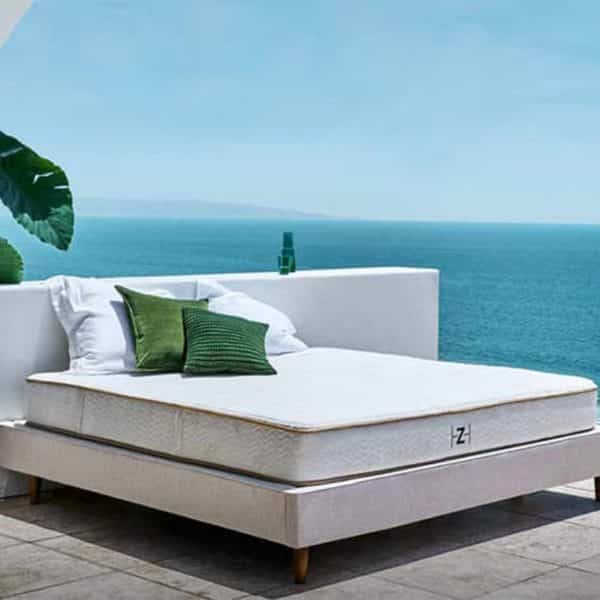 Looking for something even more luxurious? Look no further.
I've learned that there is such a thing as waking up on the wrong side of the bed. Saatva helps you say goodbye to morning grump with the Zenhaven Latex Mattress.
Made to give you total relaxation and long term dependability, it's made from 1.5-zone Talalay latex and support cores and cushion to provide maximum pressure-point relief.
And it turns out, there's science behind it. Latex mattresses[8], like this one, have been shown to provide a more even pressure distribution, resulting in a better night's sleep.
Customers can also sleep safely knowing that this model is 100% natural, hypoallergenic, and is free of petroleum or polyurethane-based foams. Layered with organic New Zealand wool, this Saatva luxury firm bed acts to naturally regulate your body temperature for a more comfortable sleep.
If night sweats are something that you suffer from, like many[9] people do, this mattress may be able to help.
Offered in luxury plush or gentle firm, the Zenhaven Latex Mattress in available in over 7 different sizes. I'll list the full lot below in this Saatva mattress review so you know your options:
Twin: $1,386 (original price was $1,574)
Twin XL: $1,583 (was $1,798)
Full: $2,086 (original price was $2,370)
For larger beds:
Queen: $2,438 (was $2,770)
King: $2,966 (down from $3,370)
California King: $2,966 (was $3,370)
Split king: $2,998 (original price was $3,198)
Saatva Latex Hybrid Mattress Review
Using organic materials as its main base, the Latex Hybrid Mattress offers serial nappers a fun buoyancy as they catch some zzz's. Built with a GOTS-certified cotton cover, this model is hand-tufted to keep things fluffy and weightless.
As I mentioned above, latex[8] is a material that has been proven to help with pressure distribution while you sleep, which could result in a better night's rest.
It features organic New Zealand wool, 5-zone Talalay latex, and a zoned pocketed coil unit—but I think the real star of the show is the organic eco loft pad. This element acts as a stable base, which securely anchors the hand-tufting to prevent layers from shifting.
Made with non-toxic and sustainable materials, I love that Saatva makes it so you can still shop consciously when it comes to bedding. The Latex Hybrid Mattress is available in all sizes. I'll list the prices for each below:
Twin: $1,078 (was $1,224)
Twin XL: $1,228 (original price was $1,395)
Full: $1,606 (was $1,824)
Queen: $1,782 (original price was $2,024)
Saatva also offers a full range of King sizes:
King: $2,134 (was $2,424)
Cal King: $2,134 (original price was $2,424)
Split King: $2,456 (was $2,790)
Saatva Pillows Review
Whether you're a cuddler, coffin snoozer, or find it comforting to rest with your head facing down (no judgement), the brand offers a large assortment of pillows designed for every type of sleeper.
Next up in this Saatva pillow review, I'll go over three of their available models (which happen to be their most popular designs).
Saatva Latex Pillow Review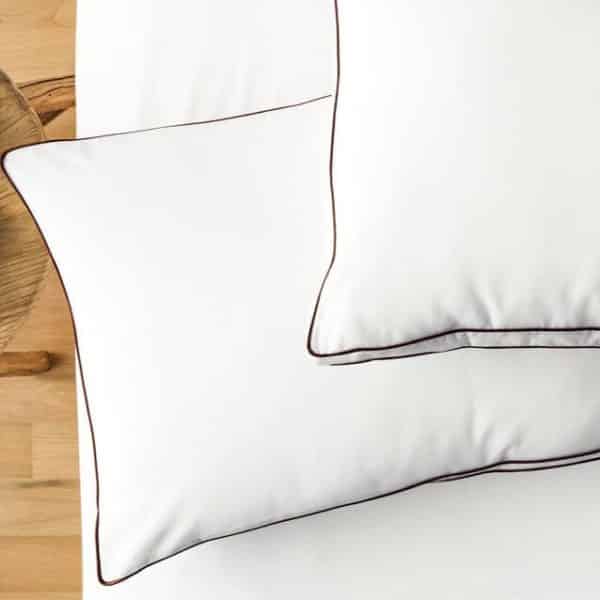 Filled with plush microdenier fiber, the Latex Pillow by Saatva can help you enter dreamland a lot sooner. If you tend to sweat in your sleep, don't worry—I read that this prototype wicks away moisture for a cooler snooze. (And after the nightmare ends, you can remove its cover for regular machine washing.)
Apparently, the best temperature for a good night's sleep is 65 degrees fahrenheit. So, if you have trouble staying cool and comfortable at night, this pillow could be your new best friend.
Covered with 100% organic cotton sateen (so luxe) it also comes with gusseted sides with contrast welting to prevent the shape from flattening out. This design is dust mite and mildew resistant, meaning that you can rest comfortably knowing that your pillow is clean and bacteria-free.
Recommended by chiropractors and orthopedists for ultimate head and neck support, you can get the Latex Pillow in queen size for $165 or king size for $185.
Saatva Memory Foam Pillow Review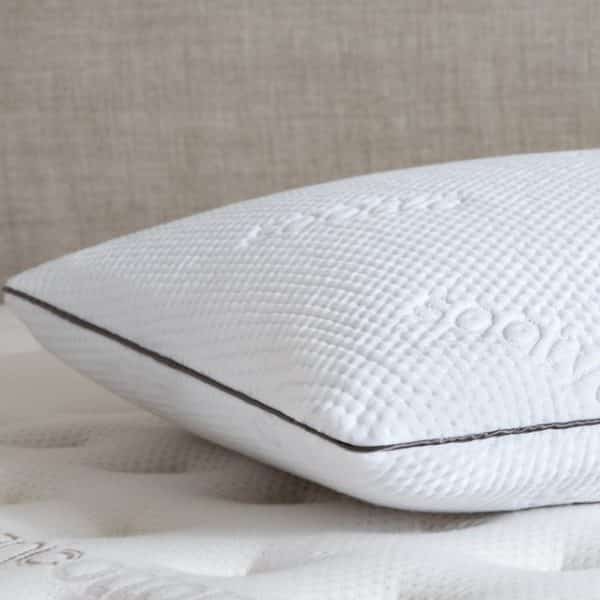 My experience with memory foam pillows: they're so darn hot. I was pleased to learn that this one isn't. In fact, it's designed to regulate the temperature around your head as you sleep for a cooler and more comfortable rest. How does the Memory Foam Pillow do it? By utilizing advanced graphite technology for maximum airflow.
Why graphite, you ask? Graphite[10] has a high heat resistance, which means it can help to keep you cool.
This pillow also features Saatva's proprietary gel blend to provide optimal head and neck support to avoid knots and kinks from forming as you doze off.
One study[11] showed that pillows designed to support the head and neck were able to improve sleep quality through reducing pain and headaches. As a bonus, this pillow is also free of harmful substances and materials such as mercury, lead, and other heavy metals.
Rest easy why Saatva's Memory Foam Pillow in queen or king sizes for $165–$185.
Saatva Down Alternative Pillow Review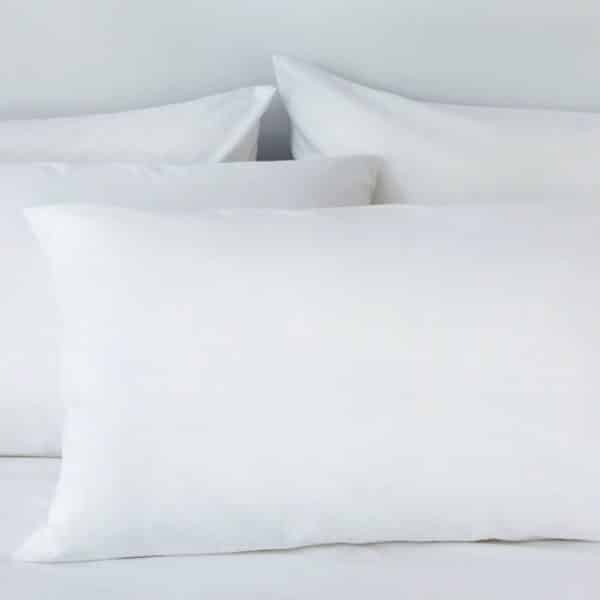 Say goodbye to hard and deflated cushions. The Down Alternative Pillow is designed to mimic the lofty feeling of other traditional models. Stuffed using micro denier down alternative fibers, this plush filling creates micro air pockets in order to create that silky-soft feel you love about down.
I try to stay away from down for a few reasons, but I love how a down pillow feels. This is a great alternative.
Other features include a breathable organic cotton cover and supportive memory fiber clusters. These elements help to offer greater support during your siesta. Finished with elegant satin piping as a decorative touch, customers can purchase the Down Alternative Pillow in two different sizes:
Saatva Mattress Topper Review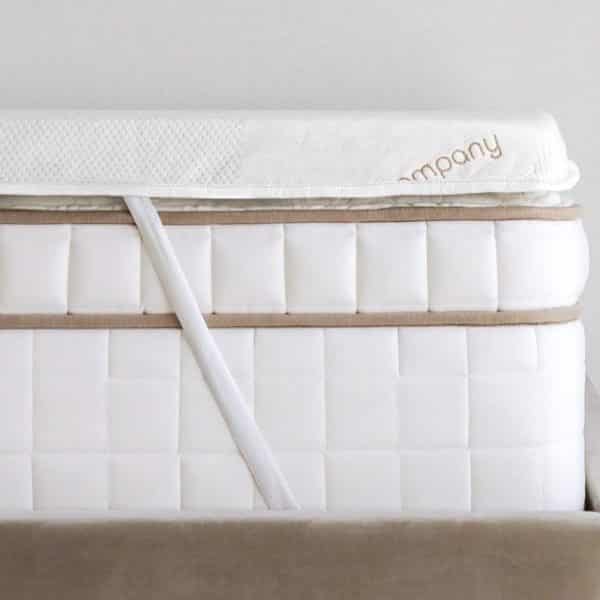 If you're not ready to commit to an entirely new mattress, the Mattress Topper offers the same kind of opulence at a more affordable price. Created to lie on top of your pre-existing bed, this topper is made to prolong the life of an older mattress.
I think opting for a mattress topper from a luxury brand is a great compromise for those who might not be in the position to shell out $1k+ for their dream mattress.
Cushioned with memory foam, it instantly limits motion transfer while shaping itself to your body for a superior sleeping experience. Mattress toppers[12] that resist motion can also help you to get a deeper sleep.
To keep this mattress topper in place, it comes equipped with elastic anchor bands fastened on for added security. I like that there are a few material options to choose from too. Pick from graphite (cotton), latex, and foam.
Designed for all Saatva beds, the Mattress Topper is offered in 5 different sizes priced between $175-$650.
Saatva Organic Weighted Blanket Review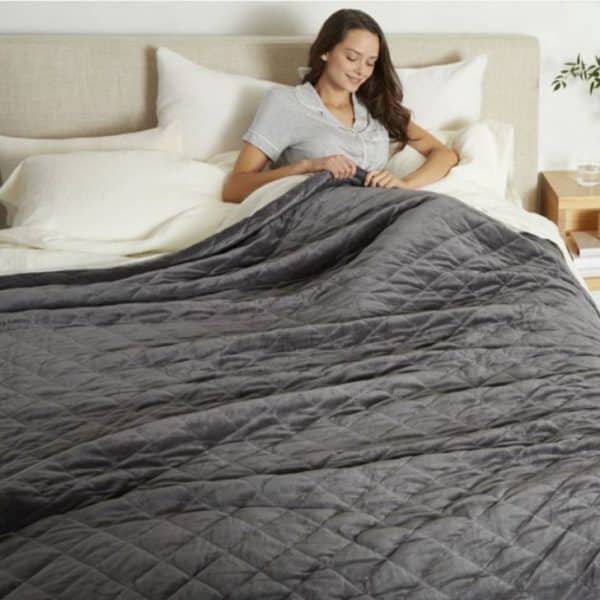 A great way to reduce stress and promote relaxation, the Organic Weighted Blanket is made using 100% organic cotton velvet. I love how soft and snuggly it looks, but it turns out using a weighted blanket comes with even more calming perks.
One study[13] found that 63% of participants had less anxiety after using a weighted blanket. If you have issues calming your mind before bedtime, I think this blanket might be up your alley.
Filled with all-natural glass beads, this cover releases the right amount of pressure to help keep things warm and snug. It's also stitched using diamond quilting throughout for added charm.
Made in Fair Trade Certified factories to keep conscious shoppers within their good graces, the Organic Weighted Blanket is offered in vintage taupe or graphite gray.
You can purchase this throw-over in 2 sizes:
Single 15 lbs: $345
Queen/king 25 lbs: $445
Saatva Mattress Reviews: What Do Customers Think?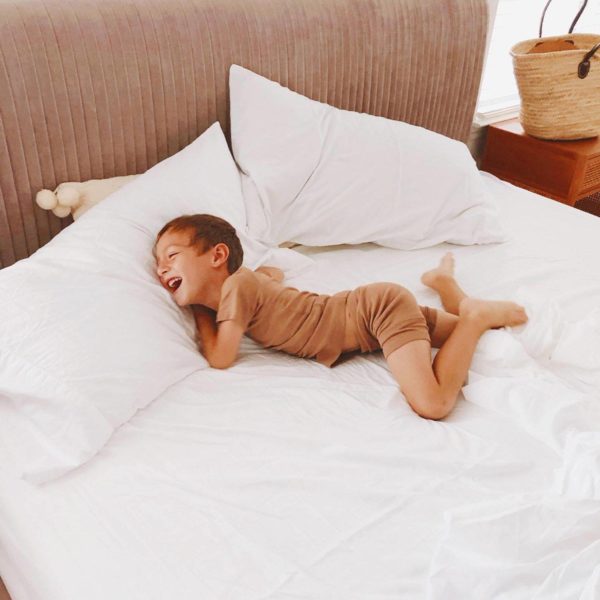 Is Saatva really a good mattress? Based on the number of positive reviews posted online, I'm inclined to say yes. On their website, most of their best-selling products garner hundreds to thousands of testimonials with glowing ratings.
For instance, the Classic Mattress has over 2,401 comments with an average score of 4.9/5 stars. Customers have noted that this mattress was comfortable and helped them to achieve a better quality of sleep.
"Have had this mattress for a little over a month now and it has given me the best night's sleep I've had in years. Typically I toss around all night and then wake up sore and stiff. Since I began sleeping on the Saatva mattress (I have the 14.5″ Queen, Luxury Firm) I haven't been sore at all in the morning," one reviewer wrote for the Classic Mattress.
Here's a look at the scores for some of its other products:
Latex Hybrid Mattress: 4.8/5 stars, 25 reviews
Memory Foam Pillow: 4.8/5 stars, 5 reviews
Down Alternative Pillow: 5/5 stars, 4 reviews
Weighted Blanket: 5/5 stars, 1 review
Browsing through the comments, I saw that others wrote that Saatva provided exceptional customer service and delivery service. "Thanks and a special shout out to Up/ Down Moving for the pleasant and helpful service they provided me when delivering the mattress and foundation," one Saatva mattress review read.
Websites such as Mattress Clarity and Sleepopolis have also rated Saatva favorably. On Mattress Clarity, the author concludes that their mattresses serve as an affordable option for those who like the innerspring/hybrid feel.
The writer for Sleepopolis gave the Saatva Classic a 4.7/5 star score and reports that it provides the right amount of support for stomach, back, and heavy sleepers. There weren't a ton of independent reviews for this brand, but everything I did find awarded the brand's mattresses over 4 stars.
Is the Saatva Mattress Worth It?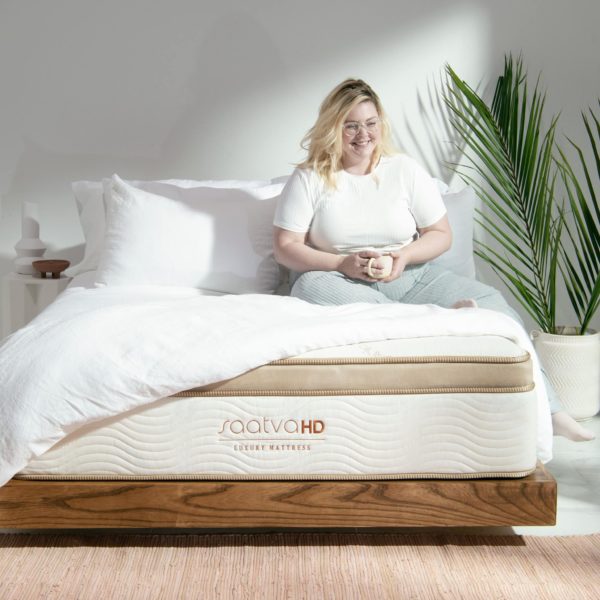 All things considered, is a Saatva Mattress worth the money? To put it simply, yes. The majority of online reviewers can attest to the quality of the brand's mattresses and bedding materials. What I really like about this company is their innovative designs—they focus on enhancing comfort and the overall quality of sleep.
This includes elements such as cooling gel-infused foam, antimicrobial cotton covers, and their patented spinal zone technology. All of these features help to differentiate Saatva from the average sleeping mattress.
Saatva also uses sustainable materials and believes in fair trade practices throughout their manufacturing processes—which is a big plus for eco-friendly consumers.With the addition of 24/7 support, seamless delivery and setup, and products tagged at an attainable price, Saatva ensures that shopping for a mattress is frustration-free.
Saatva Mattress Promotions & Discounts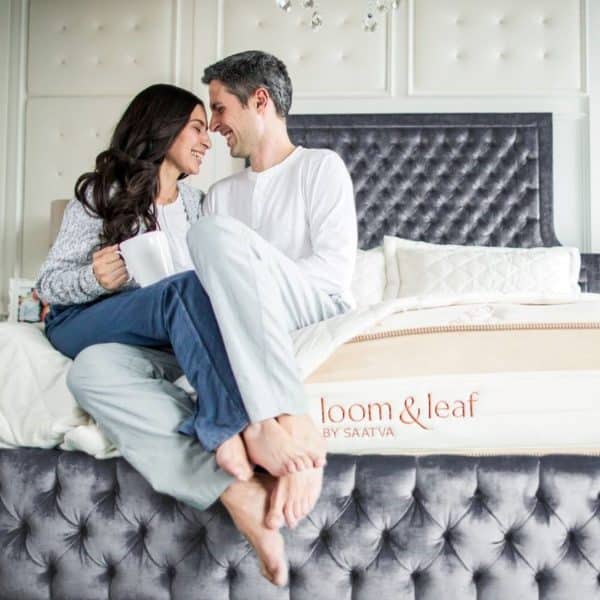 Need bedding materials to pair with your new mattress? While looking through the brand's website for this Saatva mattress review, I discovered a few ways you can get it for less:
Summer Solstice Flash Sale: Enjoy 12% off purchases over $1k
Saatva mattress sale section: save on select items
Saatva discount codes for nurses and military veterans
Refer-a-Friend program: Get a $75 credit for every successful referral
Where to Buy Saatva
Customers can purchase their mattresses by visiting saatva.com. You can also find them on the Saatva Mattress Amazon page.
FAQ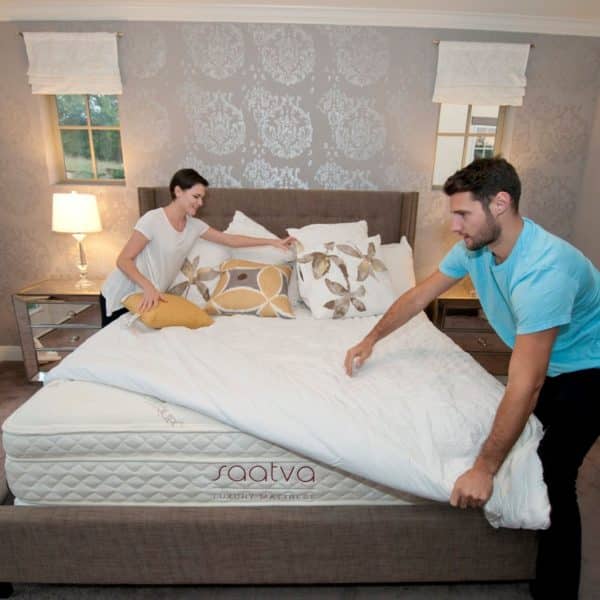 Is Saatva shipped in a box?
No. Saatva does not ship their mattresses in a box. The brand's white glove delivery service sets up your mattress in your room of choice.
Where are Saatva mattresses shipped from?
While reading up on the brand for this Saatva mattress review, I didn't see any details on where their products are shipped from. What I do know is that they manufacture their items within the United States.
Saatva offers free white glove delivery and setup for all of their futons. They will even dispose of your old model at no extra charge. The brand will contact you within a 4-hour window the day before your chosen delivery date. It typically takes 9–21 business days for mattresses to arrive.
Once your order ships, you'll receive a tracking number to help you keeps tabs on it until your delivery date. During this Saatva mattresses review, I found out that they only ship to those living in the contiguous United States and Canada.
Do Saatva mattresses sag?
No. Saatva mattresses are designed to prevent sagging. Their Classic Mattress is specially built with durable edge support and 884 individual pocketed coils to help maintain its form.
How long does it take to break in a Saatva mattress?
In a blog post written by Saatva, I read that it may take a few weeks for users to break into their new mattresses. It takes time for memory foam and springs to loosen up and conform to your body. Additionally, your body needs to become familiar with the mattress, too! Saatva writes:
"Adapting to something else is like standing up straight after having been hunched over for a long time: It's better for your back, but it might not feel great at first."
How to Contact Saatva
If you need any other information that wasn't included in this Saatva mattress review, you can get in touch with their customer service team by: