About Silk Maison
Silk Maison is on a mission to deliver high-quality silk clothing that fuses innovative craftsmanship, elegant cuts, and versatile styles. Offering garments for women, the brand prides itself on being more affordable than other retailers—without compromising quality.
Silk is a notoriously expensive material, so it's no wonder that Silk Maison is praised for its transparent pricing. The company also has a growing group of online supporters, boasting over 35.7k followers on Instagram, where it regularly displays its garments on models and influencers from around the globe.
It is hard to think of a material with a better feel than silk. Synonymous with class and luxury, this material has never gone out of style. So, are this brand's garments truly high-quality and affordable? This Silk Maison review plans to answer that question.
In the following sections, we'll dive deep into the company and its pricing and collection, source customer testimonials, reveal promotions, answer FAQs, and more. By the end, you'll have all of the information you need to make an informed purchase.
Overview of Silk Maison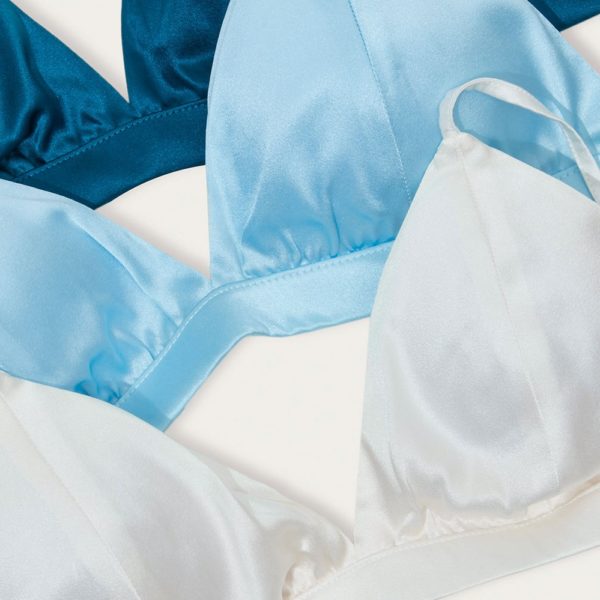 There is an air of mystery that surrounds this brand. According to Narcity, Silk Maison is a "tiny US-based company." Apart from that information, there isn't much available online. But, we do know that it was founded pretty recently—its website has only been active since May 2021.
What the brand does provide information on are its products. According to its site, "Silk Maison strives to enhance your life-wear using luxurious silk accompanied with our elegant design, allowing you to look and feel effortlessly glamorous." As a whole, the company wants to upgrade your staples through fine craftsmanship, high-quality materials, and modern designs.
The company also promises transparency with its prices. Despite its goal to be the most affordable luxury silk retailer on the market, the brand uses "Premium Grade 6A Mulberry Silk" for all of its garments. Silk Maison previously listed a breakdown of all of the costs related to manufacturing each piece, but this feature is currently under construction on its website.
Even the company's packaging is high quality. Every order comes in an embossed box that features Silk Maison's rose gold logo. This makes any order perfect for gifting to a loved one. (Or as a gift to yourself—we won't judge!)
Before jumping into the brand's luxurious collection, this Silk Maison review will weigh several highlights:
Highlights
Wide variety of women's fashion, including dresses, sleepwear, accessories, and more
Made from 100% Mulberry Silk
Competitive pricing for high-quality silk garments
Multiple ways to save
Offers international shipping
14-day return policy
The brand's collection offers hundreds of pieces, all made from high-quality "Grade 6A Mulberry Silk," which loved for its luxurious feel. To get you started, this Silk Maison review will introduce you to the company's best-selling items, ranging from comfortable bralettes to elegant dresses.
Most of the brand's garments are available in sizes S-L or XL. But, there are a handful of products offered in plus sizes—we'll note which ones below.
Silk Maison Silk Dresses Review
Perhaps the company's most beloved offering is its selection of silk dresses. Ranging in length from thigh-high minis to floor-length gowns, each garment designed to be flattering and timeless, lasting you season after season. This Silk Maison review will now highlight the options that customers are currently loving the most.
Silk Maison Lounge Cowl Neck Mini Silk Slip Dress Review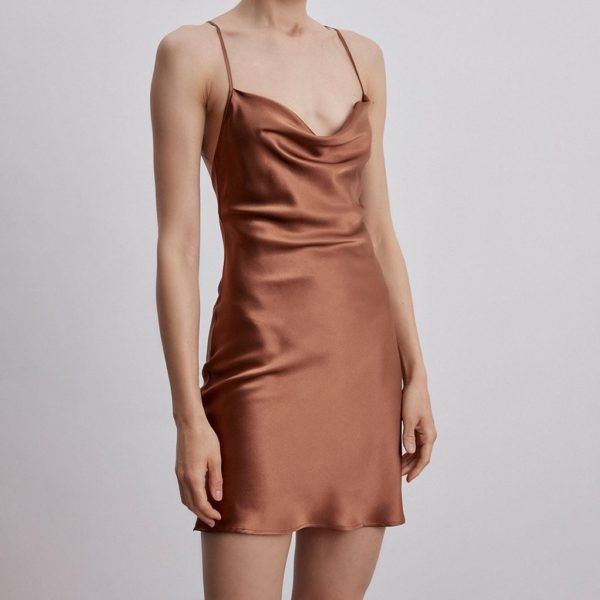 Stylish, modern, and elegant, the Silk Maison Lounge Cowl Neck Mini Silk Slip Dress the perfect fit for any date or night out on the town. It features a mini length and an open, strappy, corset-like back for a seductive yet elegant look.
The fabric loosely drapes across the front of your body to complement your figure while masking any trouble areas. Thanks to the tie-back, you'll be able to adjust the straps to your unique shape.
Available in five colors that range from champagne to black, get this Silk Maison cowl neck dress for $89.
Prefer something a bit longer? Check out the maxi-length Silk Maison silk dresses.
Silk Maison Low-Back Midi Silk Sleep Dress Review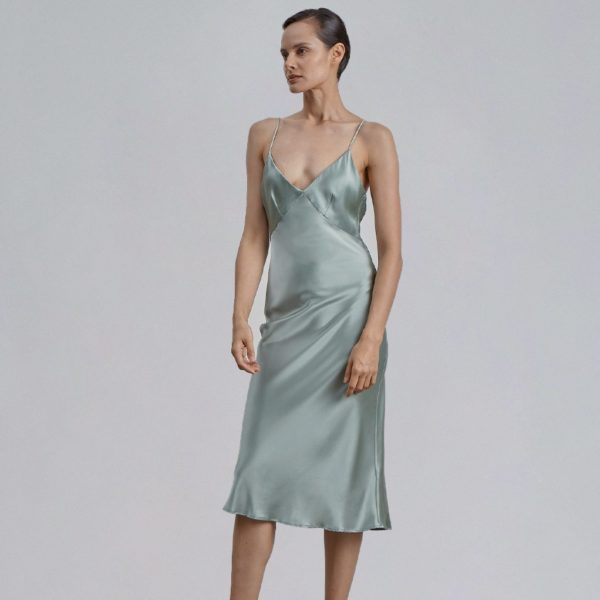 The Silk Maison Low-Back Midi Silk Sleep Dress is perfect for the woman who wants to feel luxurious, even at bedtime. Reminding us of the elegant fashions in the 1920s, who says bedwear can't be a form of self-care?
Truthfully though, this dress could even be worn casually in the daytime. Throw on some nude heels and a leather jacket—no one will know you're meant to curl up in this garment, thanks to its chic and elegant design.
Featuring a low-back cut and an underbust seam, this Silk Maison silk slip dress is available in four flattering colors, including a deep teal and a soft purple-grey. Pick your favorite for $98.
Silk Maison Red Desire Slit Bias Cut Silk Slip Dress Review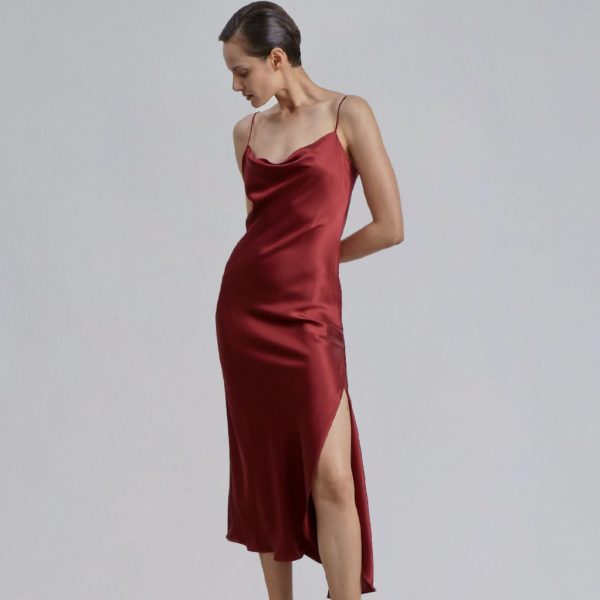 Red dresses are designed to grab attention, and the Silk Maison Red Desire Slit Bias Cut Silk Slip Dress is no exception. Though it falls to your shins, it features a high slit on the left side to add some flare to this otherwise classic cut.
With a low-back design and a slight scoop neck, this dress pulls attention to your decolletage. You'll be able to customize how much cleavage you show off, thanks to the adjustable straps.
For anyone looking to be the belle of the ball and catch the attention of all in the room, the deep burgundy Silk Maison slip dress is available for $128. And, this is one of the brand's pieces that is available in plus sizes, up to a 3XL.
Don't forget to grab a matching Silk Maison silk face mask for your special event.
Silk Maison Orange Piped Splicing Split Silk Dress Review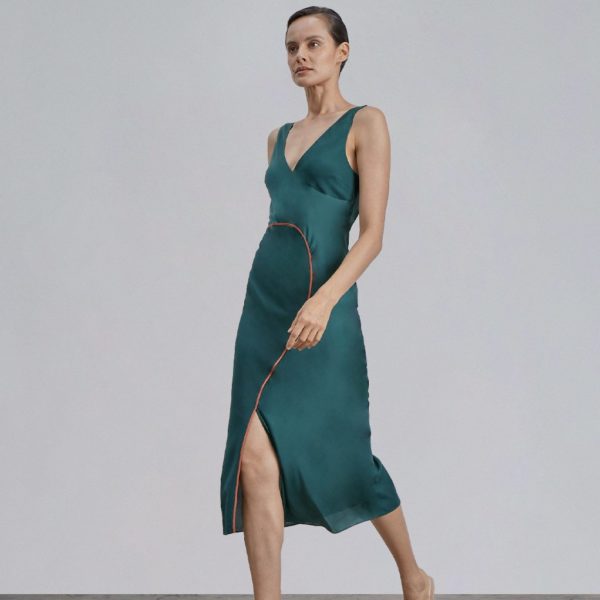 Easily the boldest of all designs included in this Silk Maison review, the Orange Piped Splicing Split Silk Dress offers a unique take on the brand's classic designs. The garment's deep teal color is complemented by asymmetrical orange piping that runs partially around your waist and the dress's slit.
Though the dress is mid-length and falls below your knees, it is cut with a deep v-neck and a low-cut back. The flirty slit travels up your right leg, revealing your knee and providing the dress with some movement.
The Silk Maison splicing dress is sexy and effortless. Add this conversation piece to your wardrobe for $139.
For a more traditional piece, check out the Silk Maison cowl neck midi dress.
Silk Maison Camisoles Review
Silk camis have long considered a wardrobe staple. Timeless, flattering, and versatile, the Silk Maison review will introduce you to the company's most popular option.
Silk Maison Petite Silk Camisole Review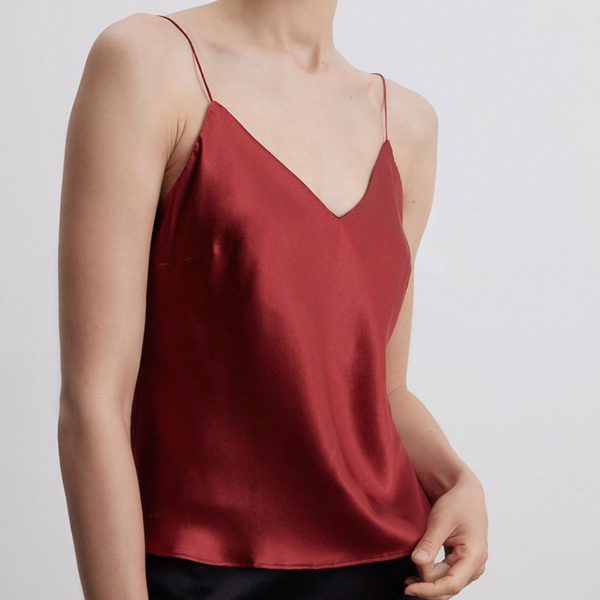 Effortless and easy, the Silk Maison Petite Silk Camisole can styled up or down depending on the occasion. Pair it with a midi skirt and heels for a date, or throw on some jeans for an elevated casual weekend look.
Described as "irregular from the traditional cut," this cami features a cropped, flared waistline. This design element gives the top delicate movement as it drapes around your waist. Dainty straps finish the look, showcasing your decolletage.
Though it is available in five colors, this Silk Maison review particularly enamored with the deep navy hue, which would complement various skin tones. Add this versatile staple to your collection for $58.
Silk Maison Bralettes Review
Bralettes are loved for their ability to balance function, comfort, and appearance. Silk Maison adds an incredibly feminine touch to the wardrobe staple by making its lingerie out of luxurious silk. Up next, we'll introduce you to two of the brand's most popular bralette styles, including one that is padded and one that is not.
Silk Maison Non-Padded Silk Bralette Review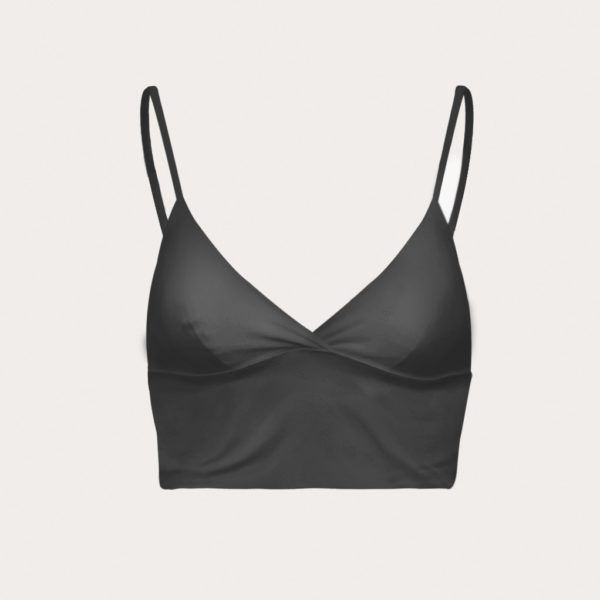 Flattering, comfortable, and elegant—these are just a few words to describe the Silk Maison Non-Padded Silk Bralette. This piece offers wireless triangle cups and a long-line design that hits the top of your hips.
This bralette comes equipped with adjustable straps to ensure a personalized fit. Available in midnight-black and pearl-white, this Silk Maison silk bralette retails on the company's website for $59.
Silk Maison Padded Straps Silk Bra Review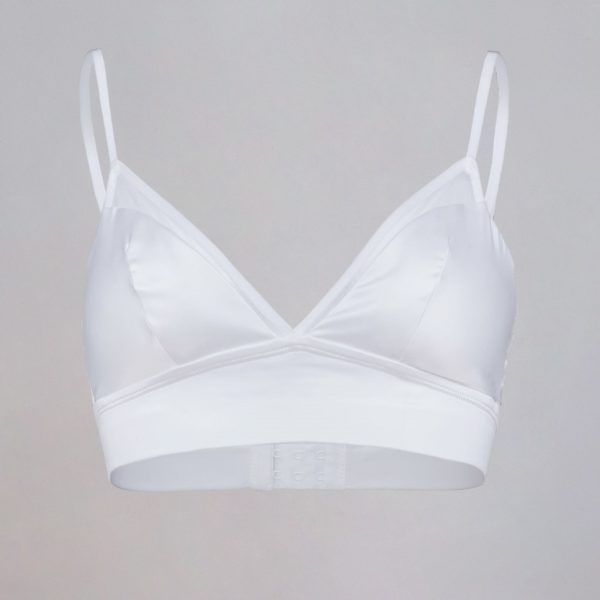 A silk bra is the epitome of luxury. Reminding us of elegant, vintage undergarments, the Silk Maison Padded Straps Silk Bra offers adjustable straps and a triple hook-and-eye closure.
The deep-v cut and convertible straps ensure a seamless appearance under most blouses and dresses. Plus, the padded inserts are removable and can be adjusted to fit your modesty preferences.
You'll also find mesh paneling for an added feminine touch. Available in pearl-white, olive-green, and midnight-black, upgrade your bra collection with this Silk Maison silk bra for $59.
Who Is Silk Maison For?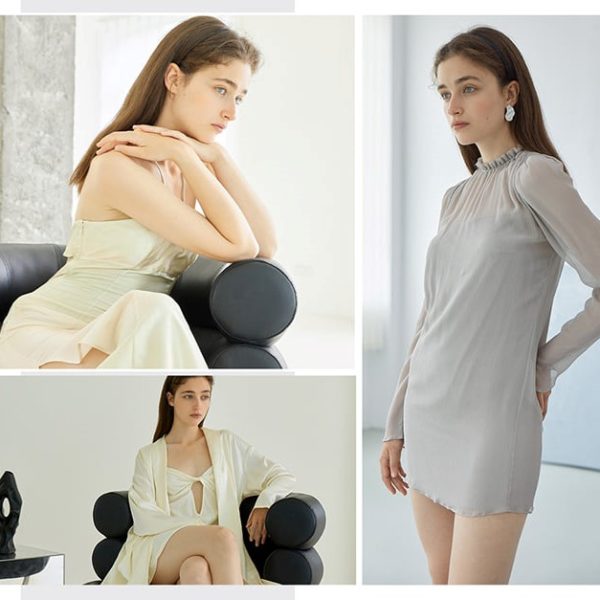 Silk Maison is a women's clothing brand. But, it does not design its products with a specific type of consumer in mind. Regardless of age, sexual orientation, or ethnic background, anyone is welcome to purchase and wear this company's items.
Since the brand also uses real, high-quality silk fabric, its clothing is hypoallergenic and suitable for all skin types. It is worth noting that Silk Maison does not have a plus-size line, and only a handful of products are offered in 2XL or 3XL.
Comparison: Silk Maison vs. LilySilk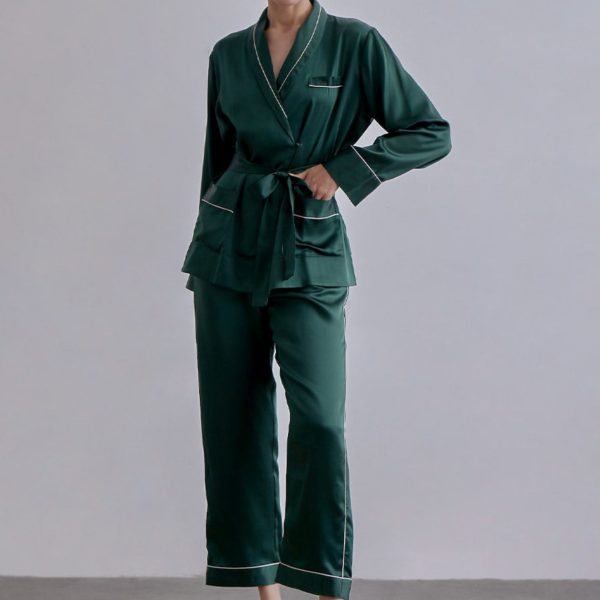 Silk garments are an investment. So, you want to ensure you're shopping from a brand that delivers on long-lasting pieces, quality fabrics, and versatile designs. There are numerous silk-focused brands on the market, so to see what makes our featured option stand out, this Silk Maison review will compare it to a competitor.
LilySilk is another e-commerce platform that delivers high-quality silks. The company has admirable sustainable and ethical practices that it adheres to. Having launched in 2010, this brand has a few years on Silk Maison.
Both Silk Maison and LilySilk use Premium Mulberry Silk in their designs. The price of their garments is also incredibly similar. But, the competitor has a much wider product range that includes men's clothing, bedding, and slippers.
Silk Maison also has a smaller size range. While most of the company's garments range in size from S-L (and occasionally XL), most of the Lilysilk items include XXS-XXXL sizing.
Finally, though both companies offer international shipping, an order from LilySilk will typically arrive at its destination between 6-8 business days. For international orders, a Silk Maison product may take up to 30 working days to arrive.
All in all, the two companies are incredibly similar in quality, design, and operations. When deciding whom to purchase from, it really comes down more to a matter of taste—which one has the garment that best catches your eye?
Silk Maison Reviews: What Do Customers Think?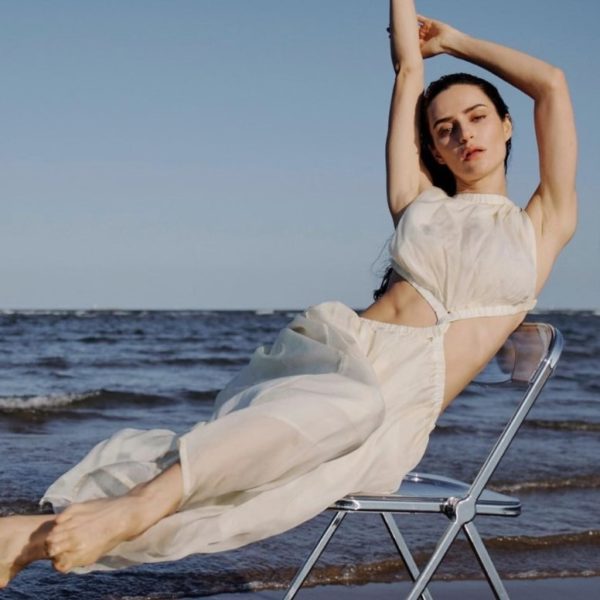 Anyone who has bought a luxurious silk product knows that the shape, fit, and feel are incredibly important. To find out how the brand delivers in those areas, this Silk Maison review sourced testimonials from the company's site, Trustpilot, and Reddit. Let's dive in.
The brand's clothing hasn't yet garnered a ton of reviews online. But, from what we found on its website, shoppers that have left ratings extremely satisfied with their purchases. Here's how some of the best-sellers stack up:
Red Desire Slit Bias Cut Silk Slip Dress: an average of 4.8/5 stars from 19 ratings
Lounge Cowl Neck Midi Silk Slip Dress: an average of 4.8/5 stars from 24 ratings
Front Slit Lace Hollow Silk Dress: an average of 4.9/5 stars from 12 ratings
Silk Bralette Top: an average of 4.8/5 stars from 10 ratings
Cross Halter Silk Jumpsuit: an average of 4.5/5 stars from 8 ratings
Maxi Silk Slip Dress: an average of 4.8/5 stars from 11 ratings
We chose to take a closer look at the Lounge Cowl Neck Midi Silk Slip Dress because it's one of the brand's most-discussed garments. Customers report that it is exceptionally flattering and covers their trouble areas. Plus, the fabric is luxuriously soft. Take this glowing example:
"So I bought the Lounge Cowl Neck Midi Silk Slip Dress for a wedding, and can I just say I'm in love. I'm 5'3 and 110 lbs so I was a bit scared the S would come out too long/big, but it fits like a glove and ends mid-calf. It's easy to adjust it in the waist with the straps though. I want one in every color!"
Another shopper agrees that the sizing is spot-on: "I love this dress, the size is right, very great design."
Similarly, another woman shared her praise for the Red Desire Slit Bias Cut Silk Slip Dress. She "highly recommended" the product, and wrote, "I wanted a nice silk dress at an affordable price. Here it is. The dress arrived sooner than expected, and the color is a vibrant, beautiful red. Really great quality."
To see how well these positive sentiments hold up, we turned to Trustpilot. Here, Customers report that each garment "looks just like the pictures." Shopping online can be tricky, especially when trying a new brand, so this is definitely reassuring!
Finally, we took a look at what shoppers on Reddit were saying about the brand. Here, Silk Maison comes recommended for those looking to purchase affordable silk garments. commenters report great success with exchanges and returns.
In one Silk Maison review, a Redditor confirms that the brand's dresses are of good quality for the cost: "The quality is pretty good, the longer slipdress was a bit too nightgown looking, but the mini dress was excellent. I would say the price matches the quality."
All in all, customers are incredibly happy with their Silk Maison purchases. High quality, sexy, and trendy, it seems every woman could benefit from a well-made, stylish silk garment in their wardrobe.
Is Silk Maison Worth It?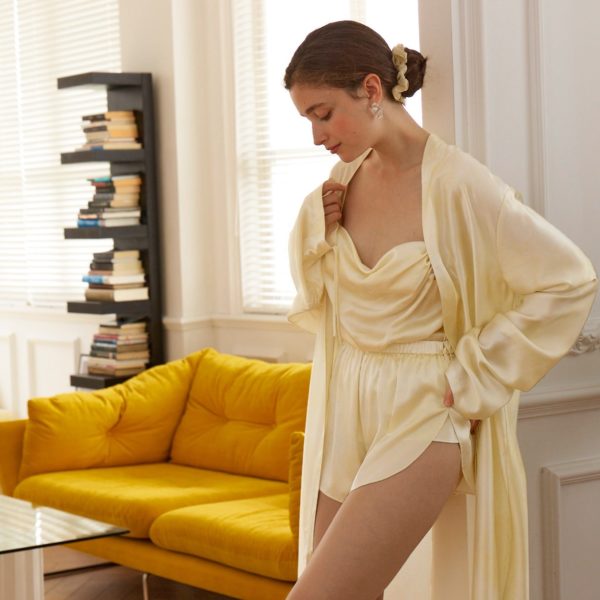 Silk is a staple for any woman's wardrobe. Whether that's an elegant little black dress, a luxurious pajama set, or a hair-protecting scrunchie—there's certainly a silk garment calling your name. Silk Maison is here to help you add that elegance to your wardrobe for a more competitive price than other retailers.
Plus, the brand still uses high-quality materials—100% Mulberry Silk, in fact. The brand describes this material as the "queen of fibers" due to its luxurious feel. Customers across the web complement the way this material feels and drapes across their bodies.
To sweeten the deal, the company also offers multiple ways to save on your order. For all of these reasons, this Silk Maison review believes the company's products are absolutely worth the investment.
Silk Maison Promotions & Discounts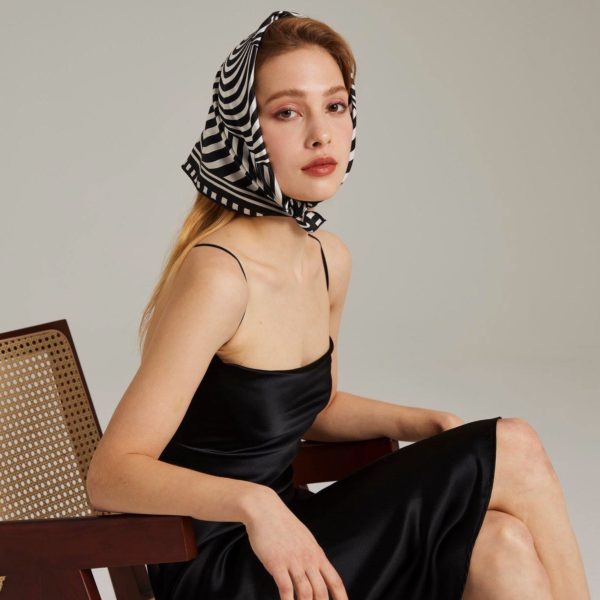 Look—silk can be expensive. Though Silk Maison offers affordable garments in the realm of luxury goods, an extra discount or two won't hurt. Here's how you can save on your order:
Students receive 20% off their orders
Sign up for the e-newsletter to save 10%
Head to the Sale page for up to 30% off select pieces
Silk Maison Loyalty Club: every $1 you spend gets you 1 point—redeem 100 points for $1 off your next order
Where to Buy Silk Maison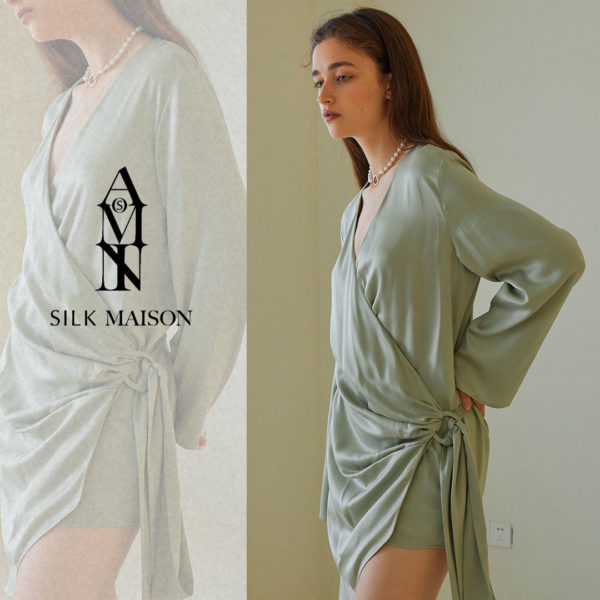 The brand's products are only available at SilkMaison.com.
FAQ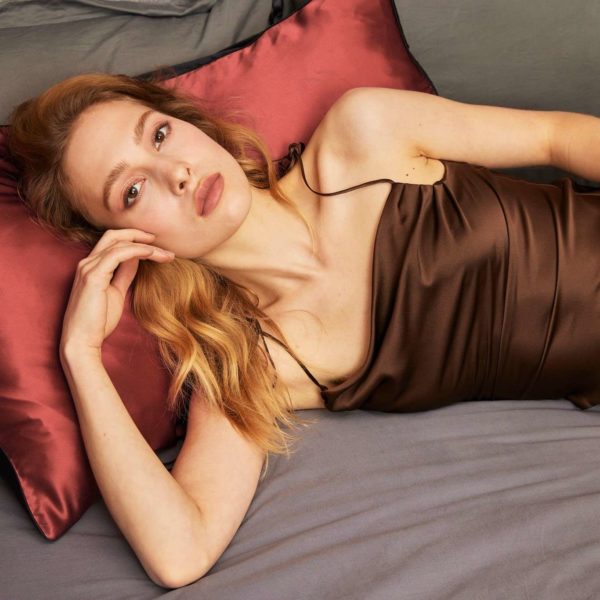 Where is Silk Maison Made?
Silk Maison does not disclose where its products made. But, we found reports that shipments sent from China, which may be where its manufacturing facilities are located.
Does Silk Maison Fit True to Size?
Most customers report that the brand's garments fit true to size, including the Silk Maison silver slip dresses. But, some pieces designed to fit differently, so be sure to read the size guide for each item before making a purchase.
What is Silk Maison's Shipping Policy?
Silk Maison ships internationally. Orders are typically processed within 5-7 days. Once your package is on its way to you, you'll receive a tracking number.
US orders over $188 ship for free, with delivery expected within 7-15 business days. For orders under that amount or outside of the US, your shipping costs and expected delivery times will calculated at checkout. The typical international shipping estimate is 7-30 working days.
Duties and customs fees are usually the customer's responsibility. But, the brand may cover them in some cases.
What is Silk Maison's Return Policy?
Silk Maison offers a 14-day return policy. Any returns or exchanges attempted after that 14 day period will not accepted. It is worth noting though that sale items, silk lingerie, and customized items cannot returned.
Return shipping costs are at the customer's expense.