When I published my Sezane try-on-trials post, it was a quick, spur-of-the-moment piece, one fuelled by frustration. Basically, I was trying to find fit information on Sezane clothing and failing.
Apparently, I'm not alone. Because that post has been one of my most viewed on Wolf & Stag ever. I'm hoping this means you all find fit guides useful, the same way I do.
Which is why, in a bid to help all of you embrace quality-over-quantity — fewer things, quality things, things that fit and you'll love forever — I've decided to make these fit guides a permanent staple in the Wolf & Stag content arsenal.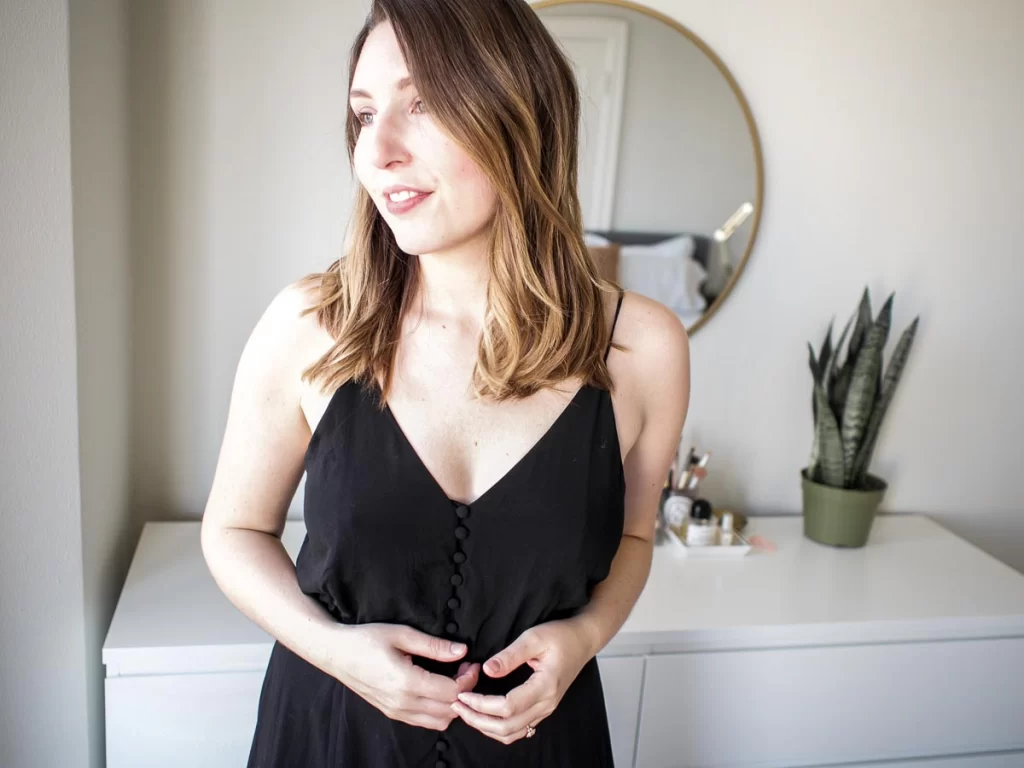 This next crop in the Honest Review series should actually be labelled 'Eire Faces her Nemesis.' My arch enemy? Dresses (duh duh duhhhhh). Urban Outfitters dresses to be exact.
As I mentioned in my Sezane honest review, in all honesty, I own about 2 dresses. One of which is that Sezane dress that I ended up purchasing. It's a fact that I just accepted as a way of life — Eire wears jeans and a silk top or sweater, all day, errrr day.
But then, I put on a dress for Stag. An ill-fitting one, at that. I walked into the room to show Stag, ready to launch into how badly it fit.
Stag's eyes — I will never forget that look. Aglow with surprise and awe, and perhaps a hint of lust (sorry, Stag's mom). "You're… you're wearing a dress?" he breathed in wonder. I'm not exaggerating. Okay, definitely exaggerating a little. But I took this as one giant slap-in-the-face sign: I should wear dresses more often.
And so, I bought some. Four dresses, each one fitting very differently. See my review — honest, as always — below.
Some Essential Information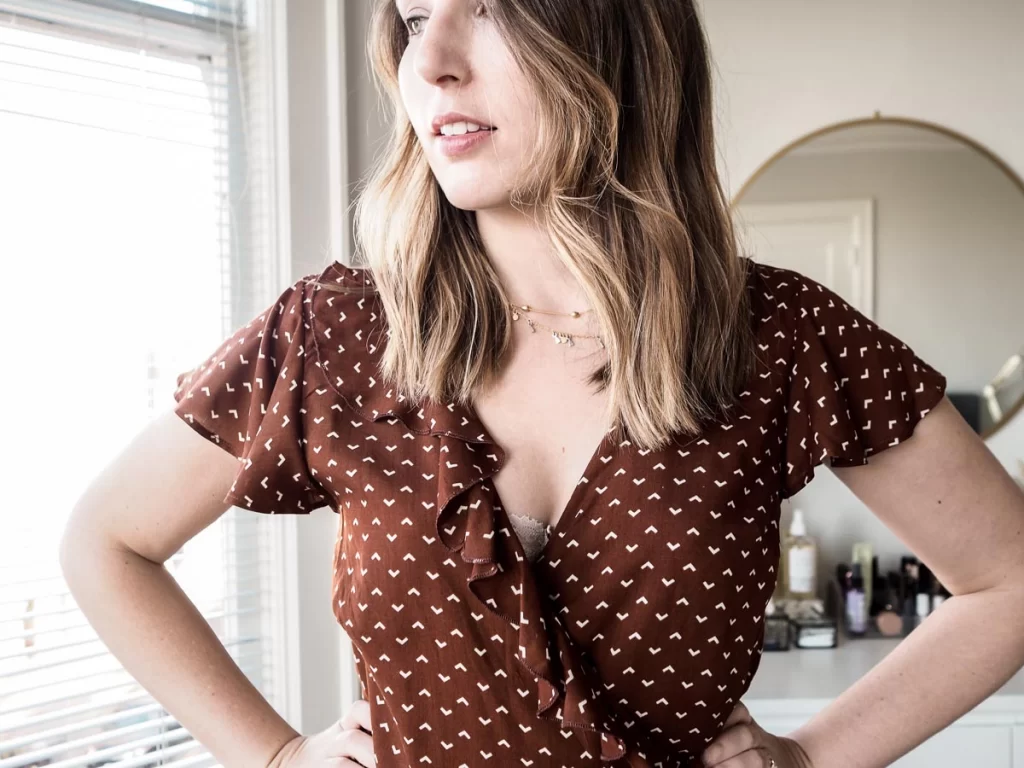 My Sizing
For reference, I am 5'5″, 34D, with a 'straight' body type. A.K.A, I got no waist.
In clothes, I generally wear a US Size 6-8, UK Size 10-12. In the US, I tend to almost always buy a size 6, in the UK it can vary. This translates to me wearing a S-M in most clothes, falling somewhere awkwardly in the middle
As a general rule, for me, I tend to order one size up from whatever the model is wearing. This trick doesn't always work, but in general, it helps me choose the right sizing.
Urban Outfitters Sizing
…is a bit all over the place. In the past, I have ordered size Small of things. Sometimes, large fits me. What I've learned is that it depends on the brand and the cut of the item. In general, though, I would assume I am a Size Medium / Size 8 US in Urban Outfitters dresses.
An Honest Review of Urban Outfitters Dresses
Kimchi Blue Ruffle Midi Dress (in two colors)
Size Ordered: Brown: Medium | Blue: Small
Return/Kept? Returned both (not flattering)
Since last summer, I keep spotting style mavens rocking the beautiful wrap dresses that are so popular, and I want in. Effortless, chic, romantic: everything I love in a dress. Reformation, Faithfull the Brand, Realisation Par all boast these styles, made famous by cool girls (Lucy Williams, my dreamboat icon) and girly girls alike.
Sounds like the perfect dress, right? Wrong. They notoriously look awful on top-heavy or straight up-and-down gals, like myself. Anything drawing attention to the tummy is a no-go, and if you have big ol' boobs? Fuhgeddaboudit. But, willful and defiant as I am (and in denial?), I kept insisting on trying them, to frumpy-looking avail. When I spotted these ones by Kimchi Blue at bargain prices, I had to give them a try.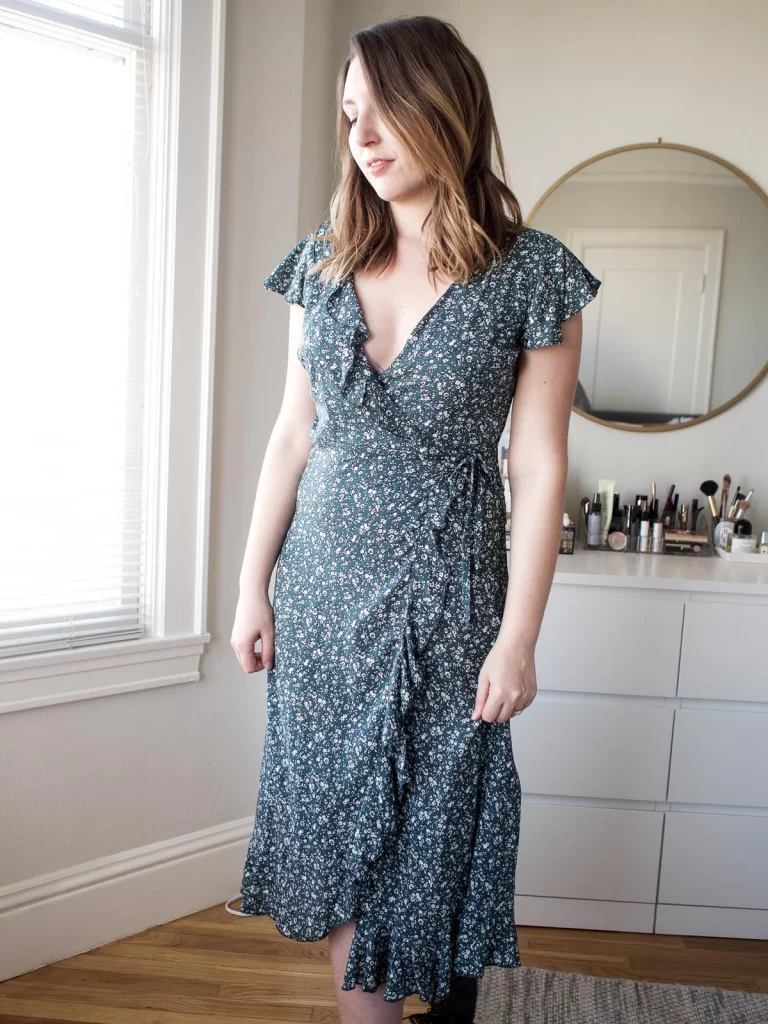 Left: Size Medium (too big) // Right: Size Small (too small)
However, as predicted, this just didn't do me justice. The brown color in Medium definitely fit the best — and, if I squinted hard enough, I almost loved it — but as you can see from the pics, any bit of movement, and my bra was exposed. The blue color in Small tugged in all the wrong places and was definitely too small for my frame.
So, unfortunately, back they went. A shame, because I was in love with the print on the brown dress. And those ruffle details? Swoon.
Urban Outfitters Audrey Long-Sleeve Wrap Dress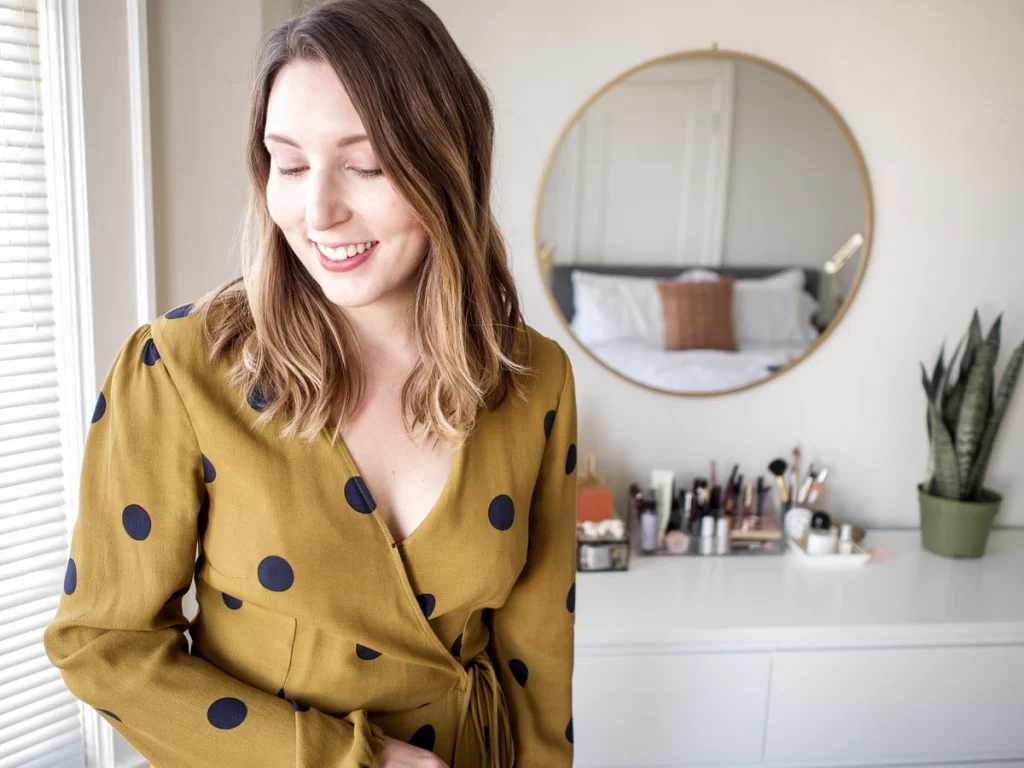 Size Ordered: Medium
Return/Kept? Returned (too big)
You may have spotted this one on my Winter Edit on the blog homepage. Needless to say, I was so excited to order this dress. Something yellow (COLOR IN MY WARDROBE? what is this nonsense?), polka-dots for Spring, wrap-dress, long-sleeves: be still my beating heart.
However, this dress was all sorts of no. The material is scratchy; the fit, just wrong. It was definitely too big in most places, and the length was very unflattering for those of us under 5'11". Unlike the Kimchi Blue dresses above, the tie on this wasn't as easy and secure to fasten. Overall: not a winner in my book. Sorry. Urban Outfitters.

Urban Outfitters Lady Lava Covered Button-Down Midi Dress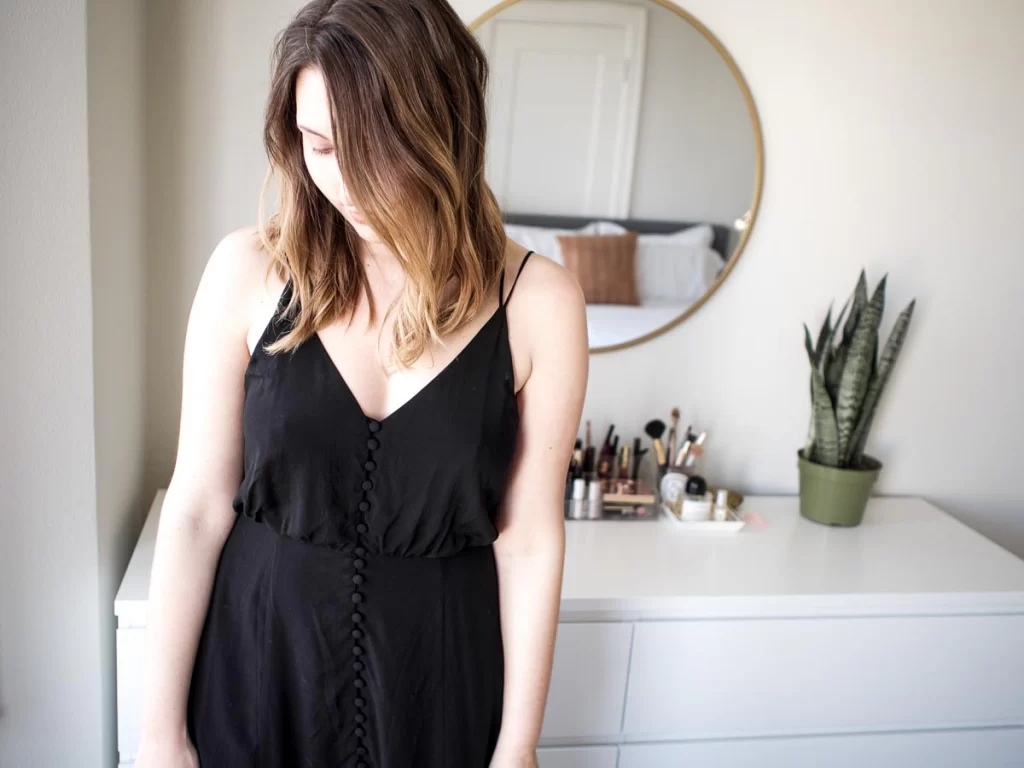 Size Ordered: US8 (UK12)
Return/Kept? Kept
Well, I'm saving the best for last with this post, because I bloody love this dress. I've had this wistful desire to sport a draping, long black dress in summer, wide-brimmed hat in tow, tan skin and no-bra kind of attitude. Clearly, this is more a result of Pinterest than what actually suits my body shape and lifestyle (hello, large chest and pale-pale skin). It's why I've been trying to find the perfect summer black dress for quite some time, always failing miserably.
And then this Lady Lava came along — and is she quite the lady. It drapes in all the right places, showing the right amount of skin (but not too much). With adjustable straps — the holy grail of dress details, sorry pockets — it will suit a variety of shapes. For reference, I am not wearing a bra in these photos (TMI), and it still fits like a dream. I've worn it out and about since, sans bra, and it's supported me just fine.
A little dance to show you how much I love this dress.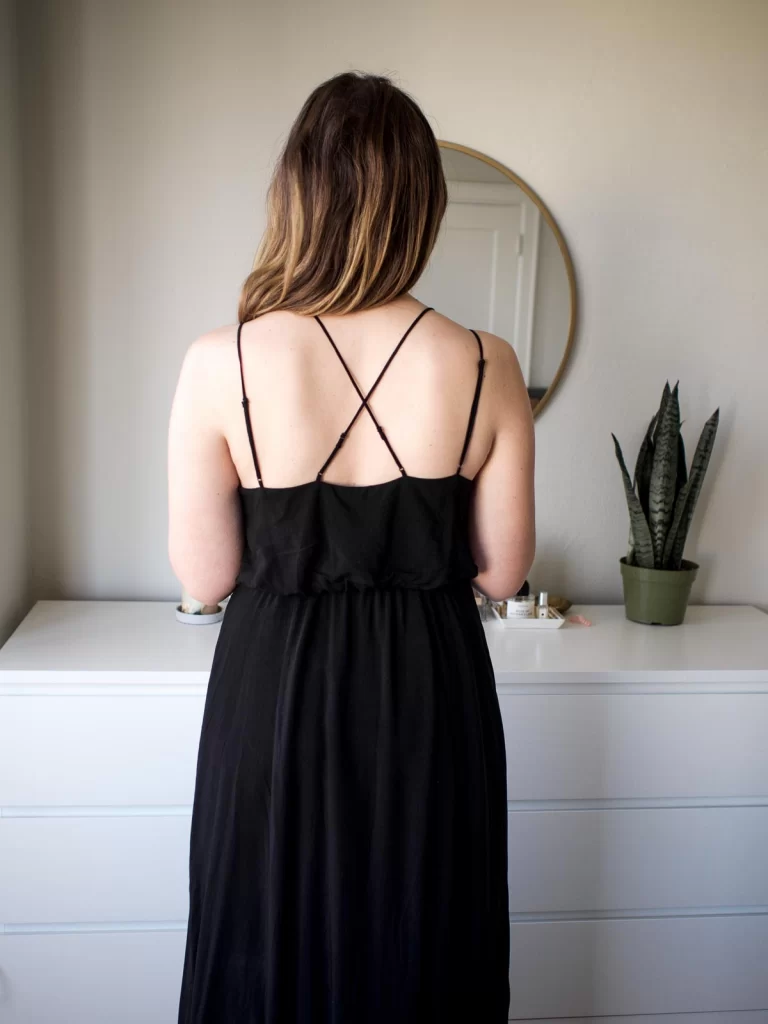 Final Verdict
Urban Outfitters dresses were definitely a hit and miss for me. The material on of these dresses felt flimsy and cheap. However, the Lady Lava dress is my total jam. I would say: when it comes to wrap dresses, proceed with caution. Although considerably more expensive, the offerings from Reformation and Christy Dawn seem to be much more sustainable and higher quality. Shop less, and buy fewer things.