Working on a website is fine. But, what if you're landing page is not correct? Today, many website owners neglect the importance of a good landing page. Hope you are not doing the same mistake. A landing page is the only page that actually helps you to translate your hard work into success. For an effective conversion one has to pay attention to the landing page.
What is a Landing Page?
It is actually a web page representing a website to the online audience. It is the page where a viewer or consumer lands to become your client after seeing your promises made through content. It is a potential page where a consumer or viewer can turn into your customer. It is the page that helps you to achieve your sales through offers, enticing deals, and promotions. Thus, it is a lead generation page that takes a consumer directly to the offer, your website, an exclusive deal posted by you.
Therefore, it is very important for any online website, e-commerce store, or a business site to pay special attention to the landing page's design, content, link, and all other technical aspects to grab the attention of potential consumers. However, if you are in search of a platform that allows you to function and create landing pages then Unbounce is the best option you can get. It is the platform which is known for its beautiful and amazing ability to let you create and work with landing pages.
About Unbounce
Unbounce is one of the leading landing page platform for all types of ecommerce, SaaS and agencies. To create stunning and profitable landing pages, Unbounce is a go-to platform. It literally helps in the conversion process. With it's technology-driven and effective landing pages, one can easily convert website visitors into leads and customers. With simple drag-and-drop tool, one can easily make and publish a landing page of their choice without needing any technical knowledge. Thus, it helps you to run best campaigns every time without making much effort. The Canadian software firm launched Unbounce in the year 2009. Since then this tool is the most opted by businesses like Amazon, LinkedIn, Canon, Vodafone, etc. Its drag and drop feature makes it super comfortable to use. Along with this, customers get features like popups, sticky bars. Therefore, with Unbounce you won't even feel the necessity to find a developer.
The easiest method to work with Unbounce
Unbounce is incredibly simple to use. It features like drag-and-drop tool which allows to manage it with ease. Here are some steps through which you will be able to work with Unbounce without any issue:
Sign up with the offered free trial. Further, create your own landing page.
Choose the template of your choice and work on its editing.
Customize the template chosen before.
Further, add exclusive elements to the landing page.
Save the landing page you created.
Do the later adjustments, integrations, and publish.
Impressive Features of Unbounce
Most of the features of Unbounce depend upon the plan which you choose. However, here are some main features which one will get after choosing any plan of their choice:
Up to 75 published landing pages. This is available even for the lowest plan.
You will be able to access up to 100 landing page templates and even more.
Up to 8 published popups as well as sticky bars even for the lowest plan.
GDPR compliance.
No limit on users and domains. One can choose from a great list of domains.
Users even get access to dynamic text replacement
SSL encryption
Mobile optimization on landing pages for user-friendly usage on the go.
Photo library store from Unsplash
Apart from these features there is much more offered by Unbounce on all its plans:
Platform integration – it offers you to integrate your website with HubSpot, WordPress, Zoho CRM, etc. You can have around 106 integrations.
It offers various stats and reports including generated leads, views, conversions, and traffic, etc.
Also, Unbounce offers Google page speed at the best price which makes to load your pages at high speed.
Price plans by Unbounce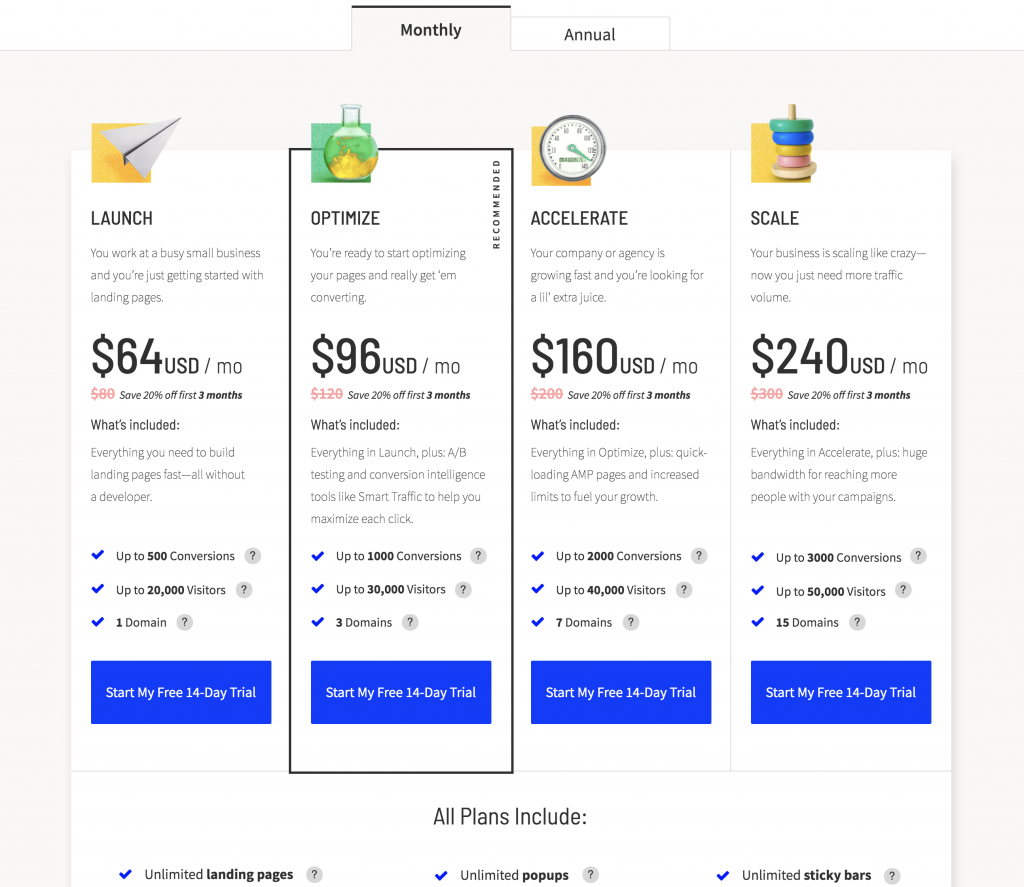 There are basically three price plans offered by Unbounce. The most basic of all starts at the price of $79/ month which includes up to 75 landing pages plus 8 popups as well as sticky bars. On the contrary, the premium plan is for $159/ month and the enterprise plan is for $399/ month.
Unbounce provides 30-days free trials to its customers to know and work with it in a more convenient way.
Conclusion
To sum up this review, Unbounce is a convenient option for all those who want an impressive solution to create landing pages. It is extremely simple to use, provides security, impressive templates, and much more. With build-in drag-and-drop tool, customizable templates, pre-installed conversion tool, and mobile compatibility it is nothing short of a one-stop platform to create profitable landing pages without making much effort. The best part is that it doesn't cause a dent in your pocket with it's affordable plans. Therefore, you can definitely pick Unbounce without thinking twice.