Unlike other car rental loyalty programs, you won't earn points when renting with National Car Rental. Instead, you'll earn rental credits toward free rental days. And, as you might expect, National Emerald Club elite members earn free rental days quicker.
Finding the best rental car company to suit your needs as a traveler is more important than ever. So, when it comes time for your next road trip, here's what you need to know about National's Emerald Club.
National Emerald Club program overview
The first thing you need to know is that National does not have a points program. Instead, National allows customers to earn credits to use for free rental days.
National Emerald Club members earn one credit for every qualifying car rental of one to seven days. But on rentals of eight days or longer, you'll earn credits based on how long you rent. In particular, the credits you earn will equal your total rental days divided by four. Broken down, it looks like this:
One-to-seven-day rentals earn one rental credit.
Eight-to-11-day rentals earn two rental credits.
12-to-15-day rentals earn three rental credits.
16-to-19-day rentals earn four rental credits.
And so on.
Overall, this program rewards members who frequently rent for short periods more than those who opt for less frequent, extended rentals.
National offers users a mobile app for contactless checkout, which can be particularly useful for airports with no Emerald Aisle. Through the app, you can select a vehicle based on its year, make, model, color and mileage ahead of time. Then, National will hold the car for you for 15 minutes.
Enterprise Holdings own National. So, you can also book cars from any Enterprise location through National's website. You'll even earn credits toward free rental days and elite status at participating Enterprise locations when you enter your Emerald Club membership number on the reservation rental. Check here for a list of participating Enterprise locations. However, you won't get Emerald Club elite benefits when you rent from Enterprise locations.
Elite status with National Emerald Club
As soon as you join National's Emerald Club program, you'll get perks. But, as you rent more, you may reach higher tiers of elite status with National. Here's what you need to know about the entry-level Emerald Club status as well as the higher Executive and Executive Elite status tiers.

Emerald Club entry-level status
Emerald Club offers some benefits even to entry-level members. In particular, here are some of the top entry-level National Emerald Club perks:
Redeem for a free rental day with seven rental credits.
Bypass the counter at select airports in the U.S. and Canada, go directly to the row of the car class you reserved and choose any vehicle.
Emerald Aisle Access, which allows you to choose any midsize car in the Emerald Aisle area and only pay the midsize
rate in the U.S. and Canada.
No second driver fees.
Drop & Go service, meaning you can drop off your car and get an emailed receipt.
Priority service provides members with expedited service at the 70-plus Emerald Aisle locations throughout the U.S. and Canada and in Europe, Latin America and the Caribbean.
Emerald Club Executive status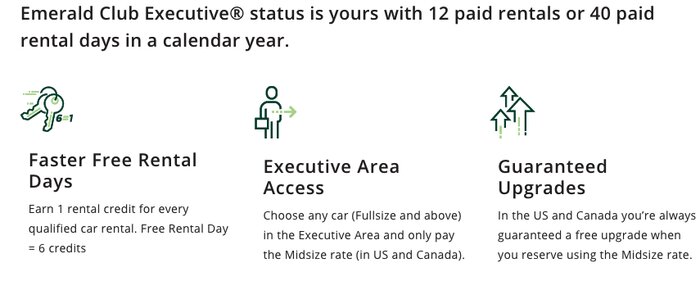 You'll earn National Emerald Club Executive status once you complete 12 paid rentals or 40 paid rental days in one calendar year. And Executive members can redeem six credits for a free rental day, instead of the seven required for entry-level Emerald Club members.
There are two other noteworthy perks that Executive status unlocks. First, you can choose any car in the Executive Area at select rental locations in the U.S. and Canada and only pay the midsize rate. And second, you'll get special pricing when you upgrade to Premier Selection vehicles at the rental lot in the U.S. and Canada. Premier Selection vehicles typically include upscale, luxury vehicles such as the Cadillac Escalade, Lincoln Navigator and Lexus IS 250.
You can snag National Emerald Club Executive status as a perk of several premium travel rewards cards, including The Platinum Card® from American Express, The Business Platinum Card® from American Express and the Chase Sapphire Reserve. Enrollment required.
Emerald Club Executive Elite status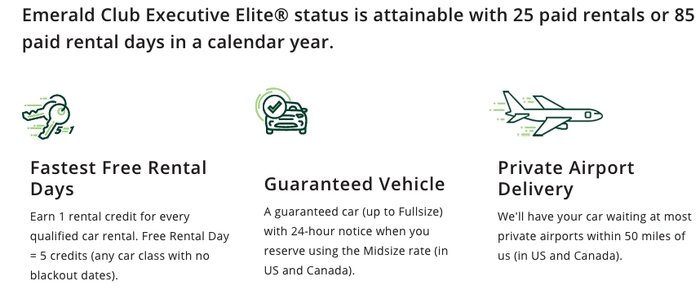 National Emerald Club's highest elite status tier is Executive Elite, which you can reach after 25 paid rentals or 85 paid rental days in a calendar year. Executive Elite shares a lot of perks with lower Emerald Club tiers, but there are some additional benefits of this top-tier status, including:
Redeem for a free rental day (in any car class except trucks and exotic vehicles) with five rental credits.
Get a guaranteed car (up to full-size) when you reserve using the midsize rate at least 24 hours in advance in the U.S. or Canada.
Delivery to most private airports in the U.S. or Canada that are within 50 miles of a National rental location.
Earn points and miles with Emerald Club
National Emerald Club members can earn frequent flyer miles or hotel points instead of rental credits on their rentals. In particular, you can choose to earn airline miles with 12 programs or hotel points with three programs. See the complete list of partners here, but here's a quick look at what you could earn in some of the most popular programs:
Alaska Mileage Plan: 50 miles per day.
American AAdvantage: 50 miles per day.
Delta SkyMiles: 500 miles per rental.
Hilton Honors: 500 points per rental.
Southwest Rapid Rewards: 600 points per rental.
To change your earning preference, log in to your Emerald Club account, navigate to your profile, click on "Rewards" and select "Modify" next to "Rewards Preferences." However, National charges a "Frequent Traveler Surcharge" on reservations that earn points or miles in partner programs. So consider whether it makes more sense to earn credit toward a free rental or pay extra to earn points or miles.
Tips for maximizing Emerald Club car rentals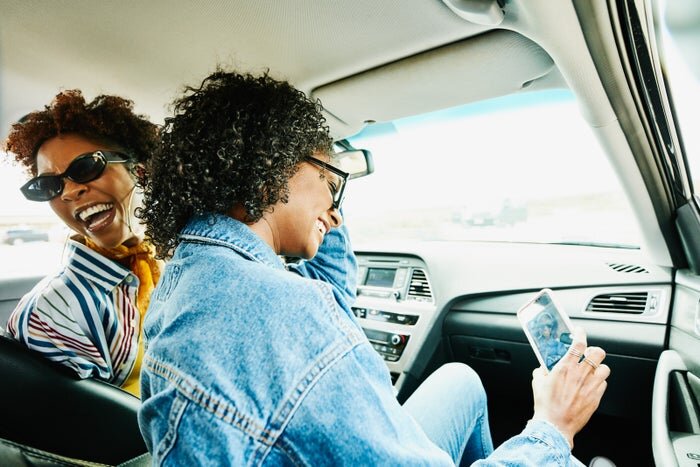 Here at TPG, we've written multiple articles about how to maximize car rentals. For example, TPG's Benji Stawski wrote about saving money on road trips with points and miles and TPG's Andrew Kunesh discussed how to never pay full price for a rental car. But, here are several tips for maximizing car rentals with National Emerald Club:
Use coupon codes: As with most rental car companies, you'll get a much better rate when using a coupon code or corporate code. These codes are available to employees of many major companies and members of large organizations, in addition to deals listed on National's specials page. Currently, National is offering a promotion for a free single car class upgrade of a compact through standard-size car. Use code "FREE UPGRADE ONE CAR CLASS" for travel from June 1 to Oct. 31, 2021. National also offers last-minute specials for daily, weekend and weekly rentals at participating locations.
Rent from locations with an Emerald Aisle: Book an eligible midsize rate and rent from a location where you'll be able to select your vehicle. You may be able to snag a larger or better car by doing so.
Consider Premier Selection vehicles: For an additional fee, you can try National's Premier selection fleet to try out cars you wouldn't normally otherwise, such as a Corvette or Maserati. Remember that luxury vehicles tend to be excluded from credit card rental car insurance, but the optional American Express Premium Car Rental Protection may provide coverage.
Try AutoSlash: Even though you must book an eligible rate to get Emerald Club perks and earnings, you can often find better rates with AutoSlash. You can use AutoSlash to compare rates before booking and to look for better rates after booking.
Finally, regardless of which rental car company you use, it's worth using one of the best credit cards for rental car coverage to pay for your rental. By doing so, you may be able to decline the additional coverage options offered by the rental company.
Bottom line
National Emerald Club is a beneficial program for travelers who rent midsize or higher vehicles frequently and for short periods. With more than 1,500 car rental locations across the globe to choose from, you'll find a rental location to fit your needs on most trips.