Renting a car may not be as fun as taking a flight or enjoying a hotel stay, but it can be a necessary part of travel.
We've previously shown you some great websites to book a rental car, plus we've looked in-depth at rental companies like Hertz and Avis. Now in this post, we'll take a deep dive into National Car Rental to see how to use the website and we'll take a look at their loyalty program, Emerald Club.
How to Rent a Car Through National
National Car Rental has over 1,500 locations across the world including the U.S., Canada, Europe, Latin America, the Caribbean, Asia-Pacific, Africa, and Australia.
Using National to rent a car is a simple process, requiring only a few steps.
Enter your pickup location, dates, times, and renter's age in the main search box on National's home page. If you need to add your Emerald Club membership number or a coupon code, click on the Account Number/Coupons dropdown box.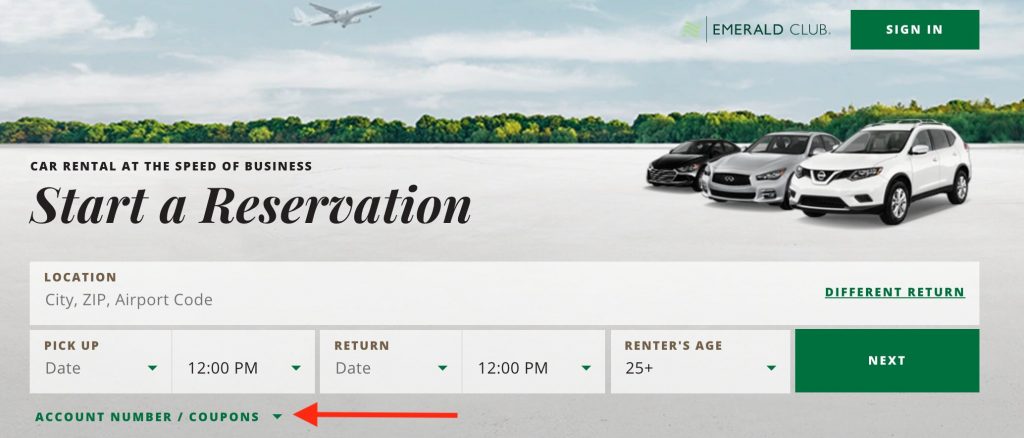 You results list will automatically display the least expensive option at the top. For more information and pricing details about each car, just click the Features and Pricing dropdown box.

Next, you'll have the option to add additional products and services including insurance, roadside protection, navigation, and car seats. Then you can finalize your reservation.
Do You Need to Add Extra Insurance?
Whether or not you should purchase the insurance options offered by National Car Rental has a lot to do with what credit cards you have in your wallet.
Did you know that many credit cards come with complimentary collision damage waivers? One of our favorites is the Chase Sapphire Preferred® card because it comes with primary travel insurance.
Emerald Club Elite Status
Emerald Club is the loyalty program of National Car Rental. Within Emerald Club, there are 3 separate status levels you can earn that offer benefits including free rental days, guaranteed upgrades, and guaranteed vehicles.
Emerald Club Services
Emerald Club offers some services to every member, regardless of status level.
Emerald Aisle®: This service allows you to bypass the counter when you reserve a midsize car by choosing any car from the Emerald Aisle in the U.S. and Canada.
Emerald Checkout℠: Emerald Checkout allows you to get on your way faster by selecting a car and confirming rental details using the National mobile app.
Premier Selection: This service allows you to upgrade to a premier class car at the lot without having to visit the service counter.
Emerald Reserve Service℠: Emerald Reserve Service allows you to bypass the counter and select any available car in the class you booked. This is available at over 70 locations across the U.S. and Canada.
Emerald Club Counter Service℠: You'll be able to access the dedicated Emerald Club line at the rental counter for faster service.
Priority Service: Priority Service allows you to skip the counter and go directly to the Emerald Club booth at select locations in Europe, Latin America, and the Caribbean.
Emerald Club® Status
Emerald Club's lowest level of status is simply called Emerald Club. With this status, you'll earn 1 rental credit for each qualified rental. Once you've earned 7 rental credits, you'll be eligible for a free rental day.
Emerald Club level members receive all of the Emerald Club Services listed above plus these benefits:
No second driver fees
Drop & Go℠: just drop off your rental and go and your receipt will be emailed to you
Earn free rental days and higher status with Emerald Club when you rent cars from Enterprise
A free 1 class car upgrade when renting at participating locations in the U.K., Ireland, France, Spain, and Germany
Emerald Club Executive® Status
You'll be upgraded to Emerald Club Executive status once you have completed 12 paid rentals or 40 paid rental days in a calendar year.
You'll earn 1 rental credit for each qualifying rental and free rental days only cost 6 rental credits.
With this mid-tier status, you'll enjoy all of the Emerald Club services, benefits offered at the Emerald Club level, plus these additional perks:
Choose any car that's a full size or above from the Executive section and you'll only pay for a midsize (available in the U.S. and Canada)
Guaranteed upgrade when you rent a midsize or above in the U.S. or Canada
Emerald Club Executive Elite® Status
To earn Emerald Club Executive Elite status you'll need to have 25 paid rentals or 85 paid rental days in a calendar year.
You'll earn 1 rental credit for each qualifying rental and free rental days only cost 5 rental credits for any car class (except trucks and exotics) with no blackout dates.
Executive Elite status includes all of the benefits offered at the lower status levels plus the following:
A guaranteed car within 24 hours when you rent using the midsize rate (U.S. and Canada only)
Your car can be delivered to most private airports (within 50 miles of a National Rental Car location in the U.S. or Canada)
National Status Match
National Car Rental will match your elite status from more than 40 car rental, hotel or airline programs upon request. Once your status match is approved it's valid until February 28 of the second calendar year after approval.
In order to maintain your matched status, you'll need to meet the standard qualification requirements.
Partner Rewards Programs
If you would prefer not to earn car rental credits, you can opt to earn airline or hotel points instead. This is especially handy for anyone who doesn't rent cars often and wouldn't be able to earn enough for a free car rental.
The only downside to this is that National charges a "Frequent Traveler Recovery Fee" of $0.75-$1.00 per day when you choose to earn select airline or hotel points instead of National car rental credits.
Airline Partners
Here's what you can expect to earn with each of National's 14 airline partners:
ANA Mileage Club Miles: 50 credits per day (up to 300)
Air China PhoenixMiles: 800 km per rental
Alaska Airlines Mileage Plan: 50 miles per day
American Airlines AAdvantage: 50 miles per day
Asia Miles: 500 miles per rental
Asiana Airlines Asiana Club: 500 miles per rental
Copa Airlines Connect Miles: 50 miles per day
Delta SkyMiles: 500 miles per rental
Eva Air Infinity MileageLands: 500 miles per rental
Frontier Miles: 50 miles per day
Korean Air SKYPASS Miles: 500 miles per rental
Lufthansa Miles & More: 500 miles per day
Southwest Rapid Rewards: 600 points per rental
Sun Country Rewards: 600 miles per rental
Hotel Partners
Here's what you can expect to earn with National's 3 hotel partners:
Best Western Hotels & Resorts: 3 points per $1
Hilton Honors: 500 points per rental
Radisson Rewards Americas: 300 points per day
Other Partners
National Rental Car has 2 more partners that you can choose to earn points with.
Signature Flight Support: 1 point per $1
Air Miles Travel and More: 10 miles per day (up to 40 miles)
National Mobile App
National Car Rental offers a mobile app that you can use to manage your rentals, your Emerald Club membership, and offers access to features like Emerald Checkout.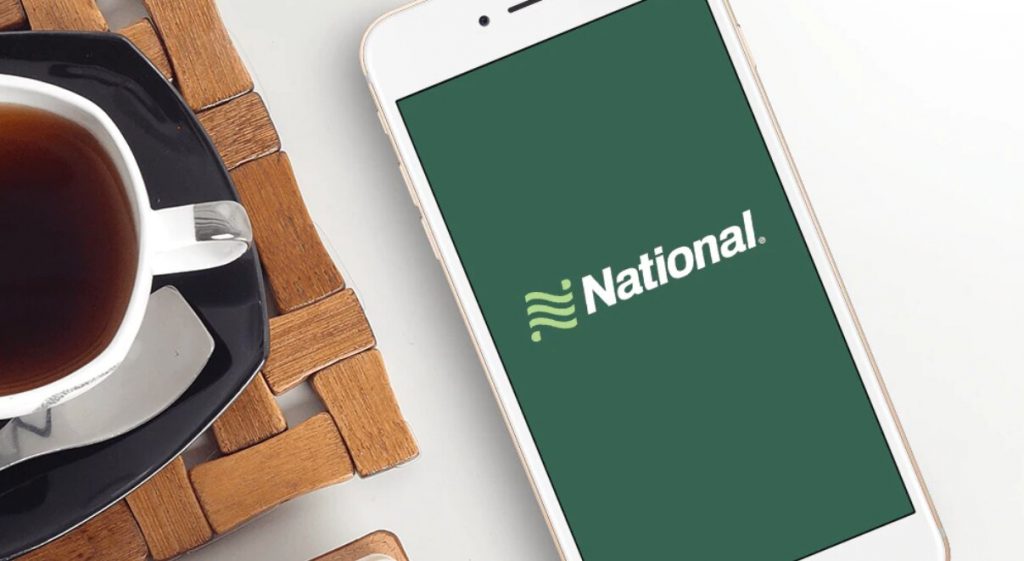 With Emerald Checkout, you'll be able to use your mobile phone to choose a vehicle at Emerald Aisle locations in the U.S. and Canada, confirm your rental details, and speed through checkout with a "Virtual Pass" barcode.
You'll also be able to use the app to keep track of your Emerald Club status, watch your progress towards the next elite level, and keep track of your credits towards free rental days.
Price Comparisons
Let's take a look at how National's prices stack up to other car rental agencies.
For these examples, we priced out week-long rentals for different types of cars across the country.
Here is how the prices unfolded: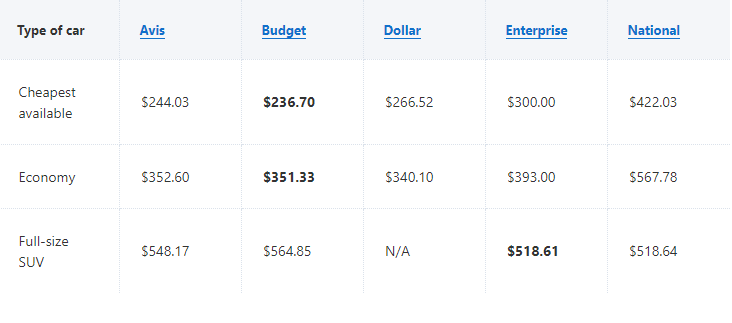 As you can see, car rental prices are all over the map. While National was the most expensive by far in the first 2 searches, it nearly matched the lowest price in the last search (the difference was only $0.03!).
Final Thoughts
National Car Rental is an easy to use site to find a rental car. They even offer their own loyalty program called Emerald Club that allows you to earn rental credits to apply towards free car rentals as well as perks like upgrades and expedited service.
While National's prices can be competitive, it's always best to do a little price comparison before you rent to ensure you're getting the best deal.
Frequently asked questions
Is National Emerald Club free?
Yes, it's completely free to join National Emerald Club. You can enroll here.
Is Enterprise part of National Car Rental?
No, Enterprise Rent-A-Car isn't part of National Car Rental. They are, however, owned by the same company, Enterprise Holdings, who also owns Alamo.
Can I use National Car Rental free days with Enterprise?
No, you can't use your National Car Rental free rental days at Enterprise. You can, however, earn National rental credits and elite status by renting a car from Enterprise.