Elegant Themes are one of the most popular WordPress companies online.
The company is best known for their flagship all-in-one WordPress theme Divi, however an Elegant Themes membership also gives you access to the standalone Divi page builder WordPress plugin, their magazine WordPress theme Extra, their email opt-in WordPress plugin Bloom and their social media WordPress plugin Monarch.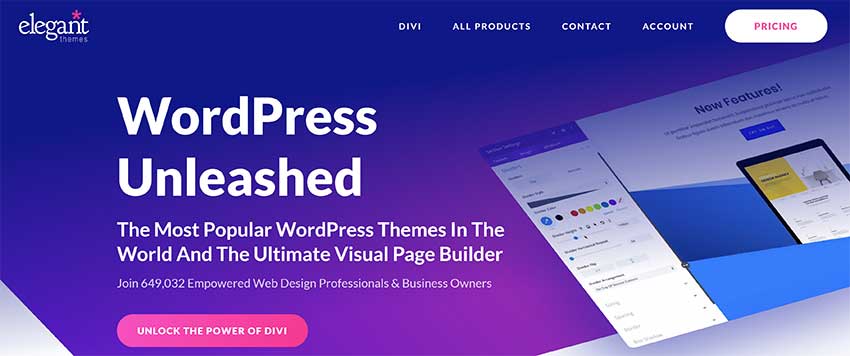 With a simple pricing policy and five quality WordPress products, an Elegant Themes membership is an attractive package, but is it right for you?
In this article, I will show exactly what you get when you sign up to Elegant Themes to help you see whether their membership is right for you.
Article Sections:
Who Are Elegant Themes?
Nick Roach founded Elegant Themes from his apartment in 2008. Over the last 12 years, Nick has helped transform Elegant Themes into a multi-million dollar company with 650,000 customers.
As you can imagine, the market for premium WordPress themes was very different in 2008. There was only a handful of developers creating and selling premium WordPress themes at that time. But Nick was able to distinguish Elegant Themes from the crowd by offering more value.
Most design companies sold WordPress themes on an individual basis. But Elegant Themes took a different approach by offering all of their designs to customers in one package. What surprised many people is that Elegant Themes charged the same price for a theme membership as others did for one WordPress theme.
If you look back at theme announcements in the Elegant Themes Blog from 2008. You can see that in the beginning, the company was releasing a few new designs every month.
WordPress themes were, of course, less complex in 2008, however this intensive release schedule is still impressive.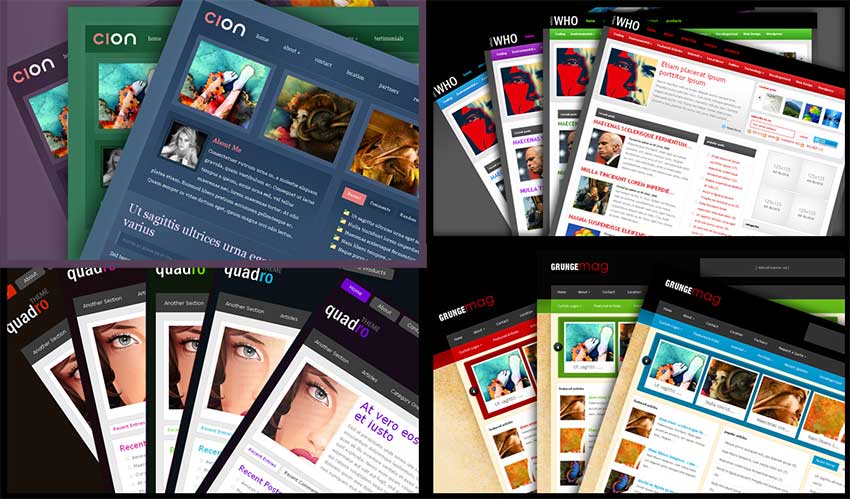 Elegant Themes continued to add to their growing inventory of WordPress themes, at one point offering a whopping 88 WordPress designs for only $69 per year.
Unfortunately, this business model was unsustainable in the long-term.
An Elegant Themes membership had become known for offering quantity, not quality. The quality of WordPress themes on offer were average at best and the sheer volume of designs created a logistical nightmare for providing updates and security fixes.
Thankfully, Elegant Themes recognized this problem and began focusing all their time and energy into developing one amazing WordPress theme.
In late 2013, Divi was announced to the world.
Divi was an advanced WordPress design that featured a user-friendly page builder, portfolio layouts, blog layouts, eCommerce integration, theme customization, and more. It would quickly establish itself as one of the best all-in-one WordPress themes on the market.
I remember the launch vividly as Elegant Themes hired me a few weeks after Divi launched to help kickstart their blog.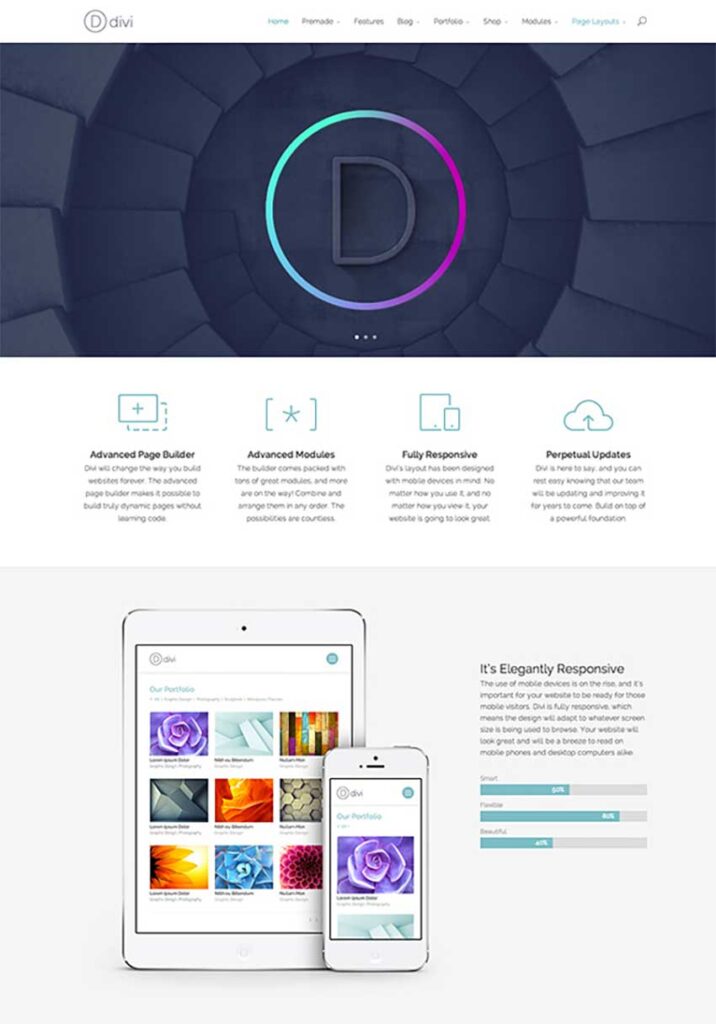 The development of Divi over the last several years has been incredible. Elegant Themes have continually added new features to the theme and transformed what it can do.
This ethos of quality, not quantity, has changed the way Elegant Themes develops products. Today, an Elegant Themes membership features five products. But each product beautifully designed with hundreds of advanced features and customization settings.
Nick Roach continues to lead Elegant Themes, however the company has grown to around 100 staff members from around the world.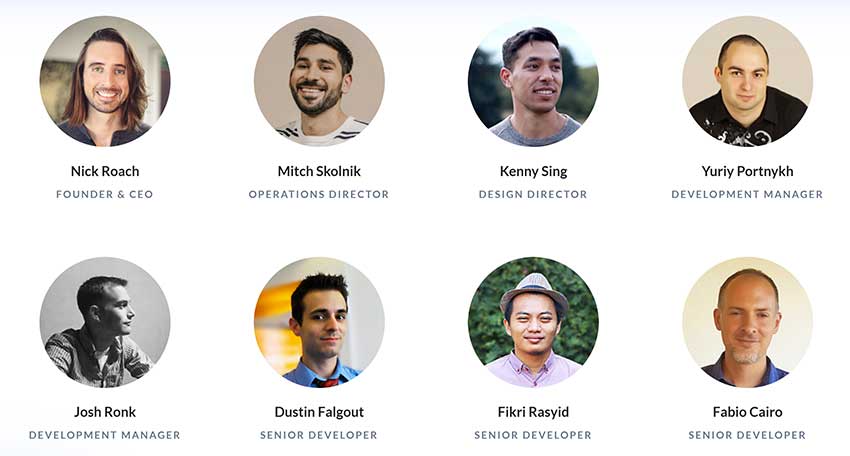 The WordPress theme and premium market is highly competitive today, but Elegant Themes continue to lead the way in premium WordPress products and customer support.
Let's take a closer look at what an Elegant Themes membership offers in 2022.
Divi – The All-in-One WordPress Theme
Divi is the flagship product of Elegant Themes and according to BuiltWith, it is the most popular premium WordPress theme in the world.
It is a true all-in-one WordPress theme that allows you to customize any part of your website design, whether it be your header, sidebar, footer, page layouts, navigation menus, or content.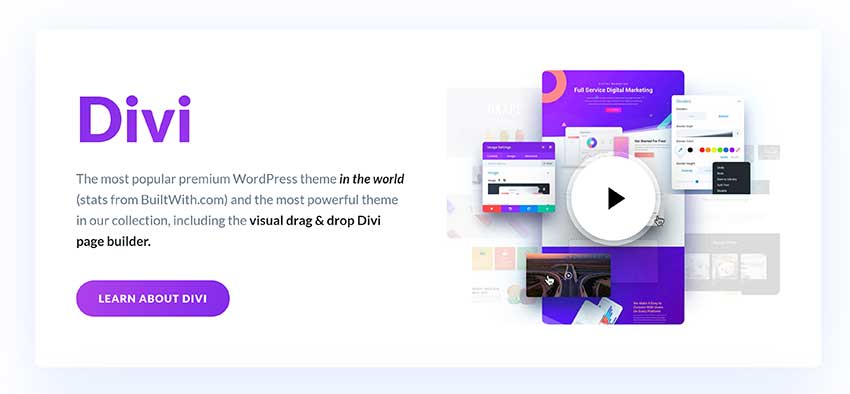 At the heart of Divi is an advanced page builder called Divi Builder that allows you to create custom layouts using a user-friendly drag and drop interface. The page builder is built directly into Divi theme and Extra, however it is also available as a standalone WordPress plugin for those that want to use it with other WordPress themes.
Divi Builder is a frontend visual editor, but Elegant Themes still include the old backend legacy builder for those that like to create layouts directly in the WordPress editor. You do, however, need to activate this from the Divi options area as it is disabled by default.
Divi's improved integration with the WordPress block editor also means you can also insert layouts into the WordPress editor via the Divi Layout block.
Once Divi Builder is activated, you can customize any part of your page by simply clicking on an element. You can then adjust the content, spacing, colors, borders, position, transitions, and more.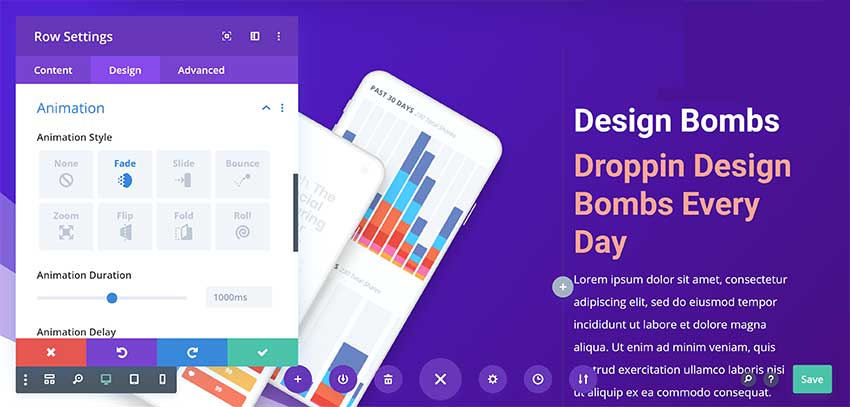 One of the best features of Divi is its templating system. Any layout you create can be saved to the Divi library and re-used at any time. Divi's theme builder also lets you apply layouts to global areas of your website such as the header, body and footer.
When you load Divi on a blank page, you are asked whether you want to create a layout from scratch, select a pre-made layout or clone an existing page.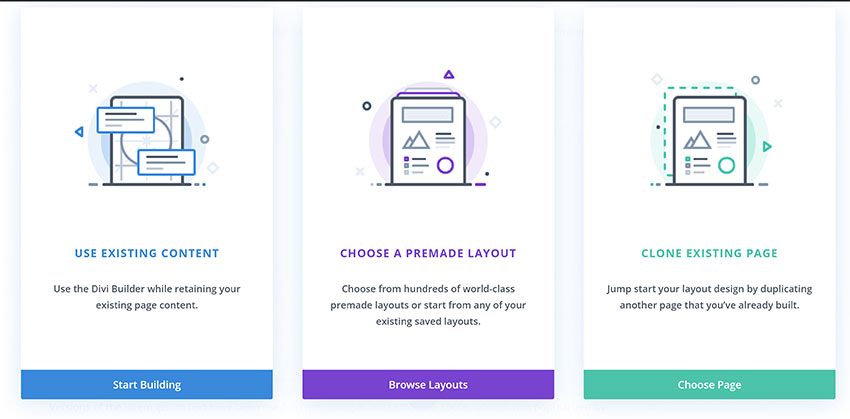 Over 1,100 layouts are available in Divi and there are 149 website layout packs that include multiple designs for pages such as your home page, blog layout, shop, portfolio, about page and more.
These pre-made layouts can be imported into your website in seconds. They work well out of the box, but many users choose to use them as starting points for their own custom layouts.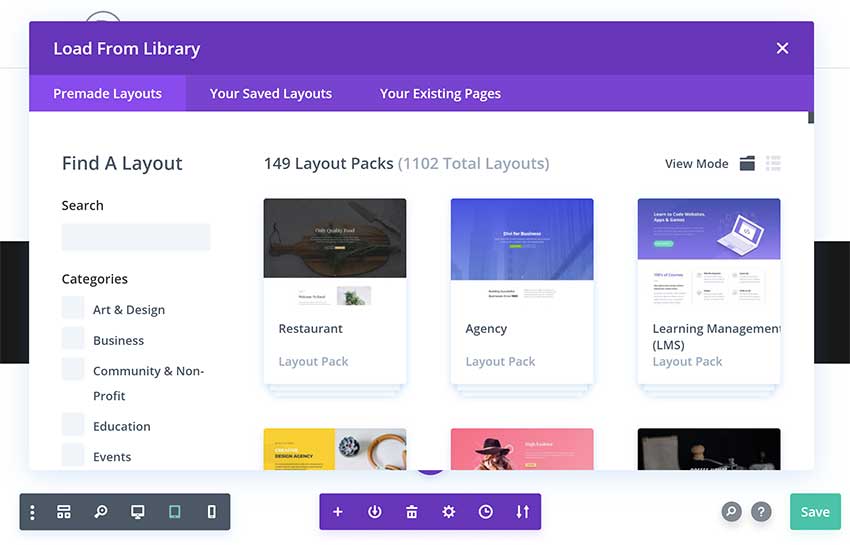 Over content modules are available in Divi. There are modules for galleries, posts, images, maps, videos, dividers, contact forms, tables, WooCommerce products, sliders, audio and more.
Each module has hundreds of styling options to help you change what is displayed.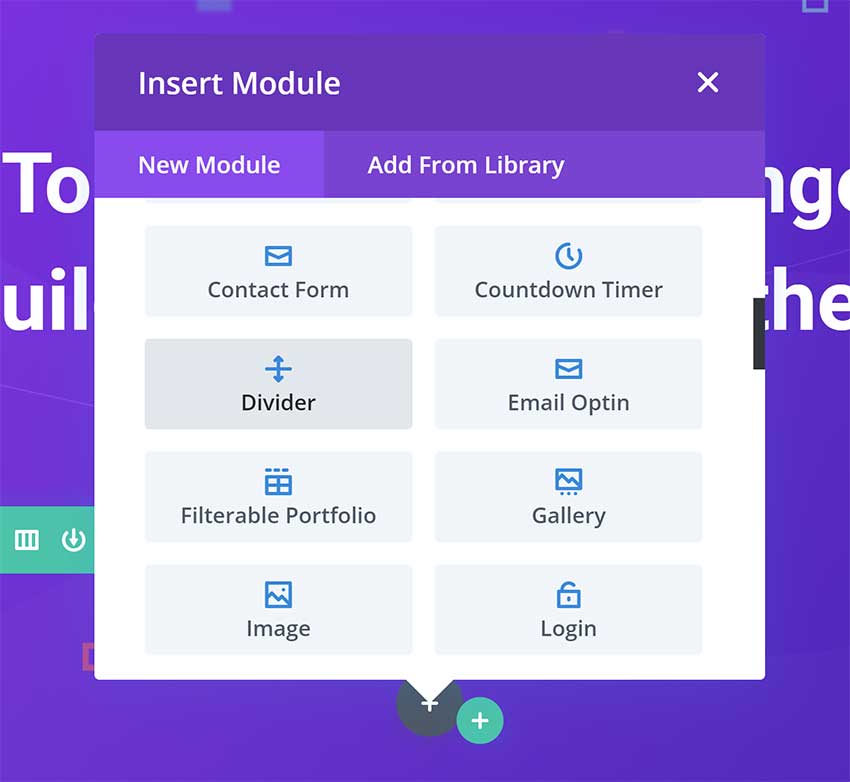 Divi allows you to change many parts of your website design using the WordPress theme customizer. It also features a role editor that lets you define what Divi functionality that users on your website can and cannot access.
Whilst most customization options can found within Divi's page builder. There an options page that divides dozens of options across eight categories.
You can enable and disable various Divi features here and define what WordPress post types Divi Builder should be available for. Additional code can inserted into your pages from here too. Which useful for adding tracking code for services such as Google Analytics and Google Adsense.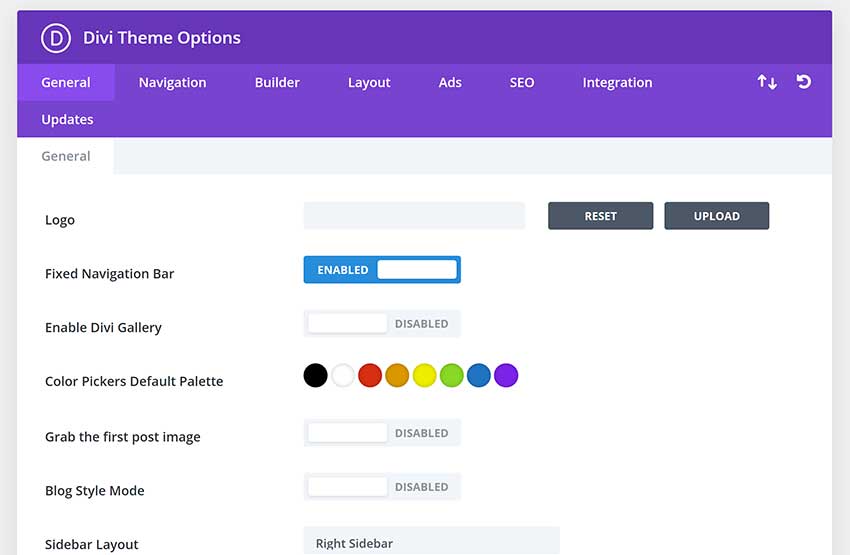 Please check out our full review of Divi to learn more about what this flexible WordPress theme can do.
Extra – A Versatile Magazine WordPress Theme
Divi continues to receive all the limelight, however Extra is a fantastic WordPress theme in its own right.
It is essentially a skin of Divi, not a child theme.
Like Divi, Divi Builder is built directly into the theme, therefore you do not need to activate the Divi Builder plugin as well.
Divi users will therefore feel right at home as the main admin menu for Divi has the same links to the theme builder. WordPress customizer, role editor, Divi library and support center.
The options area is identical too, however Extra does contain an additional category builder.
The category builder can be used to create unique layouts for every category of your blog or magazine. For example, you could have one layout for your home page. Another for your news posts and another for reviews and guides.
If you check out the demo page of Extra. You will get a better appreciation for how the category builder works in practice.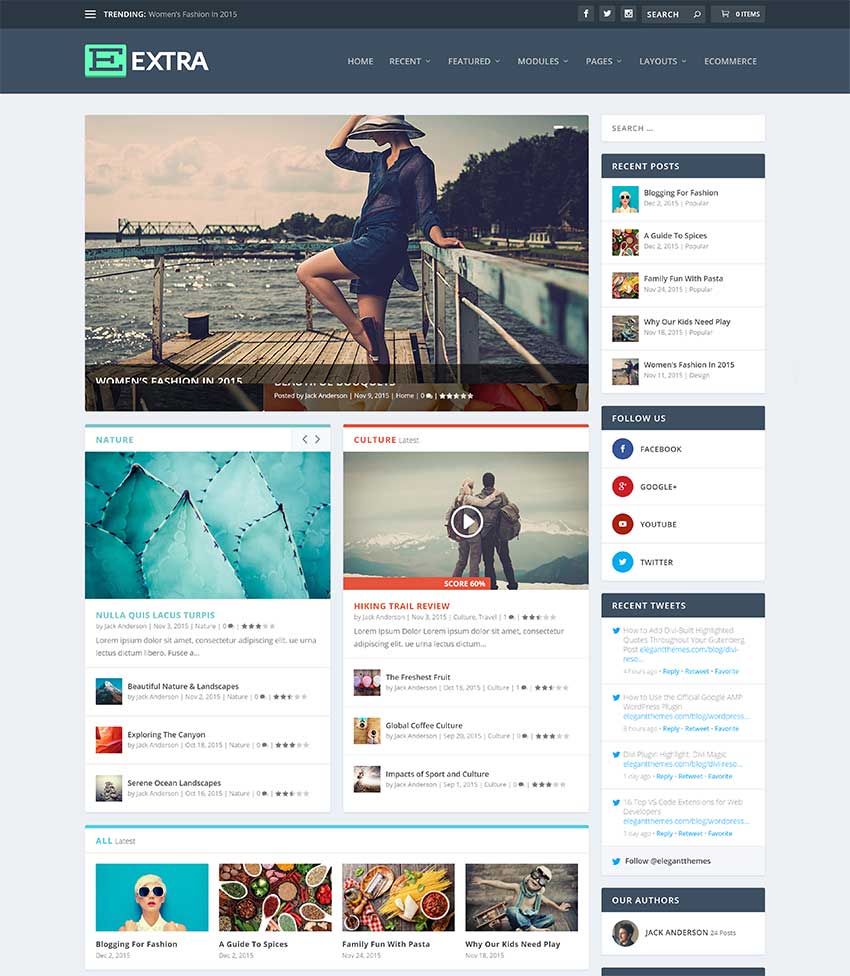 Divi has many great blog layouts, however if you are looking to create a personal blog, magazine, or news website, I recommend giving Extra a chance.
Bloom – A Gorgeous Email Opt-In Solution
Featured in our list of the best email list building plugins for WordPress, Bloom is a useful marketing WordPress plugin that can increase subscribes and improve lead generation.
Bloom works with any WordPress theme, but those of you who use Divi or Extra will love how it integrates with the themes.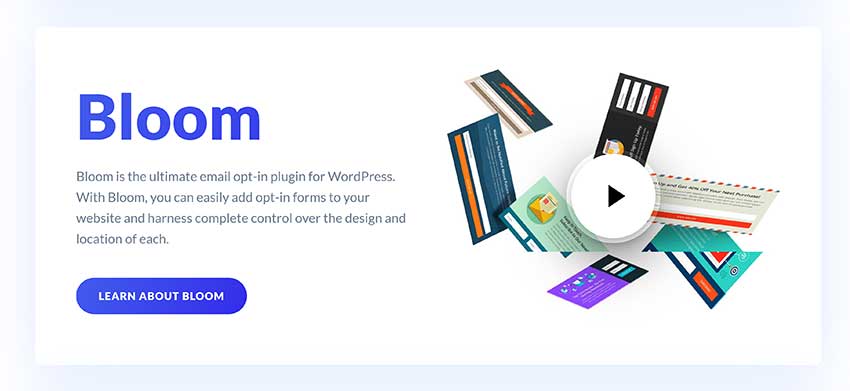 The plugin integrates with 19 popular email marketing services such as MailChimp, GetResponse, Aweber and Salesforce.

Six opt-in types are available: Pop-Up, Fly In, Below Post, Inline, Locked Content, and Widget.
You will then asked to name your form and select one of the email marketing services to use with it. If you prefer, a custom HTML form can selected here instead.
Since email integration processed at the form level, you can set up separate forms for different email marketing services across your website.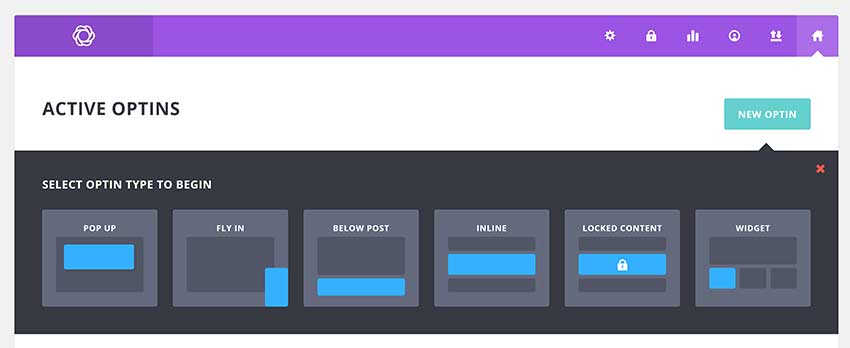 A total of 115 template designs are available for selection. These can all viewed in the Bloom preview area.
Each template can customized to suit your needs. You can change the title and the message in a visual editor, which allows you to easily format text and insert links.
An image can also inserted and you can modify the styling, borders, footer, and success message. Custom CSS can used too and if you don't want to display a message to visitors. Who complete your forms, you can redirect them to a specified URL.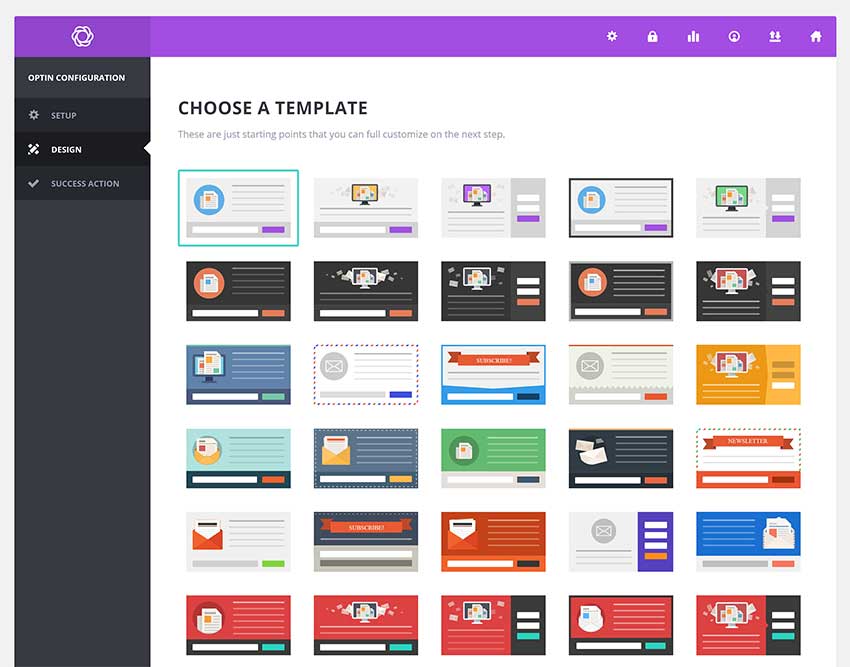 Impressions, conversions and conversion rate, displayed for each of your forms. A dedicated statistics page also shows the total number of subscribers and number of new subscribers every week.
All of your settings can also imported and exported into another WordPress website.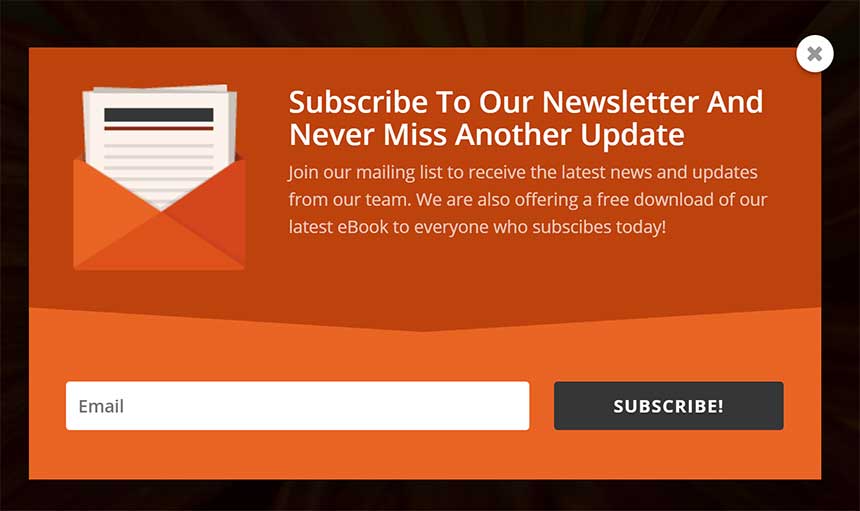 To find out more about what Bloom can do, check out the official Bloom sales page.
Monarch – A Flexible Social Media Integration WordPress Plugin
Last, but not least, we have Monarch. Elegant Themes made a huge impression with this social media WordPress plugin when they released it in 2014.
It's one of the most stylish social media solutions available for WordPress.
A total of 38 social media networks and tools supported. This number includes other options such as RSS, a like button and email.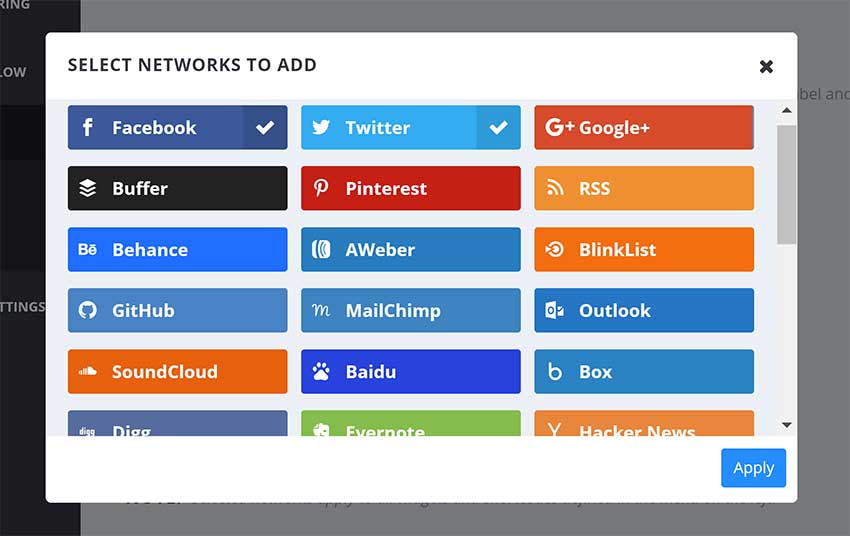 Social media sharing buttons can placed in up to five locations: Sidebar, Inline, Pop Up, Fly In, and Media.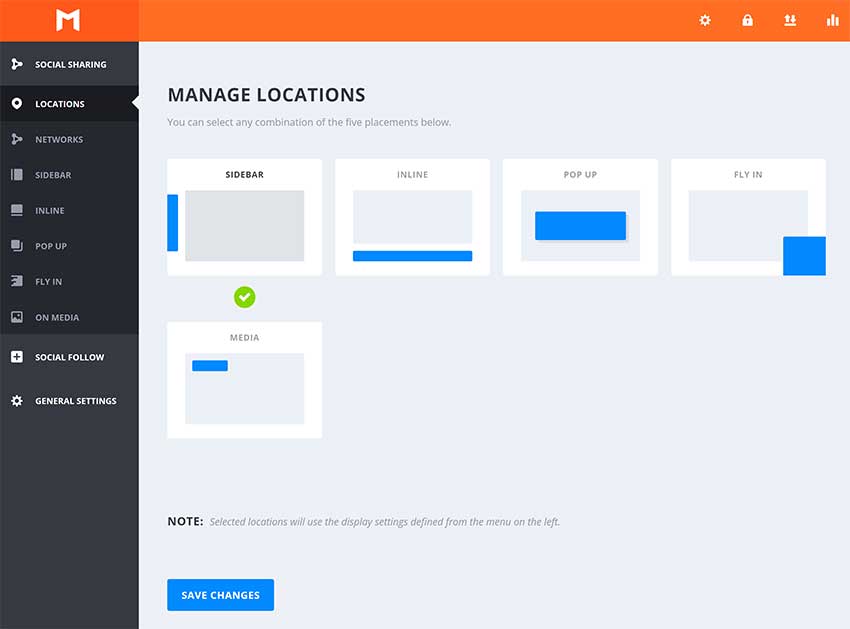 There are five icons styles and three icon shapes. Colors can also defined and you can display shares for each service and the total number of shares from all social media websites. Custom CSS can used for styling too.
Monarch allows you to say what situations sharing icons displayed. For example, you can enable sharing icons for specific post types and hide sharing buttons on mobile devices.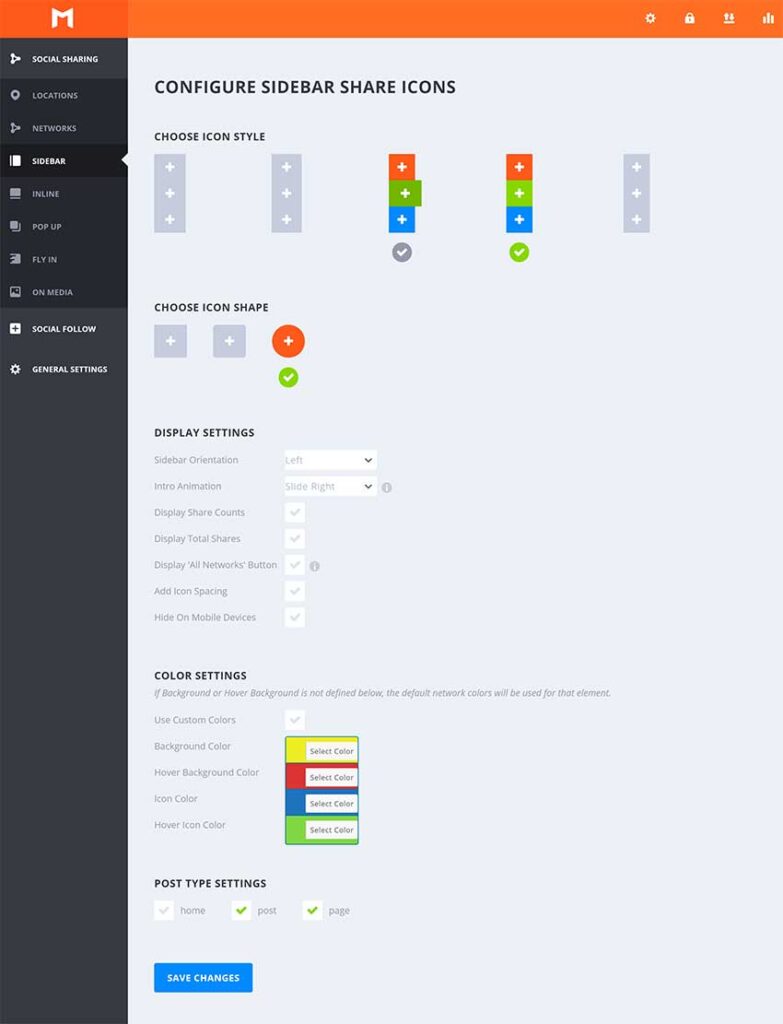 Monarch is a fast social media sharing solution, but what really grabs the attention of visitors is the beautiful style of Monarch's social media buttons.
I encourage you to check out the Monarch preview page to see the designs for yourself.

Monarch also allows you to promote your social media accounts. This can help the total number of subscribers you have.
There are four icon styles and three icon shapes available and they can all styled as you see fit.
The follow buttons can integrated into your website using a WordPress widget or using a shortcode.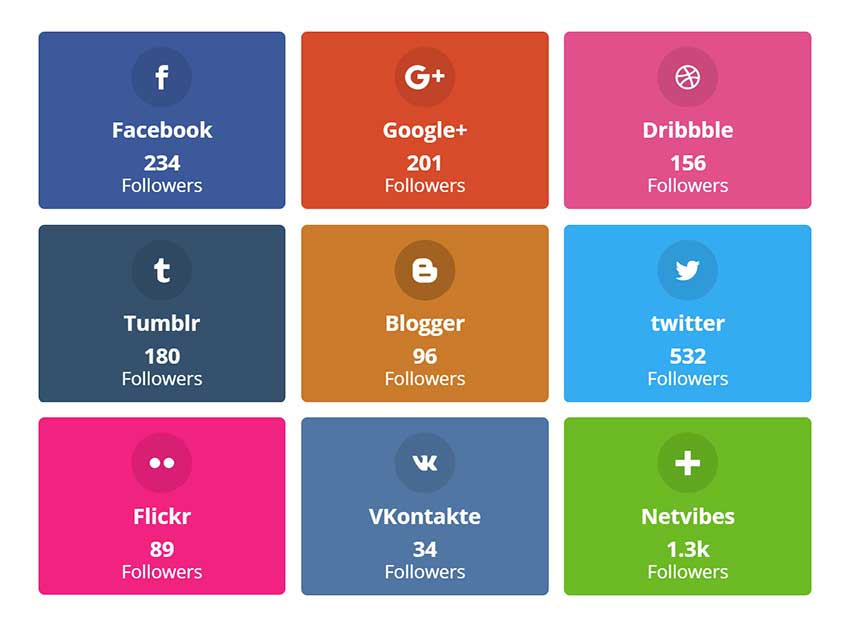 Monarch will show you the total number of shares, likes and follows, for all sharing locations. This can help you get a better understanding of which sharing locations perform better.
Like Bloom, all plugin settings can imported and exported. Which useful if you want to duplicate settings to another website you own.
Check out the official sales page of Monarch to find out more about what the social media WordPress plugin can do.
The Cost of an Elegant Themes Membership
An Elegant Themes membership continues to offer fantastic value for money.
For just $89 per year, you gain access to Divi theme, Divi Builder, Extra, Bloom, and Monarch. A license grants usage on an unlimited number of websites too and direct support from Elegant Themes when you need it.
You can continue to use all products on your websites if your membership expires. However you will no longer receive updates or support.
If you prefer, you can gain lifetime access to all Elegant Themes products by paying a one-off fee of $249.
Whatever license you choose, I highly recommend visiting our Elegant Themes coupon page to receive a 20% discount. This reduces the cost of an Elegant Themes membership to only $71.20 per year or $199.20 for lifetime access.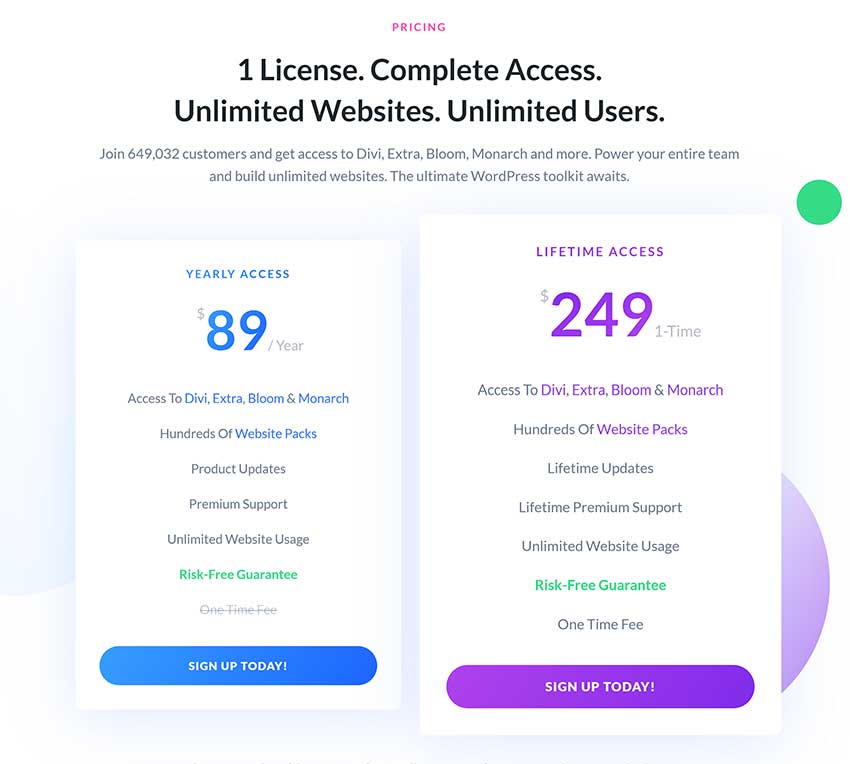 All customers receive a no-fuss 30 day money back guarantee. Therefore, if you later decide that a membership is not for you, you can get a full refund.
Is Elegant Themes Right For You?
I am sure that most WordPress users would agree that Elegant Themes have priced their membership competitively.
All of their products could sold individually for between $50 and $100. But Elegant Themes have decided to charge only $89 per year for unlimited usage and access to all five products.
This does not mean, however, that an Elegant Themes membership is right for everyone.
WordPress users spoiled for choice when it comes to selecting. Which WordPress themes and plugins to use for their projects. Which makes quantifying the value of any WordPress membership difficult.
Divi, for example, is undoubtedly a powerful WordPress theme. It has thousands of customization options, over 1,100 pre-made layouts and a fantastic templating system. But it is important to remember that there are great alternatives to Divi.
Avada is a good example of this.
Avada is an all-in-one WordPress theme from ThemeFusion that retails at $60 on ThemeForest. At the time of writing, it purchased around 575,000 times and officially the best selling WordPress theme on ThemeForest.
The theme comes with 60 pre-made website designs, many unique WordPress page layouts and its own unique page builder and design customizer called Fusion Builder. Avada also comes packaged with premium WordPress plugins such as Slider Revolution, LayerSlider, Advanced Custom Fields Pro, and ConvertPlus.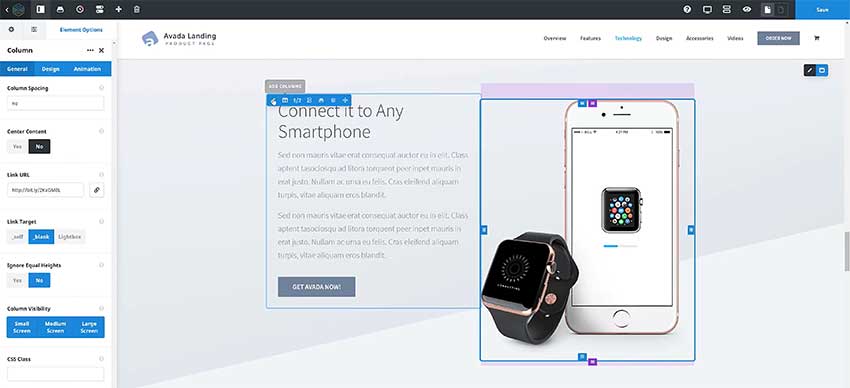 Ultimately, what every website owner has to do is review what features and functionality are essential to the success of their projects.
Take page building, for example. Divi Builder is undoubtedly one of the best drag and drop page builders on the market. But if you are creating a simple website. You may content with the block editor that built into WordPress.
If you want a more advanced page building solution, Beaver Builder (our review) and Elementor (our review) great alternatives to Divi Builder and can downloaded free of charge. You do need to pay to upgrade both of these WordPress plugins to unlock all features. But many WordPress users make do with what included in the free versions.
The reason why many WordPress users use Elegant Themes is because the overall package is fantastic. There are no additional costs for using products on multiple websites. Therefore, you may save money by selecting Elegant Themes over alternative solutions.
Going back to my page building example, it costs $99 to upgrade to a standard license for Beaver Builder and to upgrade Elementor. You will need to pay $49 for a one website license, $99 for three websites and $199 for 1,000 websites.
In contrast, all Elegant Themes products are available from just $89 per year.
Cost is just one factor to consider when deciding which WordPress products to use on your websites. So be sure to check what else is available on the market. So that you can make an informed decision as to which WordPress themes and plugins you buy.
Final Thoughts
I hope you have enjoyed this look at the benefits of an Elegant Themes membership.
I believe a membership offers great value for money, however you need to decide. How important the included WordPress themes and plugins are to you and your projects.
Here's a quick summary of why many people choose Elegant Themes:
Five quality WordPress products from only $89 per year
Divi Theme is undoubtedly one of the best WordPress themes on the market
Divi Builder is a refined WordPress page builder with hundreds of advanced features
Extra is a fantastic WordPress magazine theme
Whilst there are free alternatives on the market, Bloom and Monarch are both great at what they do and a fantastic addition to the Elegant Themes membership
Elegant Themes' documentation area is second to none, boasting thousands of tutorials
Be sure to check out our full review of Divi for a more comprehensive look at the all-in-one WordPress theme.
If you decide to purchase a membership for Elegant Themes, please take advantage of our 20% coupon in order to reduce the yearly license to $71.20 per year and the lifetime access license to $199.20.
Thanks for reading.