Our Chegg review explores the ins and outs of this popular learning platform. We're detailing its services, pros and cons, pricing, and more.
Chegg covers a wide range of subjects, from math and history to finance, computer science, and algebra. It's best known for its selling services to students and helping them with their homework. This might be just the platform you need to achieve your best.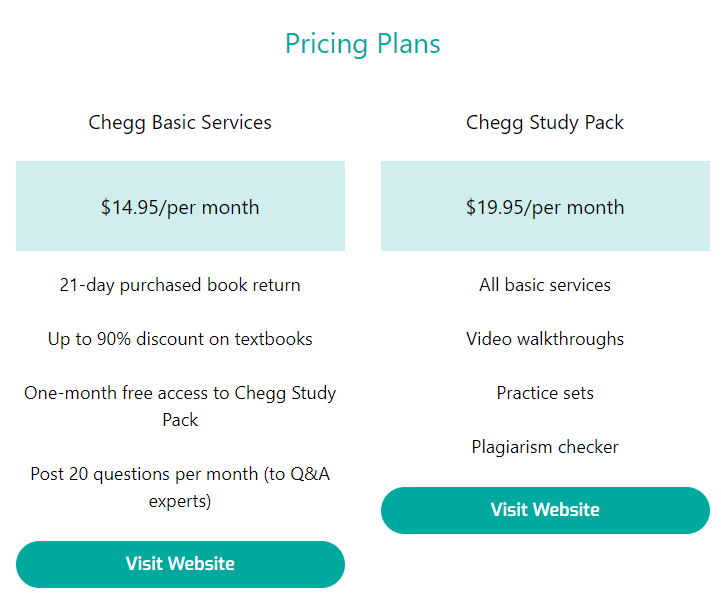 A Smarter Way to Student
Rent, buy, and sell books
Textbooks & study packs
Writing dashboard & citations
Create & save flashcards
Math solver & graphing
Jobs & Internships
Scholarships for students
Career profiles & advice
24/7 online tutors
Chegg Review — How It Works
Chegg is an online education platform based in California. It was founded by two businessmen, Osman Rashid and Aayush Phumbhra. The initial goal was to rent, buy, and sell textbooks, but the platform expanded by offering tutoring, scholarships, and homework solutions.
You can use the platform as a tutor or a student. If you're having trouble with a particular subject, there are step-by-step explanations and over 22,000 solutions. Chegg reviews praise the ability of students and teachers to work together in virtual classrooms, using audio and video chat and a virtual whiteboard. We signed up to see firsthand what the platform has to offer.
Features, Courses, and Materials
Chegg continually invests in helping students improve the outcome of their education. At the same time, the platform aims to create a diverse team of tutors who can support the education innovation. We reviewed some main features of Chegg to give you a better idea about this advanced learning platform. We're also sharing some tips on starting a career at Chegg.
Chegg Tutors Review
Chegg Tutors is an online tutoring service for students of all ages. Students can pick their tutors based on their profiles. Classes are conducted in virtual classrooms and are mobile-friendly.
To become a tutor on Chegg, you'll have to meet specific requirements, such as teaching experience and enrollment or graduation from a four-year university. Once you get accepted, you'll be able to see tutoring requests from students. Judging by Chegg tutoring reviews, users like the practical set of tools that can be used for interaction with students. In short, while you're conducting a class, you can use a video chat tool, a virtual whiteboard, and a text window.
For example, use the whiteboard to present the problem (draw it on the board). Try to find a solution by asking students about their opinion. Help them work through the problem by giving them advice via video.
Some Chegg reviews mention the importance of the Chegg Tutors honor code. As a tutor, you are not allowed to help your students during online exams. The result of this code violation is profile deactivation (you won't be allowed to work).
As stated by this honor code, tutors are strictly forbidden to cheat or plagiarize. Moreover, students are not allowed to use the platform to cheat on their exams. Chegg is authorized to reveal all the information to students' educational institutions if contacted by them. You can find the code on the official website.
Chegg Tutor Requirements
To become a Chegg tutor, you need to fill out an online application and meet the requirements.
To apply you will need:
A photo of your diploma, ID card, and scanned copies of your transcripts
A picture of you holding your ID (passport or driver's license)
To pass the proficiency test (in some cases)
Access to a computer, stable internet connection, a mic, and a camera
A PayPal account
A short introductory video (this is optional but crucial to getting students)
According to Chegg Tutors, it takes about one week for your application to get approved (sometimes longer). When accepted, you can log into your account and accept students' requests.
Chegg Tutor Salary
The typical tutor on Chegg makes $20 per hour. The hourly rate can range from $20 to $22. You can earn an average annual salary of $44,170.
Your pay is based on the exact number of minutes you work during the week, and the minimum working time is five minutes.
That means you'll always make at least $1.67 if you work at least five minutes every day. Payments will arrive in your PayPal account every Thursday morning.
Tips for Starting Chegg Careers
There are ways to boost your earnings, and even start a career on Chegg. Here's what you can do:
You can earn many bonuses if you're teaching popular subjects.
You can earn $10 every time you use the referral system (refer a tutor).
If you want to make more money, make sure you're available during midterm and final examination periods
(midterms are in October and March, and finals are in December and May).
Your "available now" status must always be on.
Don't forget to answer students' questions whenever you can.
Chegg Solutions Review
According to Chegg solutions reviews, the platform's to-the-point services that can fix students' problems often face a beneficial service. We were able to confirm that the company's services cover the students' needs. You can choose between textbook solutions and expert Q&A. What is the difference?
If you choose to use textbook solutions, you'll be able to use step-by-step guidelines and video tutorials. To see the possible solution for your problem, you'll need to enter the ISBN (from your textbook) in the search tab.
On the other hand, the Q&A option will get you in touch with an expert in the field who will answer your question in less than 30 minutes. To get this answer, you'll have to take a picture (or screenshot) of your homework and send it to Chegg.
Chegg Study Review
As we mentioned above, there are two options: textbook solutions and expert Q&A.
If you're having trouble with a particular subject, you can search for the answer using solutions for 22,000 ISBNs on this platform or step-by-step explanations.
How to use Chegg Study:
Go to Chegg Study, and click "Try Chegg Study."
Enter your credit card information and click "Join Now."
You'll be asked to enter your phone number, after which you'll receive a text containing the link to the app.
To find the solutions to your questions, click on "Find Textbook Solutions," and enter the title or the textbook's author name.
In the left corner, you'll see a menu with the textbook's chapters. You can scroll to the section you need.
Click on the problem, and you'll get a step-by-step solution.
The homework help allows you to:
Search for a solution to your homework assignment in a large library section. Find step-by-step textbook solutions for many subjects.
Use the help of the experts in the field. According to our Chegg review, they are available 24/7. Take a picture (or scan) of your homework, and send it to Chegg. You'll get a detailed answer within 30 minutes.
If you're a visual type, you can watch walkthrough videos.
Chegg Book Rental Review
On Chegg, you can rent ebooks and hard copies. If you rent a book, you'll need to return it on the due date. If you're late with your return, the platform will either charge you an additional fee or the book's full price.
To extend your due date and avoid paying an additional fee, you need to contact Chegg. Though Chegg book rental reviews are mixed, there are some great benefits of using the platform to rent textbooks.
Benefits of renting textbooks at Chegg:
Renting books saves money. You can compare prices and see if there are any discounts.
Flexible rental terms. If you need to keep your book past the due date, you can contact Chegg for a free extension.
In addition to renting, you can purchase new and used editions or download textbooks.
As per Chegg reviews, users appreciate the four-week free access to Chegg Study.
Textbook deliveries include gifts and discounts.
Chegg Buyback Review
Chegg used to buy used textbooks from students. You just needed to enter ISBN and send the book. After reviewing the book's condition, you'd get paid via several different options (gift card, Chegg credit system) within 15 days. On top of that, you could donate low-value books.
Some Chegg buyback reviews mentioned bad customer service, the lack of communication, and bad tracking service, while others praised the swiftness of its buyback service.
As you know, Chegg doesn't have this option anymore; instead, it redirects you to GoTextbooks.com — an independent seller that handles buybacks.
If you want to sell used textbooks, there are plenty of options among the best places to sell textbooks.
Chegg Ebook Review
Among Chegg Ebook reviews, users mostly praise the ability to access the textbooks on any connected device. Also, the service enables search and highlight functions, which are a great bonus.
To read your ebooks, you need to download the Chegg eReader app, and then you can make a purchase.
How to purchase:
To make a purchase, you'll need to sign in to your Chegg account and click on "Books."
Scroll down to the book you want to buy and select it (if you want to buy more books, you'll have to repeat all the steps).
You can choose between the "Extend" or "Purchase" button. This will transfer you to another page.
Click the "Select Here" (next to the book title) and select "Purchase."
To complete the purchase, select the "Checkout" button and follow the next few steps.
Chegg Ease of Use
Chegg tutoring jobs are suitable for people who passed the requirements test. The site is user-friendly and easy to navigate, and most tutors enjoy it. There is only one disadvantage related to the company's first-come-first-serve model. What does this mean?
In short, you'll see many tutoring requests on your screen, but as soon as you click on them, the system will tell you they are not available anymore. This can be frustrating for most tutors.
Plans and Pricing
Chegg Membership Cost
Chegg offers a one-week free trial that can be cancelled in the course of those seven days. Overall, the subscription fee per month depends on the tools and packages you want to use.
Chegg Study
Chegg study costs $14.95 a month and grants you access to up to five step-by-step textbook solutions per month. Additionally, you'll be able to access over 25 million questions answered by experts and ask up to 20 new questions per month. What is more, the Chegg Study plan provides guided video explanations that visualize the problem's solution. However, if you want access to extra tools like the Chegg plagiarism checker, you might want to consider signing up for the Chegg Study pack.
Chegg Study Pack
Check Study Pack comes at $19.95 a month. It ups Chegg Study with tough math equations, providing step-by-step guidance. The pack also includes writing help, including the plagiarism checker, grammar check and fixes, as well as easy citations. All tools aim to help you turn in the best paper fast. On top of that, Chegg Study Pack offers practice quizzes and exam help for some subjects.
Chegg Monthly Cost of Individual Products
In addition to signing up for Chegg membership, you can use the platform's solutions separately.
Textbooks
Chegg offers several options when it comes to textbooks: you can rent a physical or electronic copy or buy the textbook. With every hard copy rental, you get free seven-day access to the e-textbook. Additionally, if your order is above $35, the shipping is free.
Chegg gives 21 days to return the book, but the rental extension is free. Plus, with the first textbook rental, you get a one-month free trial of Chegg Study, which is the perfect opportunity to see if the package meets your needs.
Writing Service
When purchased separately from the Chegg subscription plans, the writing service costs $9.95 a month. It gives you access to EasyBib (easy-to-use tools for creating proper citations), plagiarism checker, and grammar checker. If you need more help with assignments, check out our PapersOwl review.
Math Solver
The Math Solver alone costs $9.95 per month. It offers step-by-step solutions to math problems in the following subjects:
Algebra
Pre-Algebra
Calculus
Precalculus
Geometry
Trigonometry
Statistics and Probability
Advanced Math
Chegg Refund Policy
Chegg offers a refund policy that can be requested within 21 days of purchasing a book. To get the full refund (minus shipping), the book you send back must be in the same condition as it was when you received it.
When it comes to digital books (ebooks), you'll have a full refund if you return the book within 14 days. You'll see all the instructions on your Account page.
To cancel the Chegg subscription plans, you can still use its services until the next billing date. Monthly subscribers are allowed to pause their subscription at any time. If you use a free trial version, make sure to cancel it before the billing begins to avoid being charged.
You can switch your membership within the first 30 days of paying for your annual subscription. For more information, check the help center. You can get a full refund for your annual Chegg study subscription.
Chegg Account Share Option
Chegg doesn't allow multiple users. If you share the account, it will be suspended, and you won't be able to use it for a specific period. To prevent suspension of your account, you need to log out after every use. Keep in mind that you'll need to use a single device to access your account.
Failing to do so can trigger account suspension. Your account can be suspended if you use different devices to log in or enter your account from multiple locations. These, and other factors, can indicate that an account is being shared.
Chegg Scholarship Review
After a closer inspection, we confirmed the Chegg scholarship reviews that the program is available for international students. To apply, you need to show transcripts, write an essay, and get a reference form. There are 60 international scholarships available.
Overall, there are over 25,000 scholarships available on Chegg.
Chegg began as an online textbook store for renting and selling books. But today, it hosts over $1 billion in scholarships, including its own scholarships. Chegg scholarships range from $500 to $12,500. You can win a monthly scholarship challenge that all US citizens are eligible to apply for.
If you want to apply, you must be at least 16 years old. Chegg gives personalized scholarships that are based on your profile. There are five awards available, each worth $1,500 or $5,000 in scholarships.
Chegg Ratings
There are many complaints, and some people consider it a platform that helps students cheat on their exams, present plagiarized work as original, etc. It's safe to say this platform is not for everyone.
Tutors benefit the most from it, even though they can't rely on Chegg as their only source of income. Students can benefit from Chegg if they don't use its services to cheat on exams.
According to Chegg customer service reviews, several problems are recurring on this platform:
Many people complain about the account suspension due to the alleged account sharing.
You won't get a refund if your question is unanswered or incorrectly answered.
Many people complain about the non-responsive customer service and non-intuitive account ID.
Some people believe Chegg is an unethical platform that helps students cheat.
As opposed to these claims, Chegg employee reviews tell a different story. People seem to think this platform offers excellent service that is often used for the wrong purposes.
That said, some colleges even banned their students from using it. Other reviews reveal that tutors enjoy working on Chegg, and tutoring reviews are generally positive. This brings us back to the importance of the honor code. Tutors are not allowed to cheat or plagiarize. Moreover, students mustn't use Chegg to cheat on their exams. The platform is authorized to reveal all the information to educational institutions if requested.
Despite numerous Chegg complaints that are not as high, the tutors' knowledge and credentials are indisputable (and Chegg offers many tutors). But when posting a question, be sure to double-check the facts. It seems that expert Q&A is probably Chegg's drawback, together with the non-responsive customer service and non-intuitive account ID.
Overall, Chegg is a legit platform, not a scam, as some may think.
Pros
Flexible hours — Chegg allows you to create your own work schedule.
One-on-one tutoring
Affordable — Chegg prices are reasonable, plus you can use the one-month free trial to see if it works for you.
Verified answers — our Chegg review confirmed that the answers are legit, answered by real experts and verified.
24/7 homework help available — consumers report Chegg helps them get their homework in no time.
Cons
Being a tutor is very competitive — on the platform, there's a large number of tutors, which makes the job very competitive, and you might not have enough working hours per month
Cancellation issues — several reviews report being charged for the following months after cancellation.
Customer support needs improvement — reaching customer reps is a hit and miss.
Chegg review — Final Verdict
In this review, we talked about the platform's offers, solutions, pricing, tutoring, and customer service. Like every other online education platform, it has its cons and pros. All things considered, Chegg can be useful to students who use it as an accessory and not a way to cheat. So is Chegg a scam? No. Is it legit? Yes. Many reviews on the internet prove that.
Is Chegg worth a try? If you're looking for cheap college textbooks to buy or rent, Chegg is one of the best options out there, but when it comes to other services, it's maybe better to check other alternatives.
Frequently Asked Questions (FAQ)
Is Chegg legit?
Many reviews on the internet prove this platform is relatively reliable. It offers help to students through solutions, textbook materials, and assistance from online tutors.
Chegg is known for letting some mistakes go unnoticed and occasionally providing incorrect information, but that doesn't make it fake. The platform is legit and helpful if you use it the right way. The most common issues people have are related to customer service, which is not as good as you would expect from a professional service provider.
How much is Chegg tutoring per hour?
The average tutor on Chegg can make $20 per hour. Hourly rates usually range from $20 to $22. An average annual salary is $44,170. The more you work, the more money you make since the payment is based on the exact number of minutes you work.
You can work for a minimum of five minutes. In other words, you can always make at least $1.67 for five minutes of work.
What is the Chegg Math Solver?
Chegg Math Solver is an application that helps students solve math problems. You need to take a picture of the assignment (or a screenshot) or enter the problem using the keyboard. Chegg Math Solver can handle numerous math problems, including the ones with integrals and fundamental matrices.
When students get their answer, they can use the additional information to double-check the answer or understand it better. The solution costs $9.99 per month. The app is compatible with iPhone, iPod Touch, iPad, and Android.
How much does Chegg cost?
The monthly subscription to Chegg Study is $14.95 and gives you access to five textbooks solutions, 25+ million expert answers, and the ability to ask up to 20 questions. The plan also includes video explanations.
Chegg Study Pack costs $19.95, and it's upgraded with a plagiarism checker, grammar checker, and citation help, as well as practice quizzes and exam questions. As we previously mentioned in this Chegg review, you can also purchase some solutions separately.