I spent the last week of August at the beach in Lignin, Italy. It is a popular vacation spot for Austrians (you hear mostly German spoken, which I absolutely detest while on vacation) and since we have a four year old son we figured we´d let him putter around in the sand for a few days while soaking up the sunshine and eating good food (and it was really good!).
Last Saturday, after spending around 3 hours on the first 100 kilometres of our journey (going at the pace of a snail – the traffic was awful!), I insisted we stop at one of my favorite shops in Udine – Maisons du Monde.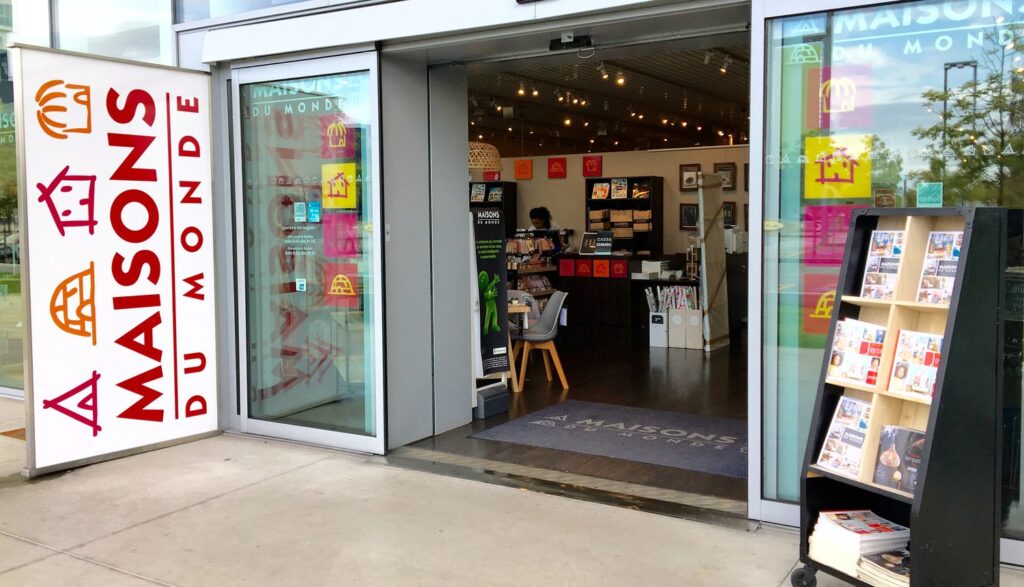 Maisons du Monde is actually a french furniture retailer, that sells its furniture online but they have an actual brick and mortar store at the Terminal Nord in Udine focusing on accessories. I regularly go here to buy accessories for clients and pick up the new catalogues. What I really enjoy about Maisons du Monde is that they offer a wide variety of furniture styles at affordable prices. So if you are looking for a particular style – say French chateau or colonial – you can head over to Maisons du Monde and they will have a nice selection of furniture in that style. I also really love their outdoor furniture – this is usually quite pricey and they offer some really nice styles in wood as well as metal at a good price.
So after dropping my family off at the local fast food joint (don´t blame me, I had to bribe the small kid some way…) I spent an hour browsing the store. Here are some of the things I found, if you´d like to see what they have in store for you:
First up mirrors
They have a really, really great selection of unusual mirrors in many sizes and styles. Mirrors are a really great way to create an interesting focal point in a room, add more light and make a room seem bigger. I am often disappointed in stores that they veer towards conservative rectangular and square shapes and uninteresting frame styles. Here you can find conservative, glamorous and industrial styles and everything in between. They have little room vignettes in the store where you can see the style in action:

I particularly adore the mirror object above the blue sofa – very dramatic and striking! Also, I have the urge to incorporate the HUGE round mirror that you can see in the central picture in a design – I love the round shape in this size (It´s called ADAM with an oak wood frame, it´s 159cm diagonally for € 399,-, it is also available with a gold frame).
MILANO – Teak mirror 140×70 cm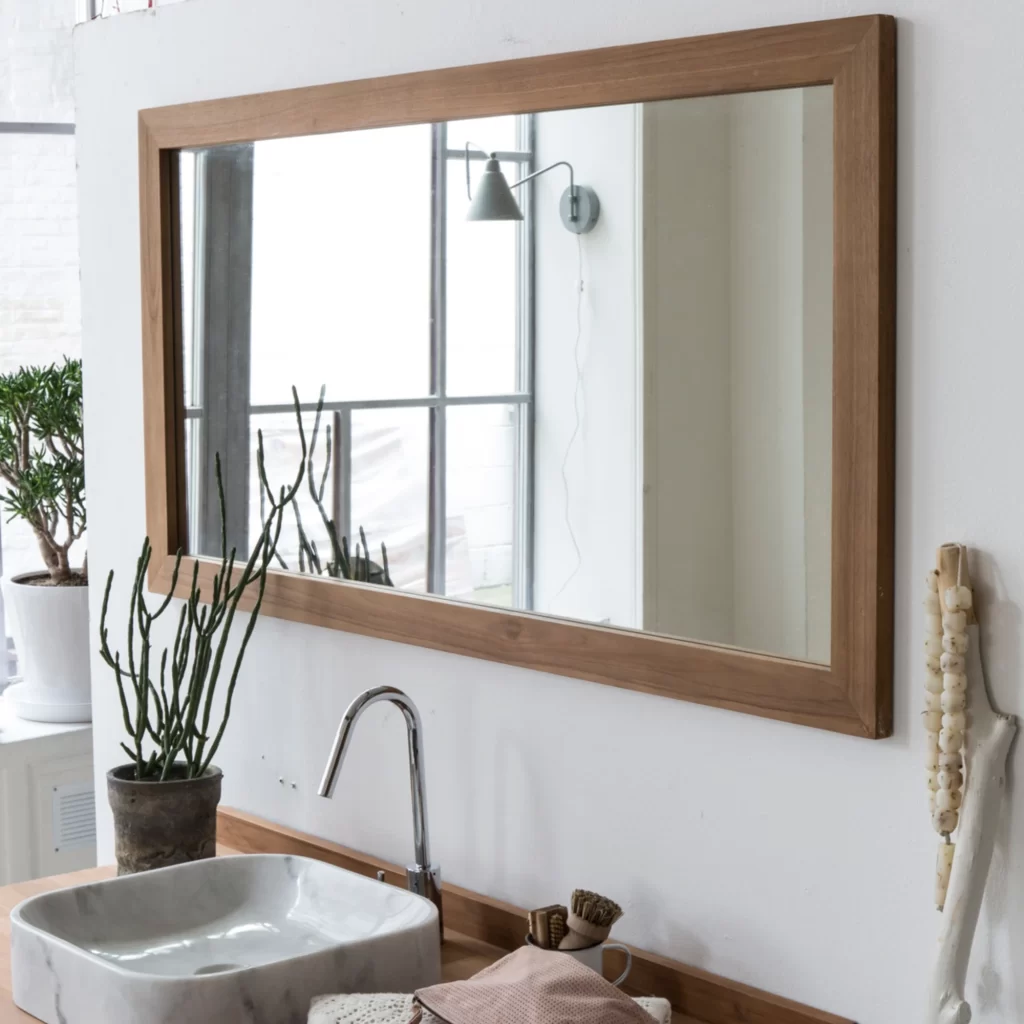 Discover this teak mirror from the Tikamoon brand! Both simple and elegant, this bathroom mirror will be perfect for bringing a modern and sophisticated touch to your room. This large teak mirror will be perfect for use by two people. the bathroom. Its light natural color will bring a touch of authenticity and naturalness to your bathroom. Natural teak protected by a light varnish, ideal for non-intensive use without altering the naturalness of the teak woodProduct Information: Material: Teak Dimensions: H 70 x W 140 x D 3 cm Weight: 14 kg Info: Mirror dimensions: H 60 cm – L 130 cm. This teak mirror is a model signed Tikamoon, a brand specializing in solid furniture. Buying Tikamoon furniture means buying an exclusive piece, designed with passion by our teams. Interior furniture designer, Tikamoon offers exclusive collections of solid wood furniture.
SQUARE – Teak mirror 200×90 cm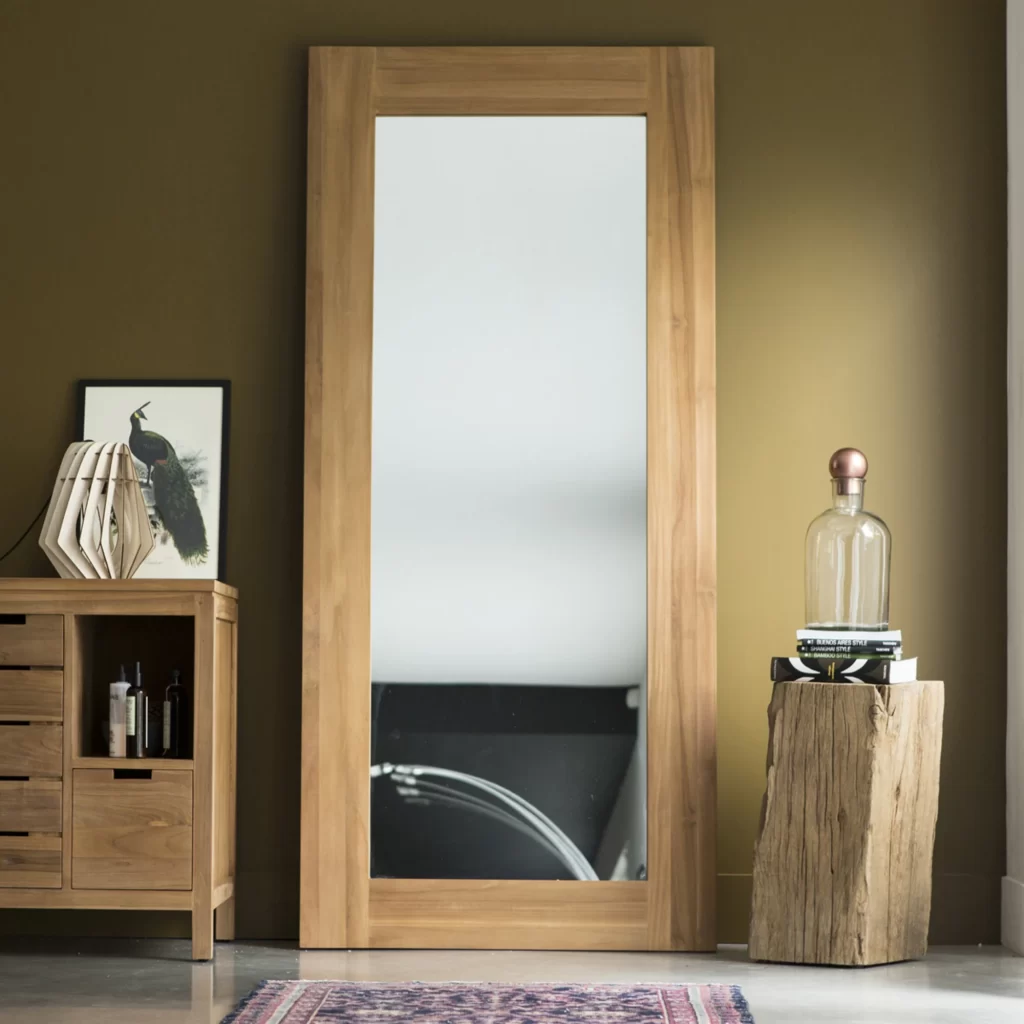 Buy Maisons Du Monde!
Natural teak mirror. The width of its frame gives it a lot of style. Info: Back in MDF finish / Frame width: 13 cm. Product Information: Material: Teak Dimensions: H 200 x W 90 x D 3 cm Weight: 27 kg Each piece comes from a artisanal production guaranteeing originality and authenticity: in fact, any imperfections that may appear contribute to the product and are a guarantee of authenticity. Buying Tikamoon furniture means buying an exclusive piece, designed with passion by our teams. Interior furniture designer, Tikamoon offers exclusive collections of solid wood furniture.
EASY – Oak mirror 70×45 cm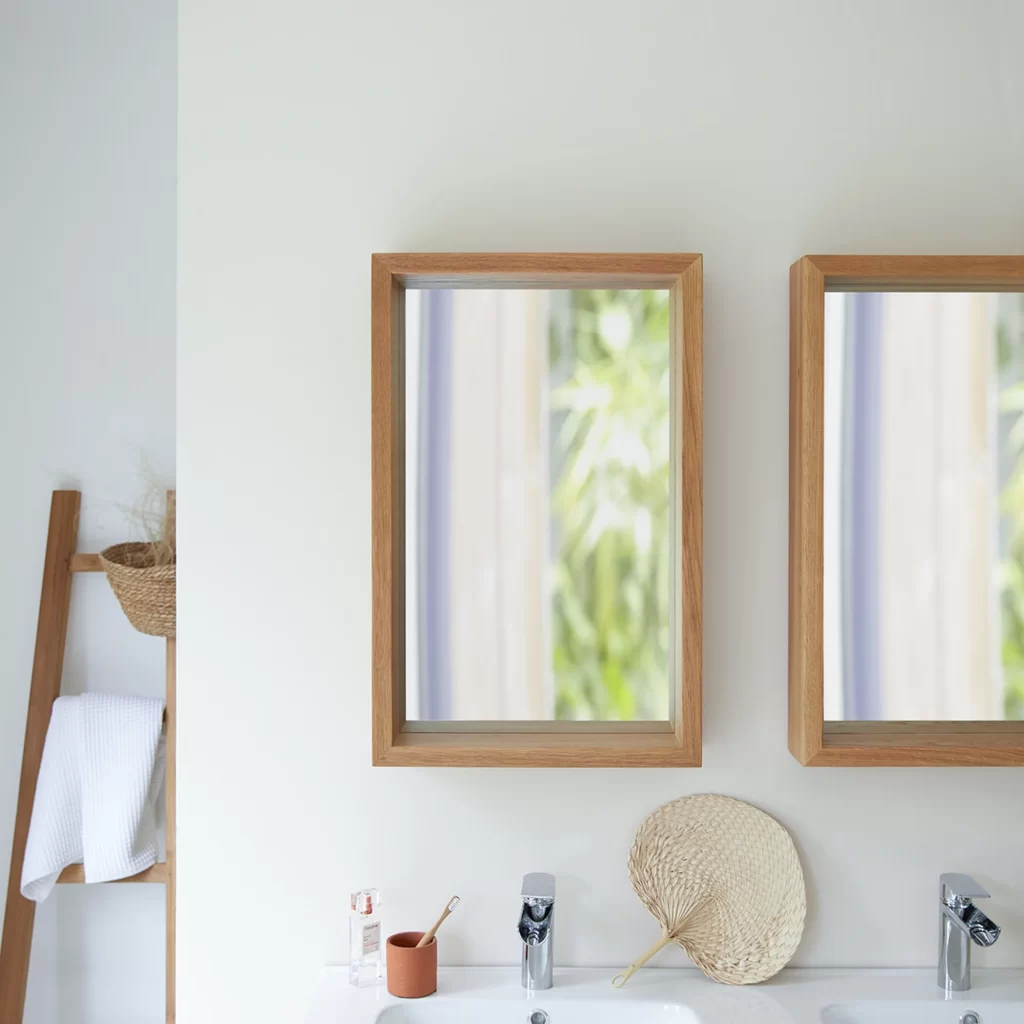 Discover the Tikamoon Easy solo mirror, in solid FSC® oak! Its design is characterized by its oak frame which also serves as a tray on which you can store all your products *. Its textured appearance and natural color will bring your bathroom an authentic and warm touch. Thanks to its contemporary style, our mirror will bring a modern touch to your room. * mirror surface 65 x 40 cm – recess of 10 cm Technical information: Material: oak Dimensions: H 70 x W 45 x D 12 cmWeight: 9 kg Buying Tikamoon furniture means buying an exclusive piece, designed with passion by our teams. Interior furniture designer, Tikamoon offers exclusive collections of solid wood furniture.
FLASH – Brown wooden mirror H150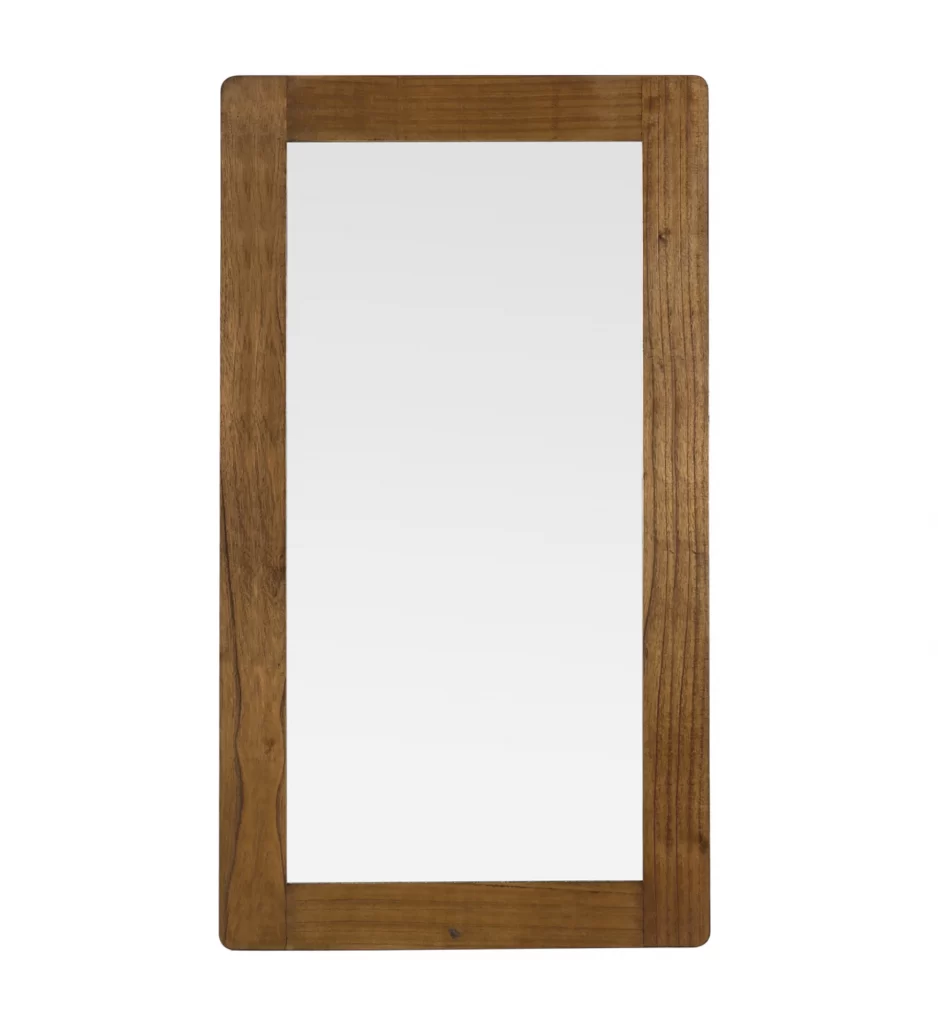 Buy Maisons Du Monde!
Mirror from the FLASH collection, handcrafted in mindi wood and solid structure. Wall anchoring system included for vertical and horizontal arrangement.
Large rectangle mirror in solid teak 145×70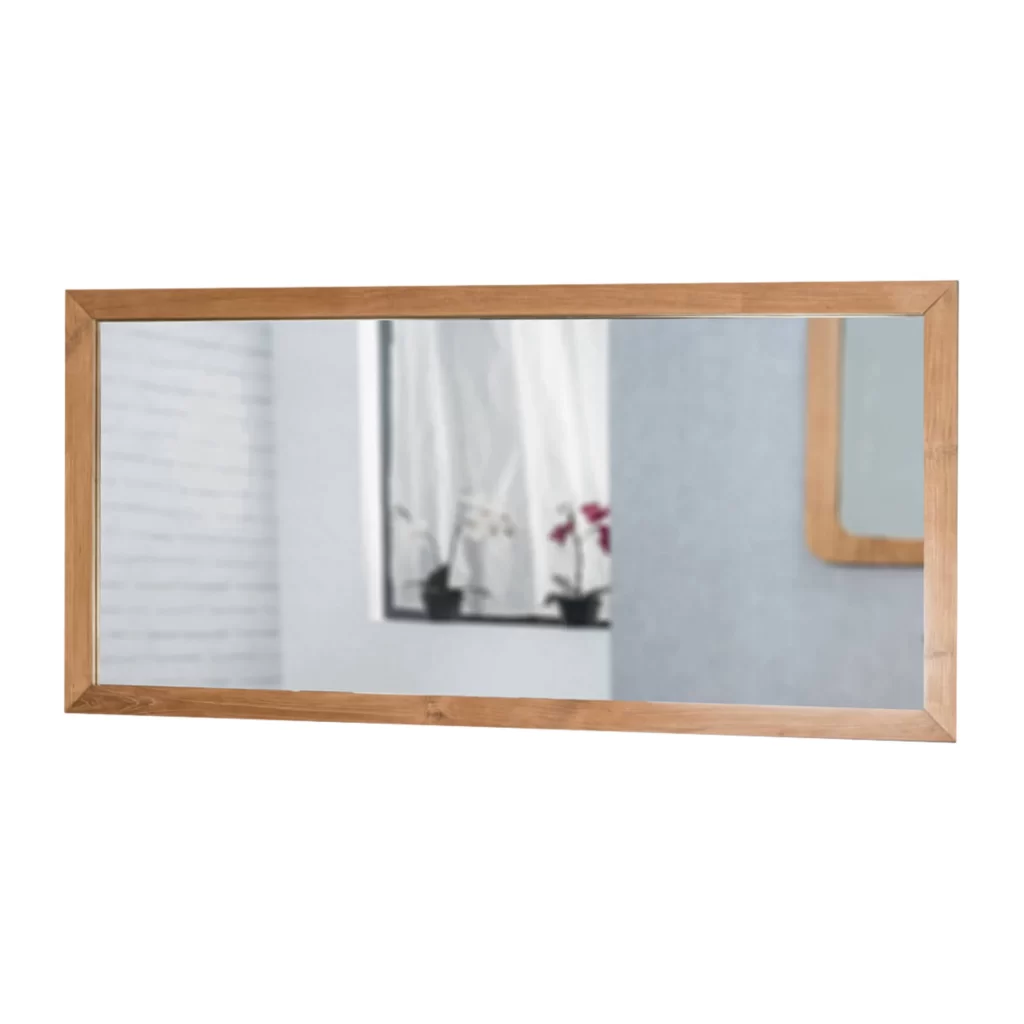 Buy Maisons Du Monde!
Complete your bathroom with our lovely 145 cm unfinished teak solid wood mirror with hooks for horizontal or vertical installation according to your desires. This element of decoration with a natural spirit and minimalist lines offers a contemporary style to your bathroom. This mirror with a wooden frame gives your bathroom a warm and soothing atmosphere. It is ideal for one of our solid wood double washbasin units in the bathroom section. Mirror dimensions Length: 145 cm Thickness: 3 cm Height: 70 cm.
Next, clocks
Okay, truth be told I am not a huge fan of clocks on the wall. It somehow reminds me of school and I do not want to constantly have the passage of time RIGHT IN FRONT OF MY EYES. I am also still traumatized by the loud ticking of the nightstand clock at my grandparent's house, which I had to hide under a pillow whenever I slept over at their place….

Nevertheless, there are some spaces where clocks can be employed instead of art on the wall and where they are very suited to emphasize a certain ambiance. Also, not all of them tick loudly anymore (Thank God!). In any case, you can find any shape and form of clock to decorate your walls at Maisons du Monde…
Finally, general awesomeness
There are always trends that I particularly love. For example all the gold and bronze at the moment soothe my heart! Apparently Maisons du Monde is feeling me because they are all about gold (and black) with what they call the "Backstage" style:
My little son would absolutely love one of those sequin pillows on the bed. They change their color when you change the way the sequins are facing.  He has been begging me for one of those h&m t-shirts with a sequin dinosaur that changes colours! I just think a sequined dinosaur would look weird (plus hubby would have a hear attack) and I´d probably lose half of the sequins in the first wash (which would most definitely lead to tantrum on the part of my son). So I think I´ll skip the trend for clothing but might use it in home furnishings instead….


Buy Maisons Du Monde!
Going with the glam rock theme they also had a really cool piece of art:
I don´t normally like a lot of the generic art you can buy in stores because I think art needs to speak to you on a very personal level and a print of Monet´s waterlilies doesn't do that for me. But I really liked this piece – the black, white and gold and the simple graphics are cool and the size is perfect!
All in all it was an hour well spent and I got back to a kid and husband that were very drowsy after gorging on fast food and passed out on me in the car. This enabled me to listen to my favorite podcasts without interruptions for the rest of the drive so I arrived back home happy and relaxed. I didn't actually buy anything (are car was packed as is) so I´ll have to do some accessory shopping for a client of mine from the comfort of my home bed.
You can check out their furniture and accessories here. Enjoy!