Sally Beauty hair reviews: ***If you purchased hair extensions from Sally Beauty, please leave your review at the bottom of this page! ***
Sally Beauty Reviews
SallyBeauty extensions Reviews: Did you buy extensions from Sally Beauty? If so, please leave your Sally Beauty's review below.
In this review, I will be reviewing Sally Beauty. I purchased my hair extensions with my own money. This is an unbiased review.
Introduction
Hey everyone! I'm a Canada-based hairdresser with a passion and love for hair extensions! I'm also a professional certified in installing hair extensions. I've tested quite a lot of brands since I've become a hair extensions enthusiast and technician, as you can see on this website. I love writing reviews on hair extensions because I want all of you out there to get the best hair extensions and to avoid the hair extension companies that provide low-quality extensions!
All of my reviews are 100% genuine and honest. They're not influenced by any monetary benefits from any hair extensions company.
Today I'm going to write a general review of Sally Beauty. For those of you that don't already know, Sally Beauty is a cult-favorite beauty store for all the hair enthusiasts out there. Whether you're a professional hairdresser or just love experimenting with your hair, Sally Beauty should be your go-to shop!
What I really love about Sally Beauty is that it's for all the hair enthusiasts out there. You don't need a hairstylist membership card to shop there, which is the case with numerous brands. Everyone is welcome to shop in their stores, making it shopping heaven for those who love to experiment with their hair.
At Sally Beauty, you can find all hair-related products. In fact, they sell some of the most affordable and highest-quality hair dyes. Not only has this but they had a great range of branded hair care products as well as hair extensions. Sally Beauty is my favorite store to shop from if I need inexpensive but high-quality accessories for my job.
Since you know that I'm passionate about hair extensions, I finally decided to give their hair extensions a try! Therefore, I went to my local Sally Beauty store in order to get the hair extensions.
Keep reading to find out more about my experience with the hair extensions at Sally Beauty!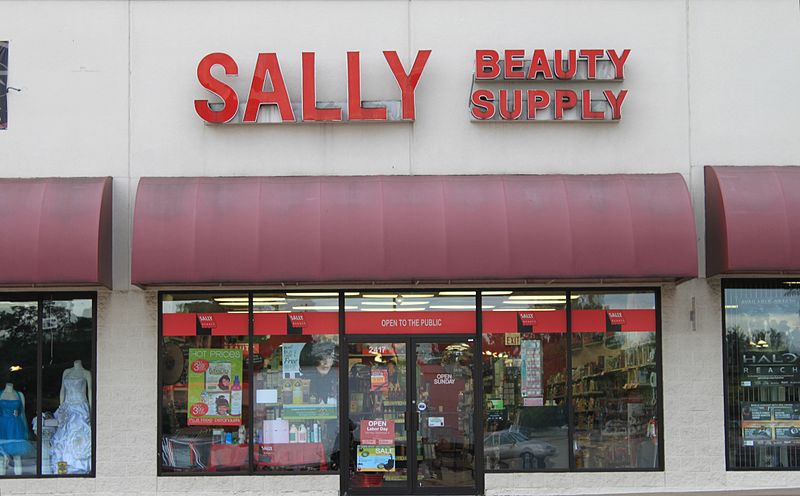 Sally Beauty: My Shopping Experience
I finally paid a visit to Sally Beauty in the hopes of finding wonderful hair extensions. However, upon arriving, the first thing I noticed was that the hair extensions available at the shop were not from the brand Sally Beauty itself. Instead, the hair extensions were all from different brands and suppliers.
This came as a shock to me because I've known Sally Beauty's products to be of high-quality so I really wanted to try their extensions, expecting them to be of a high quality too. Now that I found out that they were all of the different brands, I became a bit less enthusiastic. I still didn't lose hope, though.
However, one thing that really calmed me and excited me was the experience of shopping directly from an actual shop instead of an online store. It was convenient to just walk into a store and see all the available colors and options in person. I had been used to shopping online earlier, where I was always unable to see live pictures of the extensions. That's when I realized what a blessing it was to be able to shop for hair extensions in person!
Coming back to the extensions, there were many different options available at Sally Beauty, including clip-in hair extensions, tape-in hair extensions, some hair toppers, and hair pieces.
I wasn't familiar with any of the brands, but a few of the brands that were available. There included Barely Xtensions, Design Lengths, Hairtensity, Revlon, Satin Strands, The Sassy Collection and many more. I found little to no information about each brand, so I couldn't really decide which brand to test first.
I decided to get tape-in hair extensions from the brand Satin Strands. These tape-in extensions looked similar to the ones that I tried earlier from Glam Seamless. I've reviewed the tape-in hair extensions from Glam Seamless in my previous article as well.
I purchased brown hair extensions from Sally Beauty. The extensions were 18 inches long and were priced at about $128, excluding taxes.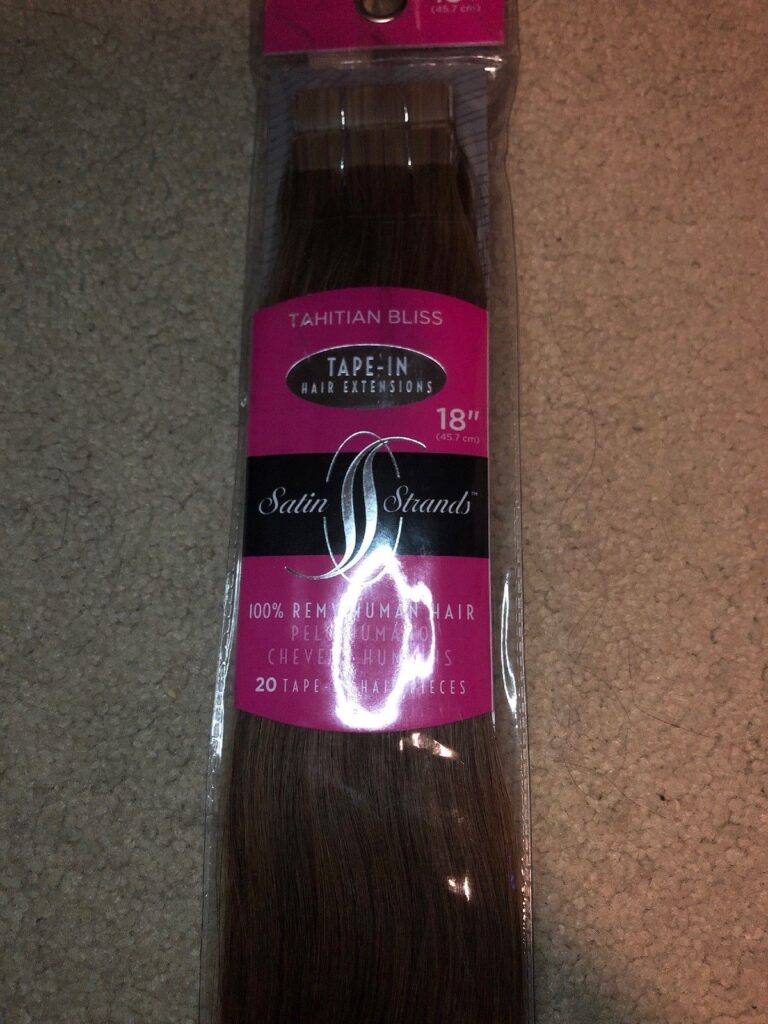 The staff
The ladies that were working at the store were nice and friendly. However, one problem I faced with the staff was that the ladies working there had no idea how hair extensions worked, especially when it came to tape-in hair extensions.
I asked the staff ladies a few very basic questions to see if they knew even a little about the hair extensions. Unfortunately, the lovely ladies told me to ask my hairdresser for advice since they had inadequate information about hair extensions.
In my opinion, the employees at Sally Beauty should be given some basic training and information about the product they're selling so that even if a regular customer walks by, their concerns would be answered. For example, Bellami Hair and Glam Seamless both offer many types of hair extensions and their respective customer service employees are highly trained to answer even difficult and complicated questions.
The importance of trained staff members shouldn't be underestimated. If a normal customer, who has zero experience or knowledge about hair extensions walks in and asks the staff for the best hair extensions, the staff wouldn't be able to respond to the queries of the customer due to a lack of information.
Return Policy
Sally Beauty's return policy was very disappointing. Well, the truth is, they don't have a return policy at all. This means that all hair extensions that you buy are final and they can neither be replaced nor refunded, even if you haven't opened the packaging.
This is a great drawback because often, you decide one color at the store but then you go home to realize that the other color would've suited you better. In such cases, you can't get an exchange or a refund from there.
Furthermore, if you're a hairdresser like me, then you might find that your client doesn't like the specific color you bought for them. In that case, you can't exchange your hair extensions for a different color either.
Therefore, you need to be particularly careful about this if you're buying hair extensions from Sally Beauty. While you're at the store, carefully think about which hair extensions you want to purchase keep in mind that they can't be returned.
Variety of Hair Color and brands
The range of colors available wasn't impressive. They don't offer a lot of color options, so only the mainstream colors are available there. If you're in search of a unique color, then you might not find it at Sally Beauty.
However, keeping the factors above in mind, I'd say that my shopping experience at Sally Beauty was actually pretty good because I wanted a mainstream color and was sure of which one to get!
Furthermore, I had enough knowledge and expertise in the field of hair extensions myself that the staff's lack of knowledge only slightly bothered me.
In this regard, Sally Beauty exceeded my expectations. They offer so many brands that you can just get lost and confused with that many choices. Indeed, it was really hard for me to decide which brand to choose!
The employees, too, weren't of much help in making the decision because they didn't know much about the products. In the end, I just randomly chose a brand by the name of "Satin Strands" because it looked like Glam Seamless.
Hair Quality
I came back home after purchasing my hair extensions and proceeded to open the package so that I could thoroughly check the extensions and judge the quality of the brand Satin Strands sold in Sally Beauty stores.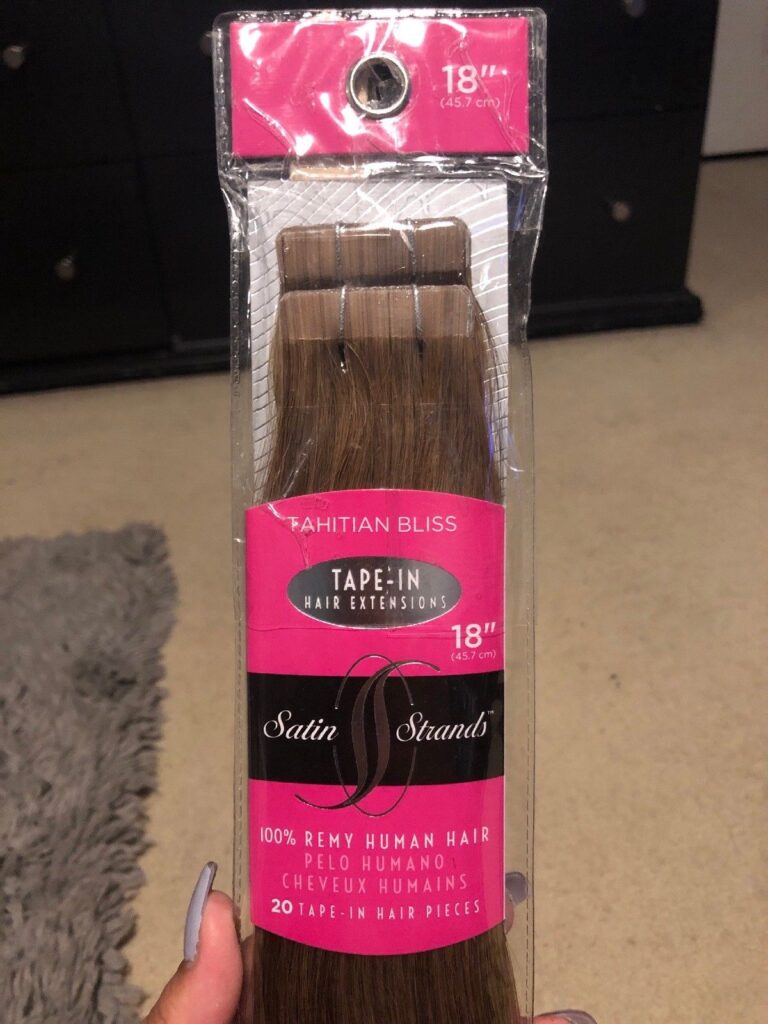 In this article, I will talk about the hair quality quiet briefly to give you a general overview. If you want to read a detailed review of the hair quality and a few other factors, please click here.
Now, generally, I satisfied by the hair quality that Satin Strands had to offer.
The adhesive tapes on the tape-in hair extensions were in perfect condition. This a very important aspect because if the tapes are damaged, the tape-in hair extensions will not able to stick to your head properly. In fact, I've actually had a pretty bad experience with Glam Seamless in this regard. The tape-ins came crooked and the glue completely exposed and drier on a few wefts. Those wefts couldn't used and were wastage of my money. Please take a look at my Glam Seamless tape-in hair extensions review for pictures and more details! You'll understand why having intact adhesive tapes is so important.
There's a possibility that the adhesives of the tape-in hair extensions damaged during the shipping process. Which is why shopping in person was such a great experience!
The hair quality itself is also a very important factor in determining how good the hair extensions will look on you and how long they'll last. The hair quality of Satin Strands was pretty decent.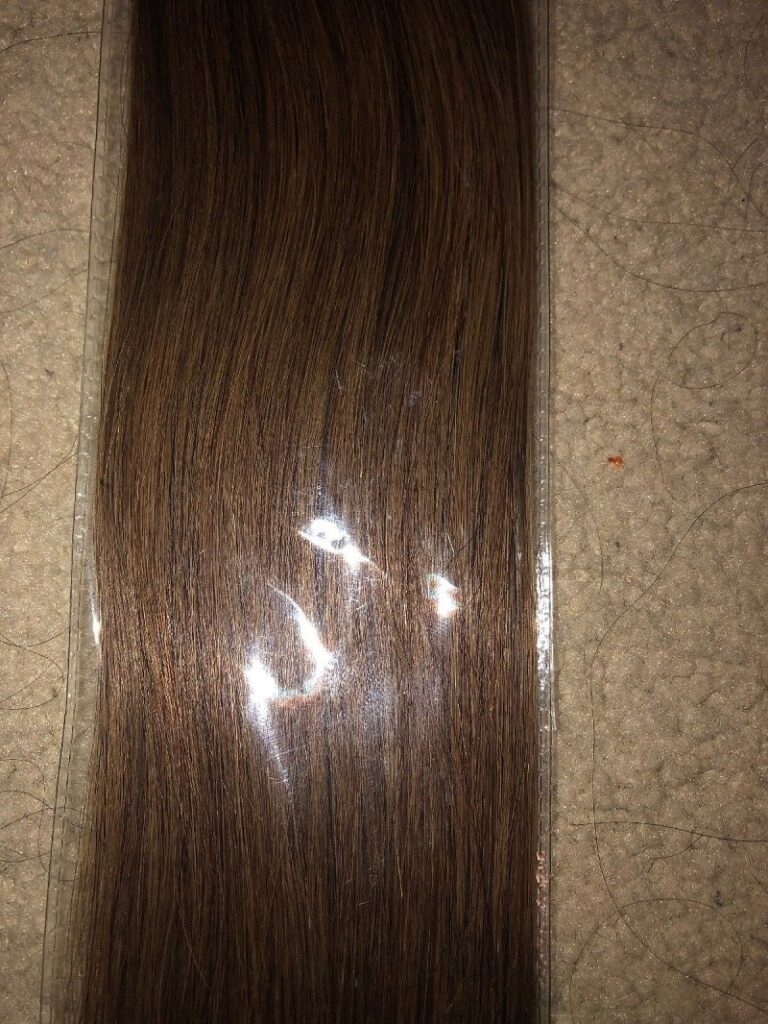 However, you can't really judge the hair quality of extensions just by feeling them and touching them. Their real test stands when heat applied to them! If your hair extensions handle heat pretty well, then very likely made of high-quality hair.
Therefore, I decided to test the extensions from Sally Beauty with heat. I used heat on them a few times. Fortunately, they did not burn or melt when I used my flat iron on them!
Value of Money
The tape-in hair extensions by Satin Strands were pretty reasonable. They cost me about $128, excluding taxes. This is a very fair price for hair extensions that are of decent quality.
Other retailers' tape-in hair extensions had cost me about three times more, but their quality was a lot worse than the quality offered by Satin Strands.
Therefore, I would definitely say that Satin Strands sold in Sally Beauty stores has a great value of money! Their comparison with other hair extensions brands is an example of the fact that a higher price doesn't always guarantee you a higher quality!
Satin Strands Extensions: A Few Weeks Down the Line **UPDATE**
These tape-in hair extensions that I bought from Satin Strands stayed on my hair for about nine weeks before I removed them. In these nine weeks, I only lost 4 wefts, which is pretty great!
While purchasing tape-in hair extensions, you really need to make sure that the extensions you're purchasing will last a long time. Otherwise, there's no point in spending so much money if the extensions aren't even going to last!
In my opinion, 9 weeks is a decent amount of time for tape-in hair extensions.
However, that said, the time duration for which tape-in hair extensions last also greatly depends upon the type of hair you have and how you take care of the extensions.
Of course, if you use the right products on your hair and avoid conditioning or heating the tapes. Then your tape-in hair extensions will last for a much longer time!
There are many tips on how to take care of your tape-in hair extensions that you can find on my website as well! Make sure you read these tips before your tape-in hair extensions installed because. They could help you save money by making your extensions last longer.
Conclusion
This was my opinion on the brand Satin Strands that are available at the store Sally Beauty. Have you had any experience with hair extensions by Satin Strands? If yes, please leave a comment and tell us about your experience! Wherever possible, please try to include images and videos as well!
I will be giving a more detailed review about the hair quality of these tape-in hair extensions from Satin Strands in my other article so that you can compare the brands for yourself as well and see which one suits you the best!